In this article, we will cover five powerful tools and strategies for reaching Chinese consumers online including Baidu, WeChat, and Alipay.

What is the current Chinese online consumer landscape?

China is the world's second-largest economy and is home to one-fifth of global internet users, with over 1.067 billion people connected - the majority of whom surf the internet via mobile.
China Mobile, China's largest telecommunications company which connects over 940 million subscribers to the internet holds the title of the world's largest mobile carrier. Beyond size and economic might, China's Mobile users are highly engaged and adaptable to mobile technology, making China a pioneer in mobile app adoption and mobile commerce across "super apps" like WeChat.
Online Profile of Chinese Consumers
The ratio of methods that internet users in China access the internet has shifted towards mobile as the primary medium of access.

99.8% of users accessing the internet in China do so via mobile, with only 34.2% and 32.8% accessing the web utilising a desktop and laptop respectively. (Statista, 2022)
This discernible trend can also be linked to elements such as cost-effectiveness, user convenience, and the prevalence of mobile payment solutions like Alipay and WeChat Pay.
Powerful tools to reach Chinese consumers online
WeChat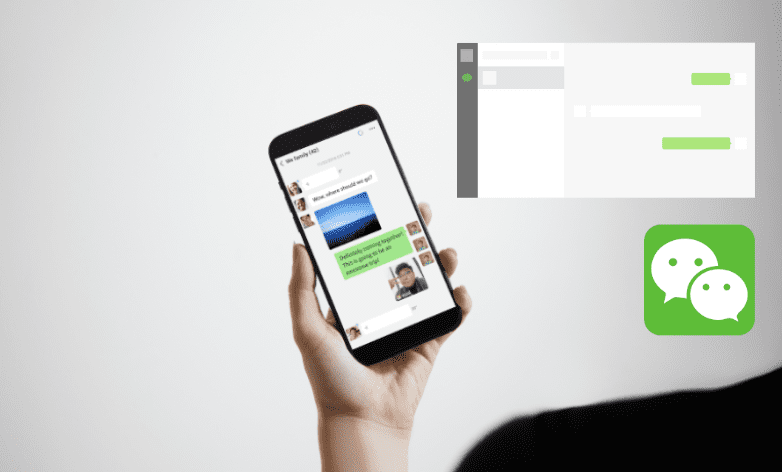 WeChat is China's most downloaded messaging and social networking app. Locally known as Weixin, WeChat is now a daily necessity among family, friends, and businesses. WeChat is a Super App with its own robust ecosystem featuring tools such as WeChat Pay, WeChat Mini Programs, Moments, and more.
Its simple user experience design has enabled deep market penetration across multiple age groups and cities of different tiers. With its diverse user demographics and cross-regional popularity, WeChat is often the first touchpoint for businesses - both local and global - for marketing outreach.

You may either get started with an individual account or an enterprise account.
Learn more about WeChat or its tools including WeChat Pay, WeChat Mini Program, and Moments.
Baidu
Baidu is the dominant Chinese search engine with a 70% market share in the search engine ecosystem.
Powering search queries for maps, image, video, and news, Baidu is modelled similarly to Google with the exception of its unique SEO ecosystem entirely in Chinese. Dominantly used by the Chinese across all tiers of cities for everyday questions and product searches, Baidu is the first touchpoint for any foreign business localising for users in China.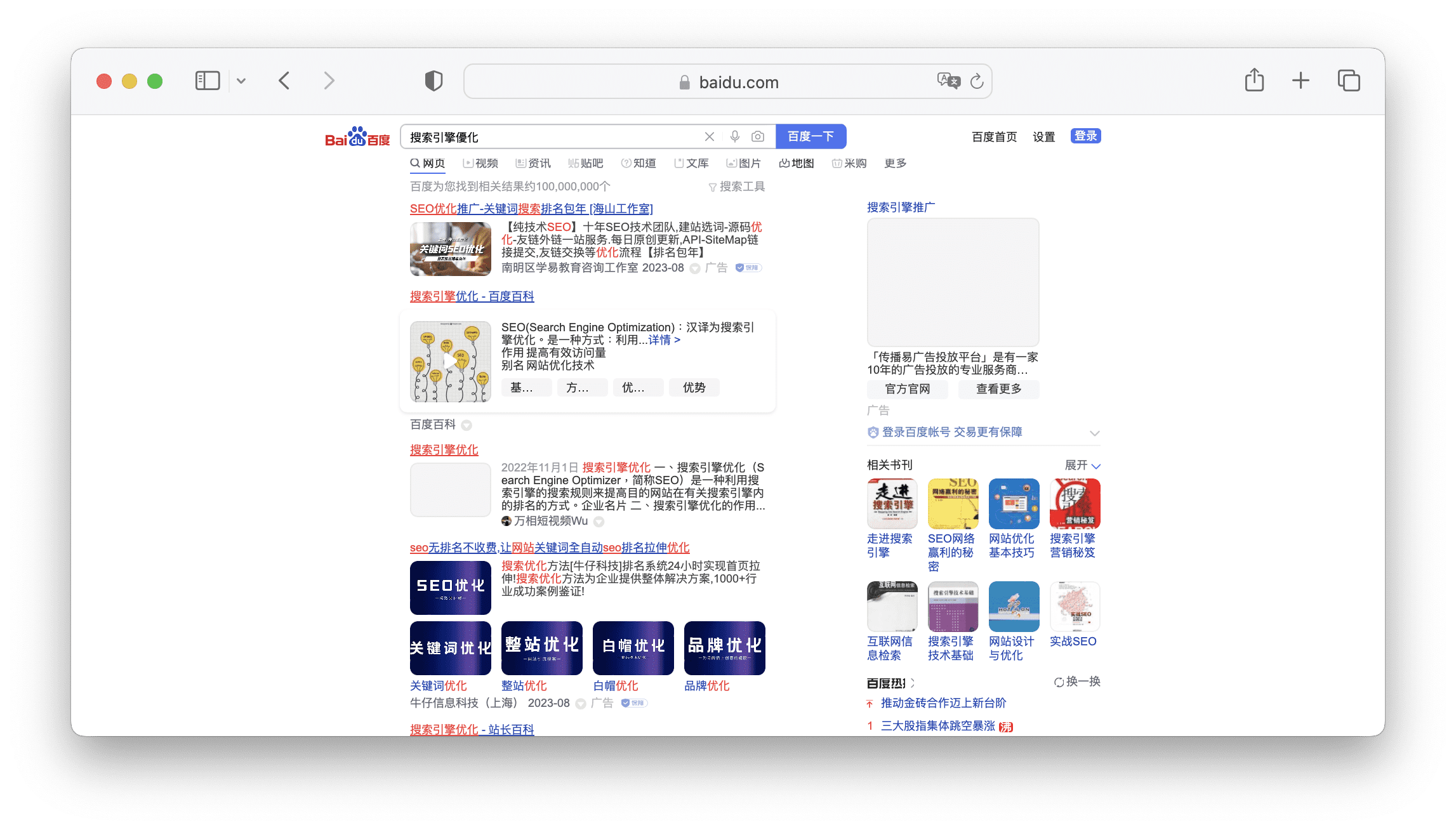 Founded by Baidu Inc, a technology company specialising in artificial intelligence and internet services, Baidu is associated with a number of other products including Baidu Wangpan (previously Baidu Cloud), query-based search community Baidu Baike (akin to Wikipedia), Baidu News, Baidu Zhidao (akin to Quora) and more.
With Baidu being the predominant platform to be found by users in China, maximising your search rankings is crucial. Learn more about how to optimise your ranking on Baidu Search here.
Learn More About Baidu and How to Use it Here

Alipay
Alipay is China's largest digital wallet and online payments platform behind over half of all digital transactions in China.

Founded in 2004, Alipay was launched as Taobao's payment arm which has since expanded into a full-fledged financial technology company (now known as Ant Group) with large transaction transfer services, credit card bill payments and more.
Learn More About Alipay and How to Use it Here
Douyin
Douyin is China's most downloaded video-sharing platform feeding light-hearted content to its 400 million daily viewers and 740 million monthly viewers. Popular in non-tier 1 cities, Douyin provides editing features and creative challenges that empower ordinary people to become video creators, even turning some into influencers overnight.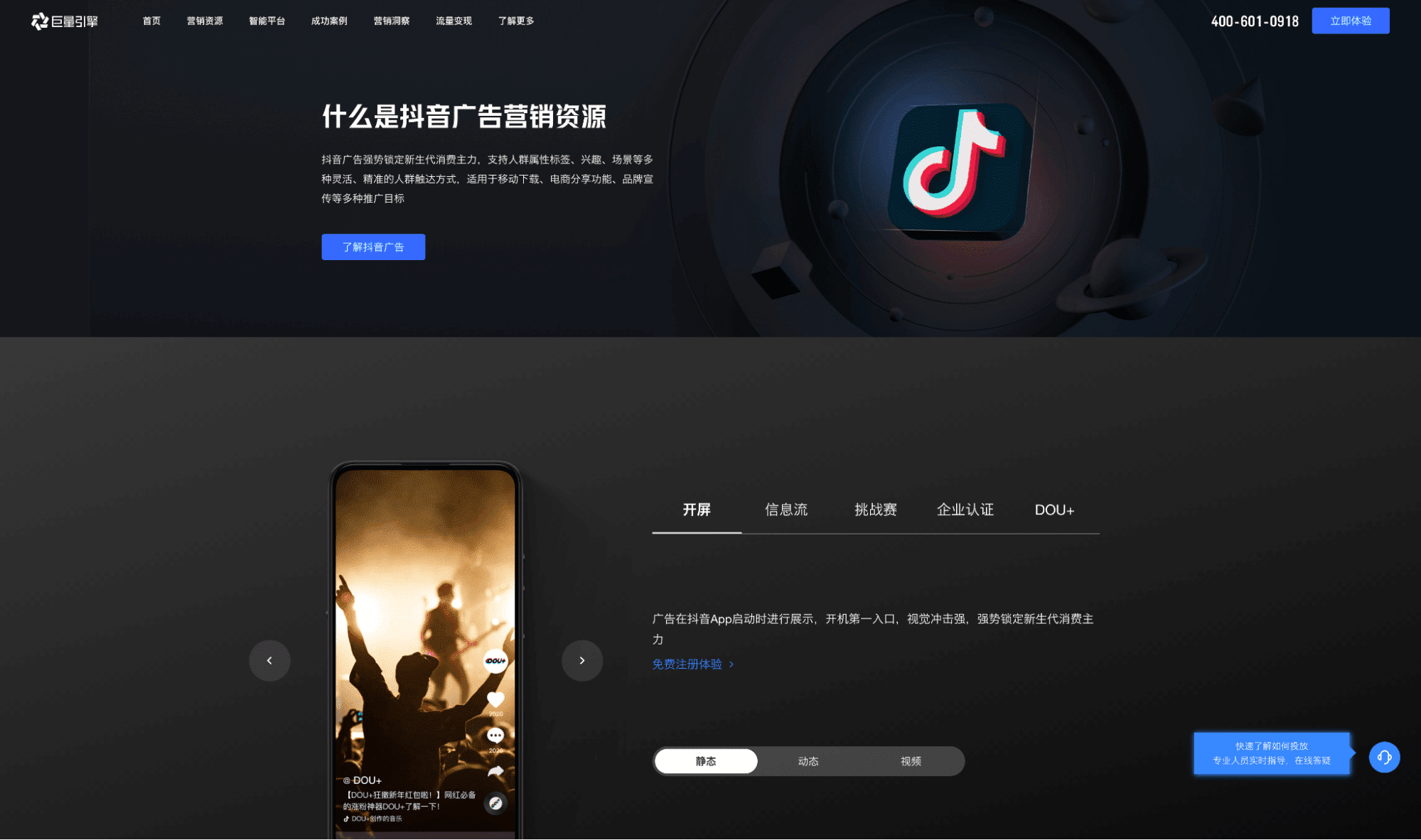 Douyin continues to build features that enable successful influencers on the platform to generate sizable sales from its viewers. Douyin's features make it easy for viewers to buy a product featured in a video, directly book a hotel, purchase coupons, and more.
According to Fabian Bern, head of a marketing company that works closely with Douyin influencers, some leading Douyin Influencers can reportedly make "fifteen to twenty thousand U.S. dollars" on a shopping holiday like Singles' Day.
Not to be confused with its global sister TikTok, Douyin does not operate outside of China.
Learn More About Douyin and How to Use it Here
Taobao
Taobao is China's biggest consumer-to-consumer (C2C) retail platform.
Founded in 2003, Taobao quickly grew to gain 80% of the Chinese online shopping market by 2010.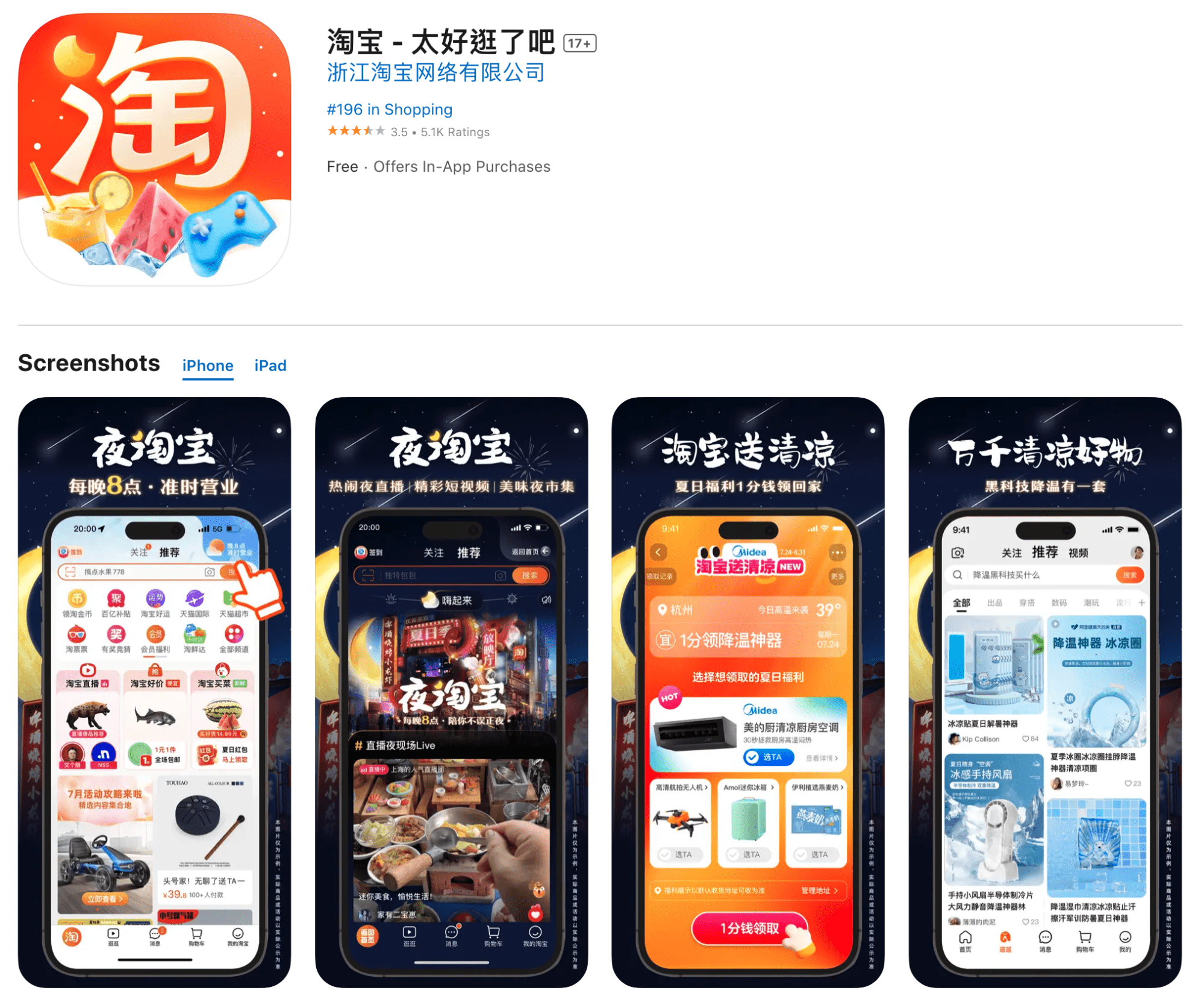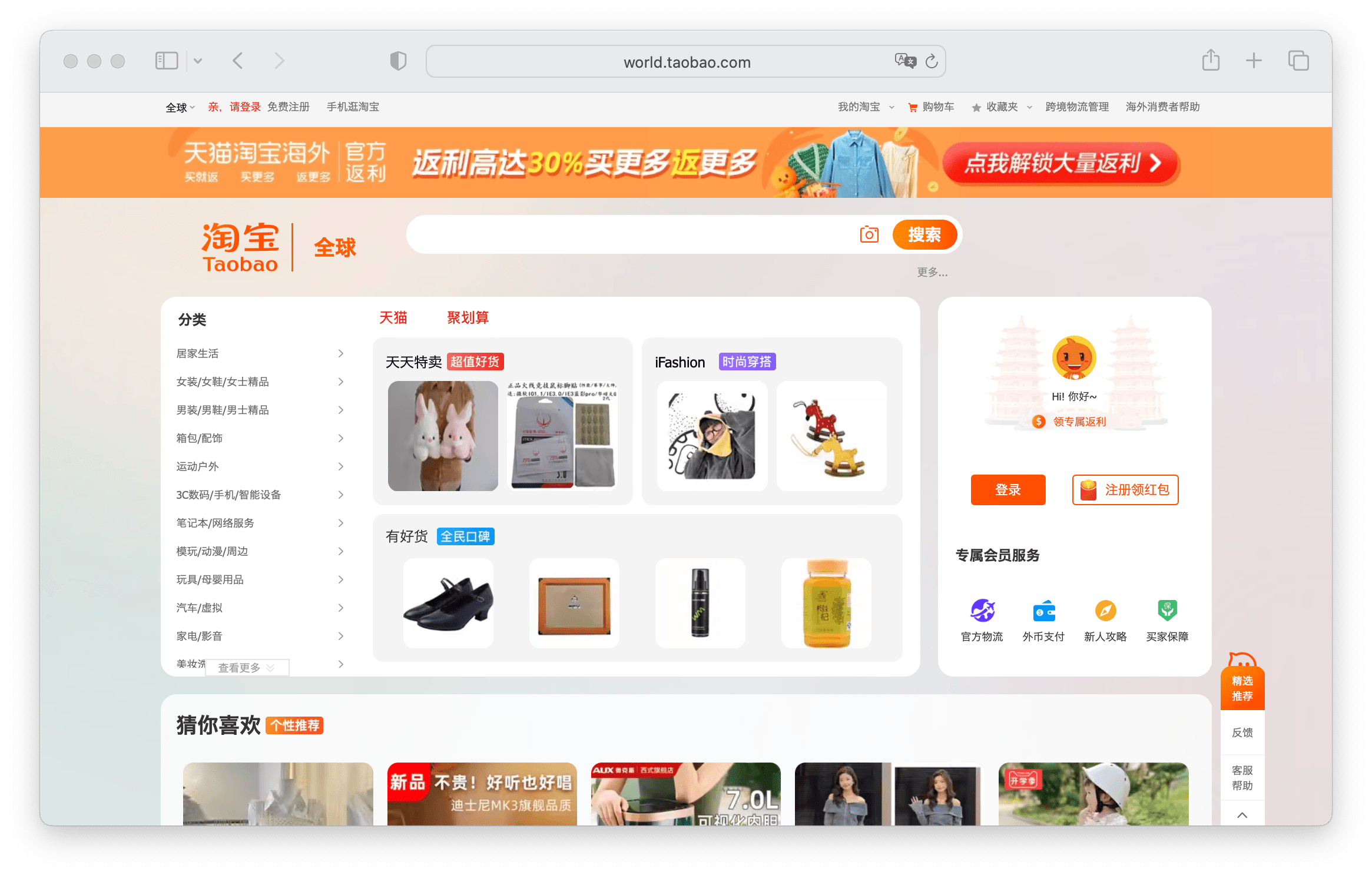 Sellers can list their products for free (except for a small "internal" affiliate fee on closed sales) with the option to purchase add-ons like ads or software to optimise their storefronts.
Buyers can communicate with other customers and easily cross-reference sellers by products, comments, and ratings.
The key difference between Taobao and Tmall (also an Alibaba-owned retail platform), is that the prior was founded on being a C2C marketplace while the latter focuses on Business-to-Consumer (B2C) with international brand listings and traditionally more premium products.
On "China's Singles Day" which is on November 11th, Tmall and Taobao collectively process over a trillion dollars in sales – two times the combined annual sales of CyberDay and Black Friday.
Learn More About Taobao and How to Use it Here
Weibo
Weibo is a microblogging platform and one of the largest social media platforms in China.
As of 2020, Weibo has 550 million monthly active users browsing an array of topics ranging from news to light-hearted content like pets. Because of Weibo's massive user base, it is widely used by celebrities, media organisations, and even government officials for sharing news.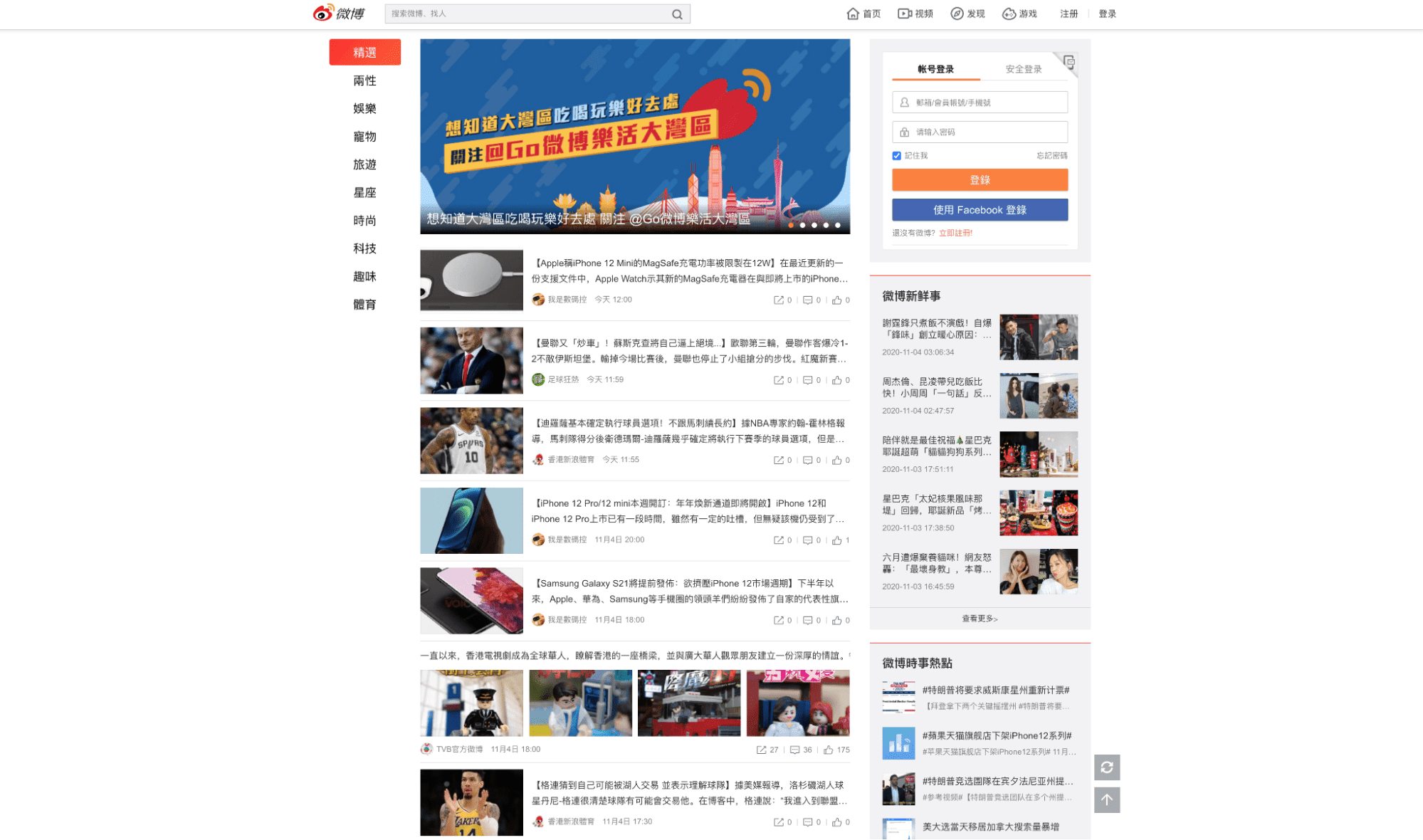 Weibo is commonly known as China's Twitter, yet distinguishes itself by not having a character count limit and also incorporating e-commerce functionalities.
Learn More About Weibo and How to Use it Here
How to use these tools as part of your China Marketing Strategy
The primary purpose of these tools typically is to drive brand or company awareness, with an essential resource such as a website as part of the overall marketing strategy to tie all these tools together.
Having an accessible and effective website for users in China is crucial, but around 93% of websites built for global audiences are not optimised for access in China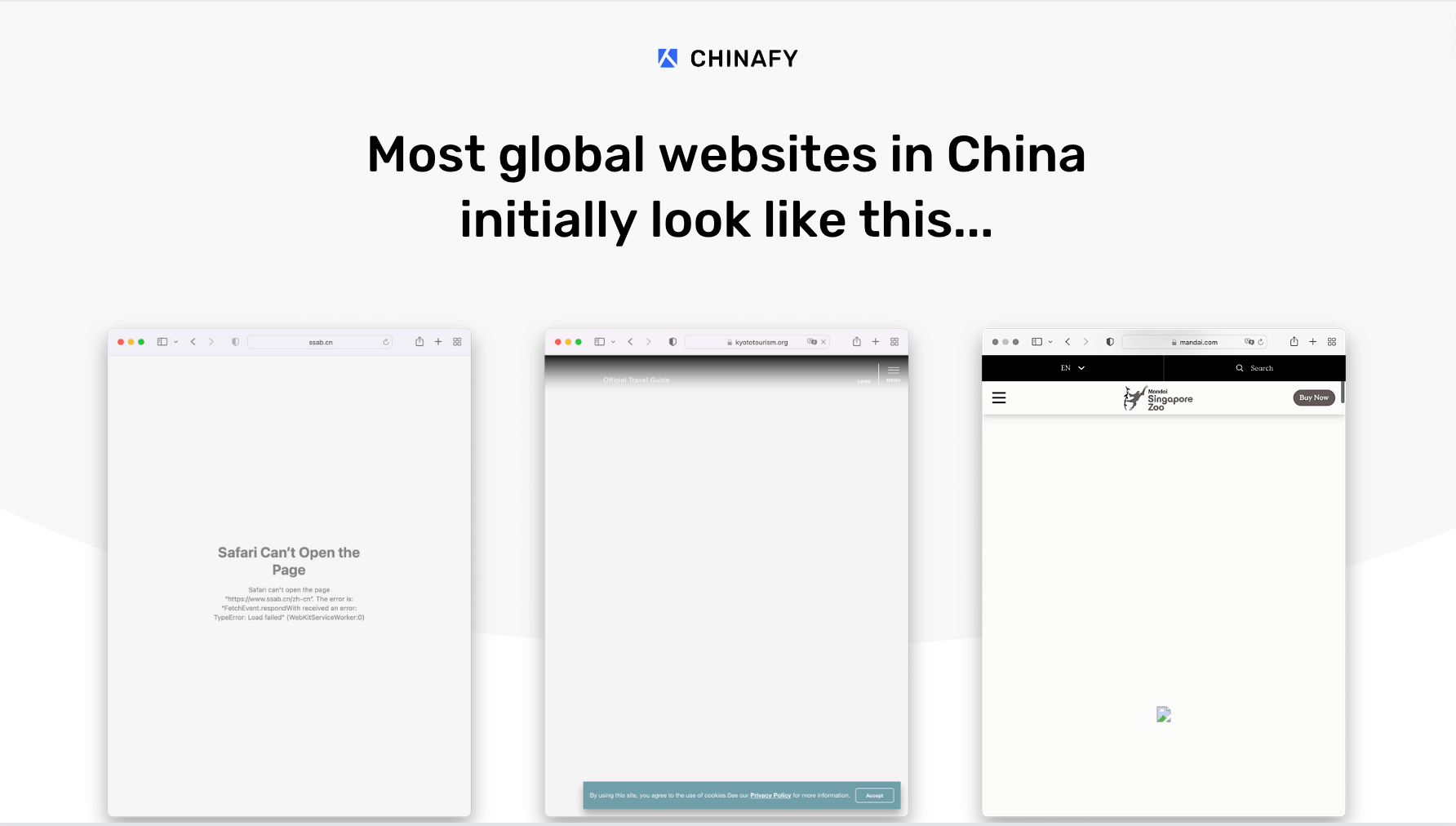 Even the best marketing strategies will underperform without a proper website presence in China.
With a broken website, the marketing funnel leaks.
You can address several key areas such as localising content and optimising site design -
However, starting by addressing the three biggest issues, speed, compatibility, and deliverability is the best way to approach this issue.
With loading issues leading to either inaccessible pages or loading times in China taking 5-8x longer than elsewhere in the world, your website visitors end up as lost traffic from either the wait or inability to access your page altogether.
Why websites don't work in China?
i) They are entirely and officially inaccessible in China (e.g. Facebook / Google)
ii) They are built with resources, plugins, libraries, tools or content management systems that are incompatible or perform poorly in China
iii) Their infrastructure is not well-designed for China
Does it mean all websites are inaccessible in China? Not quite.
Chances are that most sites actually appear broken and are mistaken as inaccessible because of technical challenges they have when loading from China.
Learn more about why websites don't work in China
Regardless of how you create your content and utilise different tools, the same issues regarding code-based incompatibilities and infrastructural issues with your website will remain.
This is where Chinafy comes in, which addresses front-end optimisations that you can perform today, specific for the China internet ecosystem. Chinafy then optimises all websites to achieve near-native performance with an offshore set-up. Hosting in China, at your option.
Chinafy is a highly tuned complex integration of both Software (i.e. Code) and Infrastructure (i.e. Hardware) that can be bolted onto almost any site.
By combining intelligent China-specific resource optimisations with a multi-load-balanced infrastructure, websites are able to achieve significant improvements in performance across the board.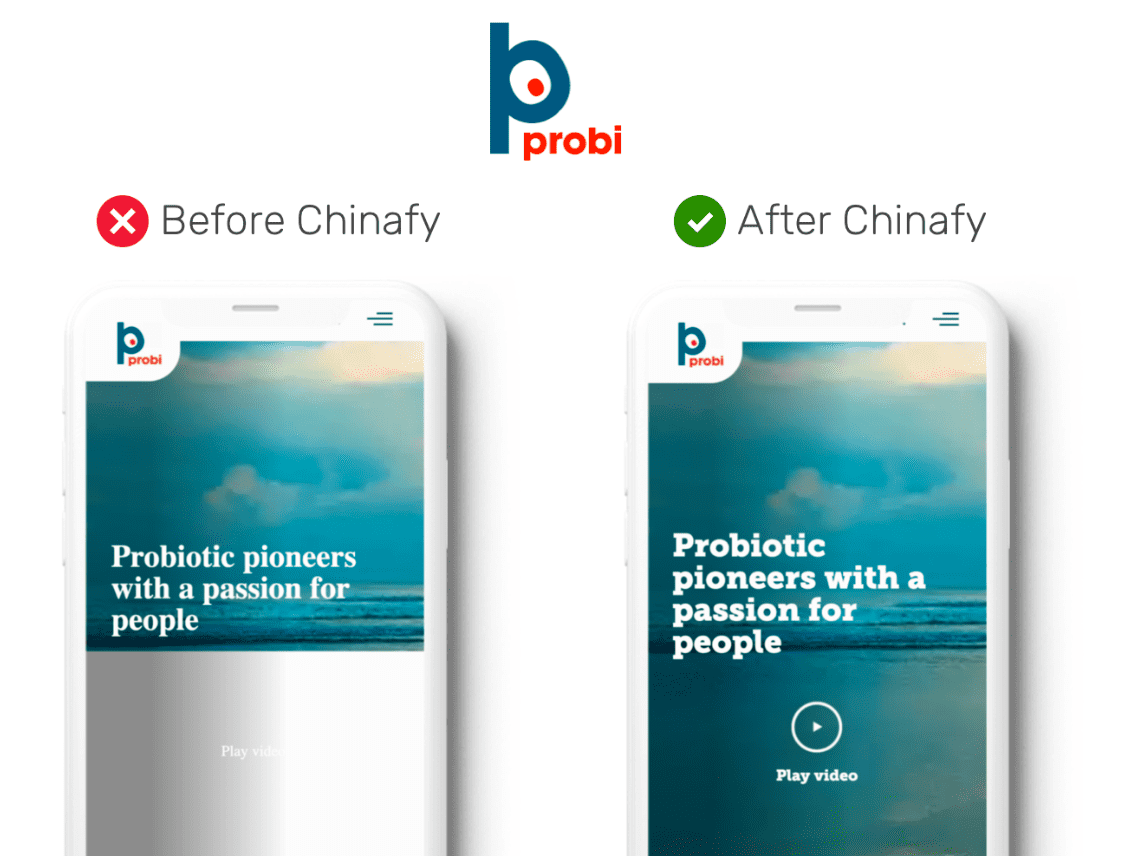 With Chinafy, the outcome is an optimised, fully-managed version of any website that's verifiably 6-8x faster in China.
Click "Get Started" to learn about optimising your site for China visitors