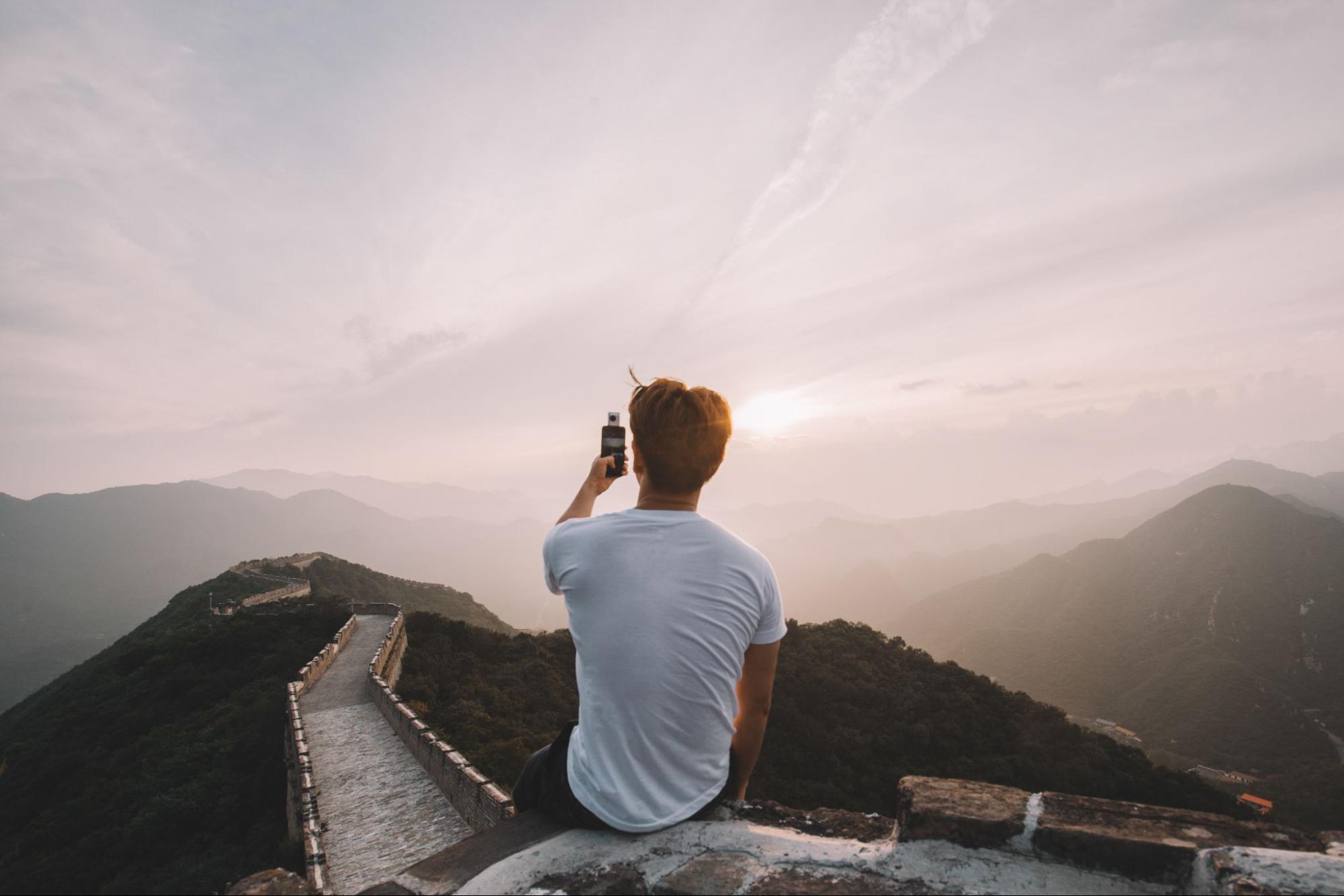 Optimising your Mobile Site for China is a crucial step that comes with its own challenges. In this article, we will read the need to capture traffic from this crucial market by having a site with great targeted design, mobile friendly assets, and optimised for access in China.

The importance of the China market
China is the world's second largest economy and is home to one-fifth of global internet users, with over 1.067 billion people connected - the majority of whom surf the internet via mobile.
China Mobile, China's largest telecommunications company which connects over 940 million subscribers to the internet holds the title of the world's largest mobile carrier.
Beyond size and economic might, China's mobile users are highly engaged and adaptable with mobile technology, making China a pioneer in mobile app adoption and mobile commerce across "super apps" like WeChat..
Users in China are Using Mobile
The ratio of methods that internet users in China access the internet has shifted towards mobile as the primary medium of access.
99.8% of users accessing the internet in China do so with mobile, with only 34.2% and 32.8% accessing the web utilising a desktop and laptop respectively. (Statista, 2022)
This discernible trend can also be linked to elements such as cost-effectiveness, user convenience, and the prevalence of mobile payment solutions like Alipay and WeChat Pay.
The issue with global mobile websites loading in China
Most websites on the internet, including mobile-first and responsive design oriented websites all similarly encounter the same challenges that plague the others - speed, and functionality.
When accessed from China, websites are on average:
5.6x slower* than they are globally with
30%* average packet loss
*as of 2023
This affects all websites, with some examples below.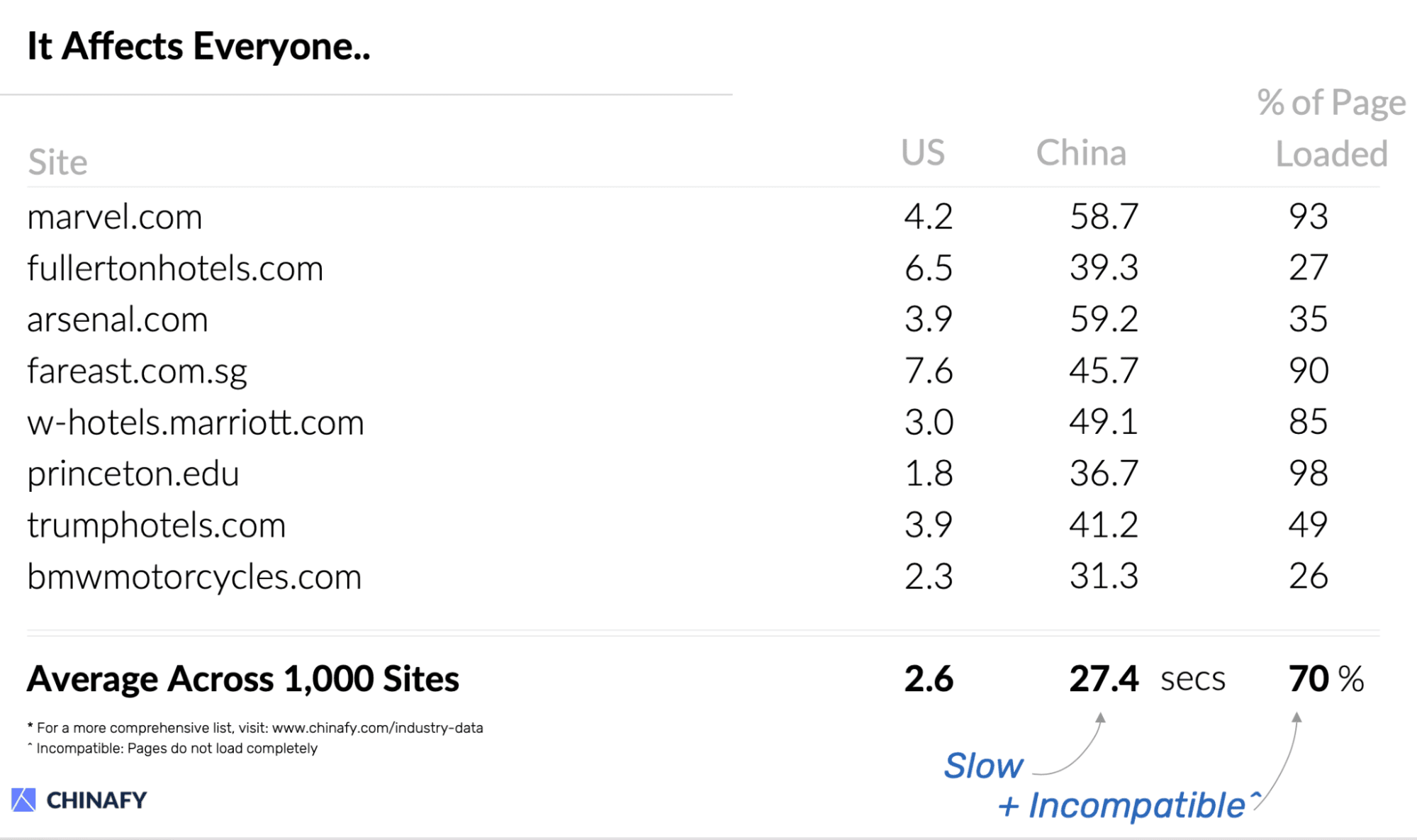 Why do mobile websites load slowly in China?
Quick Summary: Most websites don't work in China for three primary reasons:
i) They are entirely and officially inaccessible in China (e.g. Facebook / Google)
ii) They are built with resources, plugins, libraries, tools or content management systems that are incompatible or perform poorly in China
iii) Their infrastructure is not well-designed for China
Does it mean all websites are inaccessible in China? Not quite.
Chances are that most websites actually appear broken and are mistaken as inaccessible because of technical challenges they have when loading from China.
Why do most mobile websites load slowly from China?
Most websites - irrespective of how they're built (e.g. Mobile-First, Desktop First, or whichever tech stack including Drupal, Shopify, Adobe, Wordpress) - do not have an infrastructure that's specifically designed for China.
This is not as much of an issue for markets outside of China, as even distanced regions generally are able to load within similar time ranges.
However, the Chinese internet has been created to be a little different from the rest across both management, regulations, and behaviour.
The technical limitations faced come down to two key infrastructural components:
The hosting servers both for the website, but also the servers hosting their third party tools and
Content delivery network (CDN) providers (more on this later)
For example, let's assume your website's media assets are hosted in the US and delivered within North American using Cloudflare's Global CDN.
The combination of a US server with North America CDNs would generally be great for performance. That is, for visitors outside of China.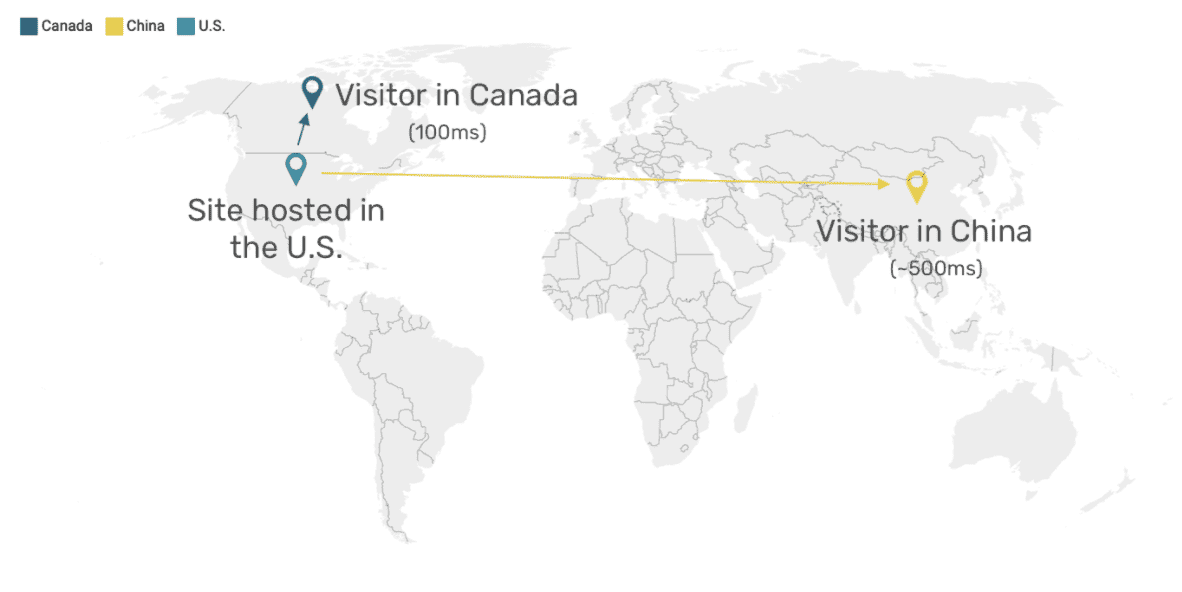 Why do most websites encounter functionality issues in China?
There are a number of technologies that are blocked or slow to load in China.
This includes essential libraries widely used by developers globally, popular plugins, fonts, and or default components that website building platforms inherently include out of the box.
Most modern websites are composed of hundreds of these resources.
When a browser attempts to load a blocked resource, the web browser will keep trying to retrieve the file for a period of time before it moves onto the next resource. As a result, the loading process get's 'stuck'. This blocked resource then interferes with both the total loading time of the site and also impacts the functionality of the site after parts don't load at all.
We can use the example below. This waterfall shows when a China visitor attempted to load resources past Facebook trackers, a resource that is blocked in China.
Note that even after 35 seconds, only 30% of this website's resources have loaded properly.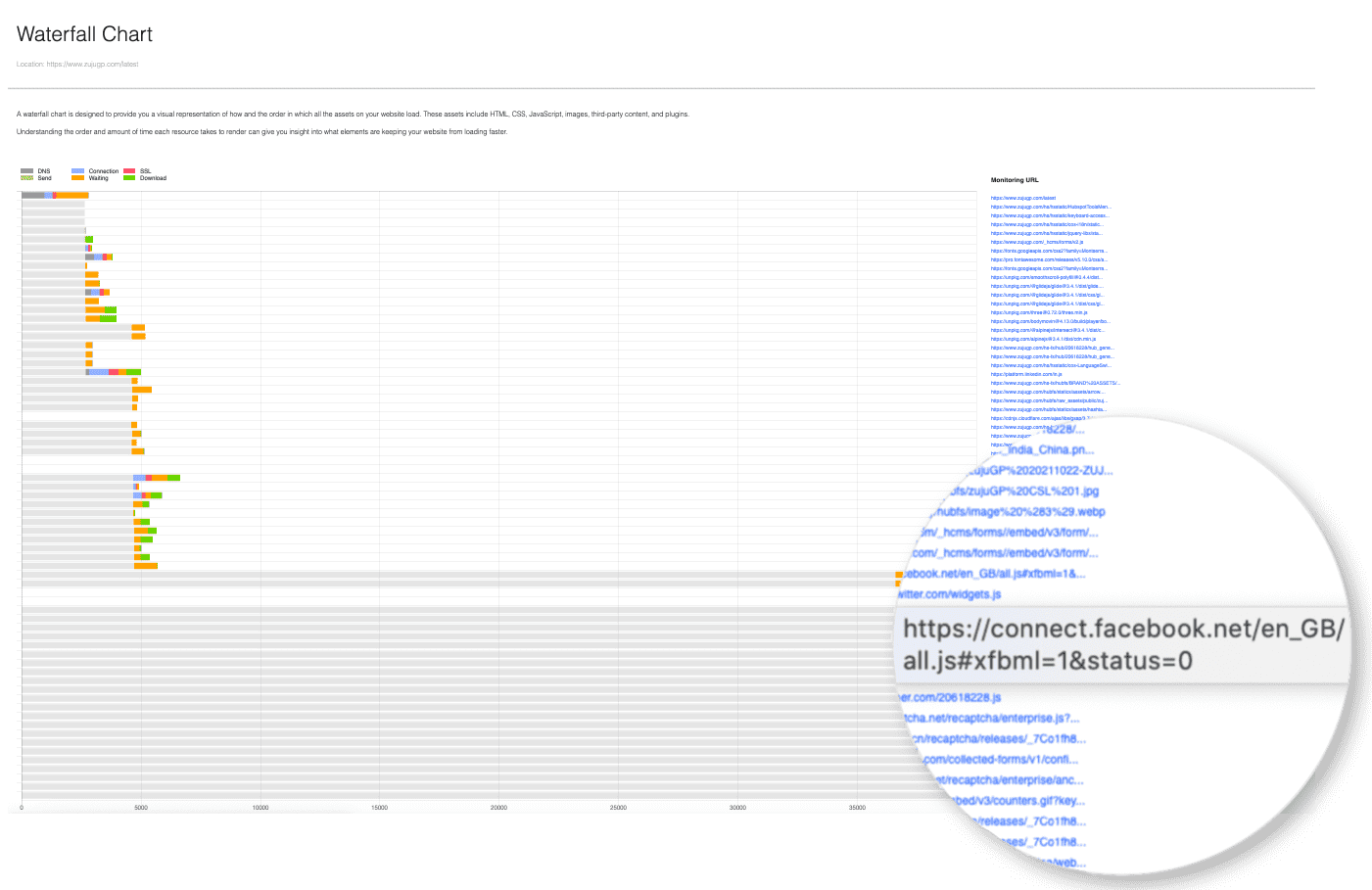 What happens when your site has blocked or slow-loading resources? You end up with a site that loads both partially and slowly, at times taking upwards of 30 seconds
Areas to optimise your mobile site in China
In this section, we'll go through several suggested practices to consider when optimising your website for China
1. Implement Best Practices for Responsive Design
What is responsive design?
Responsive web design is an approach to creating websites that automatically adapt and optimise their layout and content based on the user's device and screen size. By utilising flexible grids, fluid images, and media queries, responsive design ensures that a single website can provide an optimal viewing experience across a wide range of devices, from smartphones to desktop computers.
This technique enhances user engagement, accessibility, and search engine rankings by delivering a consistent and user-friendly interface regardless of the device being used.
What is H5 and why does it matter?
H5 in China is simply another way to reference a mobile version of websites opened in a mobile browser.
Most of the time, in reference to WeChat.
The term comes from when HTML 5 was just released and standardized when developers would primarily use it to build marketing pages for events or promotional pages on mobile. It's since developed into a generic term referring to promotional or event pages shared, or event built, directly for WeChat.
When someone is asking about H5 in the context of China and whether something is supported, they are generally asking whether or not that browser can be viewed within the WeChat In-app browser. Chinafy optimized websites based on their original build. If the original website is a mobile website and or one that is supported on Mobile, Chinafy optimizes across the board irrespective of browsers - including WeChat.
Most H5 pages are highly interactive and animated with specific functionalities in mind. Some common use cases of H5 pages are -
Questionnaires
Mini-games (lucky draw/lottery)
Polling
RSVP
2. Localise your website content for China
Text (localising the text, images, etc.)
Be sure to include fully localised Chinese language support, a crucial factor for access for Chinese users. This includes text, date formats, and currency symbols.

Also pay attention to text in media including photos, videos and more- as this is an often overlooked but crucial element.
Chinese Web Design Trends
Understanding that Chinese users generally prefer a different UI/UX layout to what we might classify as the "western web" is important. Typically, white space is embraced by western web design language to "guide" user journeys whilst Chinese web layouts may look busy to us. Maximising the size and shape of Chinese text, layouts embrace more visual information available. One example is that of the now defunct Amazon China site.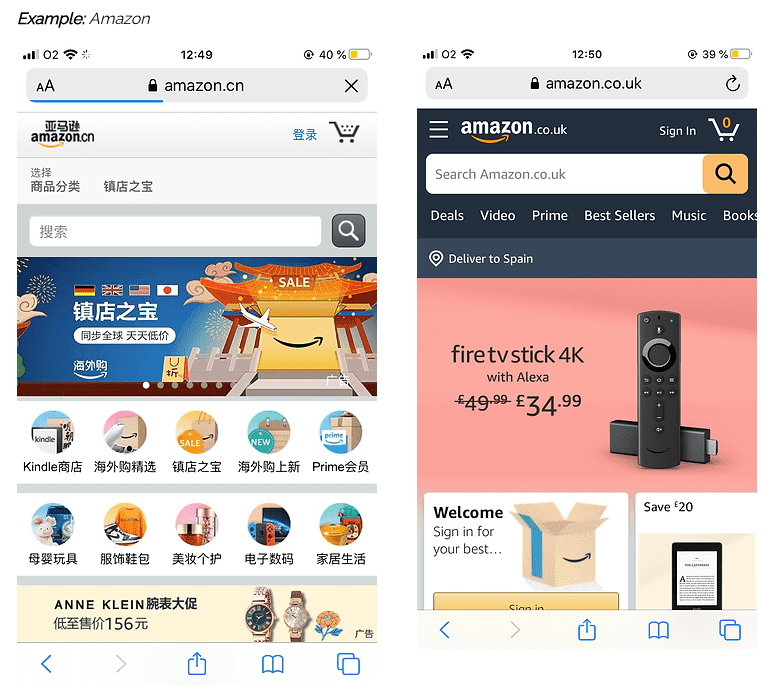 Implement China-friendly Payment platforms
Incorporate support for popular mobile payment platforms like Alipay and WeChat Pay, as these are widely preferred by Chinese users for making purchases. With over 93% market penetration, these two platforms alone can capture most of Chinese online payments.
Use QR Codes
Extensively used in China for various purposes, from payments to marketing, consider integrating QR codes for easy access to promotions or additional information.
Add localised captions to your videos
Capturing Chinese users web traffic through video is a crucial part of any China web strategy. With 694 million users watching short video content at least monthly in addition to 85% of which consuming live streamed content regularly.
With these video mediums, the prevalence of localised captions is an important element to any video asset directed at the China market.
3. Other
Develop your WeChat presence
This step is generally recommended after you've first set-up a strong foundation with your website. WeChat is an integral part of the Chinese digital ecosystem. Consider integrating WeChat login and sharing features, as well as WeChat Pay for seamless transactions. Need help with WeChat? Reach out to Chinafy to get in touch with a Chinafy partner specialised in WeChat and other China marketing channels!
Social Sharing options
Chinese users are highly active on social media platforms, so include social sharing options for content and products to facilitate easy sharing on popular Chinese social media platforms like WeChat Moments and Weibo.
Content relevancy
Global audience oriented content that is converted for Chinese audiences in itself may not resonate with its target audience. By creating content specifically for the China market as well as filtering through existing content before display for Chinese audiences is crucial.
Common challenges companies face when optimising mobile websites for China
Mobile users in China will inevitably encounter the same issues that roughly 93% of websites will encounter in China. Regardless of how you optimise assets or prioritise mobile-first design, the same issues regarding code-based incompatibilities and infrastructural issues will remain.
This is where Chinafy comes in, which addresses front end optimisations that you can perform today, specific for the China internet ecosystem. Chinafy then optimises all websites to achieve near-native performance with an offshore set-up. Hosting in China, at your option.
Chinafy is a highly tuned complex integration of both Software (i.e. Code) and Infrastructure
(i.e. Hardware) that can be bolted onto almost any site.
By combining intelligent China-specific resource optimisations with a multi-load-balanced
infrastructure, websites are able to achieve significant improvements in performance
across the board.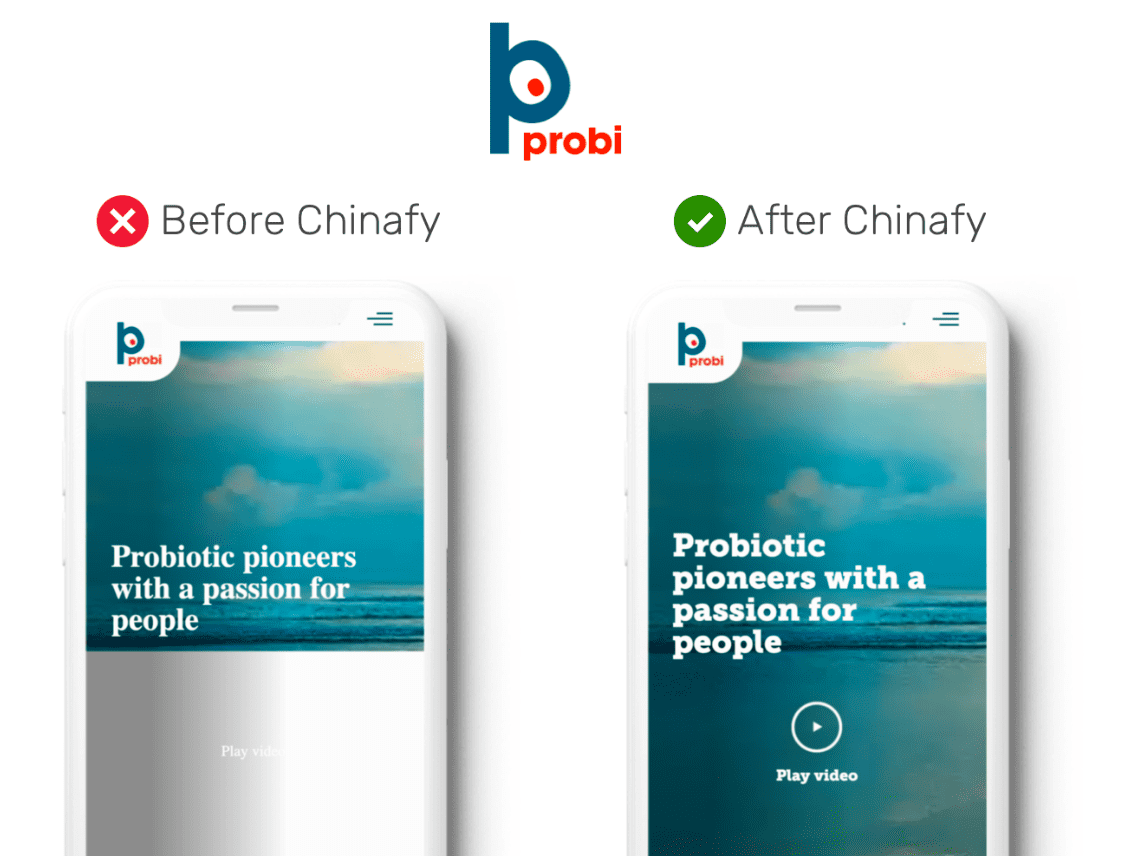 With Chinafy, the outcome is an optimised, fully-managed version of any website that's
verifiably 6-8x faster in China.
Click "Get Started" to submit your site to Chinafy