Read on for a 10-minute beginner's guide to Chinafy.
In this article, we'll go into -
What is Chinafy

Why don't websites work in China?
What is the impact of poor web performance on your business?
How about social media platforms like WeChat?
How does Chinafy work?
Who uses Chinafy and what are some common use cases?
How Chinafy compares with onshore hosting or CDNs
How to get started with Chinafy
What is Chinafy?

Chinafy is a cross-border web performance solution that helps websites and web apps load fast, fully, and securely in China.
Chinafy is the only platform to date able to achieve near-native onshore performance, offshore.
What that means is that, unlike other approaches to web performance in China -
You won't need a separate site, ICP, onshore hosting, or VPNs
You can continue to manage your site as you do currently, leveraging Chinafy's automation features to keep your global and Chinafy version of your site in sync
All you need to get started is a URL, subscription, and then a quick DNS update at the end of Chinafy's set-up process.
But first, a bit of context...

Why don't websites 'work' in China?

Anyone who's ever tried to access websites in platforms know first-hand, that websites simply don't work the same way in China as they do elsewhere.
It's important to note that we're not talking about inaccessible sites like Google, Youtube, Twitter, or Facebook here but rather about the average business website or platform outside of those that have been explicitly blocked.

In fact, over 90% of otherwise accessible foreign websites encounter some form of performance issues when loading from China.
These issues include, but are not limited to -
Incredibly slow loading times ranging from 15-50+ seconds, if the site loads at all.
Inconsistency across loading times, even if these websites load at times
Missing or broken components on the page including videos, images, faulty interactions, fonts, and more.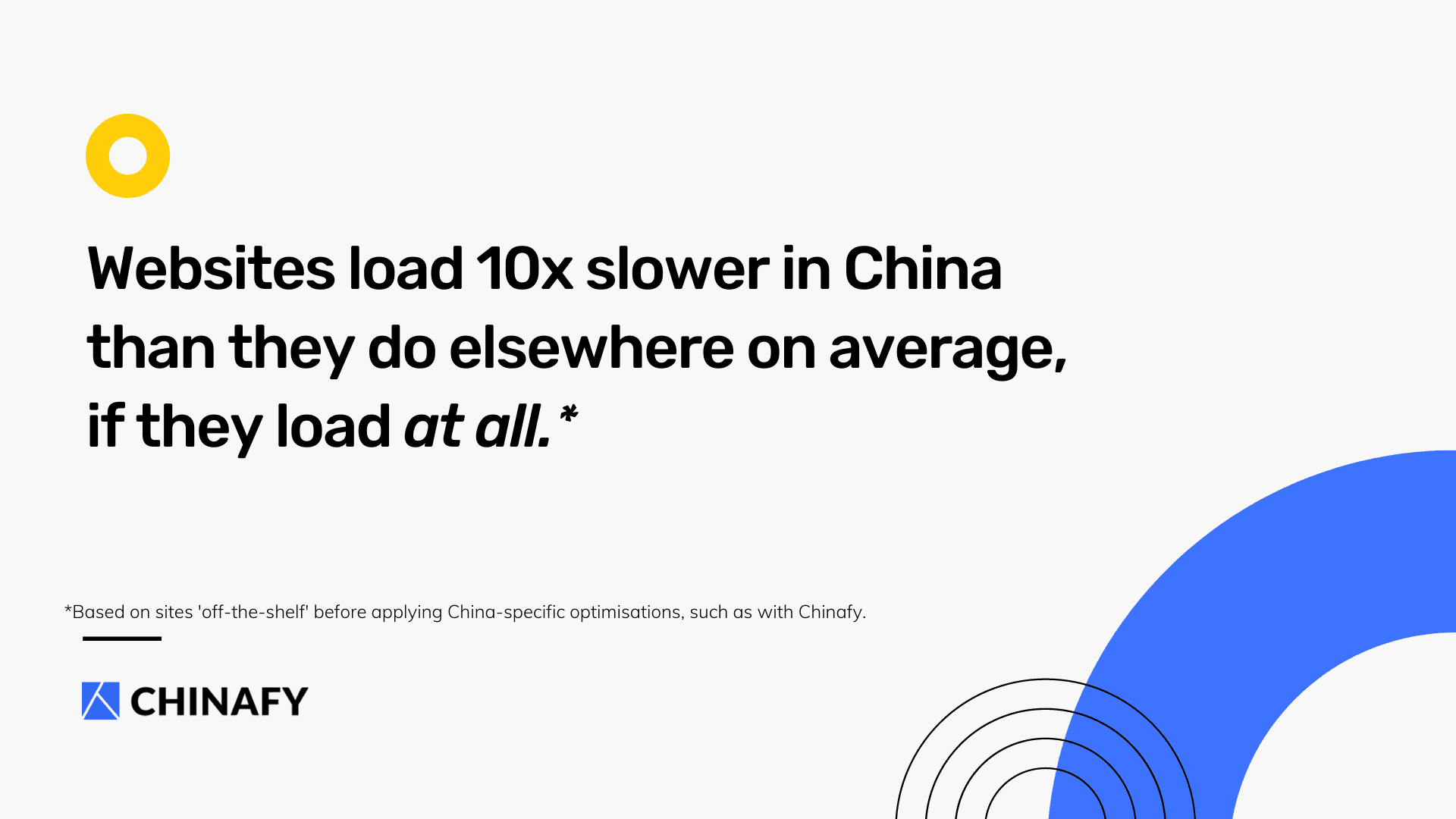 If these websites are not blocked, then why are they so slow and dysfunctional in China?

Websites don't work in China for two primary reasons.
Code-based issues
Infrastructure-based issues
What are code-based
issues when it comes to China?
The code-based issues that we are referring to involve technologies that are blocked or slow to load in China, many of which include essential libraries widely adopted by developers globally.
Every websites consist of up to hundreds of resources, many of which are third-party resources that are blocked (i.e. Google APIs, Vimeo, Youtube, Facebook, etc.) with others, including primary and/or third-party resources, that are delivered from slow networks (i.e. Amazon S3).
What happens when the browser attempts to load blocked or slow technologies from China?
First, a little background on how websites generally load -

Request is made for HTML document
The web server provides HTML to a web browser to read
The web browser reads HTML files to identify where to find resources
Browser requests resources - including images, CSS, and js files - from the server(s)
The browser parses these files
Finally, the browser then renders (or displays) the webpage
When a browser attempts to load a blocked resource, the web browser will keep trying to retrieve the file for a period of time before it moves onto the next resource. As a result, the loading process get's 'stuck'.
So, not only does that blocked resource interfere with the total loading time of the website in China, but also the functionality of a site when, after multiple attempts, doesn't load at all.
Even if a file or resource is not blocked, third-party files hosted on slow networks take a long time to retrieve nevertheless contributing to the overall loading time.
What happens when your site has blocked or slow-loading resources? You end up with a site that loads slowly and partially.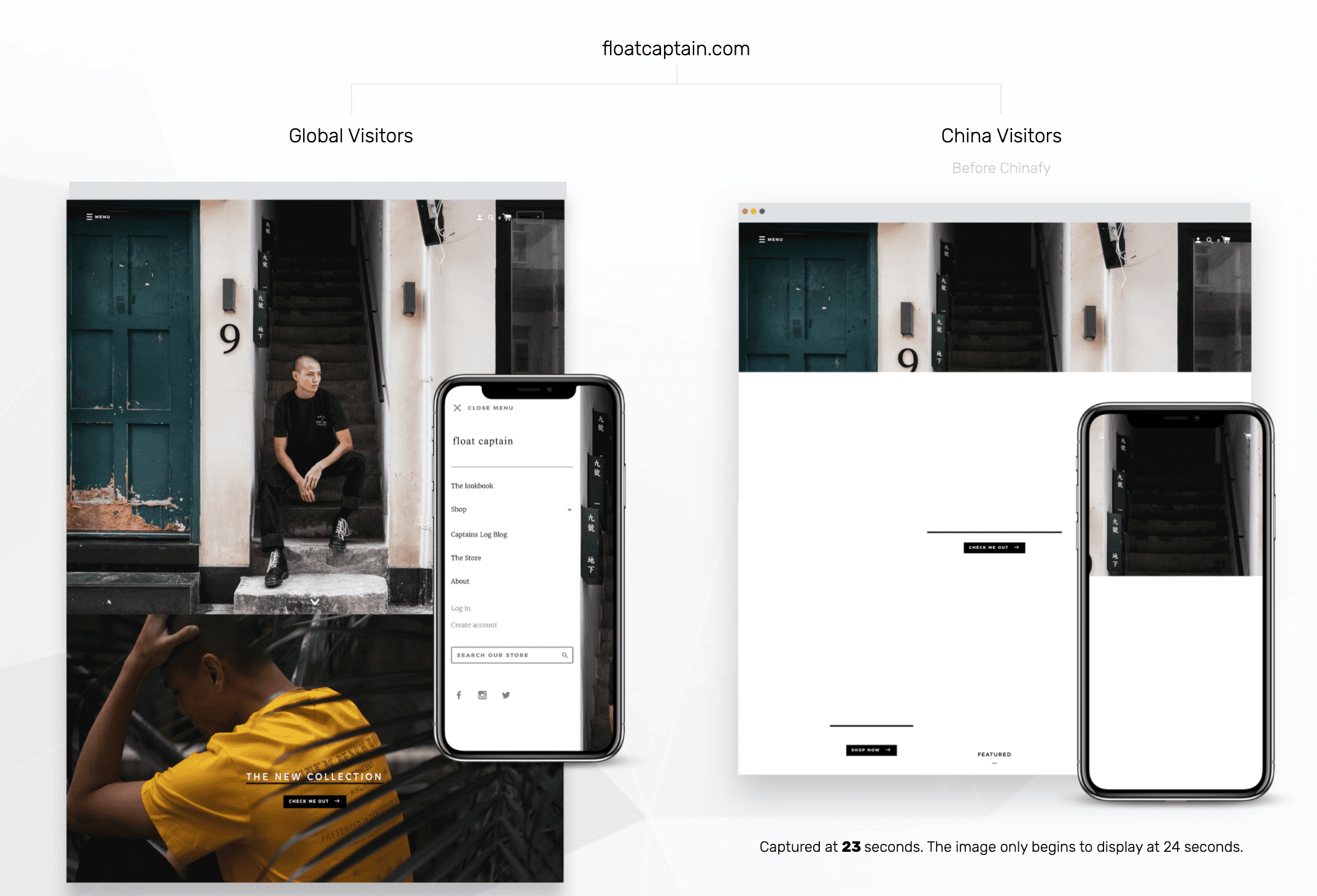 What are infrastructure-related issues when it comes to China?
Most websites - irrespective of how they're built (e.g. WordPress, Shopify, Adobe, Drupal) - do not have an infrastructure designed for China.
Key infrastructure components that affect this include their choice of servers and CDN providers that power those platforms and their users in China.

For example, Squarespace's media assets are hosted in the US and then delivered via Fastly CDN. Adobe's media assets are similarly hosted in the US and then delivered via Akamai CDN. Both of these stacks are fantastic for performance, outside of China. Inside China, not so much.
What about other CDNs in China?
Not all servers, and respectively, content delivery networks (CDNs) are able to deliver content into China as fast as they are able to elsewhere.
In fact, if you compare Chinafy's multi-CDN vs. a number of leading CDN providers, you'll find that Chinafy is anywhere from 4-20x faster than other near-China CDNs.
Fixing these issues is not so straightforward
It goes without saying that it's not so straightforward to simply remove or replace these resources, or modify a site's infrastructure.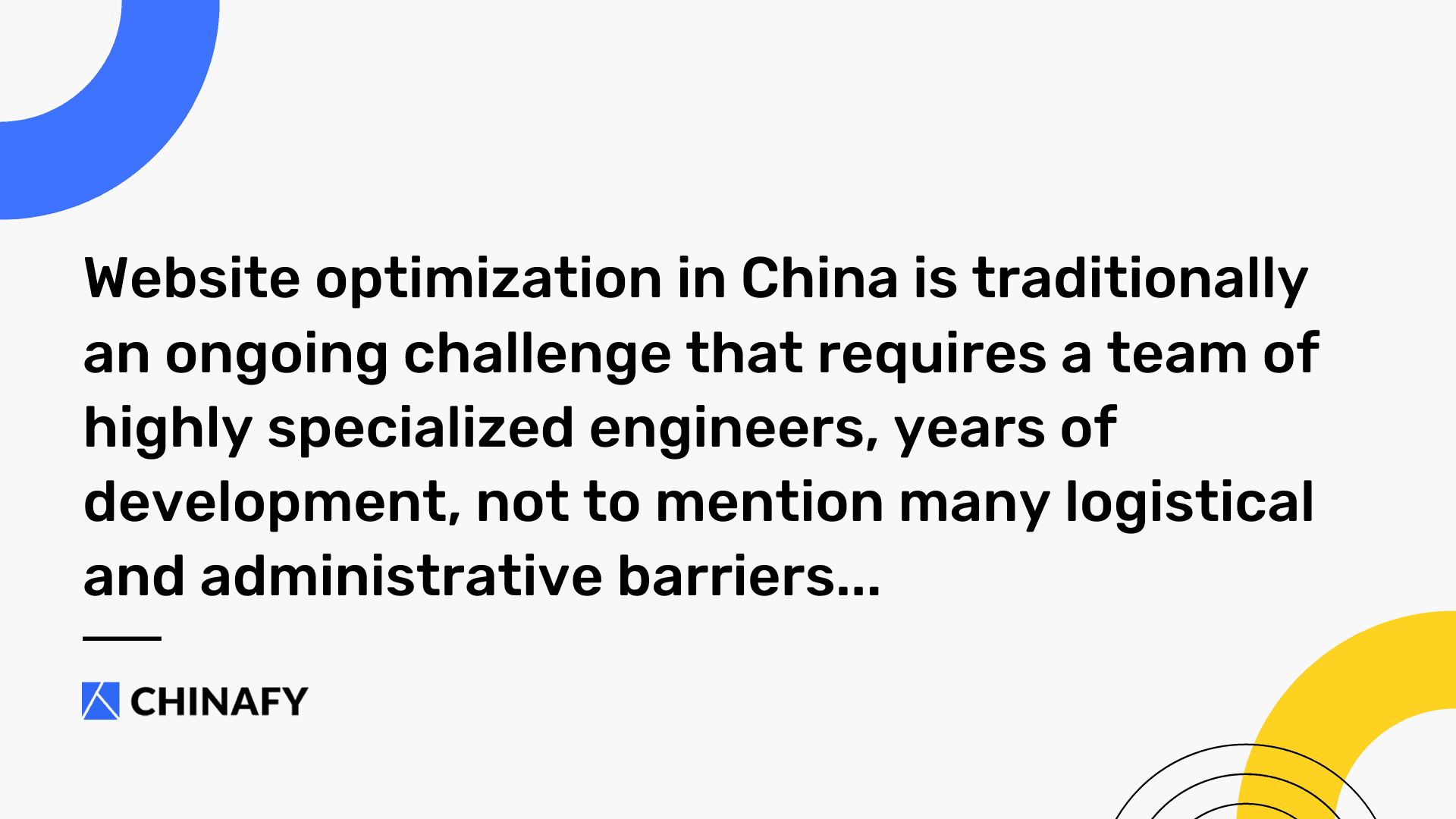 As the state of these technologies are constantly evolving, replacing them of course poses a challenge for developers to adapt to manually without having multiple dedicated, expert headcount or a platform like Chinafy.
Even if developers were to re-engineer their entire website to replace these technologies and infrastructure to make it work decently in China...
i) the modified version of the site may compromise how the site performs elsewhere. Under the same logic as above, a tech stack that's suited for China isn't necessary suited for elsewhere.

ii) Technologies and how they perform in China, are constantly evolving making it difficult, if not nearly impossible, to adjust to manually.
So, how do these website issues impact your business in China?
Your website remains the central touch-point whether it is your only digital presence in China, or complementary to marketing channels like WeChat, Weibo, Baidu, and more.
Read more about the Financial Impact of a Slow site
Does my website matter even if I have a WeChat mini-program, Tmall (and other social media presence)? Yes!

These platforms are great. In fact, many of our clients do and we have great partners who work in that space. But they are simply part of your broader digital marketing stack in China.
Even if a business were to establish marketing channels - like WeChat, Tmall, Baidu Ads - these social media platforms are simply part of a larger marketing funnel that often links back to the website.
If the website doesn't work, then that marketing funnel leaks.
When it comes to creating a digital presence in China, we advise our clients to work in phases.
First, optimize the website in Chinafy so that there is a strong foundation in a fast and functional website
Then, drive traffic to your site by creating quality content and paid ads (e.g. via Baidu)
As well as, expanding your presence to different marketing channels (e.g. WeChat, Tmall, etc.). Chinafy does not do this directly but has great partners who do.


Need help to Go-to-Market in China?
Contact Chinafy for localisation support (e.g. Translation & SEO Marketing)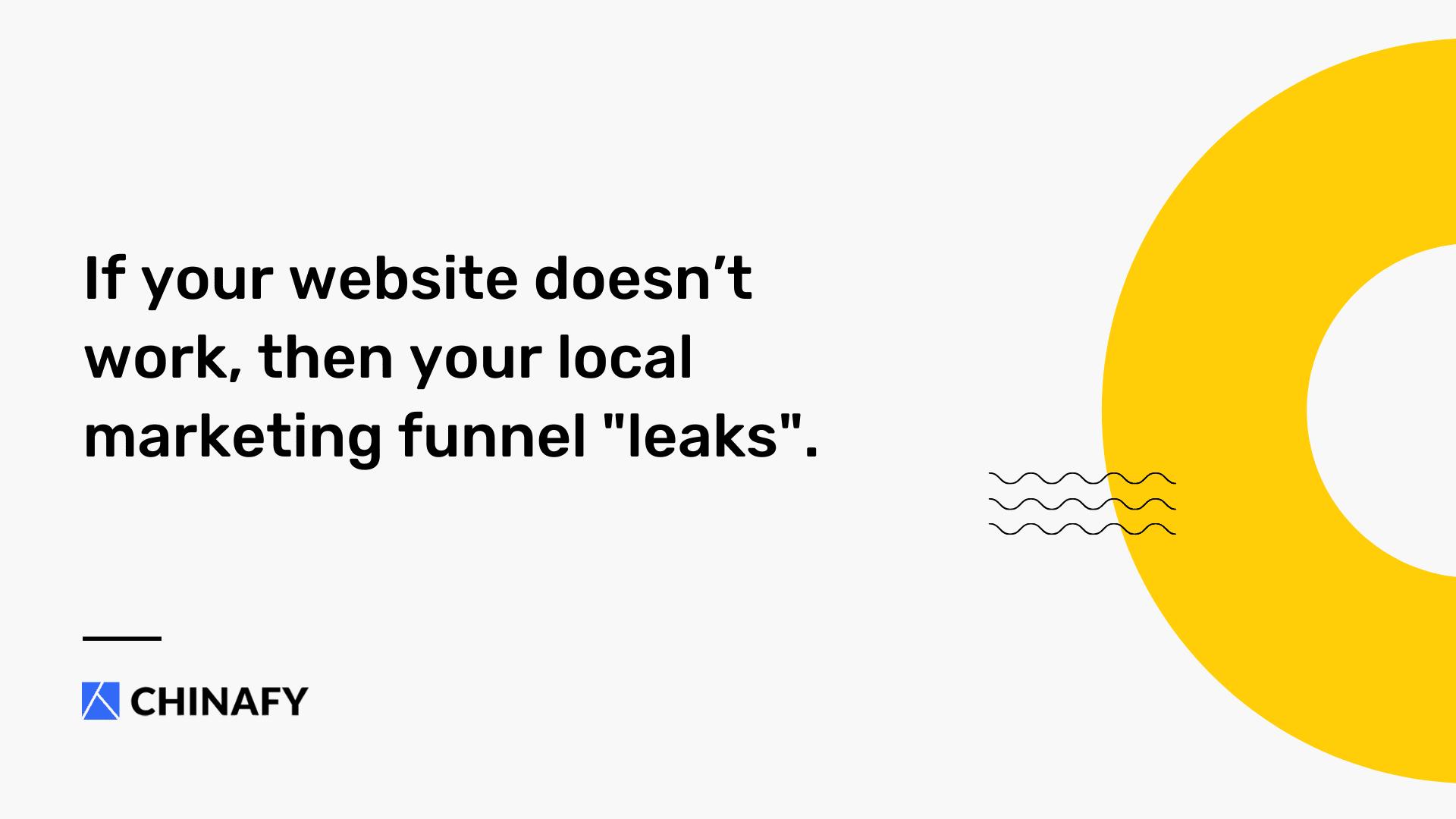 How does Chinafy work?
Chinafy is a highly tuned complex integration of both Software (i.e. Code) and Infrastructure (i.e. Hardware) that can be bolted onto almost any site.
By combining intelligent China-specific resource optimizations with a multi-load-balanced infrastructure, websites are able to achieve significant improvements in performance across the board.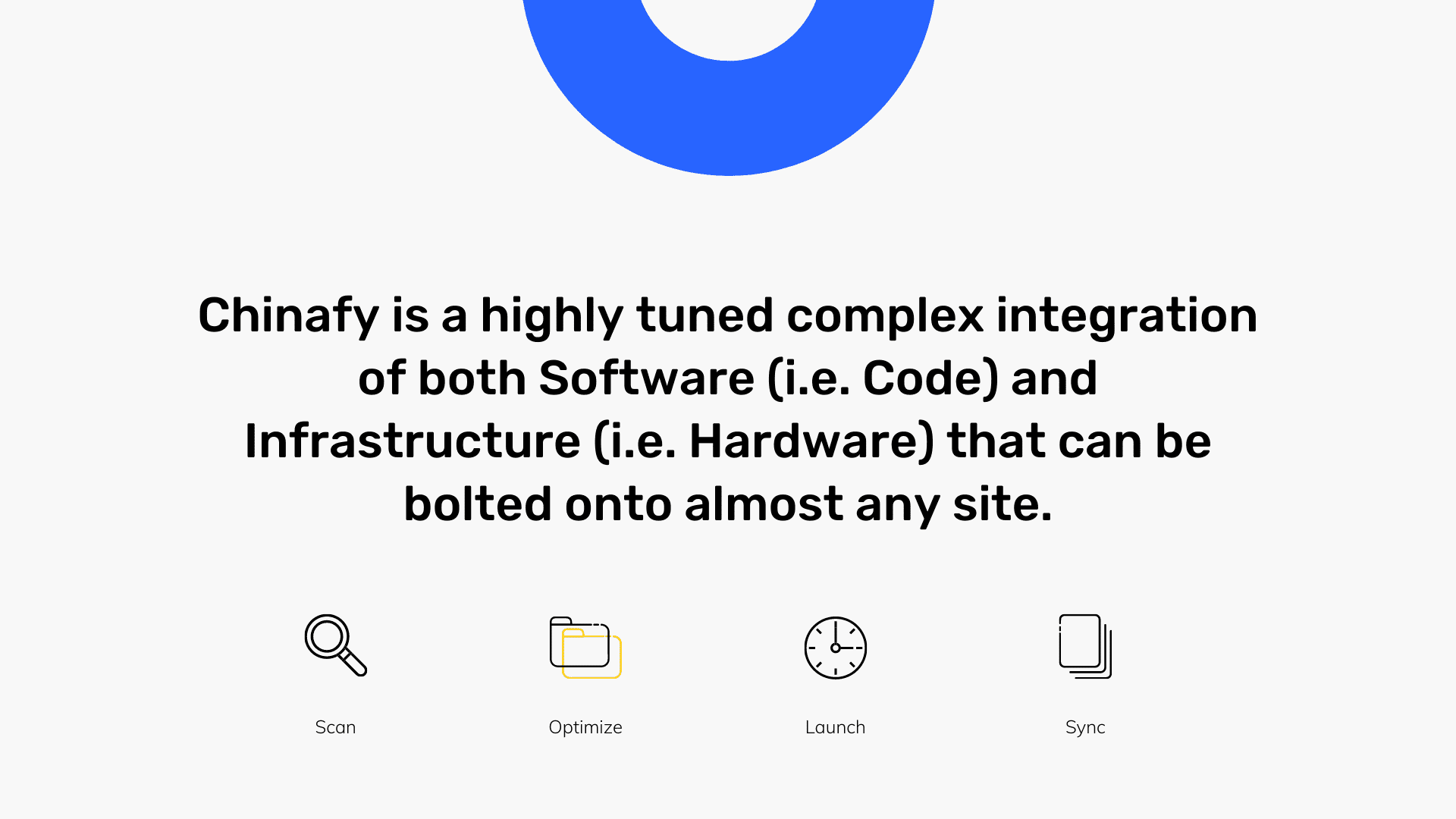 Chinafy first scans your website to create a Chinafy-managed version of your site, detecting resources that are blocked or slow across your site.
Chinafy then optimizes that Chinafy version of your site across infrastructure, resources, and security based on best practices.
Once the Chinafy site is turned on, when visitors go to your website - your China visitors will get directed to the 'Chinafy-version' of your website and all others to the original version of your site.
Chinafy's automation rules then keep the two versions of your site in sync, optimizing your website as it evolves.
You can read more about the step-by-step on How Chinafy Works here.

This way, Chinafy provides the best of both worlds, ensuring that your global web experience for your global visitor remains unaffected while delivering a version of your site that works well for visitors in China.

From pages fully rendering, to the entire site loading more consistently, Chinafied sites experience a decrease in bounce rates, an increase in usability, and an increase in conversions in a cost-effective, results-driven way.
Who uses Chinafy and what are some common use cases?
Leaders in every industry use Chinafy, from global MNCs to SMEs.
The reason our solution is so broadly applicable is that almost any website that is not blocked or inaccessible in China, is eligible for Chinafy.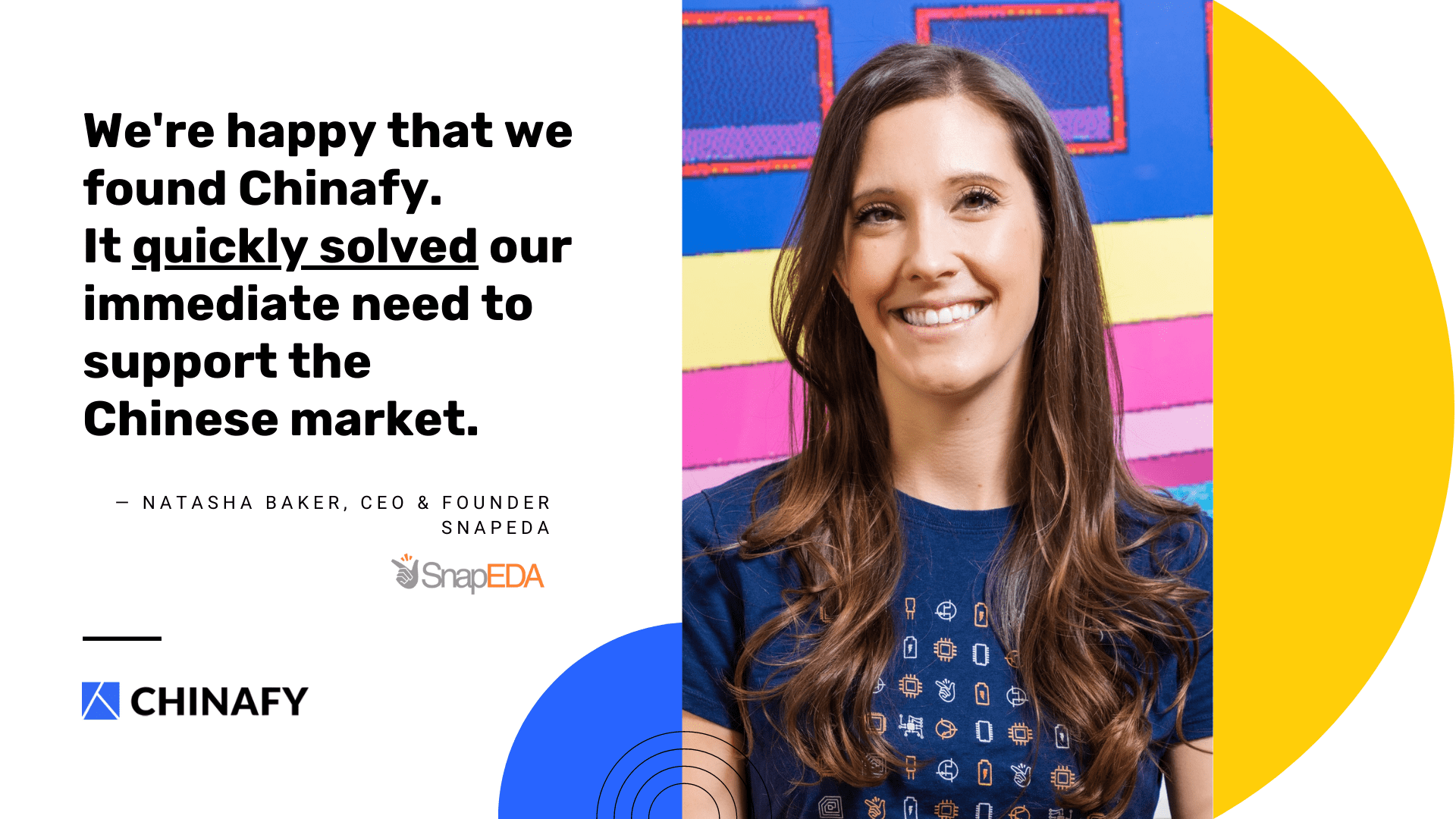 Websites built with (name any
CMS)
Some use Chinafy simply because they have websites that are built with website builders that don't work 'off-the-shelf' in China and they need those websites to work. These include website builders like Shopify, WordPress, Adobe, Hubspot, Magento, and more.
Custom websites and web applications

Developers are inherently and reasonably using libraries that work great outside of China, but are perhaps blocked or slow in China.
Bolting on Chinafy helps them continue to manage that single website or application while ensuring that it works just as well in China as it does for their visitors elsewhere.
Chinafy Case Studies
Some specific examples include -
Listed companies including SSAB & Nolato
Shopify merchants like MIRTA, Fedoma Jewelry & Boreás Technologies
Travel & Hospitality including Ayana Resorts & Swire Hotels
Creative Agencies like Goodstein & Ace Studio House in Shanghai
Events including those for the American Diabetes Association & Transitions Optical
Education: Wycombe Abbey, MIT, & UChicago
Malls like the largest shopping complex in Osaka, Japan - Umeda
Platforms like SnapEDA
For more Case Studies please visit Chinafy Case Studies


What are some other options when it comes to making my website work in China and how does Chinafy compare?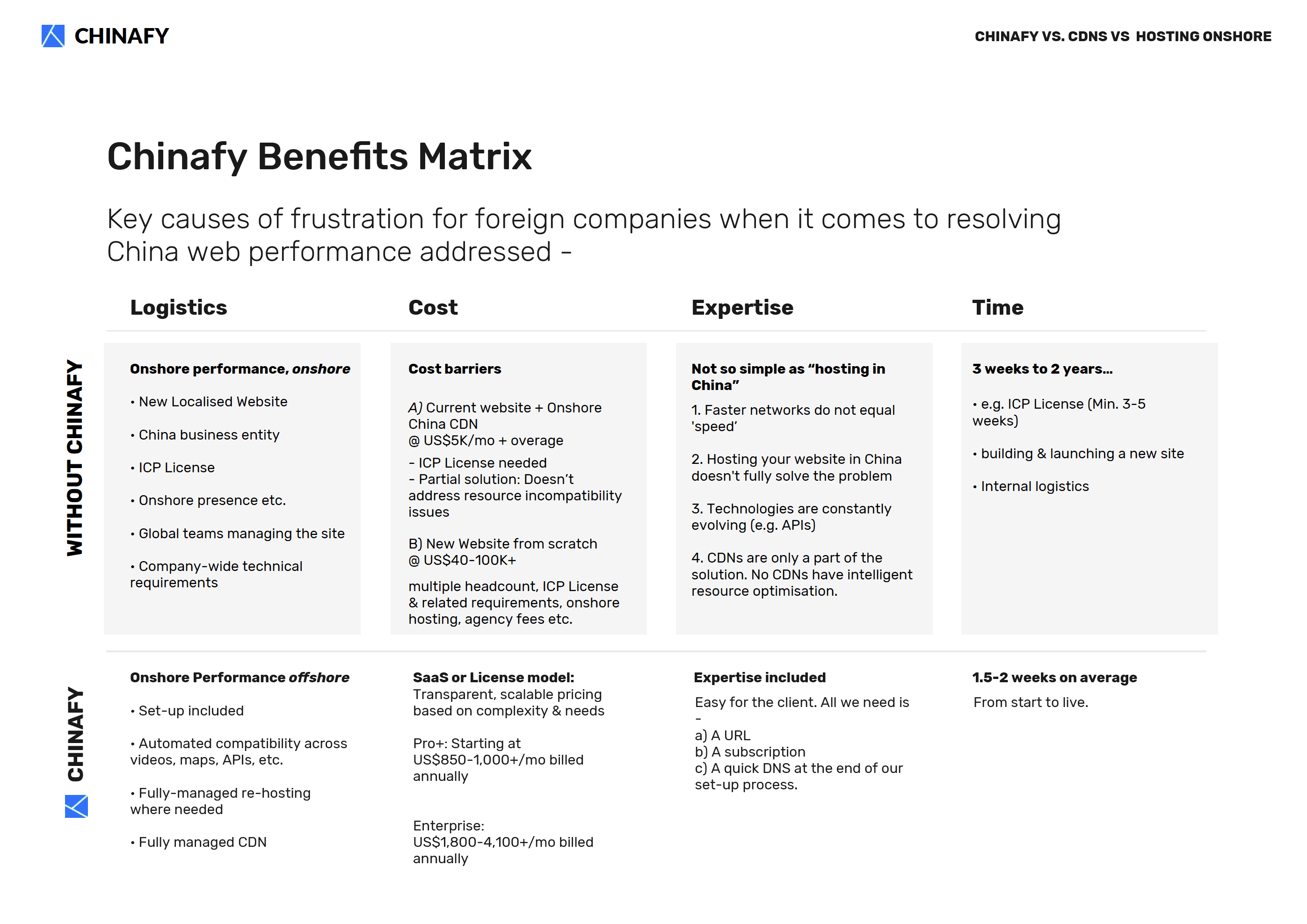 Fully onshore which involves having a China business entity, an ICP license, a new localized website, hosting in China, and multiple expert headcounts. This is in essence a completely separate website or application managed by a team in China. This takes anywhere from 4 to 6 months. (If you do need an ICP, contact us for ICP Support)
Current website + an onshore China CDN which still requires an ICP license and doesn't address any resource incompatibility issues. More on this below. Onshore China CDNs, like Cloudflare China, start at about US$4-5K/month
Chinafy other hand helps your existing website achieve near-native onshore performance, offshore with plans ranging from a few hundred to a few thousand USD a months. Setting up takes anywhere from a few days at its fastest, to at most, two to three weeks for a complicated custom platform.
Why can't I just use a CDN?

Well, you can and even we do as part of our solution but…
1. CDNs deliver data, they don't evaluate and rewrite front-end code.
This means that blocked components of your site would remain blocked and ineffective. This is where Chinafy shines. Chinafy is able to identify, modify and replace incompatible resources to ensure they load fully, and quickly in China.
2. Chinafy enhances from the Data Link to the Application Layer, whereas CDNs end at the Presentation Layer.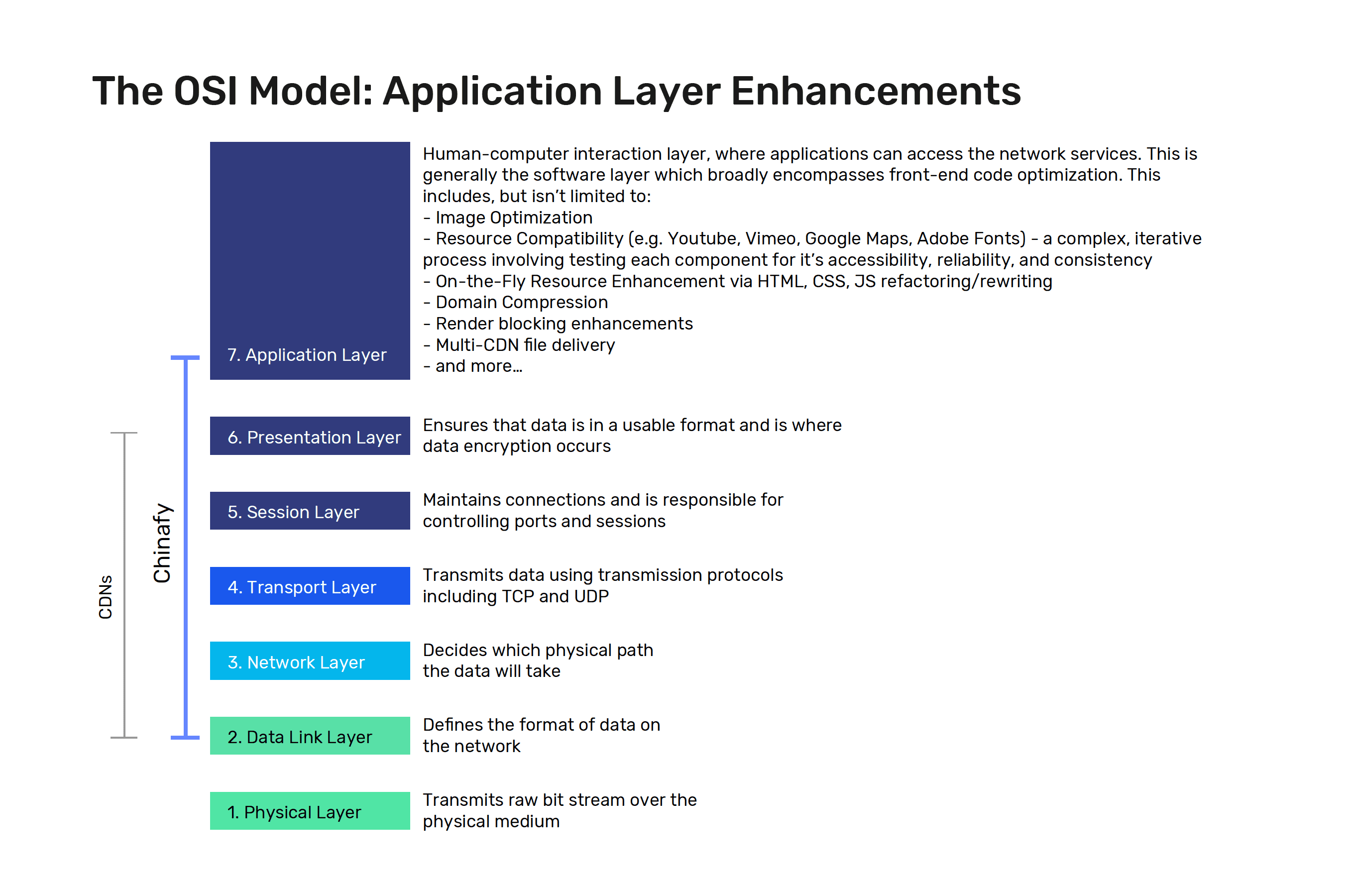 3.
By combining our Web Compatibility suite with our partnered CDN providers, Chinafy sites are 30-40% faster than sites with near-China CDNs alone.
We love CDNs too! In fact, we're official partners with industry-leading platforms like AWS, Alibaba Cloud, Microsoft Azure, and more, providing our China Web Performance solution to their customers and leveraging their wide range of solutions.

More importantly, they're not just fast but also functional.

Here are some more articles on Chinafy vs CDN


How to get started with Chinafy

Looking for an all-in-one solution that uses a multi-CDN solution, and addresses code compatibility? Simply fill in the Get Started form and we'll be in touch with some next steps specific to you!