Does Webflow work in China?

You're here because you've built a Webflow site, and you love it. Everything from its custom motion design to its responsive layout is just what you envisioned for your brand and end-users. That is, until you hear otherwise from visitors in China.
Webflow is a powerful site builder when it comes to creating highly customizable designs. Its on-suite customization features feel intuitive to those even without any fluency in HTML, CSS, and JavaScript.
While Webflow sites are not inherently blocked in China, like sites built with other site builders such as Squarespace and WordPress, Webflow sites similarly face challenges across speed and deliverability in China.
So, how do Webflow sites perform in China? What issues do Webflow sites commonly face? And more importantly, how do you resolve issues your Webflow sites are facing in China?
In this article, we've outlined common issues among Webflow sites in China, and ways to fix them accordingly.
Most Common Issues
Slow loading time
Font, CSS files and JavaScript files 'time out'
Blocked media files
Issue 1: Slow loading time
Webflow sites take upwards of 20 seconds to load in China, with some taking longer at the 45 seconds mark.
Similar to other 'global' CMS-based sites, Webflow sites are hosted with infrastructure that works incredibly well outside of China but is not most optimal for China users. Webflow's content delivery networks (CDNs) stack, for example, comprises of Amazon Cloudfront and Fastly.
We've handpicked some Webflow's sites most well-known for its beautiful design to test in China to share some visual speed previews below.
Webflow Site i: Salt Branding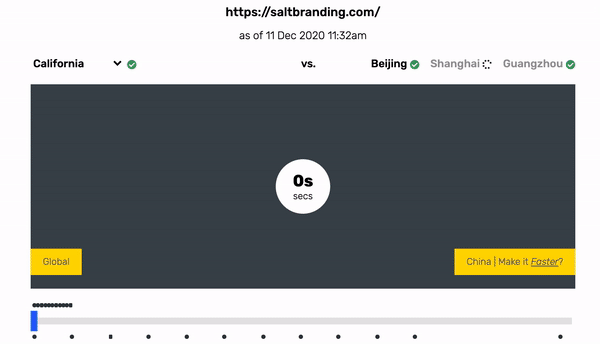 Named one of Webflow's favourite sites in 2019, Salt Branding is an award-winning creative agency that uses Webflow for its homepage.
Here's what we see: the first visual appears at 15.8s in China
Here's what China visitors think: the site doesn't work...
Issue 2: Font, CSS files and JavaScript files 'time out'
The Webflow interface allows implementation of custom codes, which while are its key differentiating features, also makes it prone to incompatibility in China.
Webflow Site ii: Helloheco.com: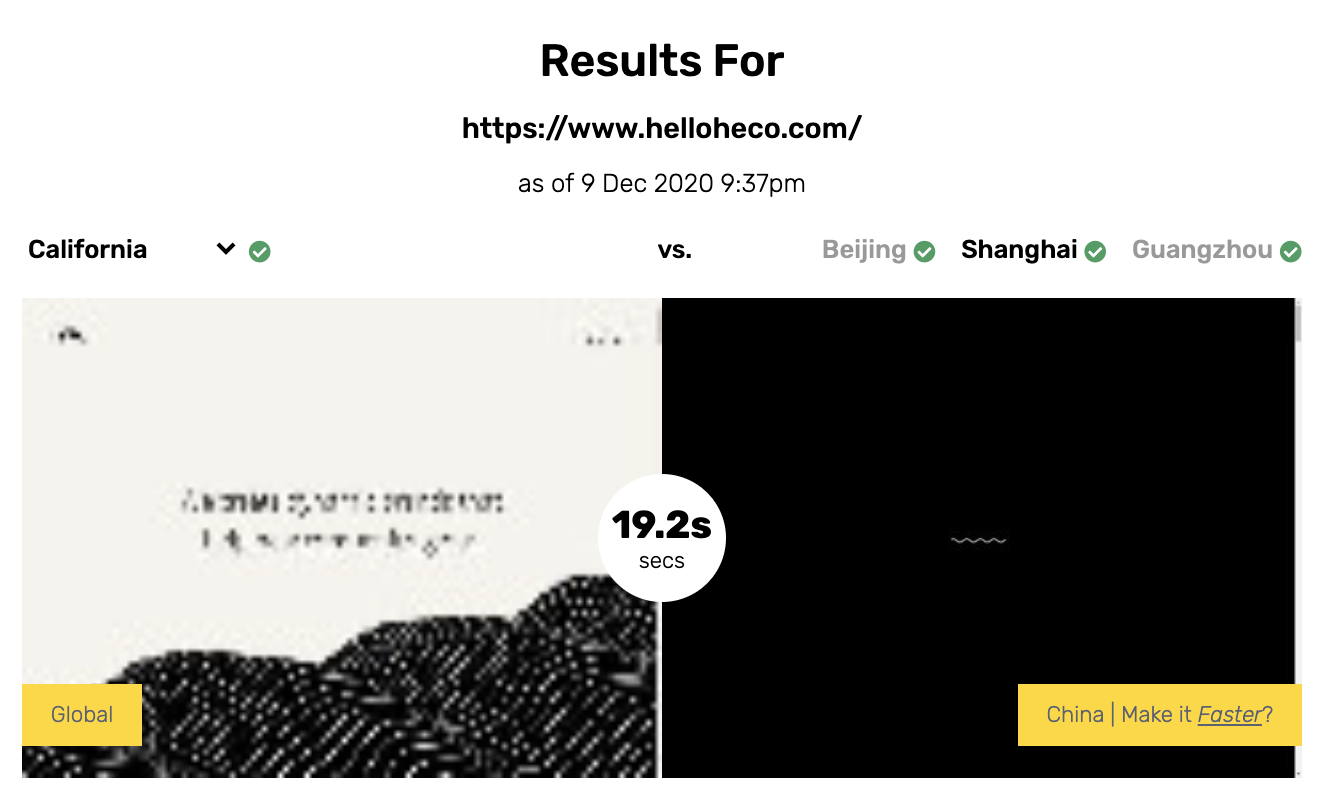 Heco is a design studio that creates brands and websites for new companies. Its homepage opens with a stunning background highlighted by its animated wave, which unfortunately doesn't deliver nor display when loading the site from China.
If we look at its performance by content type (see below for metrics), we can notice a few things -

10% of its key image files are not only missing but other images file are also taking up to 6.4 minutes to load in Shanghai
25-50% of JavaScript and CSS files are missing in China
100% of its font files (fonts.googleapis.com) are unable to load in China
Want to see what else doesn't load in China? See our list of technologies that don't work in China. You'd be surprised…

Issue 3: Blocked media files
Irrespective of site builders, people outside of China heavily rely on media players such as YouTube and Vimeo, which are blocked in China. As a result, even if the content itself is not blocked, the media player prevents China visitors from seeing the content.
Well, what about hosting your videos with a Chinese media player like Youku, iQIYI, Bilibili, and Xiaohongshu? You could, except, doing so might be a bit more of a hassle as most only be accessed in Chinese and require a China-registered phone number to set-up.
In short, if you're not physically located in China and have some fluency in Chinese, there are no straightforward ways to make your videos work in China.
Ways to Resolve Webflow Issues in China
1. Traditional onshore hosting
When your site hosted outside of China doesn't work, the next solution most companies think about is to host it onshore. In the context of China, this means several things -
You may need to set up an entity in China (with half of your company owned by Chinese nationals)
You may need to apply for several licenses with respect to legal operations, internet security, and financials in China
You may be limited to exclusively using a China-approved Internet Provider to host your site
You'd likely need to build a new China-facing site - from scratch
Most companies need a 3-6 months timeline to start
You may be spending roughly US$40K to US$100K to address the above (see costs to host onshore here)
2. (Partial fix) Global CDN: CDNs are often the first to come to mind as a popular tool to achieve site acceleration. While they do make sites fast, CDNs are not able to address incompatibility issues, i.e. your blocked media files will still remain unavailable to the China-based end users.
OR you could use Chinafy.
3) Chinafy
Want to keep your site offshore but accessible in China? Try Chinafy.
China is the only cross-border platform that accelerates your site and makes it loads fully and securely in China with almost instantly verifiable results.
Chinafy works by duplicating, re-engineering, and re-hosting your site with China-friendly infrastructure that is reliably 30-40% faster than other CDNs (see 'Chinafy vs other CDNs'). The result is a China-optimised version of your site, fully-managed, hosted near-China, and after our set-up - optimised on an ongoing basis.
Don't just take our words. Read our before-and-after Chinafy results working with American Diabetes Association, Wildlife Reserves Singapore, or Wycombe Abbey School.
Does your Webflow website work well in China? Test it out.

It's time to see how your site performs in China. Try our Visual Speed Test tool, which lets you test the speed and visual performance of your site loaded in China, in real-time.
Not happy with how your site performs in China?
Click here to get in touch with Chinafy!