So, you've built a stunning Squarespace site, added a number of plugins, and maybe even enabled a social media channel or two. You then test the site. It looks sharp and interacts nicely - so you publish it. Then you get a friend in China to check it out but then find out that not only does the site look broken, but that they can't seem to do much on the site.
Here in this article, we'll dig into -

i) Why Squarespace Sites Don't Work in China
ii) How to make Squarespace Sites Work in China
iii) Where to test your Squarespace Site
Note: We focus on Squarespace in China examples in this article. However, the contents of this article can be widely applied to a variety of other CMS providers, Website builders, or even custom sites. Popular platforms where these points apply, save a few specifics, include Shopify, Magento, and WordPress among others.

Defining a site that 'works'
A site doesn't 'work' in our definition when a user can't load the page in a reasonable time (3-5s) and are unable to interact with it as it was intended.
Take this Squarespace website fightingeel.com, for example. Like most foreign websites in China, it will...
Take forever to load, if at all...
Be missing resources on their pages...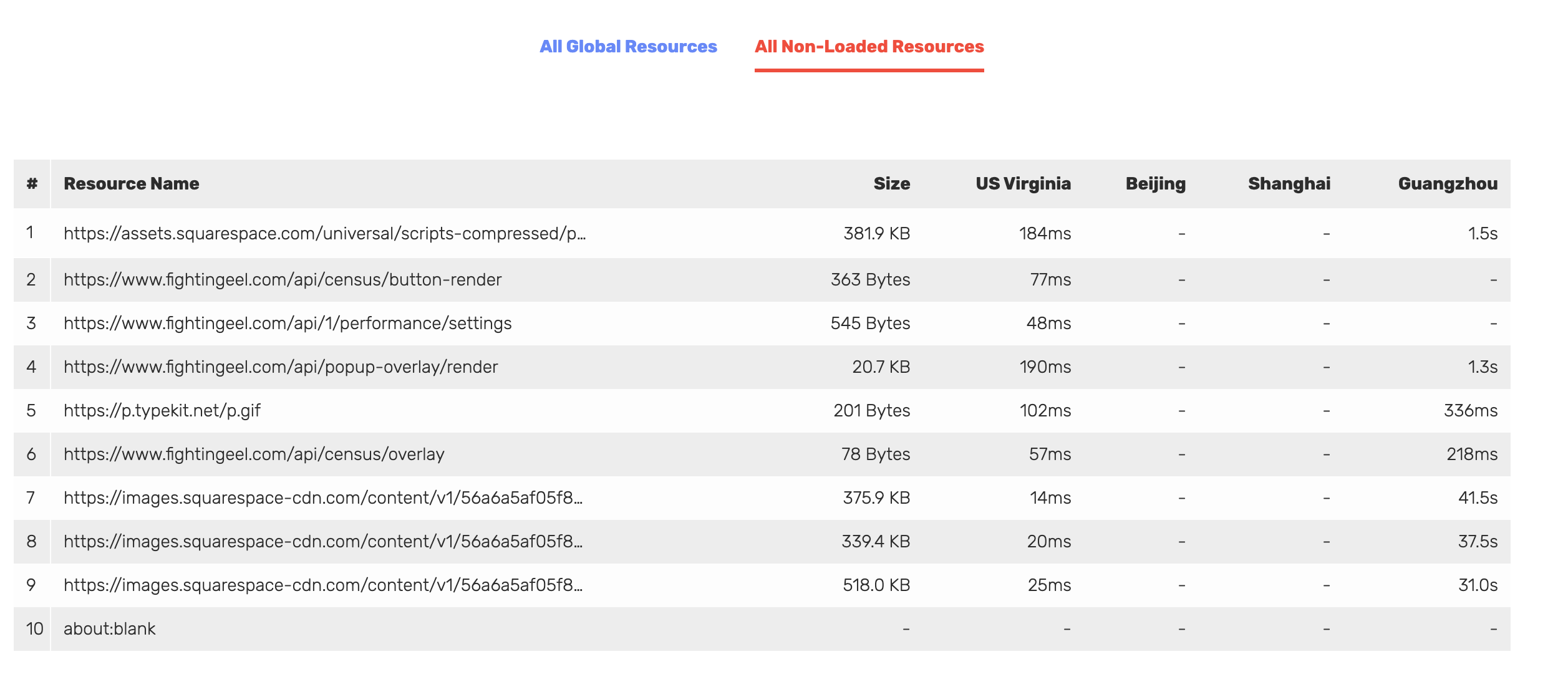 So, why don't Squarespace Sites work in China?
Squarespace sites don't work in China for two primary reasons.
i) Code-Based Issues

Sites are built with hundreds of resources - most of which are third-party resources that are either blocked (e.g. Google APIs, Twitter, Facebook, etc.) or are delivered from incredibly slow networks (like static.squarespace.com).
How do websites generally load?
Request is made for HTML document
The web server provides HTML to a web browser to read
The web browser reads HTML files to identify where to find resources
Browser requests resources - including images, CSS, and js files - from the server(s)
The browser parses these files
Finally, the browser then renders (or displays) the webpage
What happens when a resource is blocked on a page?
When resources are blocked, the web browser will keep trying to retrieve the file for a period of time before it moves onto the next resource. As a result, the loading process is 'clogged' as the web page load hinges on resources that cannot be loaded at all.
Even if a file is not blocked, third-party files hosted on slow networks take a long time to retrieve - slowing down the overall process. This is the case with Squarespace sites which host most of its media assets on static.squarespace.com.
Note the below example of the Fighting Eel Squarespace site as it loads outside of China vs. inside of China.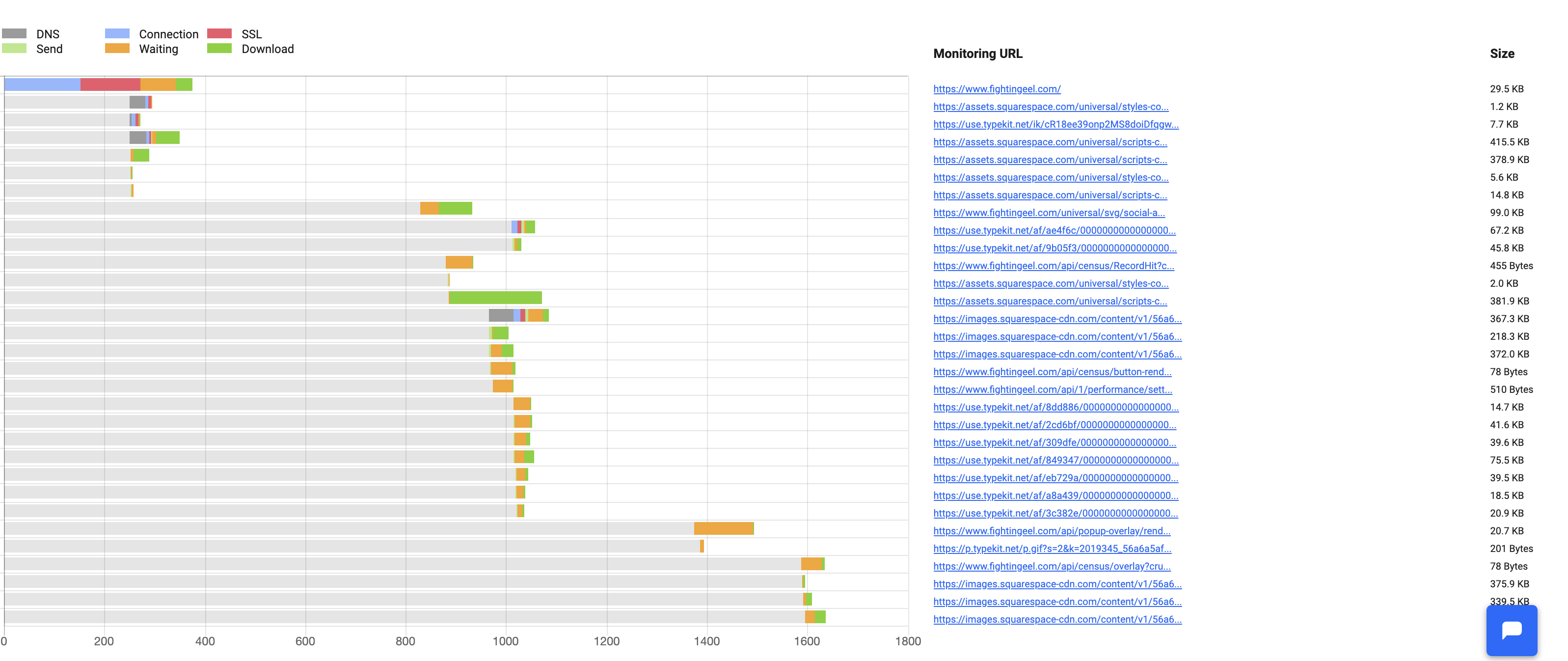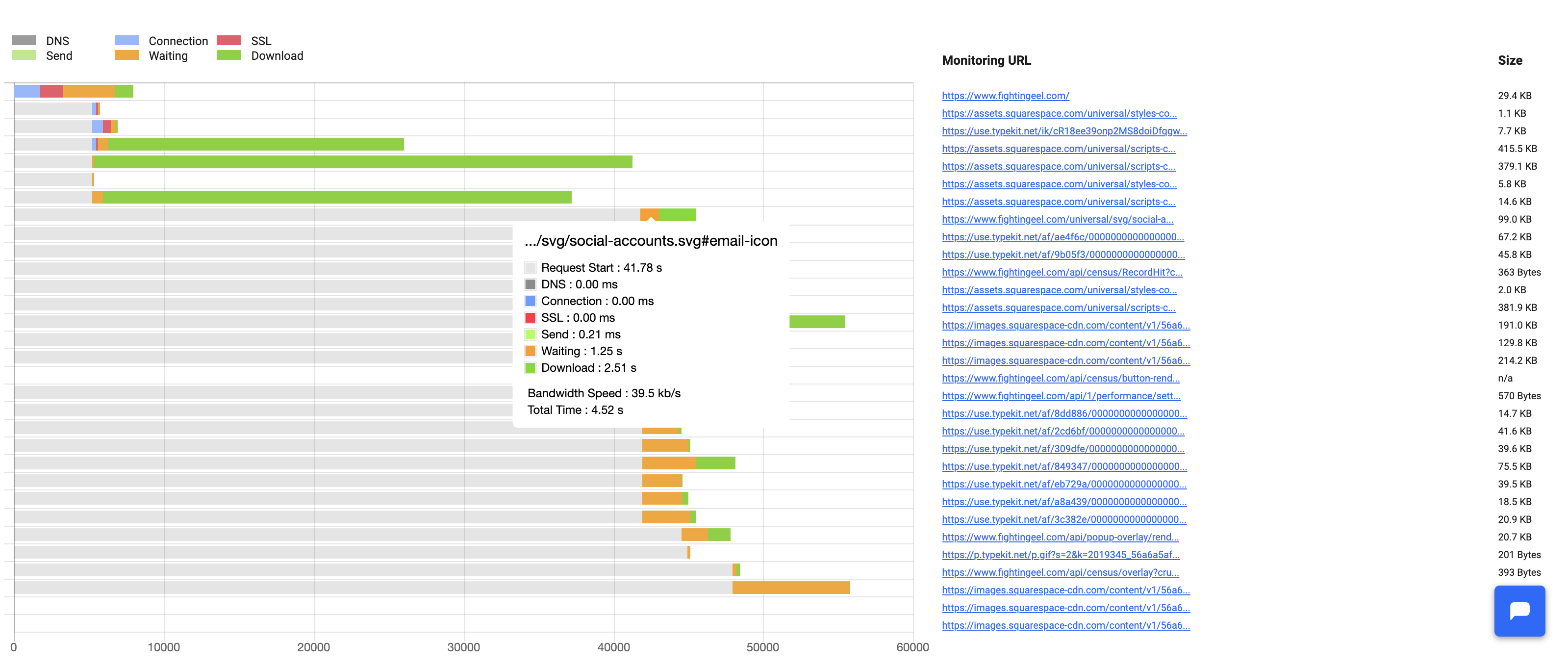 As a result of code-based and infrastructural incompatibilities, Squarespace sites are painfully slow in China, and often end up with broken or missing sections (e.g. image carousels, fonts, maps, videos).
ii) Infrastructural Issues

Sites built on Squarespace (WordPress, Shopify - you name it) do not have an infrastructure designed for China. Key infrastructure components include Squarespace's servers (in the US) and its CDN Provider (Fastly).
a) Having a CDN or near-China Server won't fix code-base issues. Infrastructural enhancements don't fix the code-based issues above. A fast, broken site is still broken.
b) Not all CDNs are the same. Western CDNs (like CDN leader Fastly) may be wonderful for content delivery around the world, but are still slow compared to Chinese CDNs*
*You can compare CDNs and how they perform, filtering by China, CDN Response Time.
c) Server(s) location(s). Squarespace sites are hosted in the US.
Squarespace is wonderful for businesses who want to build a site quickly and beautifully. However, it's important to note that sites built in a 'Western framework' come with a caveat…that it is not truly 'global' or 'China-friendly' off the shelf.

Making Squarespace sites work in China

It USED to be a complicated process, but now it doesn't have to be.

You could ...
a) Spend millions of dollars and about 2-4 years - like the Coke, and Pepsi's of this world - to manually resolve code-based issues, get a business entity and host onshore, and manage a completely different site for China.
a) OR Use Chinafy - a platform that accelerates your site, and ensures that it loads fully for visitors in China with almost immediate results.
Once you've added your site to Chinafy, the platform scans and duplicates your site to create a 'clean' China version. Your site undergoes a series of optimizations, resource replacements, and then once this process is complete - all you have to do is make a quick update to your DNS to 'Go Live' The results are almost immediate and easily verifiable.
With Chinafy, your global website is unaffected (Chinafy only delivers the site that your visitors from China see), you can update your site as you normally would, and have required optimizations handled on the fly - forever.
So, does Squarespace work in China? Out of the box, no.
Can Squarespace work in China? Not off the shelf, but with some work, it absolutely can.
What next?
Test your Squarespace site to see how it loads in China with the Visual Speed Test. Then fix it.

Got questions? Get in touch with Chinafy