In this article, we'll cover -

• Some context about e-commerce in China
• The bigger picture: How Shopify Plus fits into the broader marketing strategy for businesses interested in selling to customers outside and inside of China
• How most Shopify Plus sites work in China
• How to optimise your existing Shopify Plus site to work in China
About E-Commerce touchpoints in China

E-commerce is responsible for approximately a third of all retail sales in China. In a global context, this means that China's e-commerce sales are responsible for almost half of all e-commerce sales globally.

Popular e-commerce platforms in China include Taobao, T-mall, JD, WeChat and more. You can learn more about them through our Chinafy tech landscape (linked above!).
The various platforms above vary across function, customisability (think marketplaces!), and respective requirements to listing on those platforms.
Where does your Shopify Plus fit in in the China e-commerce picture?

Having a website provides i) organisational brand credibility ii) a medium to engage and educate customers directly iii) search-ability & organic traffic iv) nexus for digital marketing efforts.
Just as you would require a website globally - irrespective of what marketplaces you are on or social media channels you may have - you similarly need to have a strong website for China as well. Read on below to learn how you can use the same Shopify site to serve visitors globally and in China.
Are Shopify Plus sites slow in China?
Most of them, yes. That is, if you were to have China visitors access the site without having implemented any optimisations on the site with a service like Chinafy. More on that later.

Here are some examples of Shopify Plus sites and how they perform in China.

Shopify Plus is largely designed for online companies that are consistently making at least US$1,000,000 every month. Even if 5% of those sales could come from China, that's $50,000/mo.
It goes without saying that outside of the many reasons to have a website that works well in China, ensuring that customers who you've managed to attract directly to your site is one that ranks quite high up there.
Here are some examples of how some Shopify Plus sites perform in China -
LeSportsac

: 9.2s in the U.S. vs Timeout error in China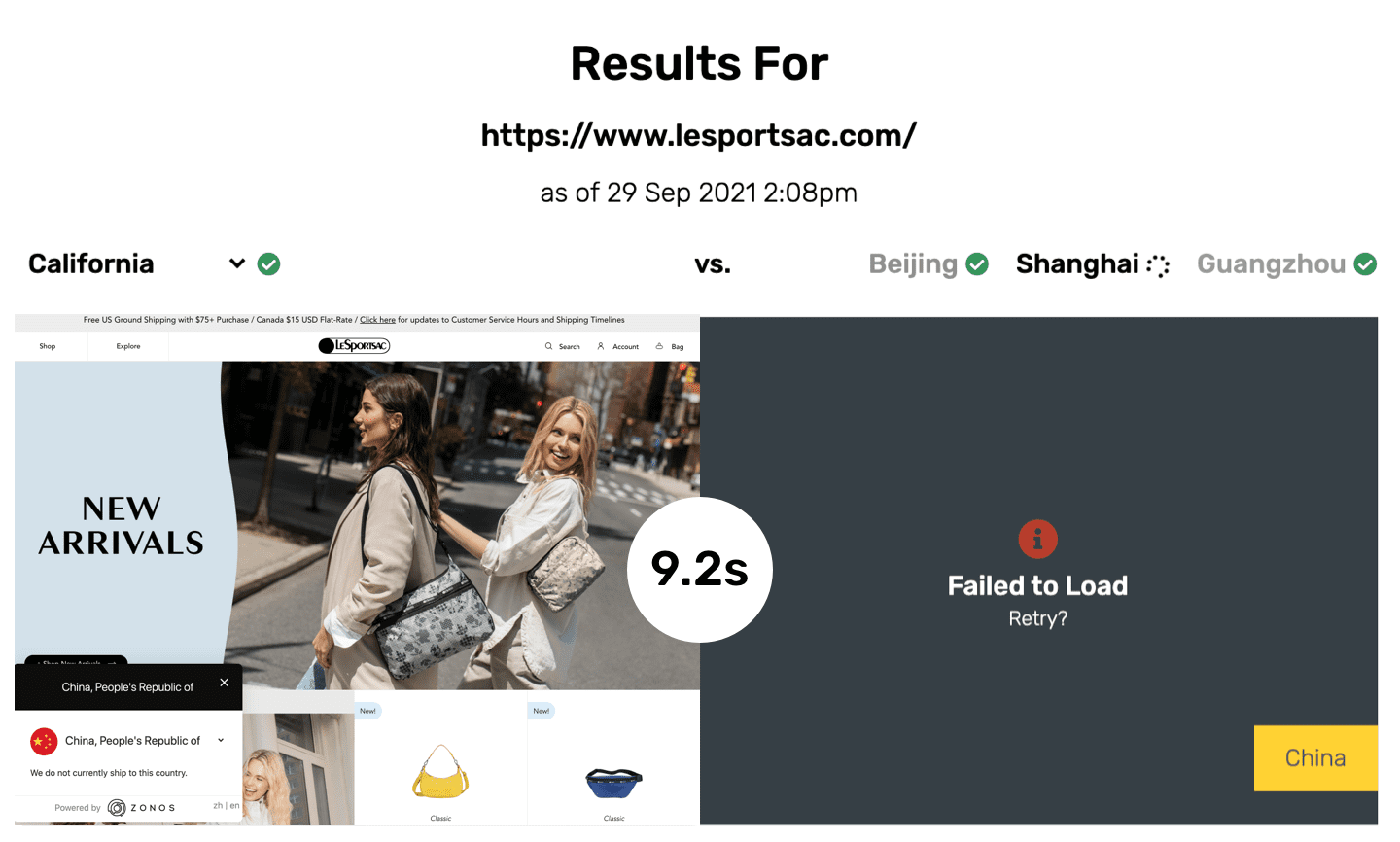 Paperlike

: 10.8s in the U.K. vs 23.9s in China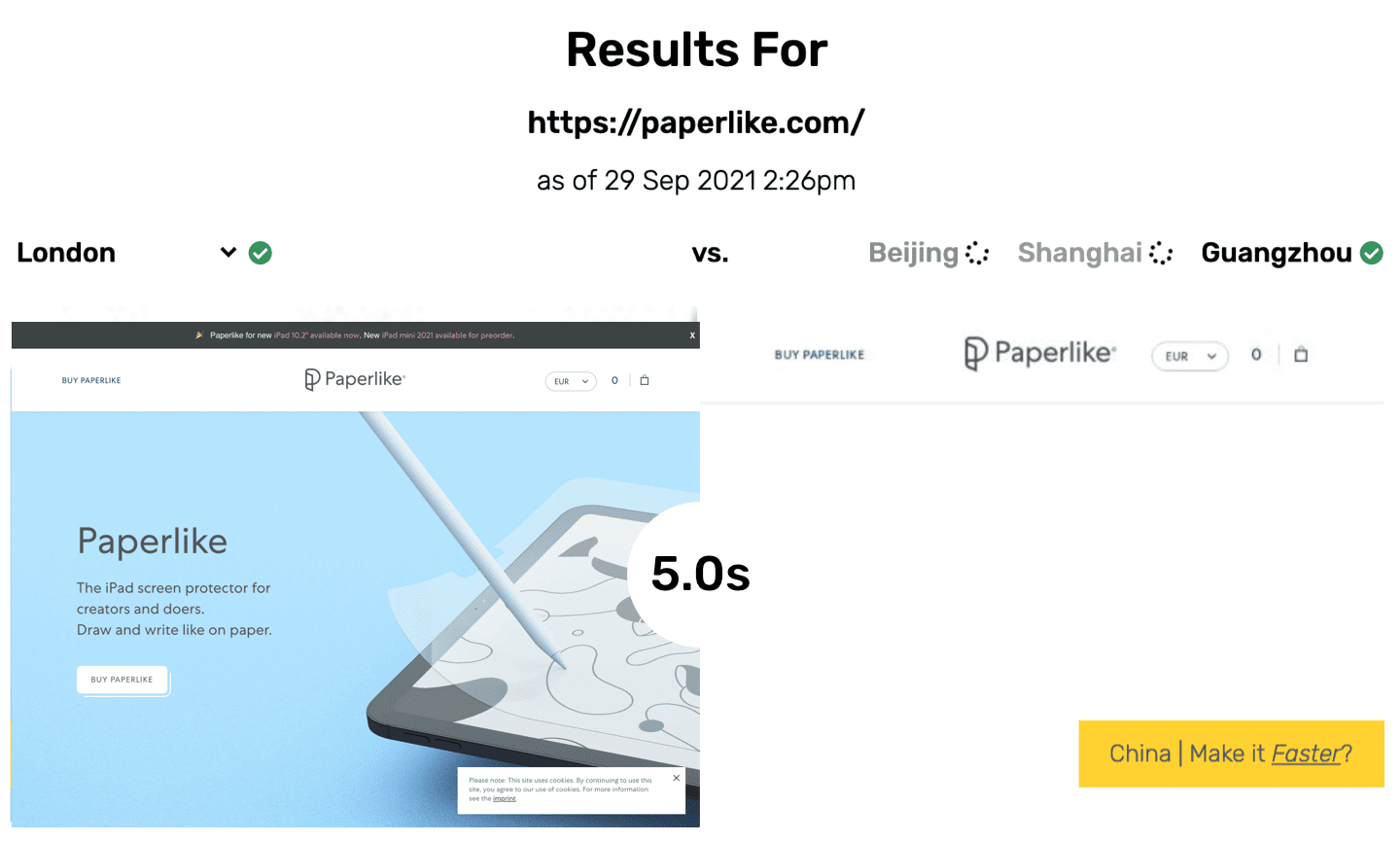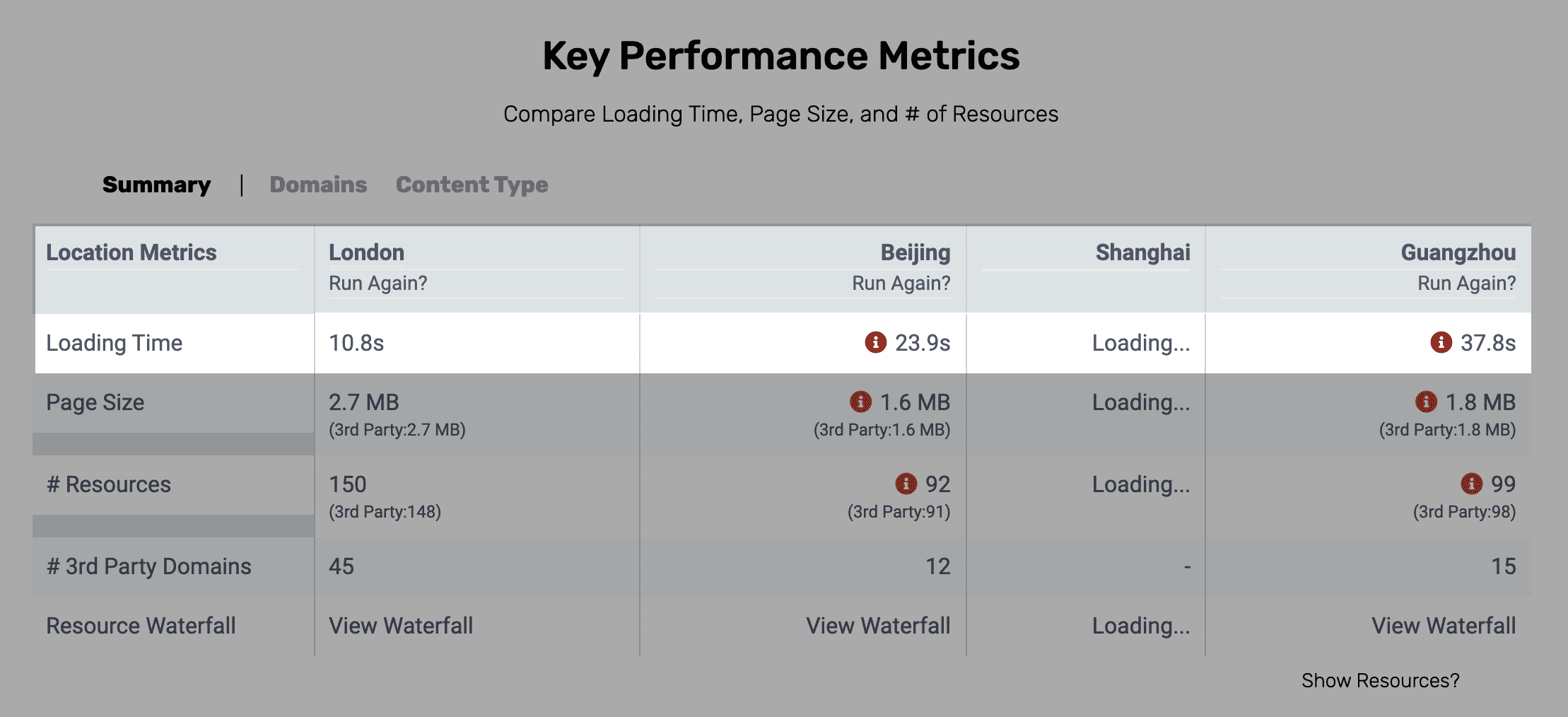 Gymshark

:

9.2s in the U.K. vs Timeout error in China
HiSmile

: 2

.7s in the U.K. vs Timeout error in China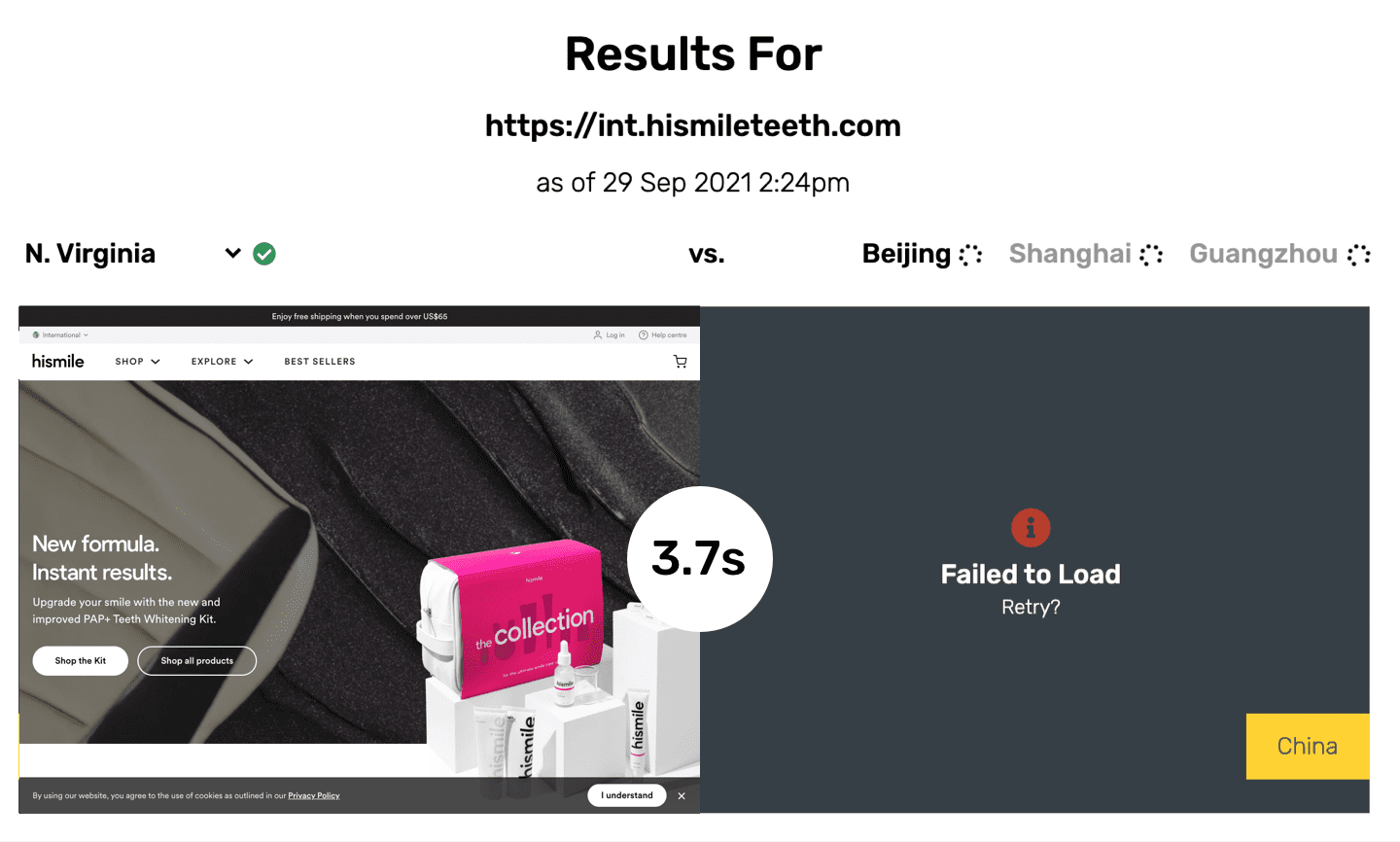 Rebecca Minkoff

: 18

.5s vs Timeout error in China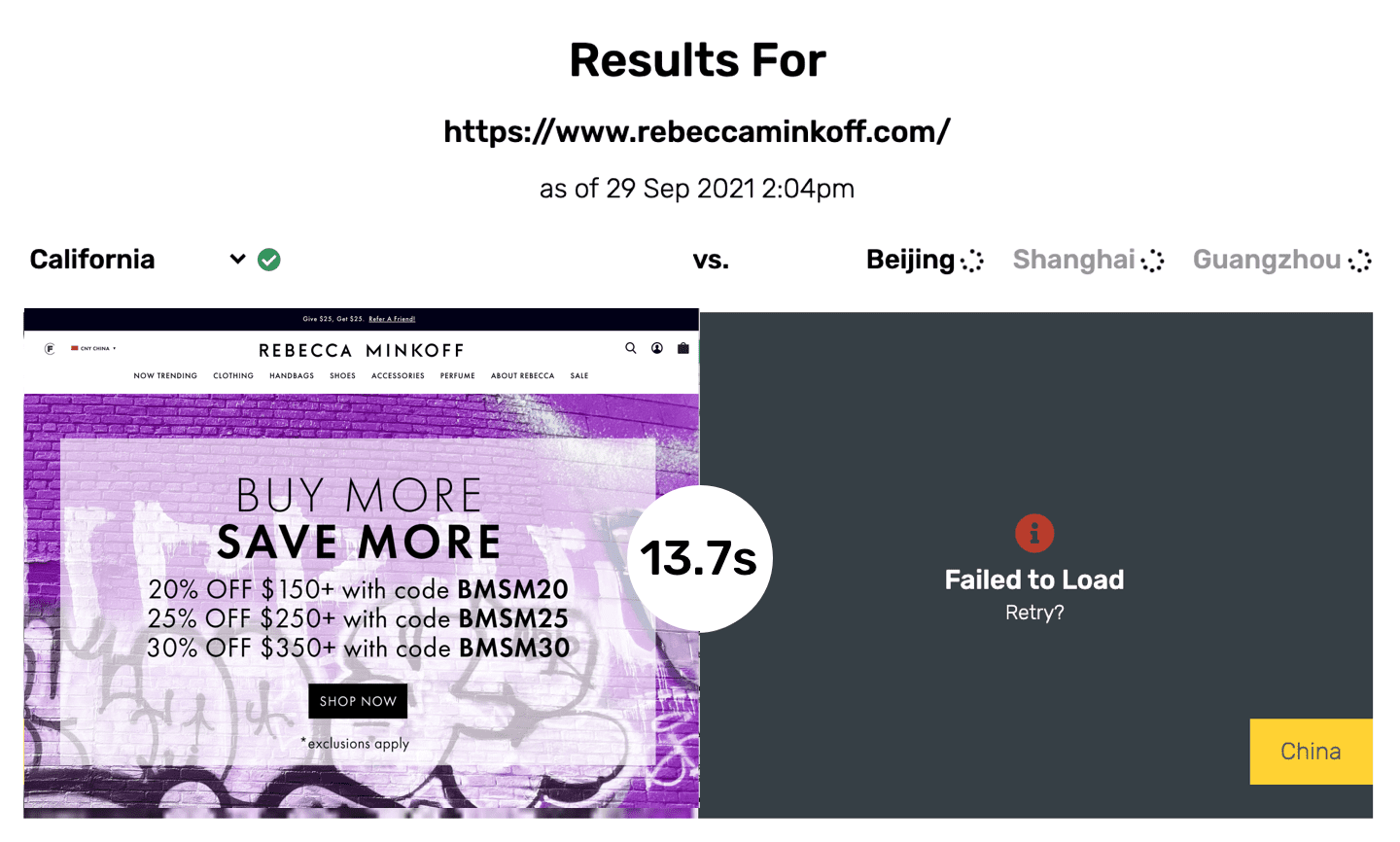 See a pattern here?
4 out of 5 sampled Shopify Plus sites ran into timeout errors in China. That's a shocking 80%
Do you use Shopify and not Shopify plus? Learn more about Shopify in China.
Can Shopify sites work well for China?

Absolutely, yes.

The core reasons behind why sites encounter performance issues - like slow loading times and broken interactions when loading in China - is because their default build is not designed for China's unique infrastructure.
Namely -
Incompatible Website resources: This included a constantly evolving list of blocked or slow web resources across both 'basic' Shopify functionality like media assets, videos, fonts etc. to functionality brought by the wealth of plugins across the Shopify marketplace.
Infrastructure inclusive of servers and CDNs, primarily.
By addressing both i) incompatible resources and ii) infrastructural issues behind a site - Sites can load an average of 6-8x faster in China, not to mention more consistently, with better deliverability (e.g. fewer missing resources) and full interactivity across user-facing interactions as well as post-load resources like analytics.
Traditionally if a website were to load fast and fully in China, they would need to be hosted in China (requiring both a China business entity, ICP license, onshore support, CDN agreements etc.) and have been localised, built, and managed differently to their global site. This process takes anywhere from 3 weeks to 2 years, not to mention multiple headcount.
That's no longer the case, and we'll go into the how.
How to optimise your existing Shopify Plus site to work in China

Chinafy is a platform based solution that helps websites load fast and fully in China. It is the only platform able to achieve virtually onshore performance, offshore.
It's for that reason that SMEs to Listed MNCs like [SSAB] and [Swirearti] work with us, and why Tier 1 companies like AWS, Google Cloud, Azure and Alibaba Cloud partner with us.
Why do Shopify Stores use Chinafy?

There are a number of reasons but it broadly boils down to this -
Chinafy gets results: Chinafy accelerates Shopify Plus sites on average from 35+ to under 5 seconds fully loaded, and visually loaded before.

Fastest, trusted go-to-market option: No new site, onshore presence, or separate site needed. Set-up is included and it's an otherwise largely, hands off solution for you. All we need from a company is their website url, a subscription and a quick change to their DNS.
Chinafy works with what clients already use: We work well alongside a customer's existing technical stack, meaning they don't have to build a site from scratch or manage one separate to their existing workflow.
Support & security is at the heart of what we do and we have experience with Enterprise! We pride ourselves on having plans and support levels suitable for companies of all sizes. More in our Chinafy trust centre.
Hands-off management: Our solution's automation features ensure that the original Shopify Plus site remains in sync with the Chinafy version
Is your company using Shopify Plus?
Test your site or reach out to see how we can help your site better engage customers in China.