This brief covers Shopify & JD.com's latest Strategic Partnership Announcement and what this partnership means for Shopify Merchants.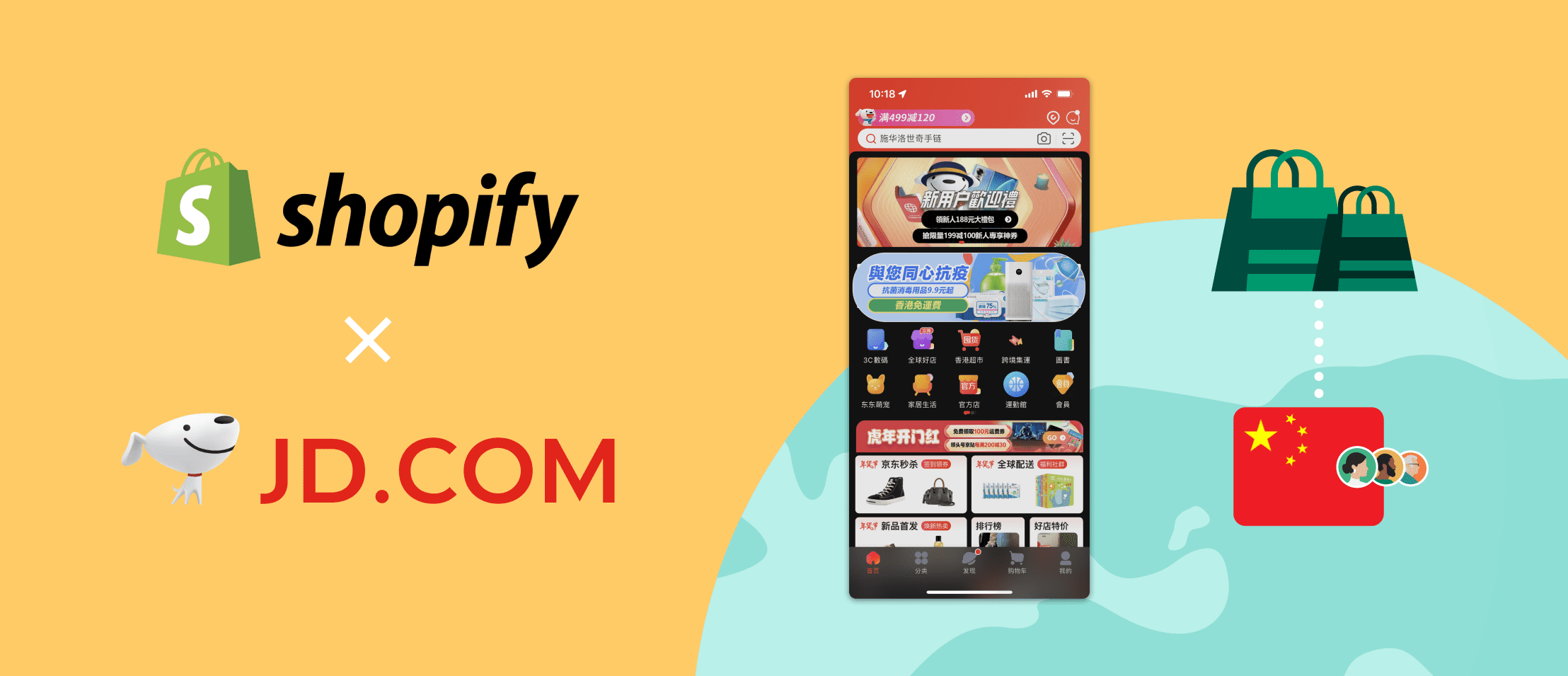 About the Shopify and JD.com Partnership
E-commerce platform Shopify and major online retailer JD.com are combining their resources to help merchants sell to more customers in China.
As of January 18 2022, Shopify US Merchants will have access to the JD.com sales channel to a market of 550 million active customers in China, and Chinese merchants will have help selling to overseas markets as well though more details are still to unfold.
Key Benefits
This first phase of a broader strategic partnership looks to help Shopify merchants -

Fast-track the listing process onto JD's cross-border e-commerce marketplace, which previously could take up to a year to a process that claims to take just four weeks
Provide end-to-end fulfilment & logistical support inclusive of its fleet of cargo flights between US & China, 1300+ warehouses, and 200,000+ delivery personell
Streamline the localisation process with automated translation and price conversions, as well as VAT and related tax
JD.com is thrilled to partner with Shopify...We believe that the partnership will unlock the huge potential of the Chinese market for brands outside of China. At the same time, it will increase cross-border commerce by leveraging our global supply chain abilities, simplifying what has traditionally been a very complicated process." - Daniel Tan, President of JD Worldwide
As shared in the official release, "Regulatory and logistical barriers, as well as complexities related to pricing, duties, and translations, can be daunting to deal with for all but the largest of brands."
This partnership is positioned to hopefully help you and your products to go the literal extra mile once you've localised and optimised your website for China.
What do I need to do before getting started on JD marketplace?
1. Make your website compatible for China
As we've written about in our many articles about Shopify in China, you probably know first hand that most Shopify sites don't perform well off the shelf in China -- often taking notably longer times to load than they do globally, and more importantly delivering a broken digital experience with missing videos, content, and other third-party components.
While the Shopify platform and this partnership is great in terms of providing you the tools and autonomy to launch your own store, there remains a gap in terms of how China visitors experience the website storefront.
While Shopify has taken notable strides to surpass other Website builder peers in the delivery of primary assets & images they host, third-party resources and plugins remain a challenge for Shopify merchants.
These blocked or slow third-party resources (e.g. Vimeo, Google APIs etc.) contribute to a slow and or broken experience for visitors in China.
However, addressing this is not so simple as removing them as that would -
i) compromise how the site functions for visitors outside of China
ii) create an ongoing challenge as these third-party resource landscape evolves.
That's where Chinafy comes in.
Test your Shopify Site in China
How to make Shopify Plus work in China?
Once you've optimised your website for China performance with tools like Chinafy however, you can then look to -
2. Localise the content on your website
Language
Now that your content is visible, and indexable in China - take the effort to localise the contents of your website to include simplified Chinese.You can do this manually or with plugins found elsewhere in the Shopify marketplace, like WeGlot.
Payments
Localising the content on your website includes having payment systems that cater to the preference of the Chinese market. Learn more about the Best China Gateways for Shopify Sites and how to add them to your website.
3. Become a Shopify x JD.com merchant
You can find the step-by-step guide here.
Final thoughts...
It's early days yet in terms of Shopify x JD.com's partnership, but we're optimistic and we hope you are too.
Learn more about using Shopify x JD.com x Chinafy to sell more in China.