In this article, we'll highlight -

- What is Shopify Plus?
- Why Shopify Plus sites (and many others) don't work 'off-the-shelf' in China
- How Chinafy works with Shopify Plus merchants to reach customers in China
- Chinafy Results with Shopify Plus sites

What is Shopify Plus?

Shopify Plus (or essentially Shopify 2.0) empowers high-volume enterprise brands that make $1M+ in revenue to sell and grow with more customization, better control, and enhanced performance.
Fortune 500s companies such as Fitbit and the New York Times are among the 10,000+ Shopify Plus users.
Some of the key upgrades in Shopify Plus include -
An accelerated payment flow, Shop Pay, that boasts an 18% higher conversion rate
Deployment of Store Renderer (SFR) to accelerate request delivery by 2-2.5x faster

Localised customer experiences with global storefronts
Expanded control over site design, backend systems and data analytics
Access to and integrations with existing platforms and resources seamlessly
Well, almost seamlessly. Except in China...but more on that soon.
Why is the Chinese E-commerce Market Important for You?
When it comes to the global e-commerce market, China is the undisputed heavyweight of the world.
In 2021, Chinese consumers are projected to generate over USD 2.7 trillion in online sales.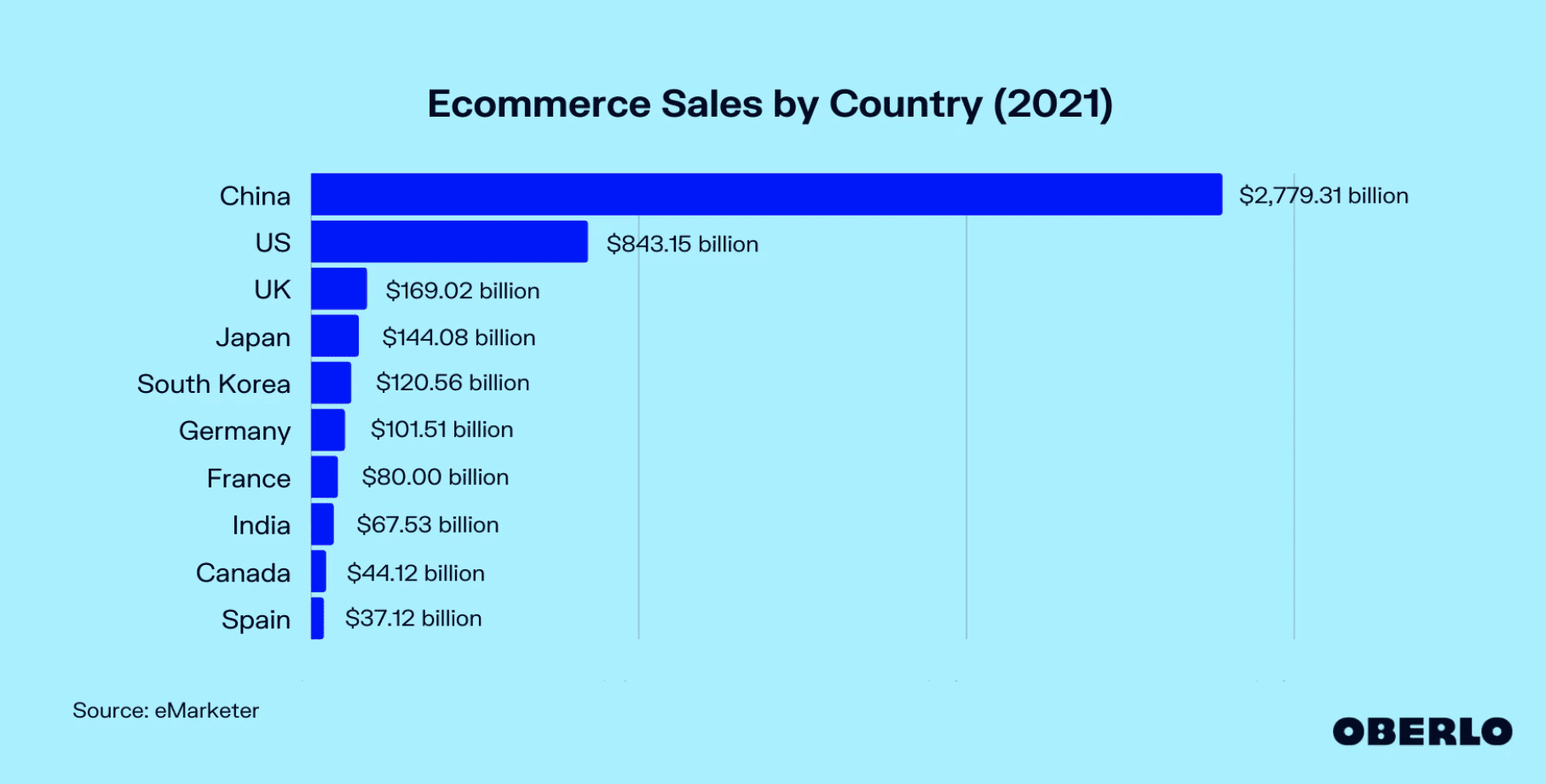 So, what does this mean for your Shopify Plus business?
Simply, if attracting up to a billion Chinese consumers and generating millions of dollars in sales is an attractive proposition for you, then you must have a strong online presence in China.
Problems Shopify Plus Sites Encounter in China
As it is in other markets, an effective website is a vital touchpoint to achieve business' success in China.
Yet, so many businesses are still unable to get their Shopify Plus functioning effectively in China.
For some, this comes in the form of 30s+ loading time, if not a "timeout" error.
For others, their websites are simply broken.
But for most sites, a combination of these two problems exists.
So, what happens then?
You'll have lower conversion & higher bounce rates – and fewer happy customers in China whether they access your site directly and or through an in-app browser, like WeChat.
That is, if the site is indexing properly at all and searchable across Baidu, Sogou and other Chinese search engines.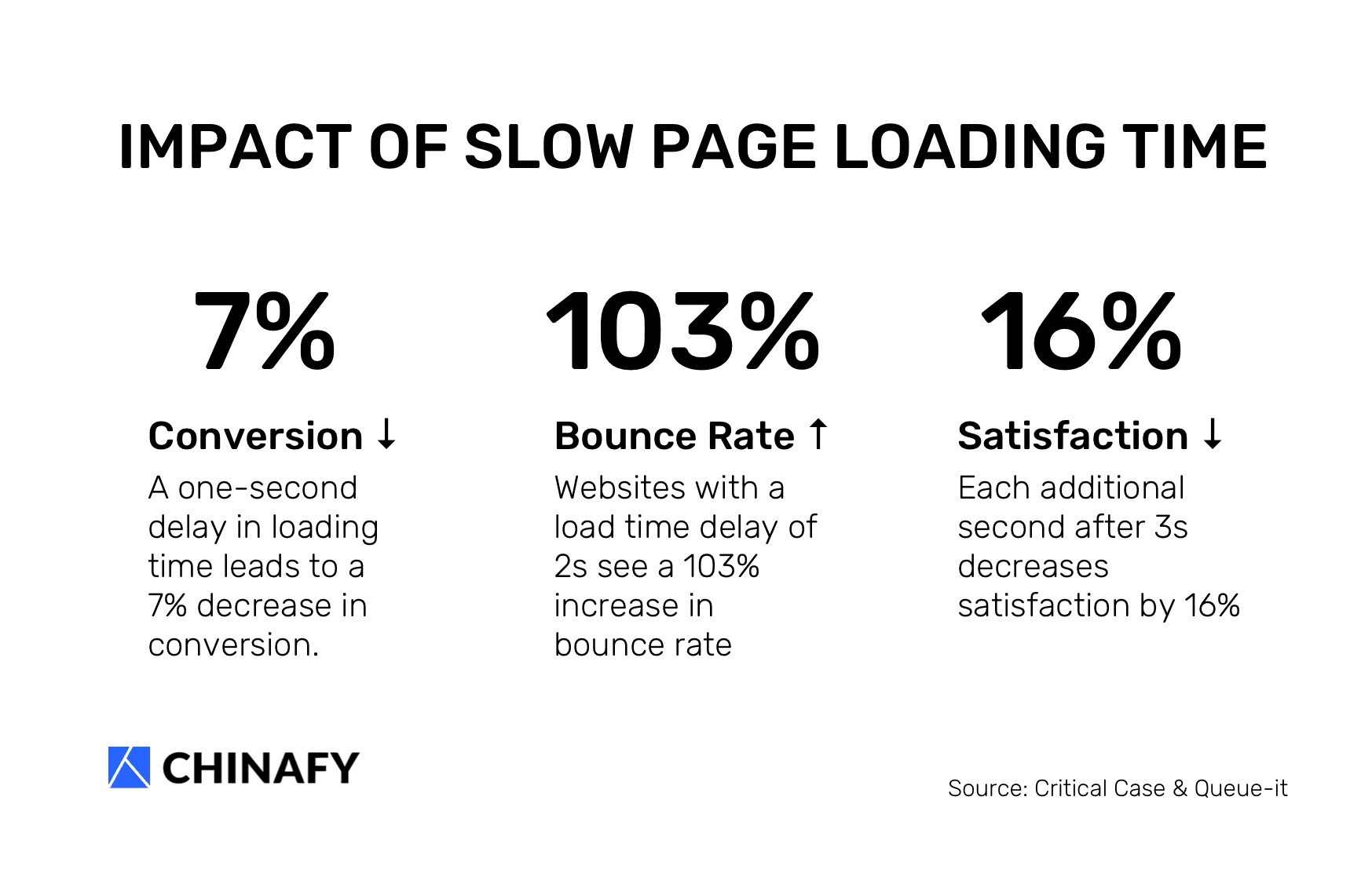 Does Shopify Plus work in China?


Slow Loading Time:
However, like many other sites, Shopify Plus sites have not been optimised for China's unique internet infrastructure, leading to frustrating slow loading times in China.
For example, out of these 5 Shopify Plus Sites,
- Four sites run into timeout errors
- Only one manages to load in China, and even that takes over twice the time it would take for the same site to load in the UK
- On average, Shopify sites take over 36s to load in China, over 9x slower than the 4s it would take to load in the US
Time is precious and speed is non-negotiable, especially when you're paying for performance on Shopify Plus.
Incompatibility:
Imagine opening up a webpage expecting a beautiful image carousel, only for a blank section to show up no matter how long you wait.
This is another problem many sites face in China.

Certain features like media assets, interactive maps, and plugins (amongst many others) are not compatible with the Chinese web infrastructure, if not blocked entirely, meaning there's a good chance that viewers in China would see a number of broken sections on your Shopify sites.
A vast majority of Shopify sites (a whopping 93%) are missing at least 20% of their resources.
To compound your site's problems, less than 2% of Shopify pages index on Chinese search engines like Baidu and Sogou.
Want to test your Shopify Plus site? Go to Visual Speed Test to test it in China in real-time.


What does this all mean for your Shopify sites?
Potential customers will have a hard time even finding your website, and if they somehow do endure the excruciatingly long loading time, they will more than likely see a webpage with faulty features.
Doesn't sound like a winning formula does it?
How Chinafy Helps Solve Your Site's Issues in China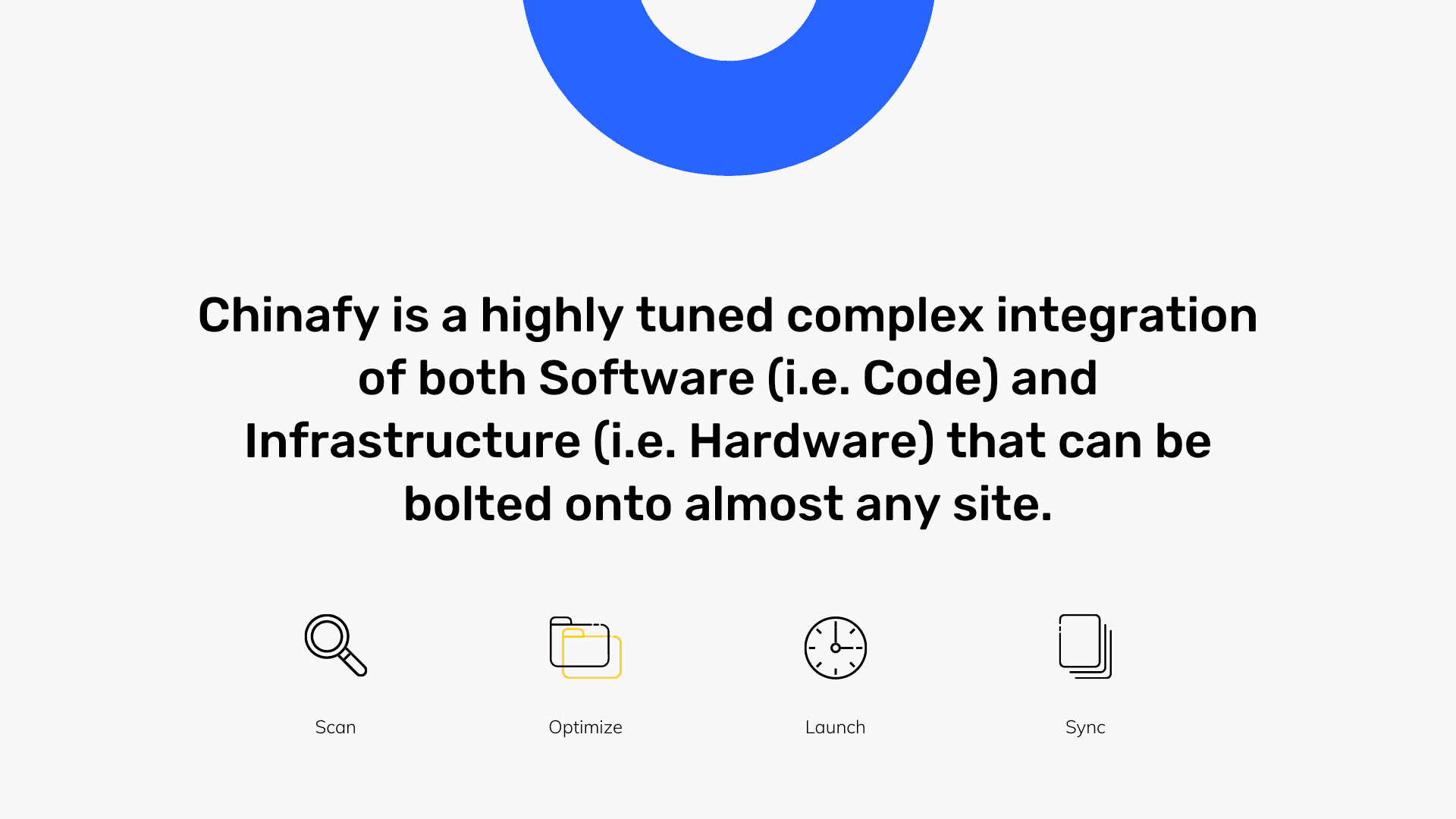 Knowing that your Shopify Plus site encounters these issues in China, the natural next step is to resolve them.

Chinafy helps Shopify Plus sites achieve virtually onshore performance by addressing both speed and incompatibility issues, offshore.
When you use Chinafy -
Copy: Chinafy first generates a copy of your Shopify site. This copy will eventually become the China-friendly version of your website.
Scan: After scanning through your public front-end code (HTML, CSS, JS), Chinafy identifies and extracts all potential incompatible features (beyond just the obvious ones like YouTube videos, Twitter API, etc), replacing them with China-friendly and similarly high-performing web resources
Sync: Chinafy has automation rules in place to keep your original Shopify site and the Chinafied site in sync. This means you can continuously evolve your global website without worrying about the Chinese website.
Launch: Chinafy uses an offshore near-China CDN to further accelerate site delivery.
The end results? A Shopify Plus site that's faster, more consistent and fully functional.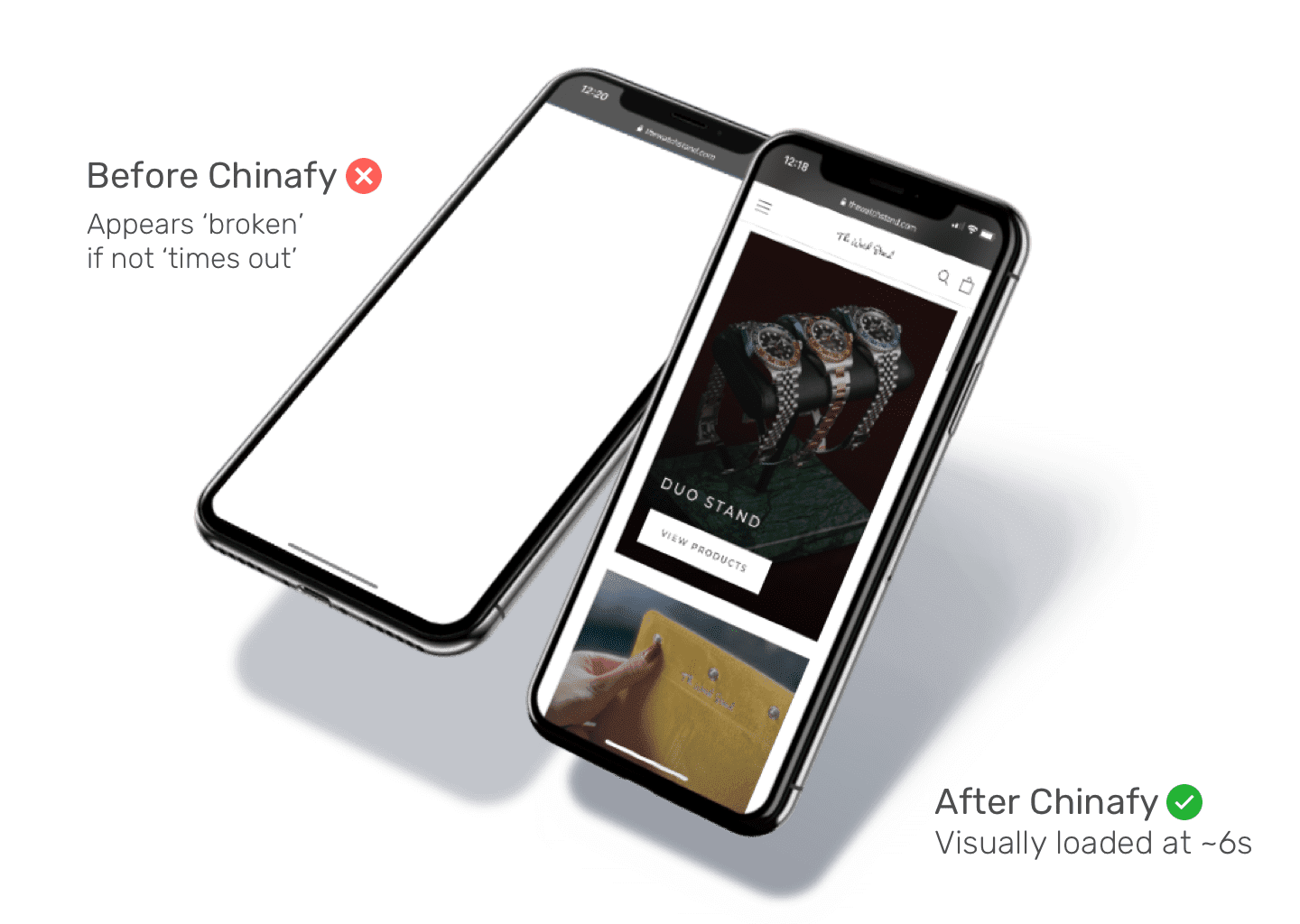 What Else Is Out There?
There are two main alternatives to Chinafy.
But both have limitations making them less ideal for many Shopify Plus businesses.
1. Onshore Hosting:
The most obvious way for websites to function effectively in China is to host them there.
But this means two different sites (the Chinese and the global sites) have to be built, maintained and optimised. In addition, other hurdles like obtaining an ICP license, a China business entity and managing multiple expert headcount means this process can easily take up to 2 years to complete.
How does Chinafy compare? Well, Chinafied websites achieve near-native onshore performance whilst remaining offshores with an average set-up time of anywhere between a couple days up to 3 weeks.
Not sure if you need an ICP?
Contact Chinafy ICP Support to enquire more.


2. Only CDN:
Yes, even we use a CDN to help accelerate site functionalities. Just using a CDN, however, is only a partial solution.
A CDN only speeds up the delivery of the data, but if the data in itself is faulty, that speed is essentially useless. So when websites only use an onshore China CDN, broken features and blank sections would still remain.
Chinafy sites are also 30-40% faster than sites using only CDNs alone.

On the other hand, Chinafy does address resource incompatibility by enhancing front-end code.
So not only does Chinafy help make sites fast, it makes them better.

With Chinafy, you can get the best of both worlds as we also partner with Tier 1 CDN providers like AWS, Alibaba Cloud, and Microsoft Azure.
Chinafy's Results
Enough talk. Here are some examples of how Shopify Plus sites perform in China with and without Chinafy in terms of loading time.
Note that for the purposes of this demonstration, we are using sample sites and comparing the original site vs. a sample of the site after Chinafy. This is why the URL listed is a sampled preview link, which would otherwise be the formal URL of the client site. More on this in How Chinafy works.
For live cases and customers, please visit Chinafy's Case Studies.
#1: Heinz
38.0s (before Chinafy) > 1.2s (after Chinafy) - 32x faster!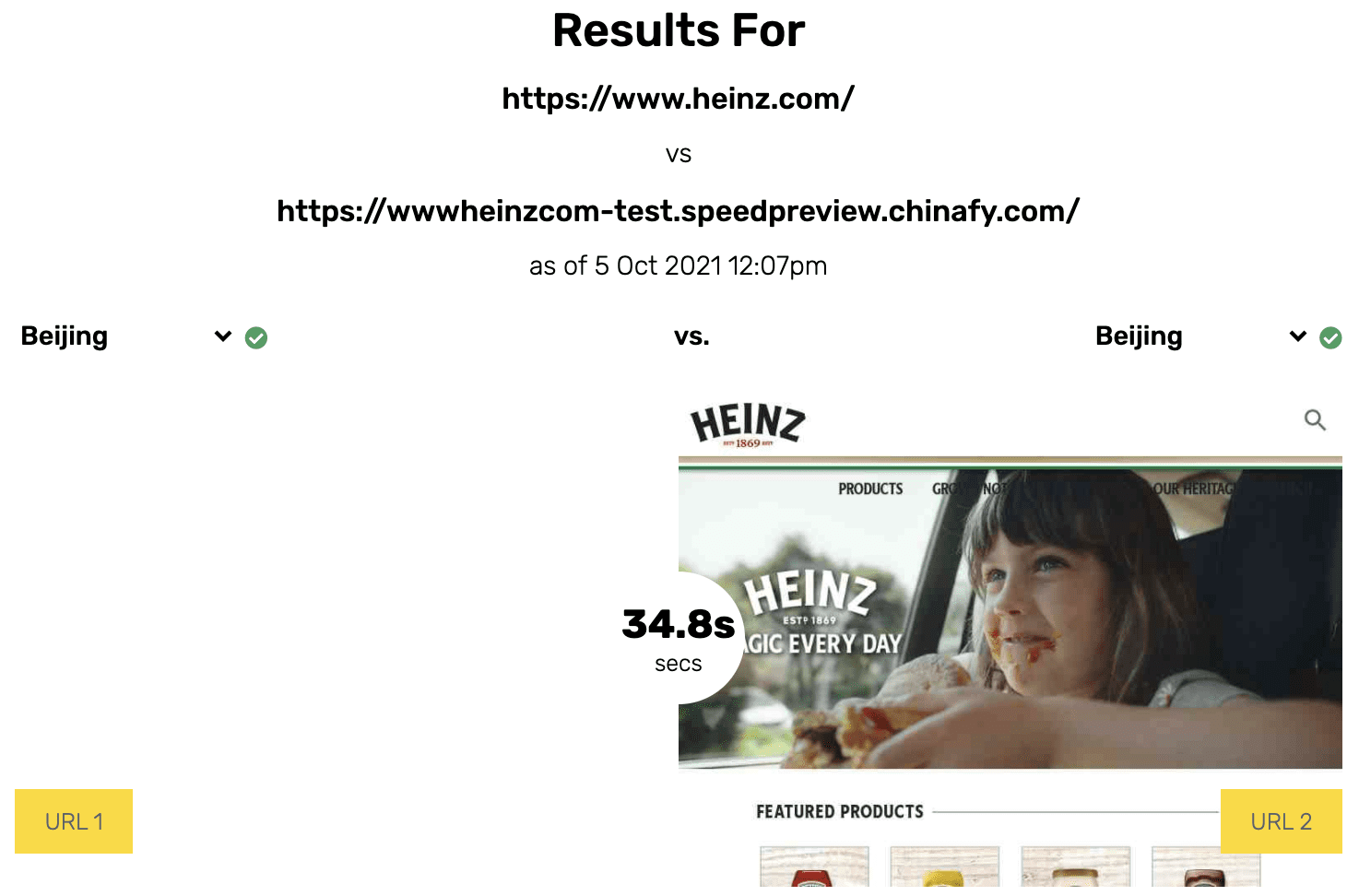 #2: JB Hi-Fi
30.3s (before Chinafy) > 6.0s (after Chinafy) - 3.9x faster!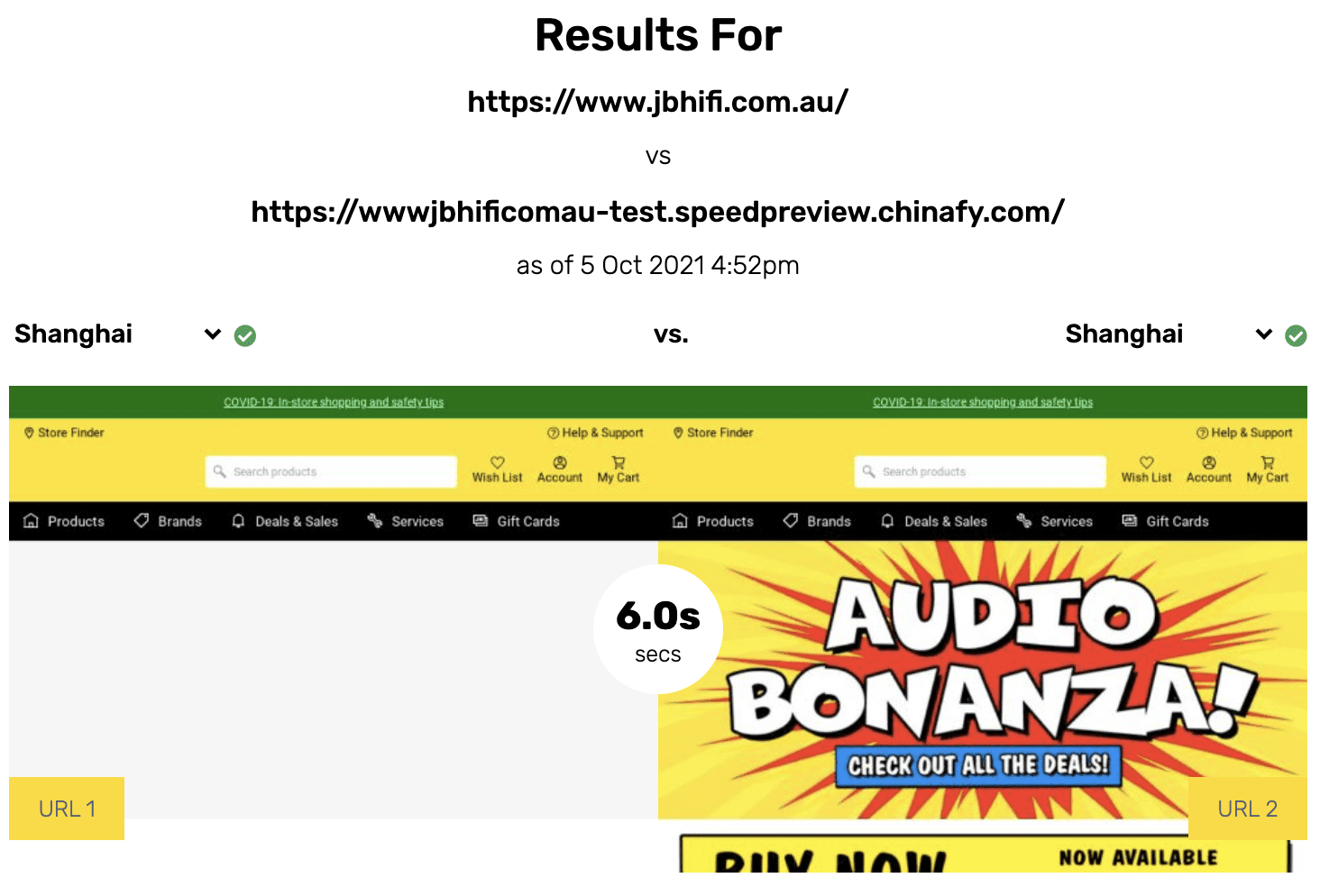 #3: Simba
Broken at 9.4s (before Chinafy) > Visually complete at 6.8s (after Chinafy)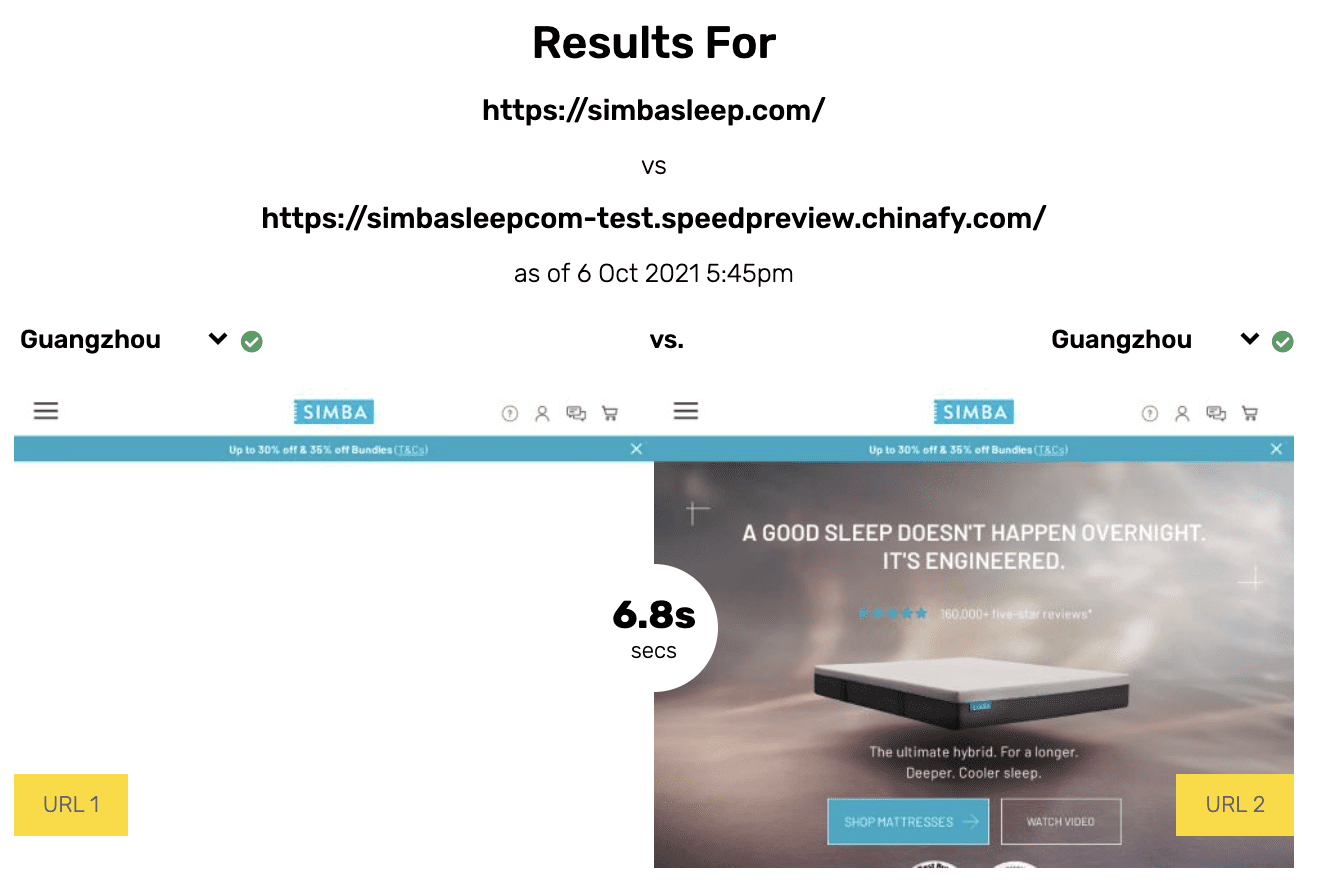 Why Your Site Should Use Chinafy
Effective: Shopify Plus sites taking 35s+ to load now take less than 5s (fully functional, thanks to Chinafy)

Efficient: Chinay takes care of the set-up, meaning you don't need to spend time making new sites, establishing an onshore presence or worrying about the website
Trusted: Tier-1 companies like Swire Hotels and Shopify businesses like MIRTA work with Chinafy to deliver the best possible China-version of their websites
Adaptable: Every business is different so we customize our support for you
That's why Shopify Plus sites work with us to help make their sites load fast and fully in China.

Get Started with Chinafy Now
Fill in this Get Started form and our team will reach out to you with next steps!