Breaking -
China's MIIT has opened up a dialogue with Tencent with their millions of articles, and Douyin's (TikTok in China) short videos available on search engines like Baidu. See this breaking article from Bloomberg. Here, we explore a few thoughts on what this means for the ecosystem and off-shore businesses alike.
--
Open vs Closed Internet
This is a conversation starter, let's see where this goes…

Sir Tim Berners-Lee, the investor of the modern internet, has for years accused Facebook and Apple of threatening the web's future development by "walling off information posted by their users from the rest of the web".
He goes on "These closed, 'walled gardens', no matter how pleasing, can never compete in diversity, richness, and innovation with the mad, throbbing web market outside their gates. If a walled garden has too tight a hold on a market, however, it can delay that outside growth".
The impetus to such 'conversations' is in line with China's anti-monopoly/antitrust issues which are currently being addressed. The MIIT, being cautious to break things without crafting a stronger vision for the future, we know that theoretically one may argue that an opener-internet will allow fairer competition, and more growth, with the ultimate beneficiary being the end-user, i.e. you/me - whether this happens or not, we'll have to wait and see.
The Chinese internet evolved similar to the Western internet however, the strength or presence of these walled gardens has achieved potentially even greater success in China for the creators of such walled gardens, namely Tencent (through their WeChat/Weixin app) and others such as Douyin. While this isn't necessarily an apples-to-apples comparison, in China, Tencent (a closed ecosystem) is worth approximately 11.7x of Baidu, it's next-nearest largest open-web counterpart. In the global internet however, Facebook (closed) is worth about 50% of Google (open web) - meaning that Tencent is ostensibly 11.7 x 2.05 = 24x better at monetizing their users than Facebook.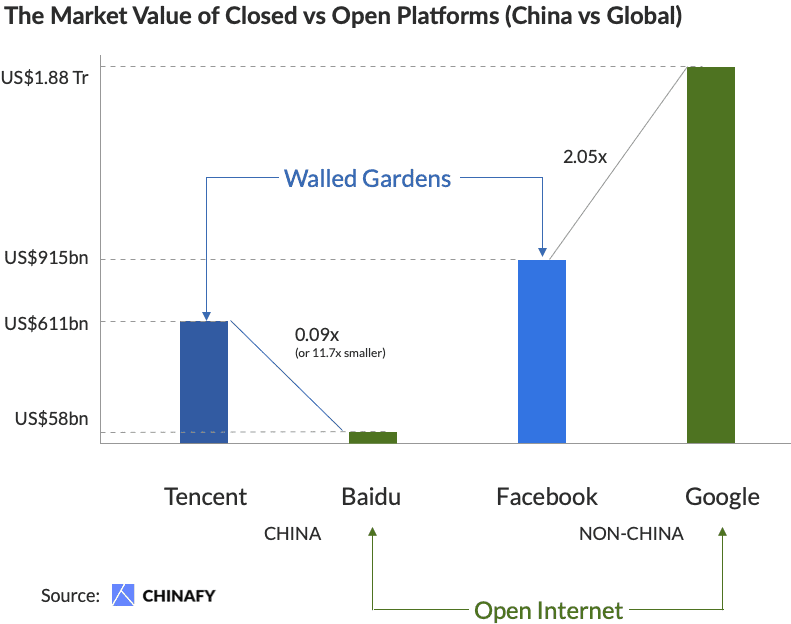 From the finance perspective, we think: can Baidu monetize the open web as well as Google? Will Tencent and Douyin become less relevant? From a business perspective however, we ask: how will consumer behaviors change? How will content be consumed differently?
What does this mean for businesses in China?
Not much - yet. These are conversations and while there is a (reputable) Bloomberg article highlighting such conversations - dialogue such as these is ongoing. What makes this more interesting is that it follows a string of actions that force platforms to cross-link, or at least make limited connectivity to one another.
Advertising
With the theme being 'Open Internet', this enables search engines to ultimately index more content, and with more content comes a better user experience, and with a better user experience comes increased usage/time-on-site. As such, we expect traffic to search engines to grow and sustain at higher levels. This means budgets will need to shift toward SEO/SEM, and away from historically walled-ecosystems / platforms.
Content Creation
At the same rate, we expect content inherently available on the Open Internet (e.g. website) to become more competitive with content from closed ecosystems. As a business, the perennial questions are around which platforms to use, and where one might get the highest ROI. With the platforms becoming more open, we'd expect to see Western content optimization strategies become more apparent - that is:
i) a shift towards less, but higher quality content
ii) a shift toward longer tailed low-quality content
On the surface, these seem conflicting, but it's quality which is the key variable.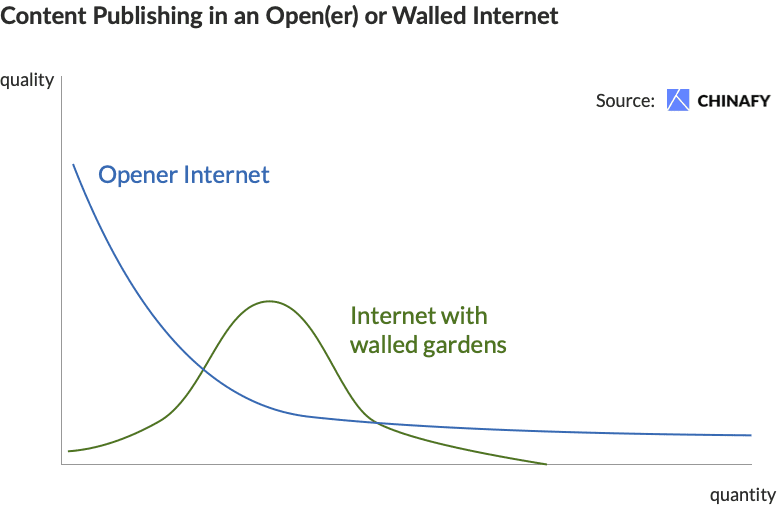 When you have many walled gardens, budgets are split between different platforms and as there's a certain fixed cost associated with any content, the variable content (more directly tied to quality) is limited. With a more open internet, we see brands taking more decisive views with higher quality content, but then deploying content-mills to create longer-term, evergreen SEOable content.
Content on Website or Platform?
Do I publish new content on my website, or on a closed platform? or both? This is a hard one - but consider this. The variable cost to publish the same piece of content is arguably the same on your website vs a (future-historically) closed platform like WeChat. The question is - how will WeChat content rank on Baidu, Sogou, and Shenma? Will search engines capitalize on this and actually create a better experience? Search engines will need to feature content from closed platforms but how will that content rank?
We see content from 'competitors' inevitably ranking somewhere in search results however, it's our view that content from such platforms will not rank well (to start), the hope is that the best results irrespective of their source will rank at the top. While there's some precedence in search engines prioritizing their own products (Baidu favoring Zhihu, for example), there is a technical reason why content published on two platforms may actually rank lower. Both Google and Baidu prioritize new or unique content ("canonical content" for marketers) and when content is duplicated, they often lower those page(s) as it creates an unfavorable user experience seeing duplicated search results. As such, the first place to publish content will win.
With the above in mind, we see the publishing of content on websites having a greater impact as it's evergreen, and canonical, vs that of timeline-based content on social platforms. As such, we'd recommend investing in such content marketing if it's your view that these private platforms are pressured to become more open.
---
Much of this is speculative at this point - and it's unclear whether there will be any changes at all (we'd argue that some changes would indeed be ecosystem-positive nonetheless), but ask yourself - how would your behavior change if search engines became 3-4x better?