TL;DR Shopify websites don't work off-the-shelf in China.

- Shopify Sites load 9.7x slower in China than they do globally.
- The numbers? 36.8s in China vs. 3.8s in the U.S.
- Most sites are missing ~14% of resources, like Vimeo, YouTube & Google Analytics
- Shopify Sites don't index properly across Chinese Search Engines such as Baidu
Here's some good news: Chinafy makes Shopify websites much faster within days.
Better news? No coding experience is required from you.
Read on to see how we've optimized a Shopify store for a luxury watch accessory retailer called "The Watch Stand".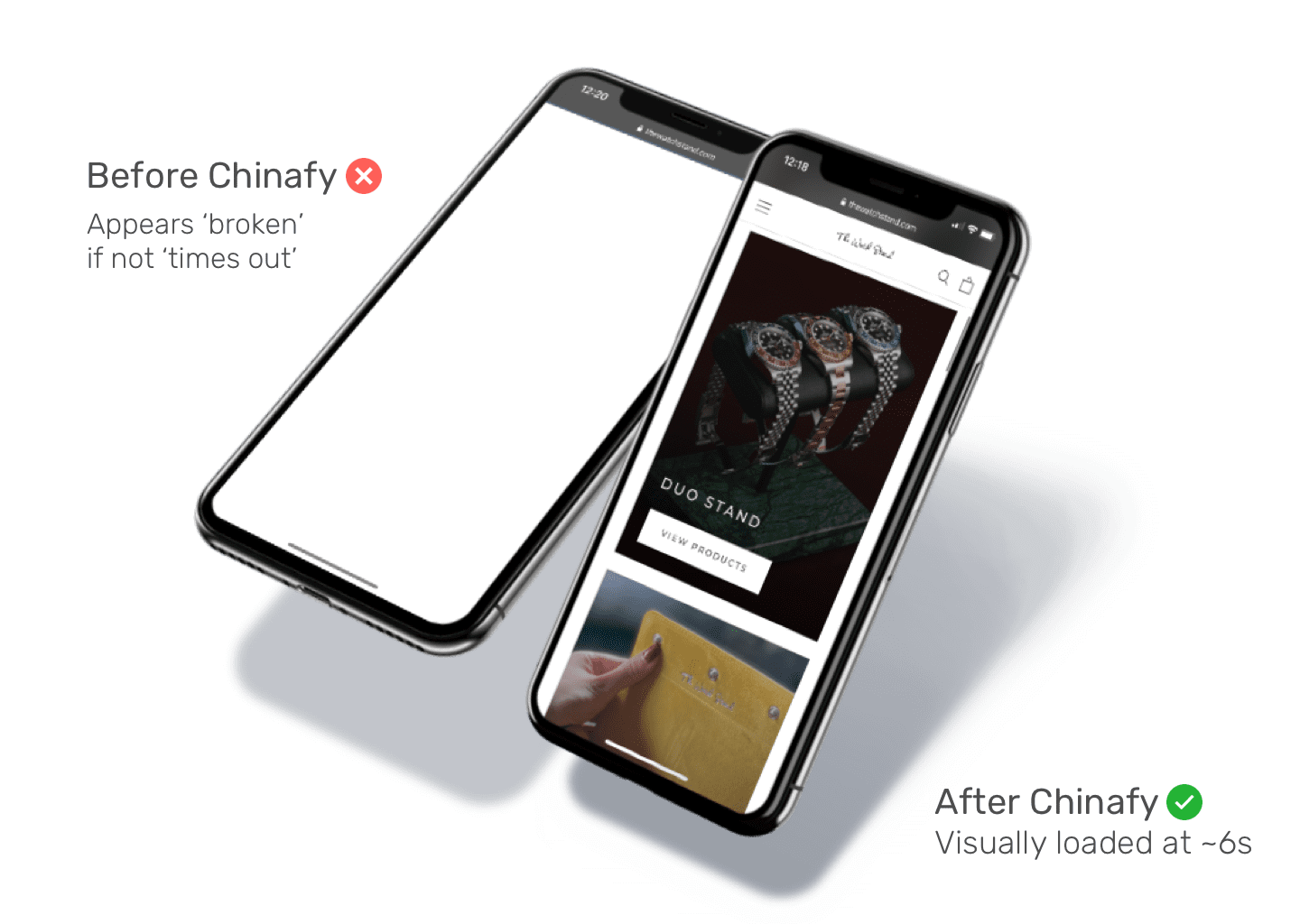 Step 1: Click 'Get Started' to submit your Shopify website to Chinafy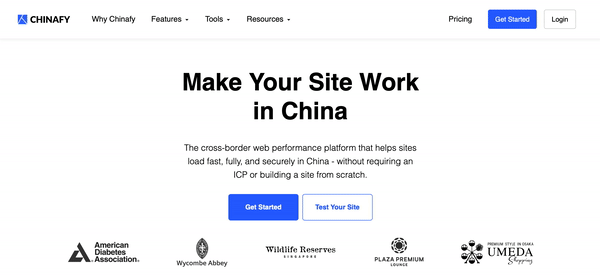 This is the stage when our Chinafy platform -
i) Re-engineers a China-friendly version of your site under the same URL so you get the best of both worlds
ii) Scans your page for incompatibilities (more on this below)
iii) Applies best-practice, intelligent rule-based optimizations across your website. This includes processing and then optimizing content that would otherwise not load, such as videos on YouTube or Vimeo, rehosting media assets to Chinafy infrastructure, and more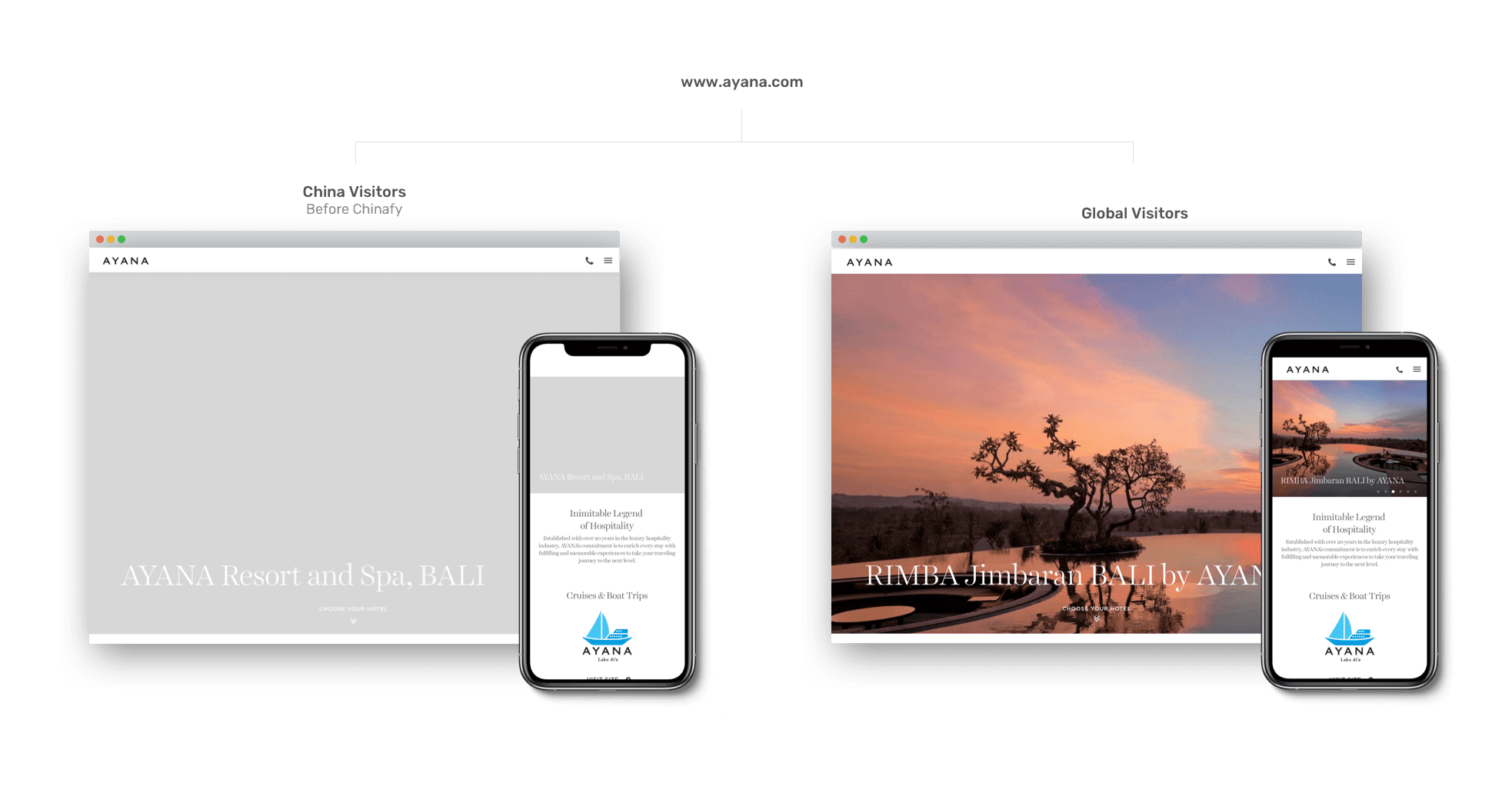 Serve the best versions of your site in China and beyond.
More on How Chinafy Works.
Step 2: Generate your Chinafy plan
As part of our standard process, our testing teams review each site that comes through our system to run a quick technical assessment of your site.
Once complete, our product team will email you within 24 hours with our first-pass analysis of your site and next steps to subscribe to your plan. Be sure to check your spam or promotions folder just in case!



Step 3: Subscribe to Chinafy
Then, subscribe to your plan via Stripe on the Chinafy Dashboard.
Step 4: Watch Chinafy magic unfold...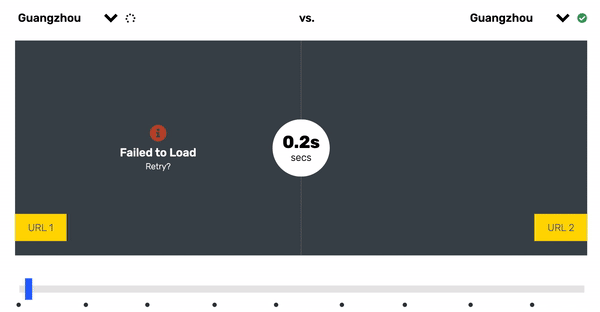 Once subscribed, our engineers will get the green light to fully configure your site for China. This takes no more than 2 weeks, and as little as 48 hours depending on the complexity of your Shopify site.
Join Chinafy like other Shopify merchants Fedoma Jewellery and Float Captain
Step 5: Launch the Chinafy version of your site for China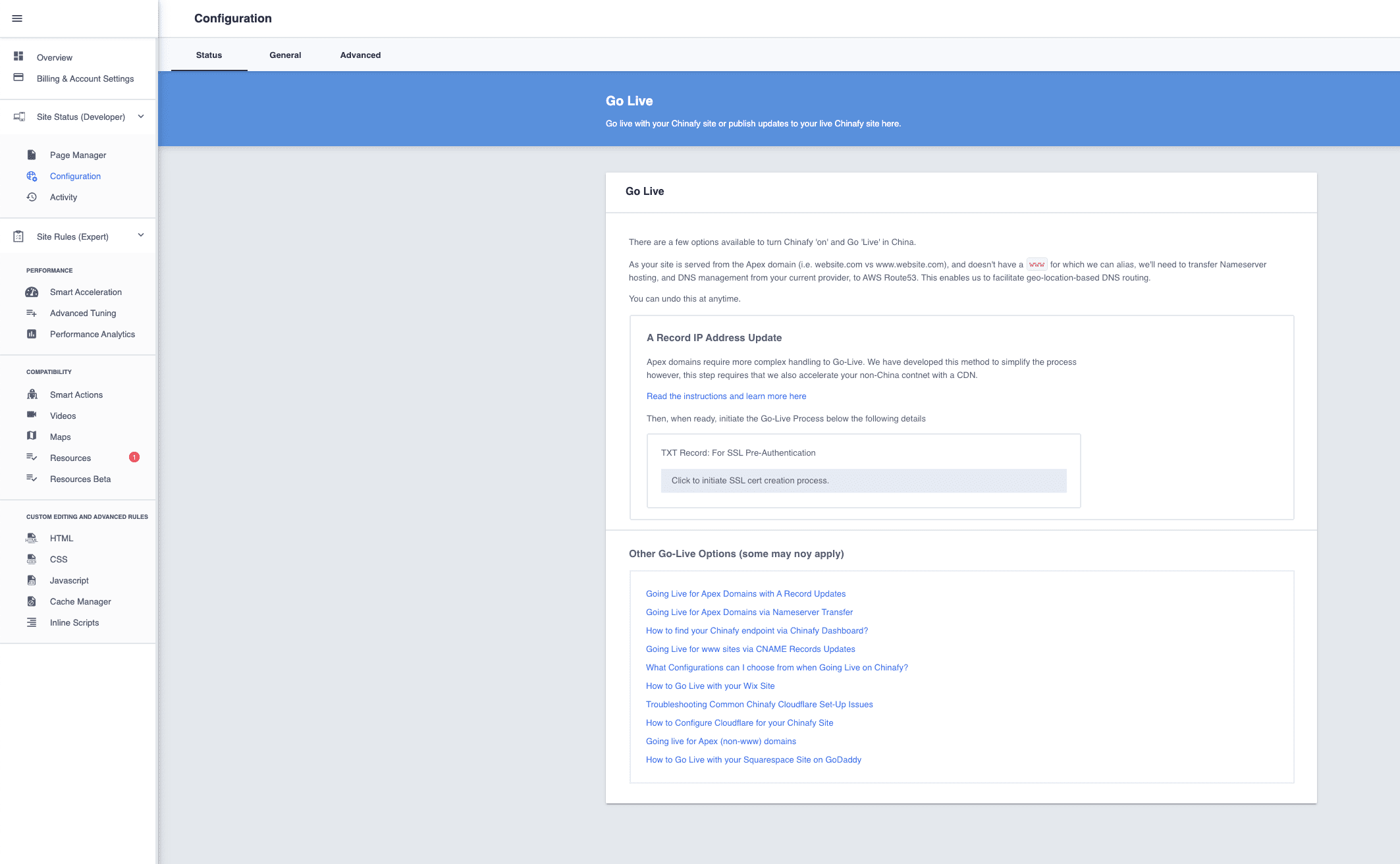 Make a quick DNS update on Shopify (or your third-party DNS provider) so we may apply geo-location routing to serve your China traffic.
Not the 'technical guy'?
No worries, as we have a step-by-step guide for you with a little more hand-holding :) The process on average should take just about 15 minutes.
Note: After DNS updates, China-based traffic to your website gets redirected to the Chinafy version of your Shopify website, while global traffic will still go to yours.
More on Chinafy Configurations on our 'For Developers' page


So, why do Shopify websites don't work in China?
Issue 1: "The Compatibility problem"
Shopify websites, like other websites, are formed by combining a number of web resources across HTML/JS/CSS. Some of these resources are hosted on the primary domain (e.g. on Shopify) while others are from Shopify Apps (i.e. plug-ins) and other third parties such as Twitter, Facebook, Vimeo, etc.
The problem is that many of these web resources are either blocked or slow in China, which collectively creates a website that is slow and not fully functional in China.
When a resource is blocked or takes a long time to load from a website, the web browser will keep trying before moving onto the next resource.

Does your website work in China? Test your Shopify website in real-time with our Visual Speed Test tool.
So is the solution then simply to remove all blocked resources? Unfortunately, no.
1. Compatibility is not a one-time thing. Not only does this list of resources evolve often in the China internet space, but also the best-practice methods on how to handle them.
2. A site that's optimal for China, is not optimal for everywhere else and vice versa. Even if you were able to remove and replace the necessary resources on your original site, your global audience might not appreciate the now China-localised version of your site. Near-China CDNs don't perform as well in the US as Western CDNs and vice versa.
3. More importantly, there are a number of resources that are not blocked - but simply slow. More on this below.
Issue 2: Infrastructural issues: "What about a CDN?"
Media assets that are hosted with Shopify (assets.shopify.com), whose primary servers are distant from China and even when using a content delivery network (CDN), use Fastly CDN. Fastly CDN works fantastically globally, but just not in China - as is the case for most non-China CDN providers.
Feel free to dig into a comparison across various near-China CDNs and how they perform in China.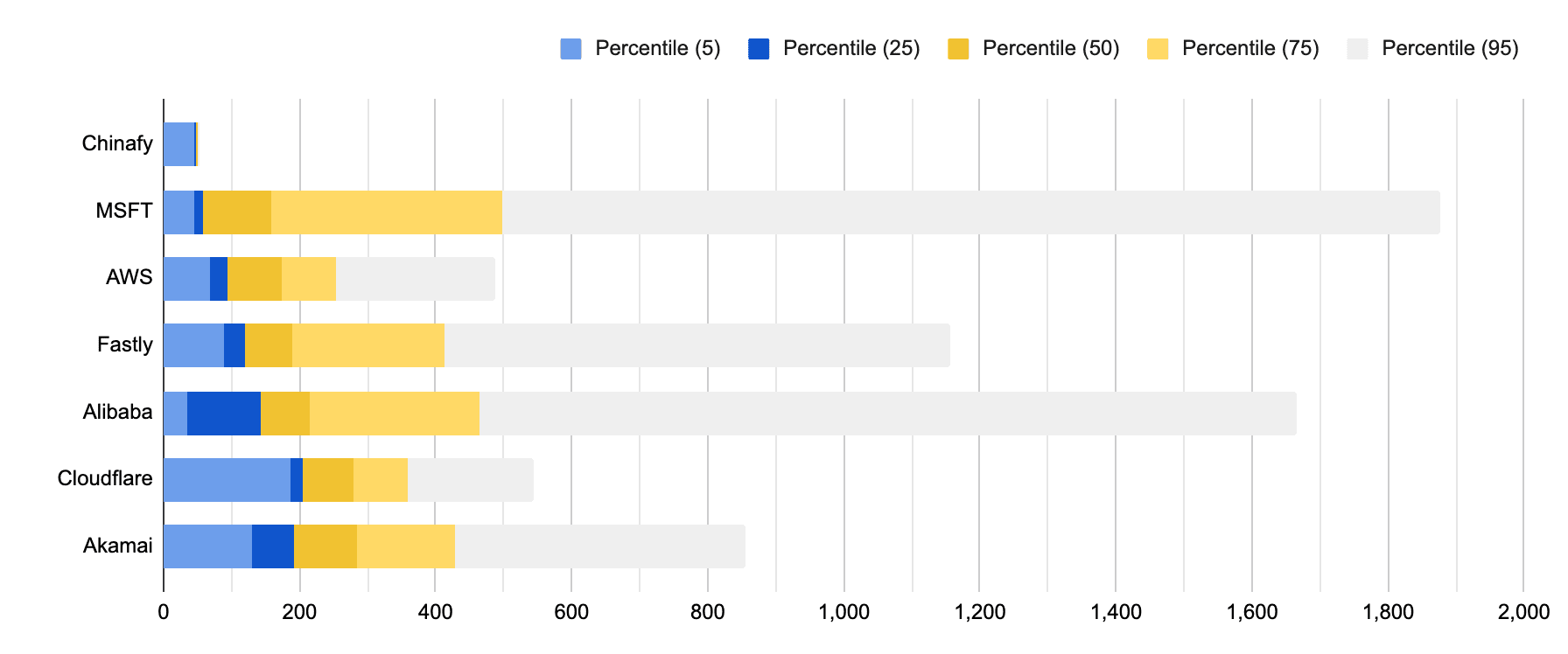 In addition, CDNs purely add acceleration but don't resolve compatibility issues that Shopify (and most other websites) face in China.
Final thoughts
Shopify is a popular, template-based website builder that makes it easy to reach customers worldwide. But, Does Shopify work in China? Not quite.
Like most websites in China, built on Shopify or otherwise, Shopify sites are not immune to speed and deliverability issues in China.
Chinafy's solution is the world's first platform-based optimization solution that achieves virtually onshore performance, offshore.
Ready to set up your Shopify website for a fast, and effective experience inside and outside of China? 'Get Started'!