About this article
Read through the answers to some of the most commonly asked questions about Vimeo in China.
TLDR;
- Vimeo is blocked in China.
- However, with a few easy steps, your content can absolutely deliver as designed in China.

Can I play an embedded Vimeo video in China?
The answer is no. Any content on Vimeo – both embedded or via the direct link – is unable to be delivered to visitors in China.
Is Vimeo live streaming blocked in China?
Yes, the regulations with live streaming are even more stringent in China. Aside from using a China-compatible player, it's almost a prerequisite to have a local name contact to apply for an 'ICP (or in Chinese as "Beian")' with the Ministry of Industry and Information Technology (MITT) in China.
What is an ICP? How do you get an ICP? Read more in this step-by-step guide on getting an ICP.
How can Chinafy help?
Chinafy employs your Vimeo videos to display fully in China on an automated, ongoing basis.
Once a site is hosted on the Chinafy platform, Vimeo videos are auto-converted into a China-friendly format on the Chinafy version of the site. You can read more about How Chinafy Works here.
Don't just take our word, check out our work.
Chinafy specializes in optimizing a wide variety of sites for China. When it comes to video-heavy sites like event pages and creative portfolios, tackling Vimeo is high on the priority list.
Taking events virtual: ADA Highlights
The American Diabetes Association (ADA) is a U.S. non-profit educating the public about diabetes through research, fundraising, and advocacy. With 1.4 million monthly online visitors, the ADA site is one of the world's most trusted healthcare authorities on diabetes.
In 2020, ADA needed a virtual event site in replacement of its annual in-person conference. With Vimeo being its primary video player, Chinafy came into help.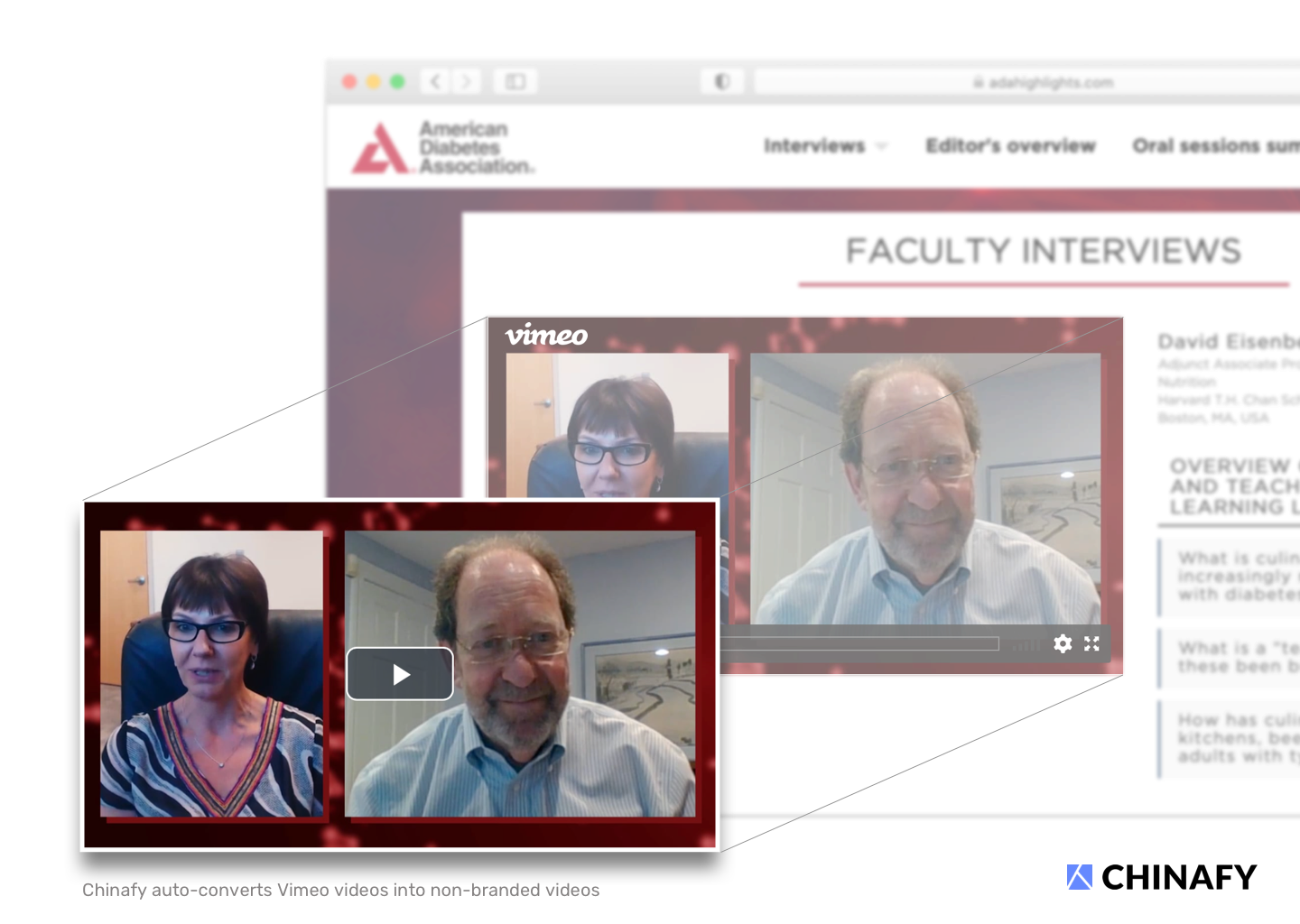 Read our full process article on optimizing American Diabetes Association Highlights 2020 website for China.
Making Vimeo Live Truly Global: Transitions Optical
Transitions Optical is the world's most trusted light-intelligent lenses with its patented technology retailing across 44 countries globally. While COVID-19 has made offline events virtually impossible, the team shifted gears to continue eye-care education in this digital-only environment.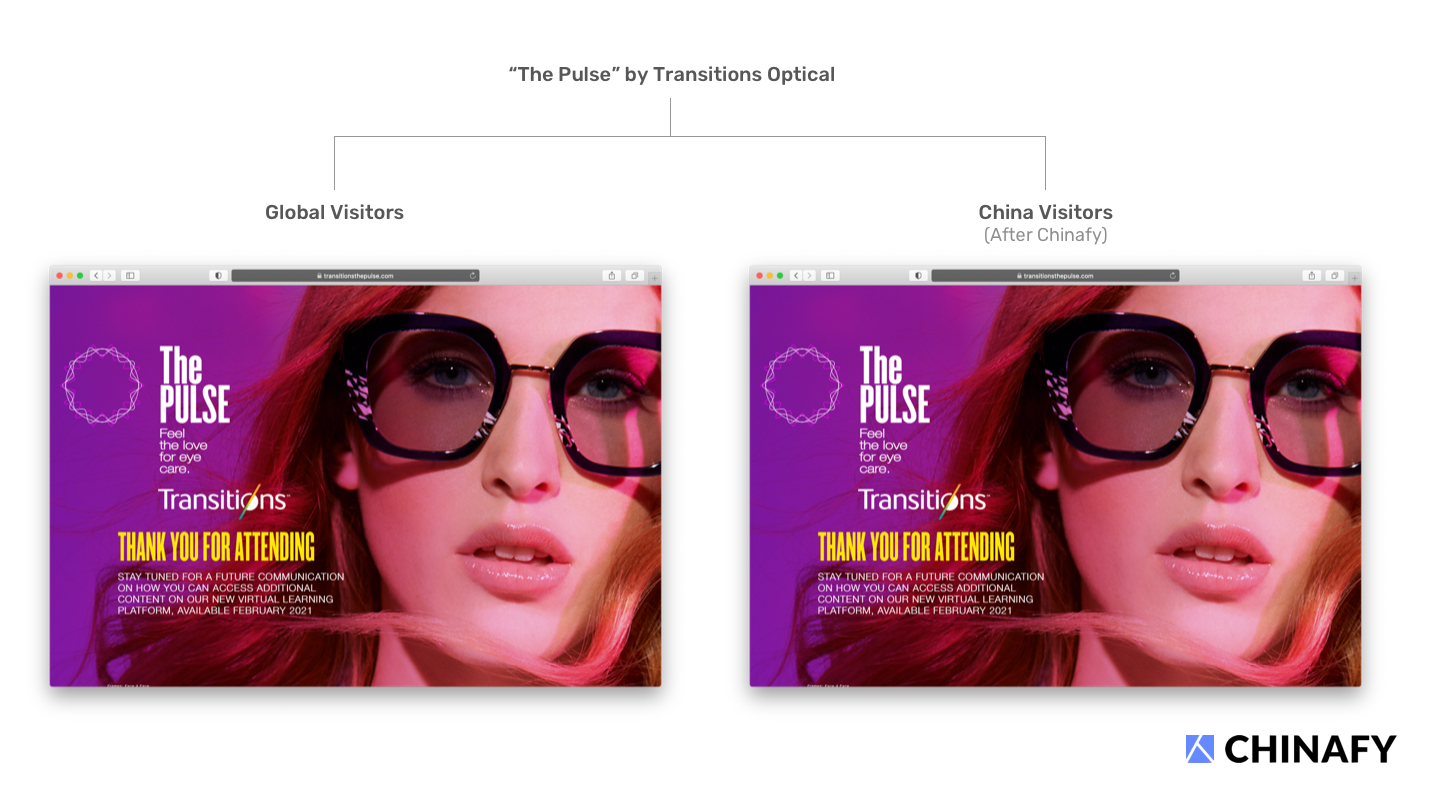 In 2021, Transitions launched a first-of-its-kind virtual conference named "The Pulse", inviting viewers from 98 countries.
With Chinafy, the Transitions team was able to make its Vimeo stream fully accessible to hundreds of registrants in China and Indonesia, among a record-setting total of 10,000 views across the world.
Read the full article on optimising Vimeo stream for Transitions Optical here.


Showcasing Hollywood Talents: Iconic Talent Agency
Iconic Talent Agency's portfolio site contains over 400 Vimeo videos featuring A-list Hollywood talents such as Justin Timberlake, Ariana Grande, and global household names like Google and Apple.
And needless to say, visuals definitely come first.
Vimeo shouldn't stand in the way of China and accessing the portfolios of world-class creative talent.
With this in mind, we quickly implemented a fix on all 400+ videos, across the board of Iconic Talent Agency.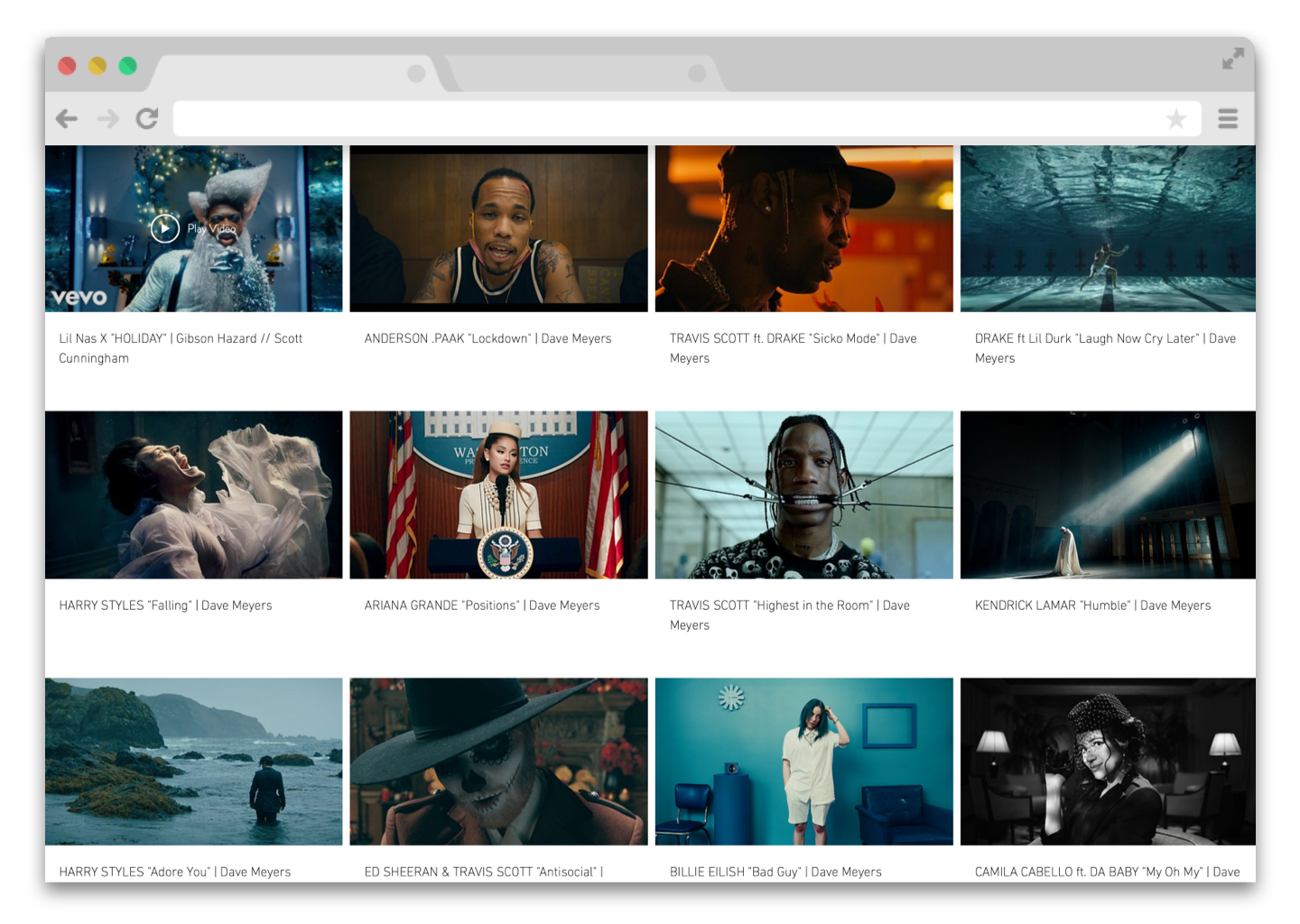 Read our full article on optimizing Iconic Talent Agency's site for China.
After Chinafy, our clients are able to -
Continue uploading their Vimeo embeds from their original CMS as they normally would
Deliver Vimeo videos in China in high resolution as intended
Enjoy automated optimization 24/7 to ensure high China performance at all times
Deliver a China-optimised site to China visitors under the same URL as your global site
Enjoy Chinafy add-on for Vimeo live streams*
*Exclusive to Chinafy Pro+ Plan users
Do you need your Vimeo to work in China?
Click here to get in touch with Chinafy :)