TLDR; Sitecore doesn't work in China well. Websites built with Sitecore load in 41.9 seconds and on average 2.8x slower in China than elsewhere, not to mention with 61% of web resources lost.

This article explains some technical reasons for poor performance and solutions to address them.


What is Sitecore?
Sitecore is an enterprise digital experience platform (DXP) that enables developers, content managers, and marketers to collaboratively build digital properties for their brands.
Sitecore differentiates itself from other platforms with its API-first CMS architecture which enables a fast and agile development cycle.
Sitecore is also popular among marketers and content managers alike with a full suite of marketing tools that support automation, A/B testing, and centralised asset management.


Who uses Sitecore?

As of today, Sitecore has over 5,000 global brands under its belt. Notable users include L'Oreal, Microsoft, and United Airlines.

Sitecore is as performance-driven as any enterprise DXP should be. Sitecore even has a dedicated handbook on tuning site performance.
That said, Sitecore still faces a performance ceiling in China.


Sitecore in China
We've taken a random sample of four Sitecore websites and run them in China in comparison to how they load U.S.
The numbers in raw are below:

Sitecore loads in China at 41.9 seconds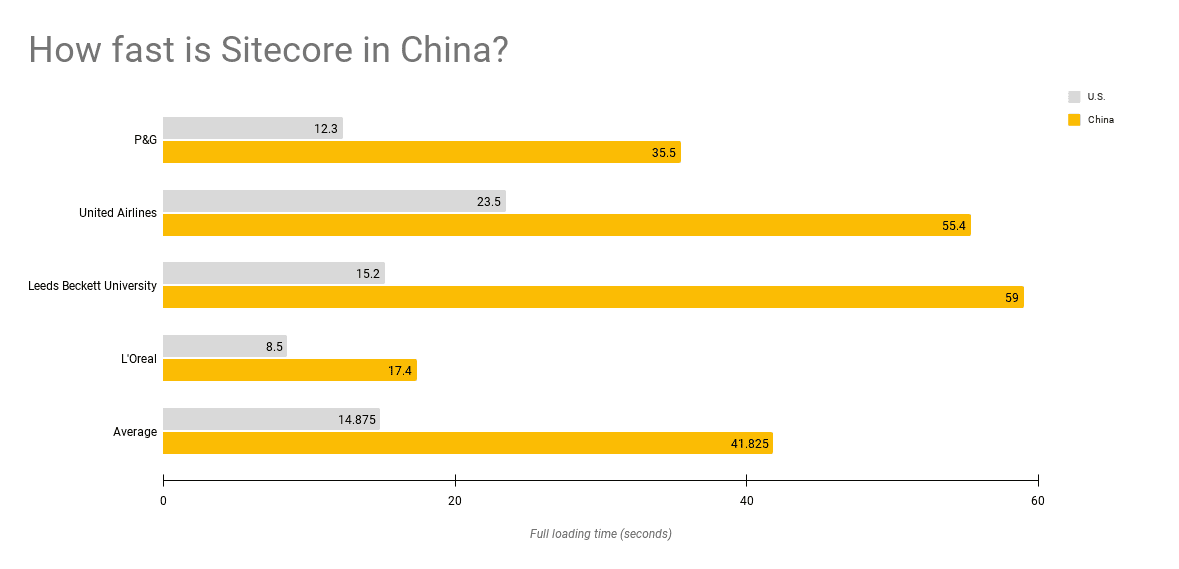 61% of Sitecore resources are lost in China



Why Sitecore websites don't work in China off-the-shelf
It's not just Sitecore. All other DXP face infrastructure and code-based incompatibility in China.
i) Infrastructural issues
Most offshore sites do not have China-friendly infrastructure.
Infrastructural variables that affect China performance the most are hosting location and CDN providers.
Foreign companies tend to favor hosting their site close to where their developers or headquarters are. Say in the case of U.S. companies, hosting in the U.S. easily translates into a longer loading time elsewhere due to the latency issues. It's worthwhile to highlight that latency challenges in China are unique to China and not just a factor of distance.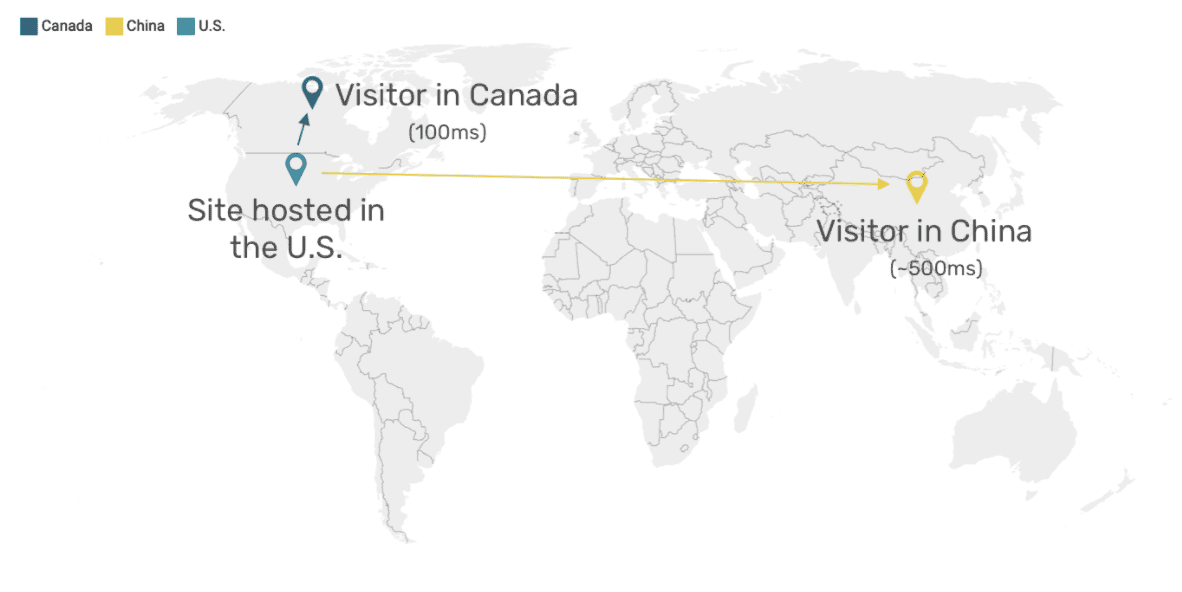 For example, one cannot extrapolate U.S. speeds to say, South Korea, and assume it is close to the times it takes for content to be delivered in China.
Developers can normally alleviate these web performance issues by adding a CDN or hosting closer to the end user - but unfortunately that won't do for China.
For one, not all CDNs are the same. When it comes to China, the performance gaps are stark.
For example, Sitecore Managed Cloud provides the option to leverage Microsoft Azure's global CDN (Sitecore documentation here).

Let's see how Azure's Global CDN performs against other CDNs in China below (in green):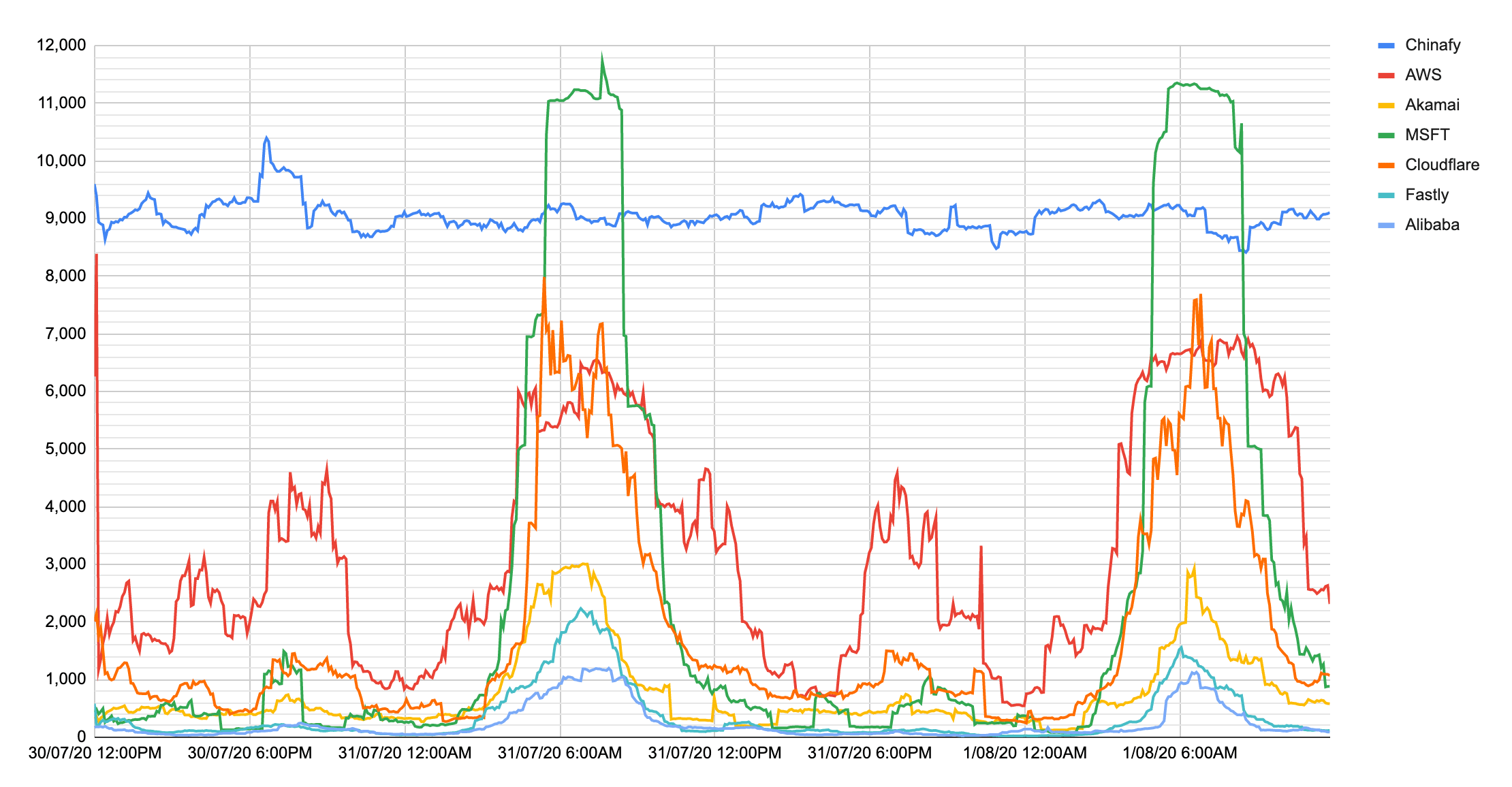 What about China CDNs?
Microsoft Azure does not operate its own CDN or points-of-presence (i.e. POPs) in China. Instead, Azure China is independently operated and transacted by Shanghai Blue Cloud Technology Co., Ltd. ("21Vianet").
You must register a separate subscription to use Azure CDN China.
Even if you manage to obtain the prerequisites - including an ICP license, China business entity - chances are that your site will still be slow if not broken (more on this below).


ii) Code-based incompatibility & 3rd-party resources
It might be common knowledge that Facebook or YouTube are made inaccessible in China. But what you probably don't know is that using these web resources on your site by extension lead to performance issues. You probably don't know that there are a number more blocked or slow resources beyond those usually deemed potential "culprits".
You're very likely using any of the below blocked resources yourself:
Google Map: maps.google.com
Facebook: connect.facebook.com
Vimeo player: player.vimeo.com
Google Translate: translate.googleapis.com
They are great resources for global visitors but in China, not so much. See a waterfall chart of visitors attempting to load past "connect.facebook.com" below -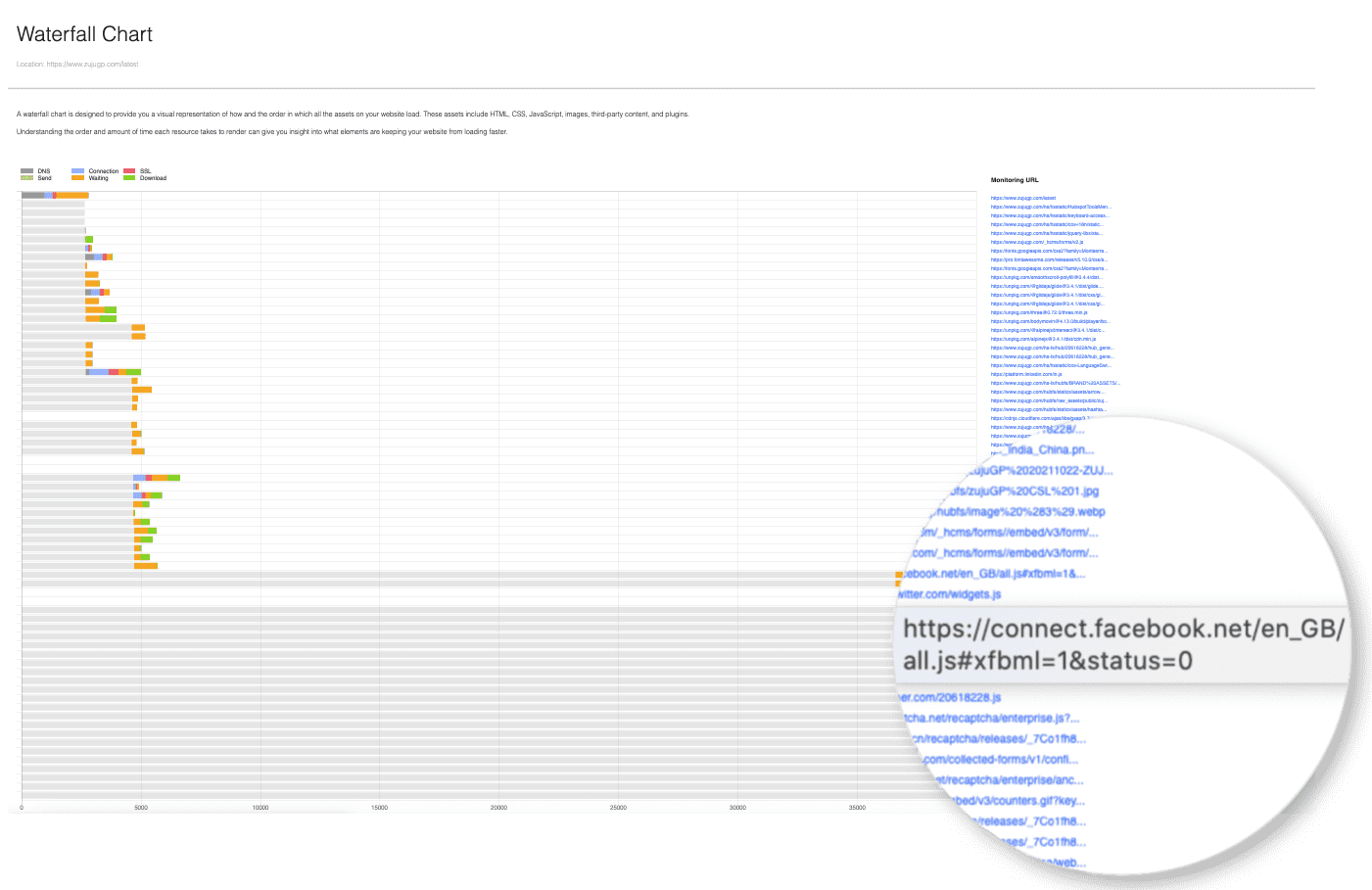 While you are free to remove them from your Sitecore website entirely, >90% of Western sites cannot do without these "blocked" resources for an overall pleasant and trackable user experience.
Not to mention. your operations team probably won't be happy to have them removed entirely.
Can Sitecore work well in China?
Absolutely, Sitecore sites can still benefit from technical optimization. Let's evaluate some options below.


i) Host your Sitecore site in China
When it comes to regional hosting, the steps are usually to -
build a new localized site
get a regional server, and
host the new site there
The case for China is, however, a different story (more below).
i) The fully onshore route
To host sites in China, you're first legally required to become a licensed web content provider which is easily a 6 to 8-month process.
Hosting your site fully in China is also associated with an average 3-4 months website development period.
You'll need to manage a list of blocked resources on an ongoing basis to exclude or replace on your localised site. This applies to websites onshore or otherwise.
Collectively, a fully onshore approach costs between $42K to $100K just to set it up, not to mention additional recurring (time) costs thereafter to keep it running.
Note that neither getting an ICP nor hosting onshore means the site is automatically faster. If you recall from earlier, that's only half the picture.
Already have an ICP? Want to host websites in China?
Let us help make next steps easier
ii) Use a China CDN
As discussed earlier, China CDN can definitely deliver some forms of acceleration in China, but…
All CDNs, including China CDNs, don't resolve code-based incompatibility issues. Your YouTube embedded videos, Facebook trackers will still be inaccessible, rendering an overall laggy and broken visitor experience.
Chinafy vs CDN - which one do you need?
iii) Chinafy
Chinafy optimises Sitecore websites to achieve virtually onshore performance with a full offshore set-up. Specific technical actions include scanning the original site, identifying code-based incompatibility, and bolting the site onto best-in-class CDN for China delivery.
The outcome is a much faster, optimised, fully-managed version of the global site in China.
Onshore CDN options are available as well for companies onshore who fulfill onshore hosting requirements via our industry-leading partners.
More about How Chinafy Works
Chinafy proudly works with SSAB, a leading steelmaker owned by the Finland government, to optimise their Sitecore website in China.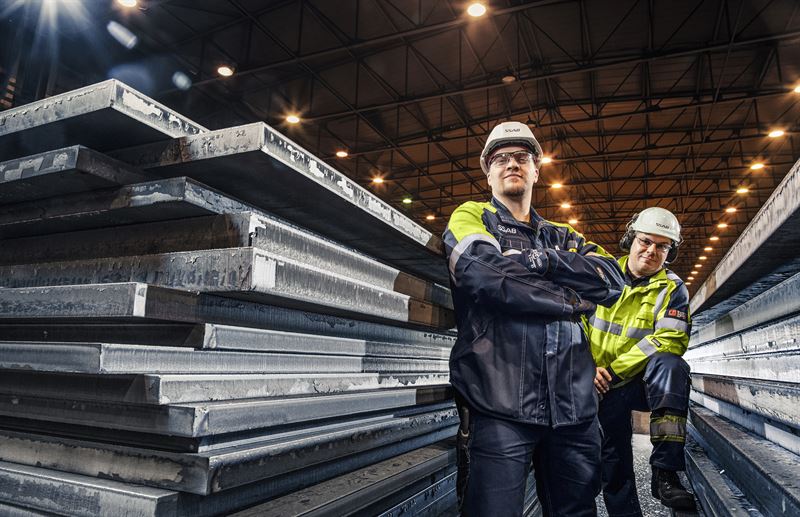 👉 Read how Chinafy makes SSAB's Sitecore site by 2-3x faster in China
Using Chinafy also means that you can -
Deliver VPN-free visitor experience in China
Optimise what you have without a separate site, local licenses, or onshore hosting
Continue to manage content from Sitecore as you normally would
The cherry on top? Launching with Chinafy only takes an average of ~1.5-2 weeks.
Do you use Sitecore? Get in touch with Chinafy to make your Sitecore site load fast and fully in China.