What is Baidu?
Baidu is a leading Chinese multinational technology company whose primary product is its search engine.
What is Baidu used for?
Baidu's search engine is the most popular in China, accounting for about 60% of searches in 2023.
How is Baidu different from Google?
Baidu has similar to features with Google allowing users to search for web pages, images, videos, news, and other types of content but starts to differ in language, crawling preferences, and more.
Overview of Baidu Webmaster Tools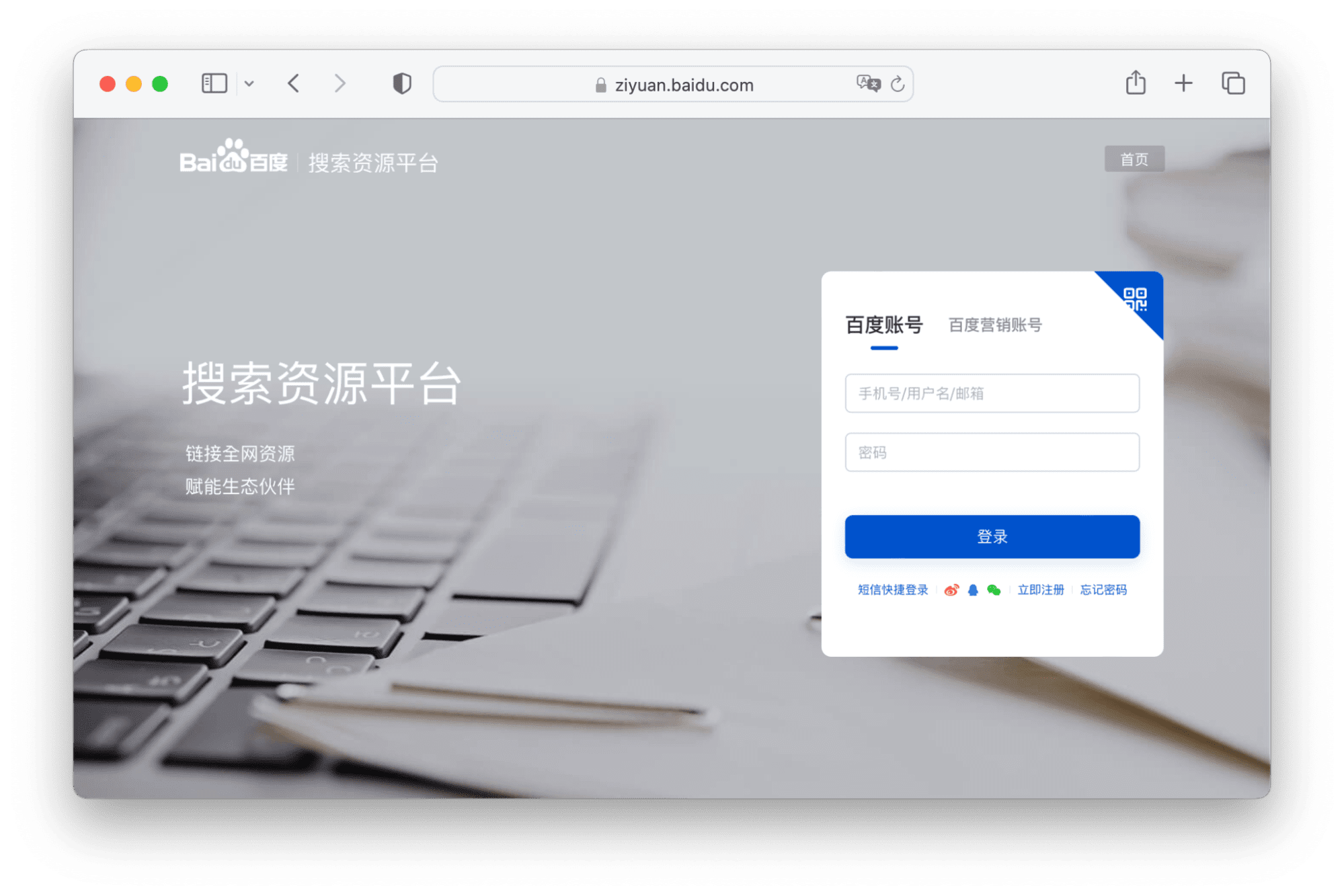 What is Baidu Webmaster Tools?
Baidu Webmaster Tools is a portal by Baidu, the prevailing internet search platform in China, built as a tool to maintain websites' presence in Baidu's organic search results.
Baidu Webmaster Tools' services can be broken down into three primary areas.
Site and Resource Submission
Site Optimisation
Site Maintenance and Troubleshooting

Who uses Baidu Webmaster?
SEO Professionals and Webmasters maintaining sites for access in China. Each role typically does the following: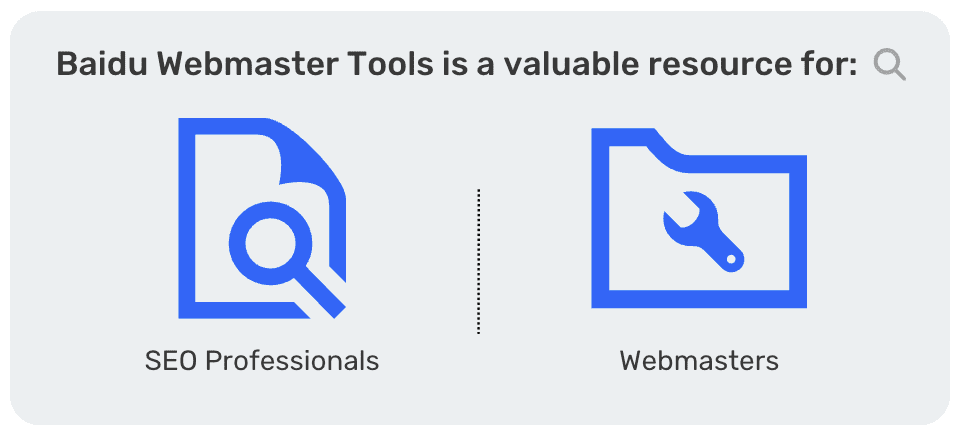 i) Webmasters
Site and page upload for indexing on Baidu is done through Baidu Webmaster. This ranges from crawling to page upload.
ii) SEO professionals
SEO-oriented work on Baidu Webmaster typically includes tracking of ranking of keywords, Impressions, and clicks In Baidu.
Why Use Baidu Webmaster?
Baidu webmaster should be used by websites looking to appear on Baidu search results and also optimise presence in search rankings.
How to use Baidu Webmaster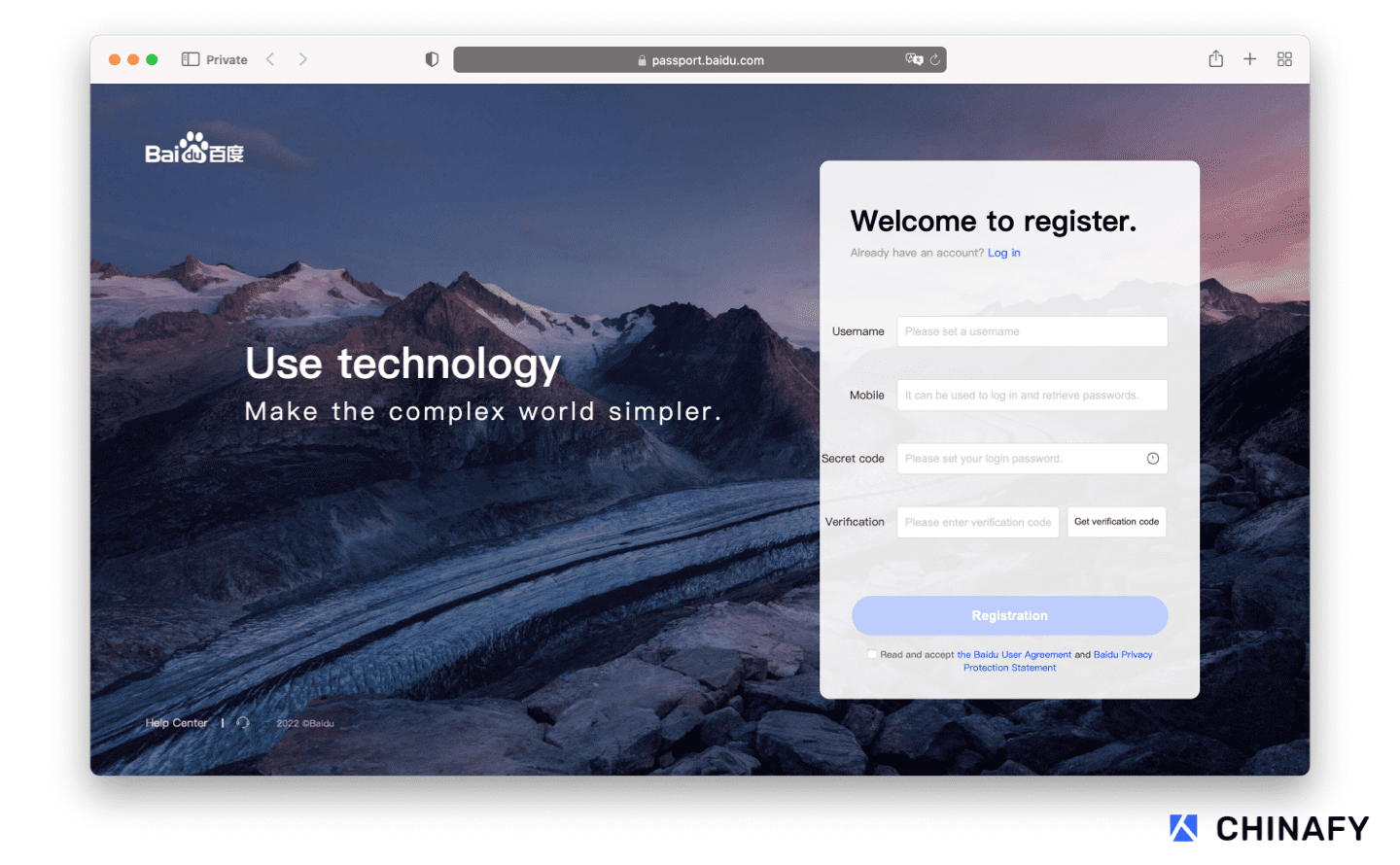 Guide to opening an account with Baidu
1. Register with Baidu through this link
2. Verify your Identity. You should receive an SMS confirmation via the phone number you have entered. As of May 2022, Baidu is no longer accepting overseas phone numbers for account registration.
3. Click Add Websites on Baidu Webmaster Portal. You may verify the website is yours via 1 of 3 options. Once you have successfully verified your site, you will see a success message pop up notifying you that your submission has been completed.
File verification by downloading a verification file to place into your website's root directory
Copy & paste the HTML code provided by Baidu into your site's header settings
By adding a CNAME record to your DNS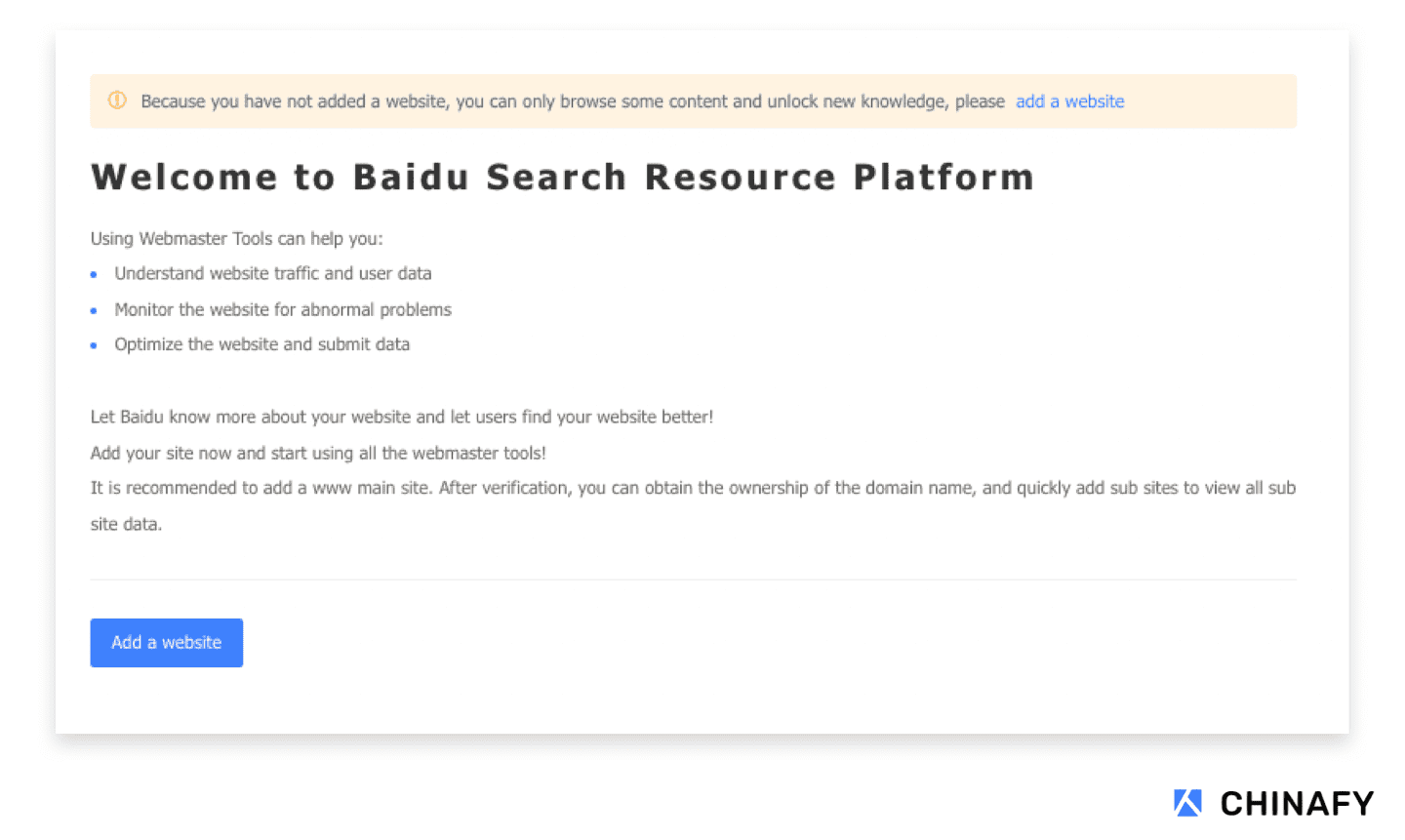 How to optimise your website for ranking on Baidu
Indexing on Baidu can be done in 1 of 3 ways:
Manually submit your homepage (easiest, but takes more time)
Bulk submit all your URLs via Baidu API Endpoint (fastest, but requires developers' inputs)
Bulk submit your sitemap to Baidu
Read more on these methods, the next steps, and more on our full guide to improving indexability on Baidu here.
How to further optimise your Baidu site for access in China
Anyone who's ever tried to access websites in China knows that websites simply don't work the same in China as they do elsewhere. Slow load times or incomplete page loads negatively affect your rankings on Baidu.
Websites that aren't officially blocked or inaccessible can still appear to be broken because simply -
i) They need much longer to load in China than they do elsewhere (i.e. 30 seconds+)
ii) Critical assets (e.g. images, and videos) fail to load
Baidu even says this officially…
The content above the fold should be loaded in <1 seconds (to be considered Baidu-friendly)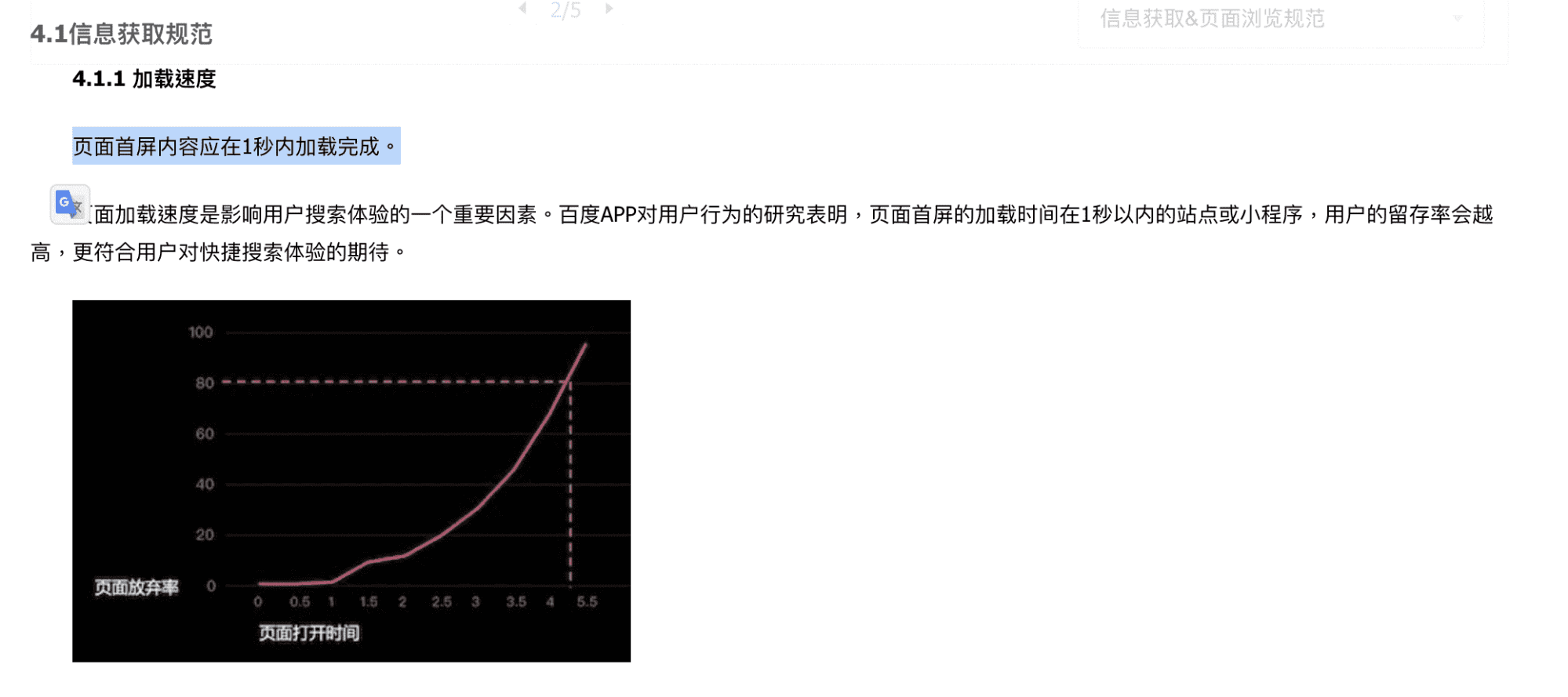 These issues are most commonly a result of building those websites with code, plugins and third-party resources that are incompatible with the Chinese internet and an infrastructural set-up that does not perform well in China. Poor performance in China also translates into poor performance on Baidu.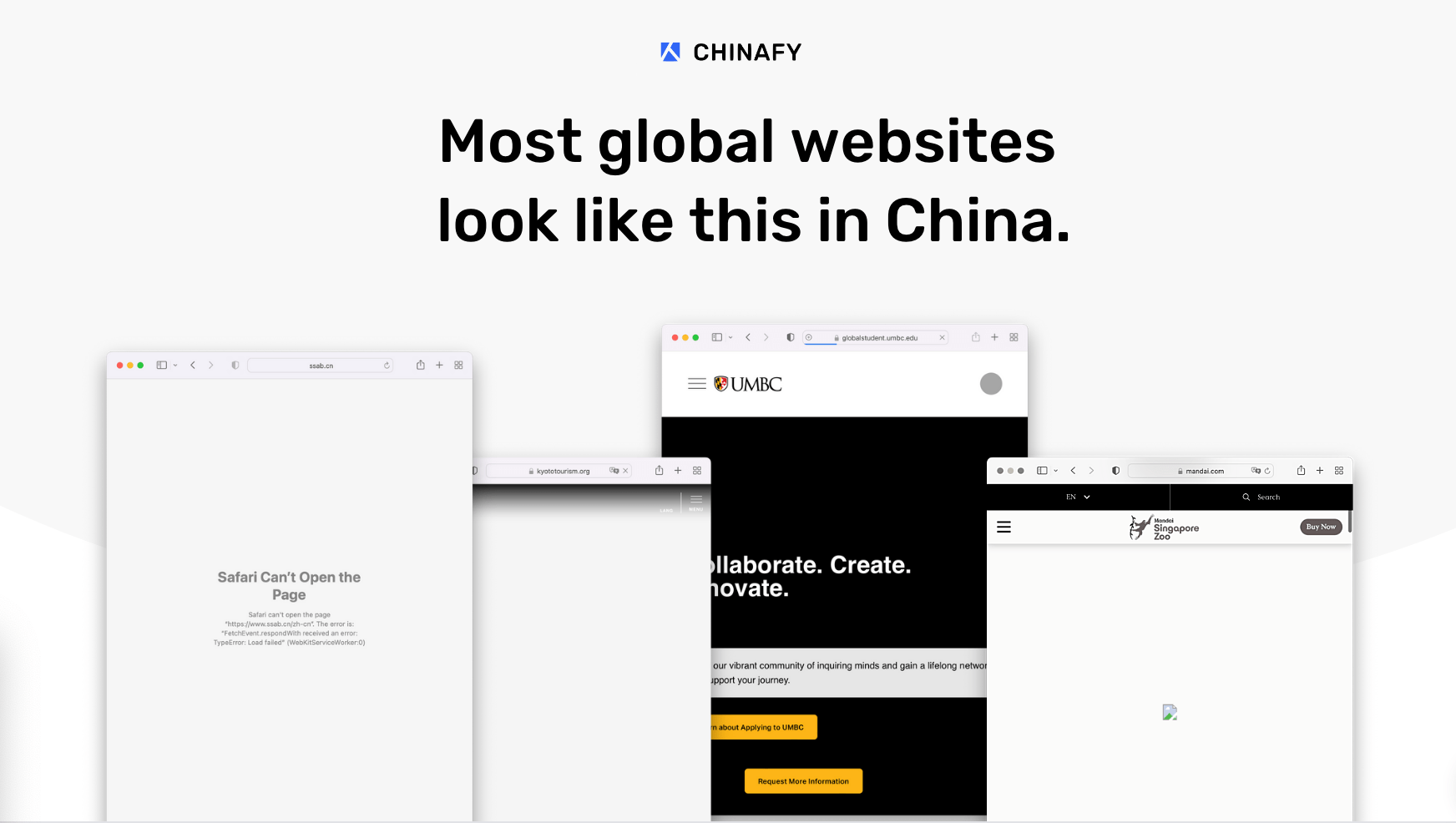 This is where Chinafy comes in, which addresses front-end optimisations that you can perform today, specifically for the China internet ecosystem. Chinafy then optimises all websites to achieve near-native performance with an offshore set-up. Hosting in China, at your option.
Chinafy is a highly tuned complex integration of both Software (i.e. Code) and Infrastructure
(i.e. Hardware) that can be bolted onto almost any site.
By combining intelligent China-specific resource optimisations with a multi-load-balanced
infrastructure, websites can achieve significant improvements in performance
across the board.
Learn more about Chinafy and how to optimise your site for China today