This is a quick guide on how to use our China Visual Speed Test tool to better understand how your Squarespace Site performs in China.
Input your URL into the Visual Speed Test for China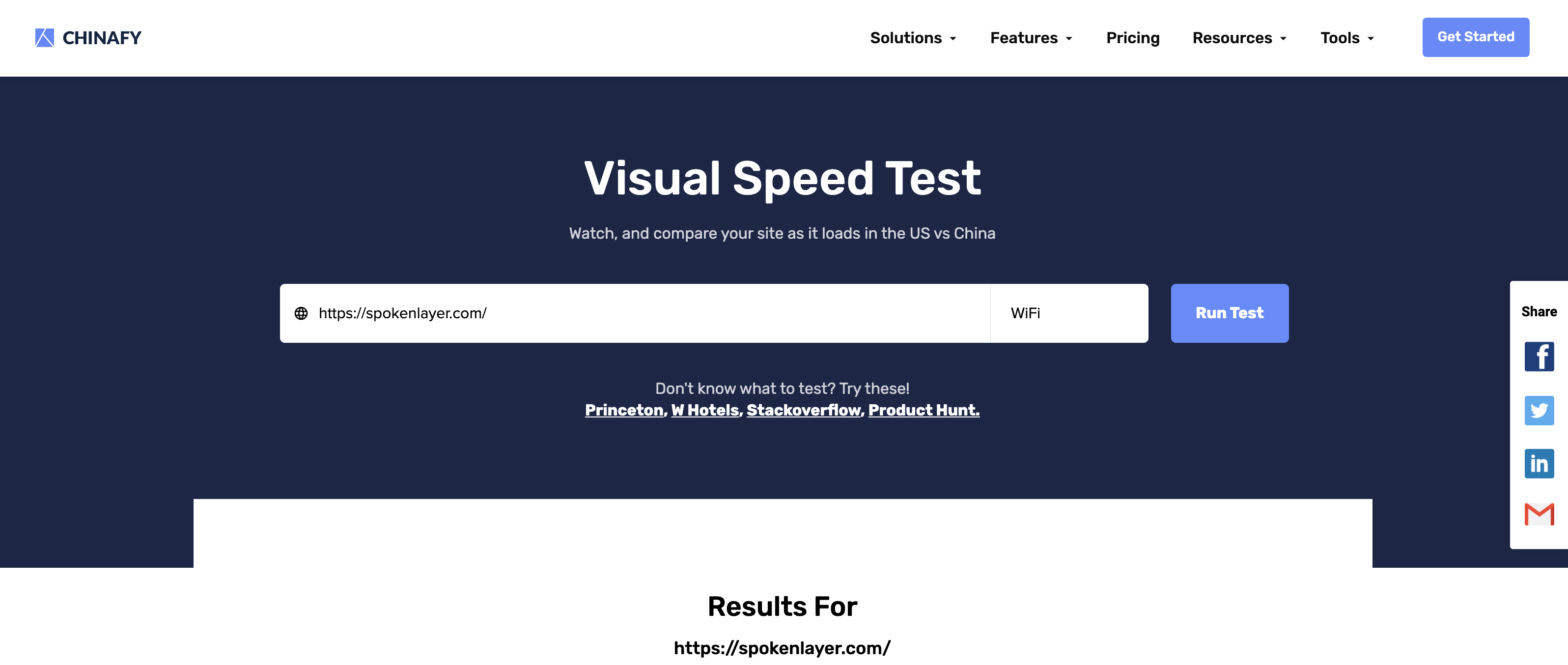 Review Side-By-Side Loading Times
See how the pages load side by side in a non-China location vs. city in China.
Note: The default location non-China location is California, but you can use the dropdown to select a different location. You'll find that loading times for non-China locations ("global" locations as we call them) broadly load in a similar range as opposed to sites in China.
Use the scrolling bar to simulate and adjust your Playback speed.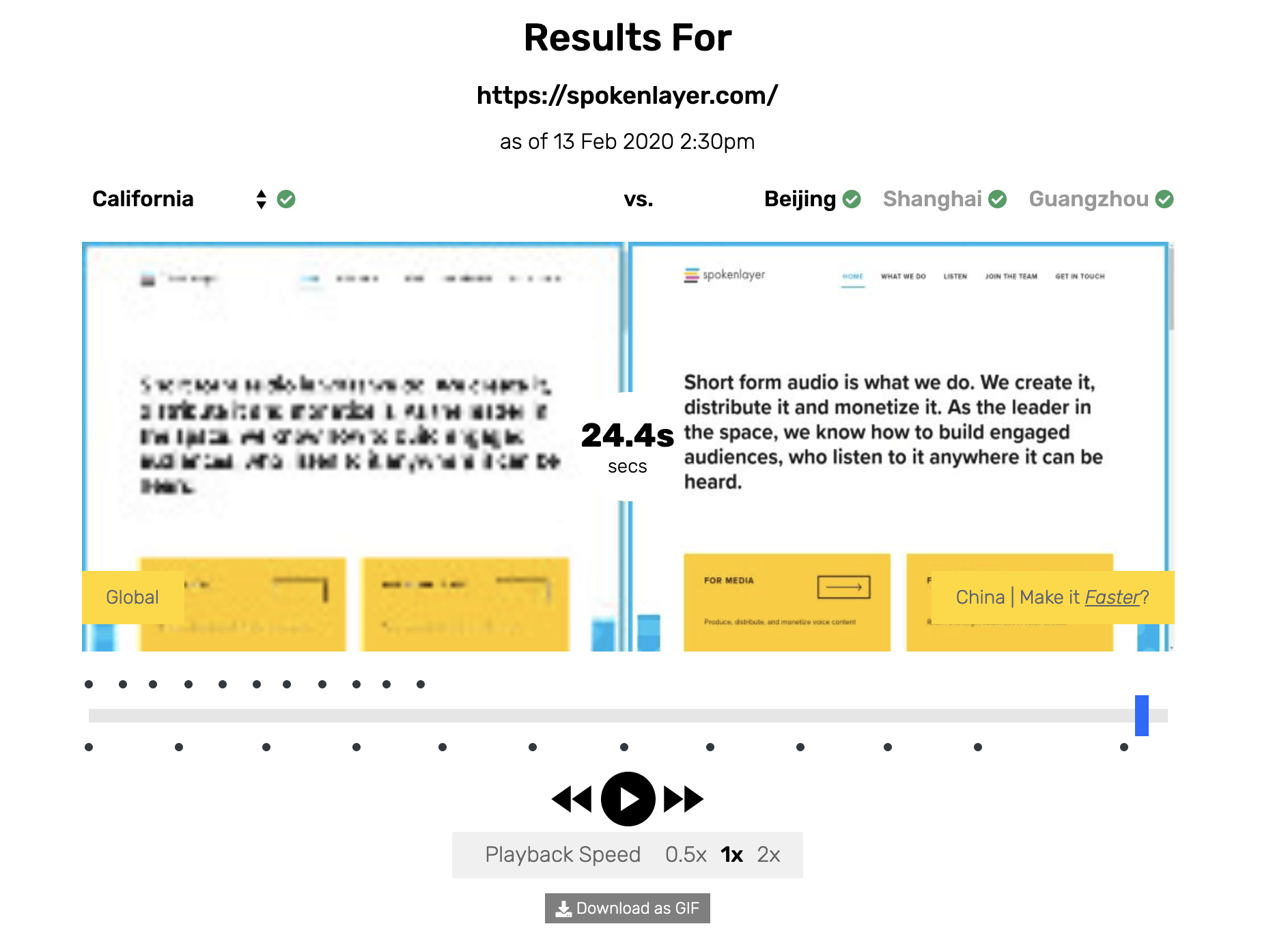 Performance is not just about the full page load. Performance is about how fast your web pages download and display for users, and more importantly, how it feels. This means asking, Does your site load quickly? Does your site allow users to interact with it quickly? Does it provide feedback to your user that "something is happening"?
Understanding your Key China Performance Metrics Table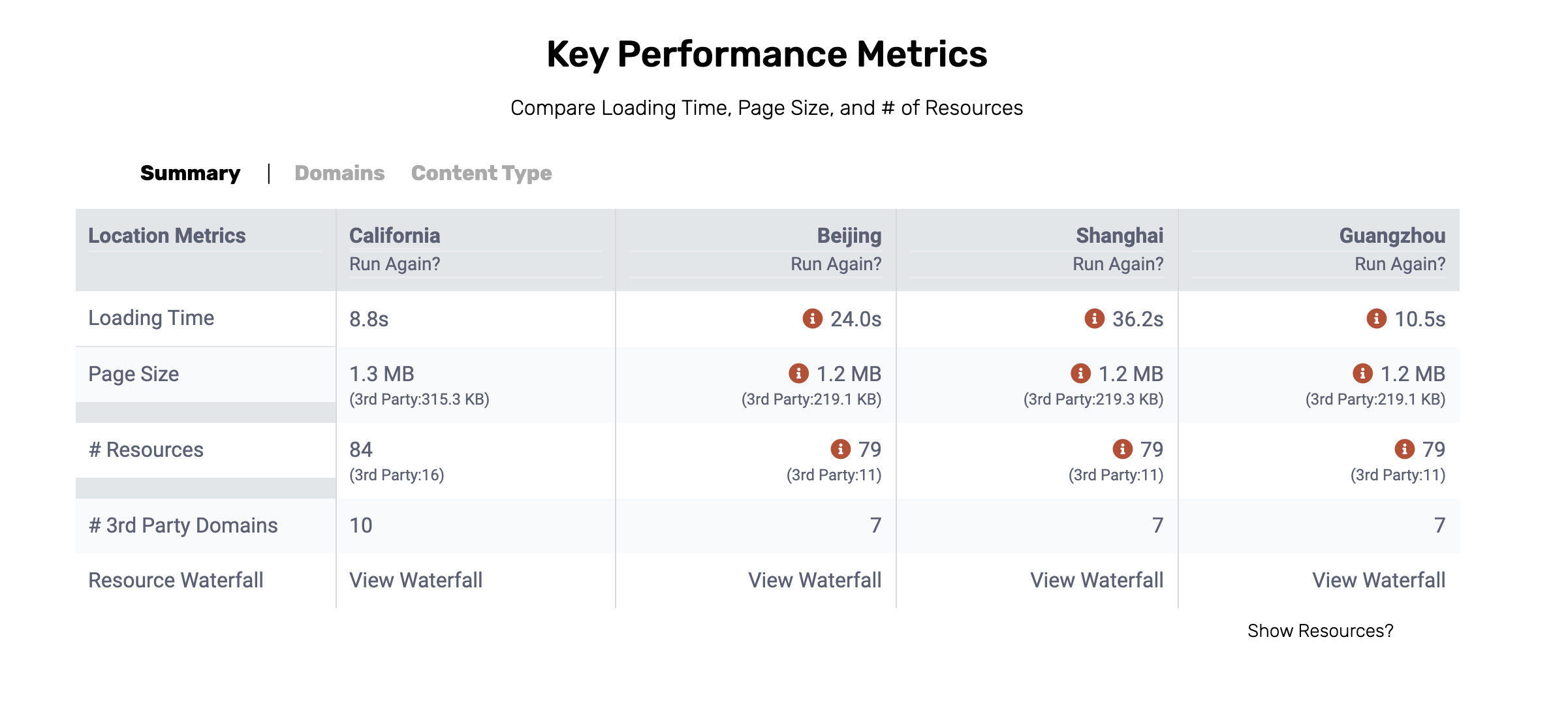 Loading Times
Take a look at loading times and observe whether there are discrepancies between your loading times from California vs. Beijing, Shanghai and Guangzhou. If you are unsure about one specific location, simply click 'run again' to test that location.
# Resources
A page consists of numerous resources. These including HTML, CSS and JS files as well as image, and video assets on your page. These resources, when loaded properly, then come together to form your 'website page'.
Often times, you'll find that the # of Resources are fewer in China. Why? Either those resources that are blocked or take too long to load from slow networks that they 'time-out' and therefore aren't loaded properly on a page.
To find out which resources are blocked, click into Domains & Content Type.
Under Domains you can review where these resources are coming from and the times it takes to load/download those resources - if they load at all. Those that don't load (and are likely blocked in China), are those without any numbers in their corresponding rows.
Under Content Type, you can better understand collectively how long each content type takes to load in China.
Use the dropdown to select various metrics besides Load Time.

Commonly blocked resources on Squarespace
Some examples of a commonly blocked third-party resources include those from facebook.com, twitter.com, as well as googleapis.com.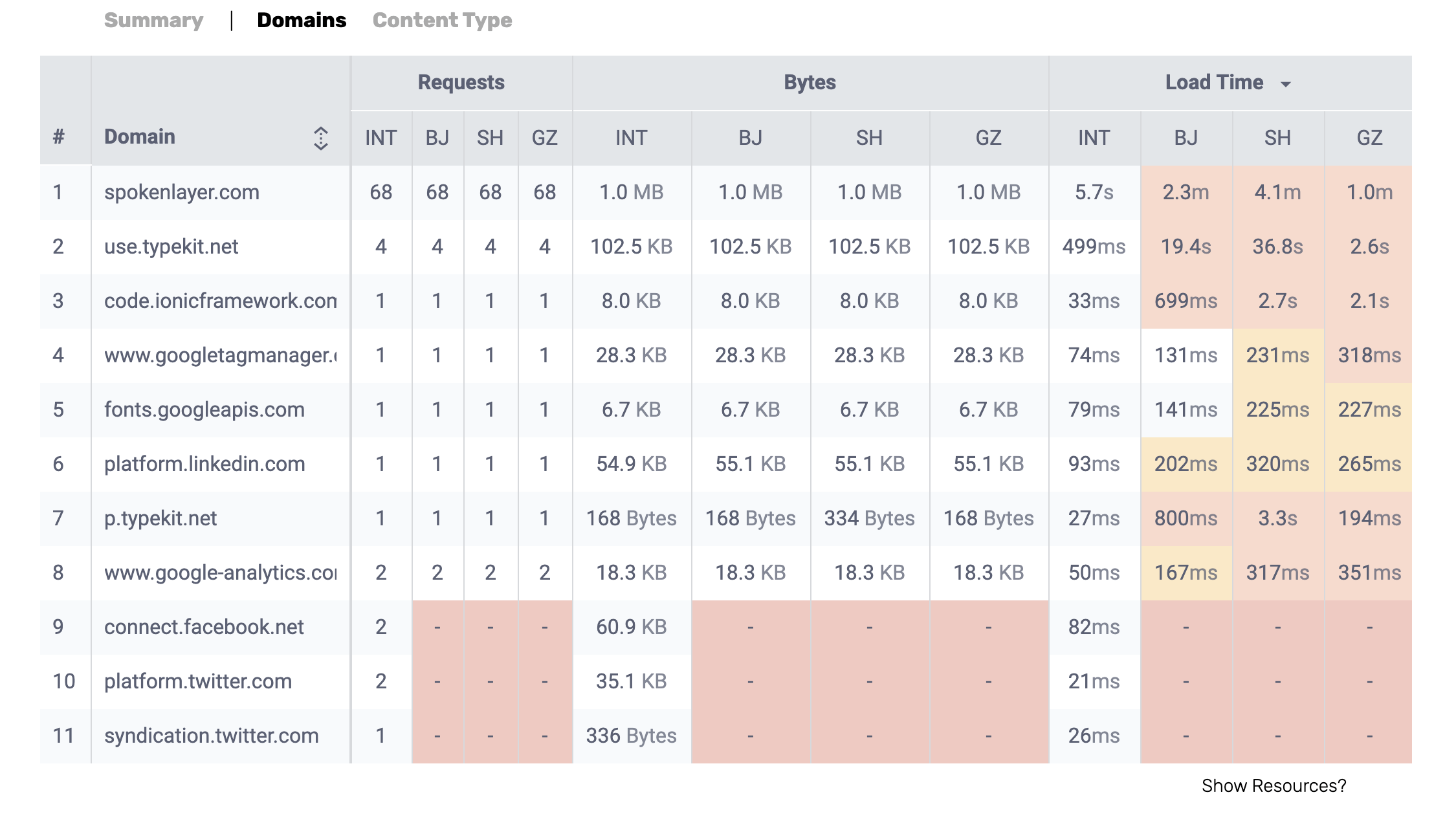 Commonly slow resources on Squarespace
As we shared in our other article "Does Squarespace Work in China?", even if a file is not blocked, third-party files hosted on slow networks take a long time to retrieve - slowing down the overall experience of a site.
When you upload an image or other static asset to Squarespace, the platform caches and delivers these files with their CDN, Fastly.
This means that files generally are delivered quickly to visitors. The key word being, generally.
This is because like other CMS platforms and technologies (including CDNs) including but not limited to those used by Squarespace, Wordpress, Shopify - are not built on infrastructures designed for China.
As you can see in the screenshot below, Squarespace static assets are stored on the following sub-domains for all Squarespace sites - static.squarespace.com, images.squarespace-cdn or static1.squarespace.com.
Image assets normally load in <100ms outside of China. However, in China, you can see that sometimes, these images either take way longer to render for users...if at all.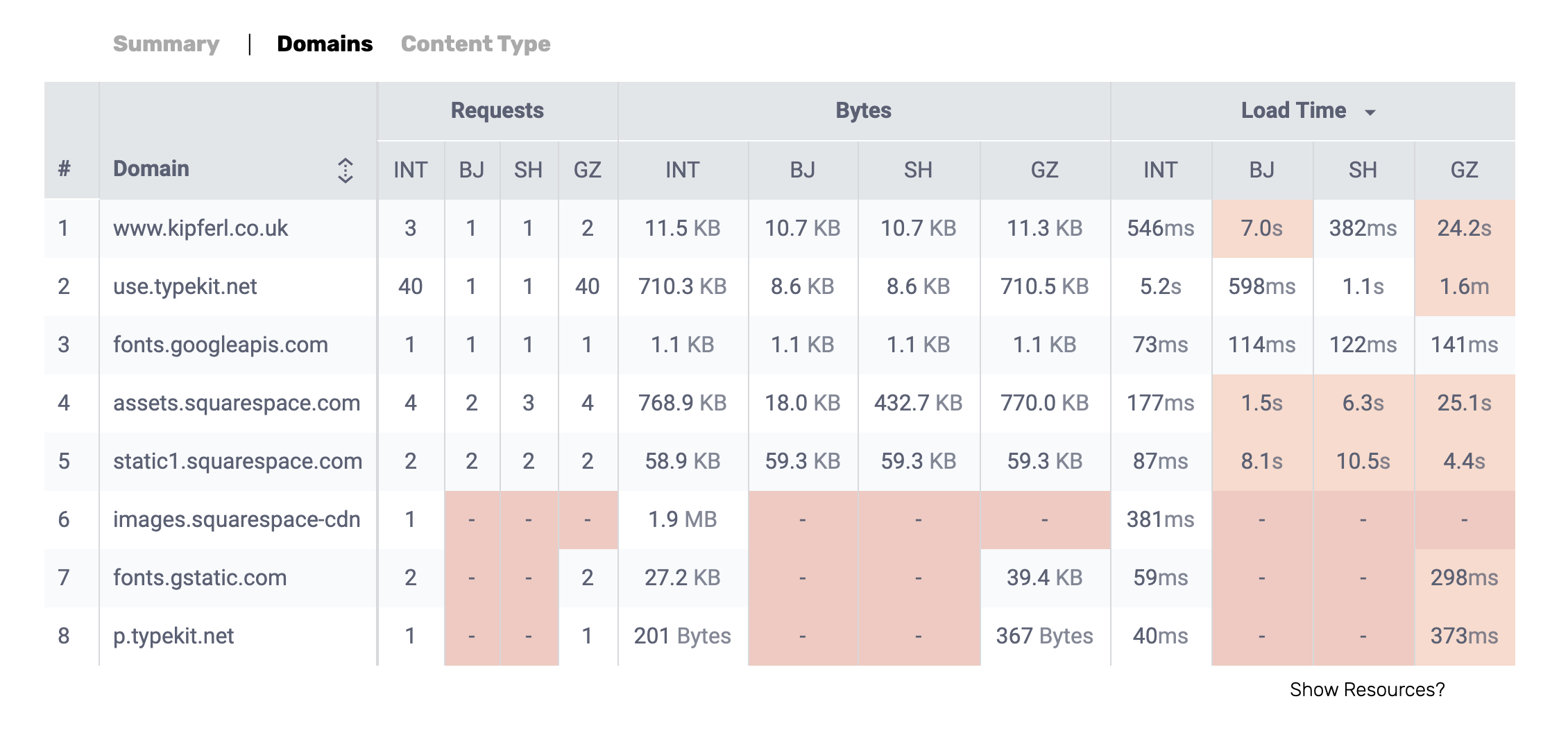 What does this mean for your site?
One of the top reasons people use Squarespace is because of their beautiful selection of templates. We've seen our fair share of sites using full-width images, thoughtful negative space, tons of videos, complimented by modern typography.
Without technically optimising the site for China, the unfortunate truth is that these visual elements don't have the same wow effects for visitors in China.
But loading times don't mean everything right?
Absolutely correct.


Step 4: Look beyond the summary table

Loading times in this test are based on DOM complete, which is defined as the time that the document and other CSS and sub-resources have also been parsed/loaded.
In short, this is the time at which your page is fully ready.

However, sometimes a site has a lot of what we call 'trailing resources' - including ad trackers, Chat boxes, or a constantly rotating image carousel. If such is the case, then the loading time may not be the best indicator for how visitors experience your site.
By looking at the Average Time and 'Bucketed times' for resources, you can better understand how much slower your China site is in loading its 'most important' resources.
Step 5: Review your resources

At the bottom of the Visual Speed Test, you can look at all the resources that make up your page.
Scroll through which resources don't load at all, and which ones that do to better understand just how affected your Squarespace site is.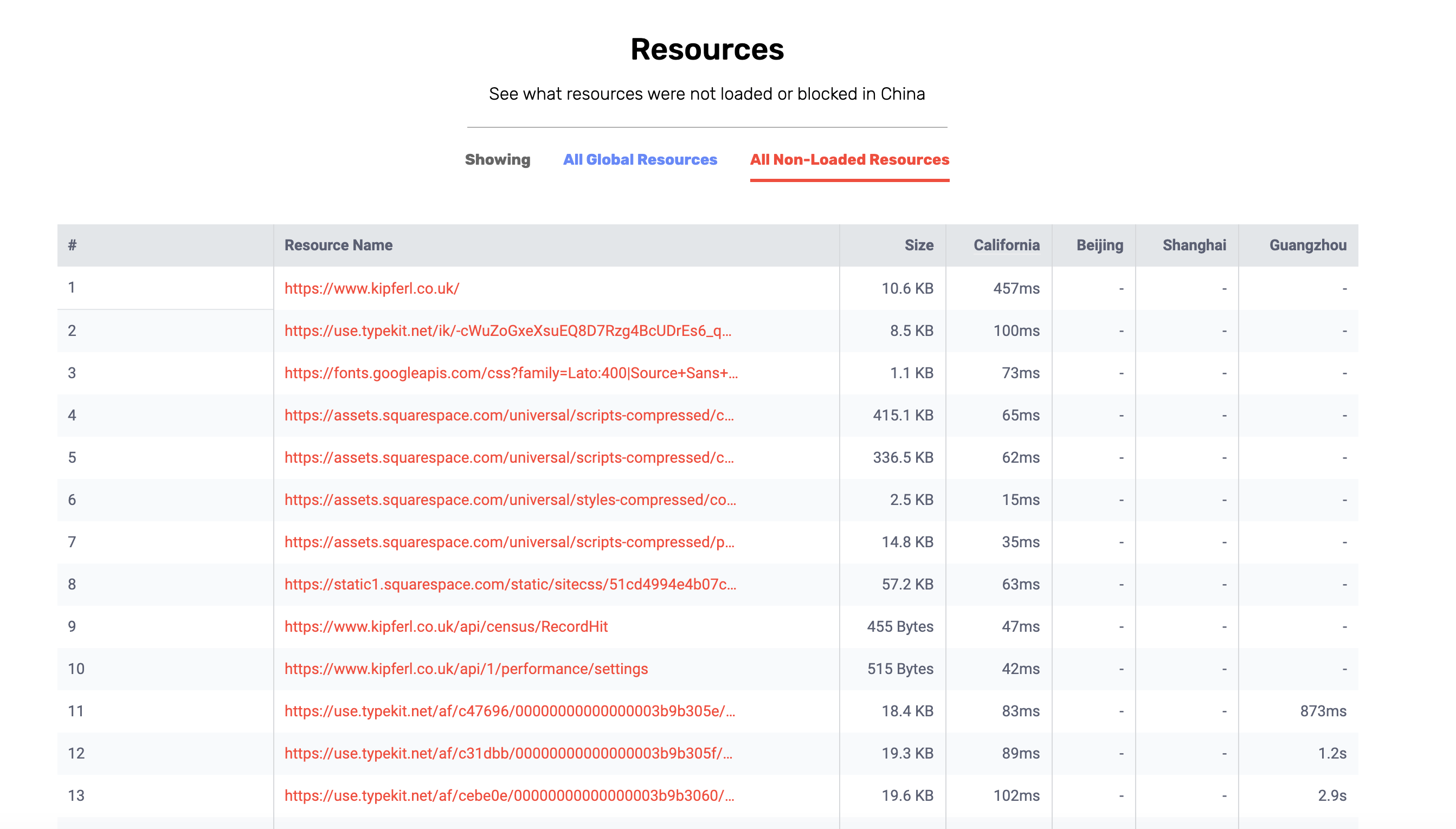 Not happy with your Squarespace site results in China?
Don't be shy and ask us at Chinafy for help!
Chinafy on average is able to take a site from 45s+ to the 6-8 second range, fully loaded, and in a matter of days.
The whole point of using a CMS like Squarespace, Wordpress, or Shopify is so that you can efficiently design, launch, and manage your site. Chinafy ensures that you can continue to achieve that goal, by letting us do the heavy-work for you when it comes to China.
Reach out to Chinafy to help you wow your customers, no matter where they come from.