Since the end of 2020 - conferences, events, and business seminars have been pressured to quickly transition into online conferences, virtual events and business webinars across industries.

So, you have a business event coming up? Chances are that you're looking to find ways to stream it online.
While in-person events still have that irreplaceable human touch, live streaming events have become the next best alternative with the additional plus of being able to support real-time engagement from guests simultaneously and worldwide.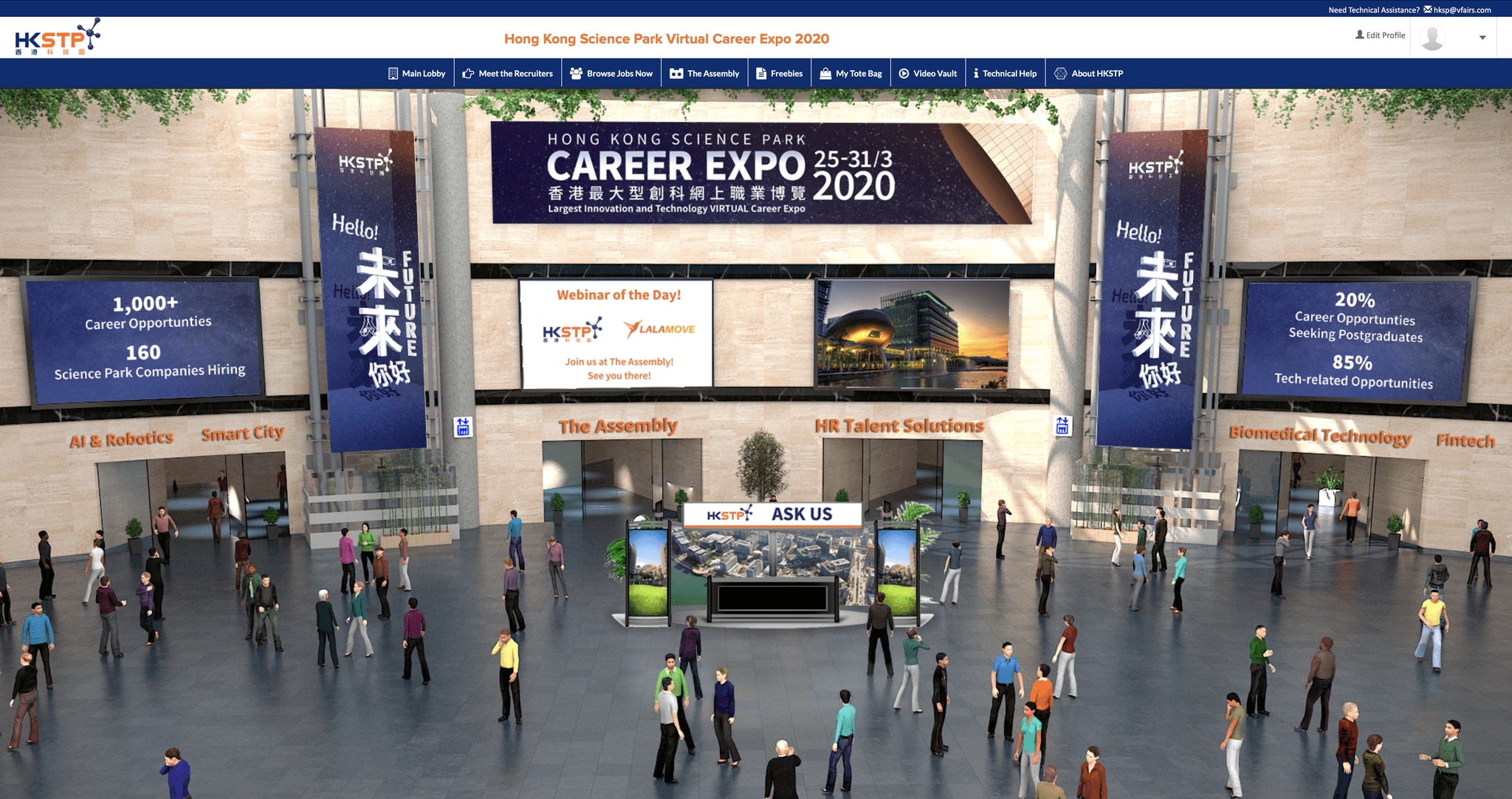 So now the question is, how global, and how 'real-time' is your online event?

With the growing popularity of live streaming events, more and more global companies are realising that their 'global' events are not reaching their China-based audience smoothly.
Why don't traditional live-stream solutions work in China?
Western broadcast players such as YouTube and Vimeo, are explicitly blocked in China. This means your de-facto stream will not reach visitors in China, irrespective of content.
Live streaming in China traditionally requires a Chinese contact in order to be eligible for licensed media players in China, which a number of businesses don't have access to.
All this takes additional planning, which often companies don't have much time to do especially when these accessibility issues are discovered much later.
In short, live streaming virtual events in China isn't quite straightforward for offshore companies.
Navigating the unique event landscape in China can be unfamiliar territory to many. Not to worry, we've got you covered.
In this article, we will break down 3 ways to live stream into China, which include -
Zoom Webinars
Tencent Cloud Streaming Service
Chinafy Vimeo Add-on
Zoom Webinars
To say that Zoom is an everyday necessity since COVID-19 is an understatement. In 2020, Zoom reports 300-million daily meeting participants.
The market-leading conferencing software is best known for its collaboration-first design. Some of Zoom's top features include a meeting capacity 100+, an intuitive interface with optional login, breakout rooms, and more…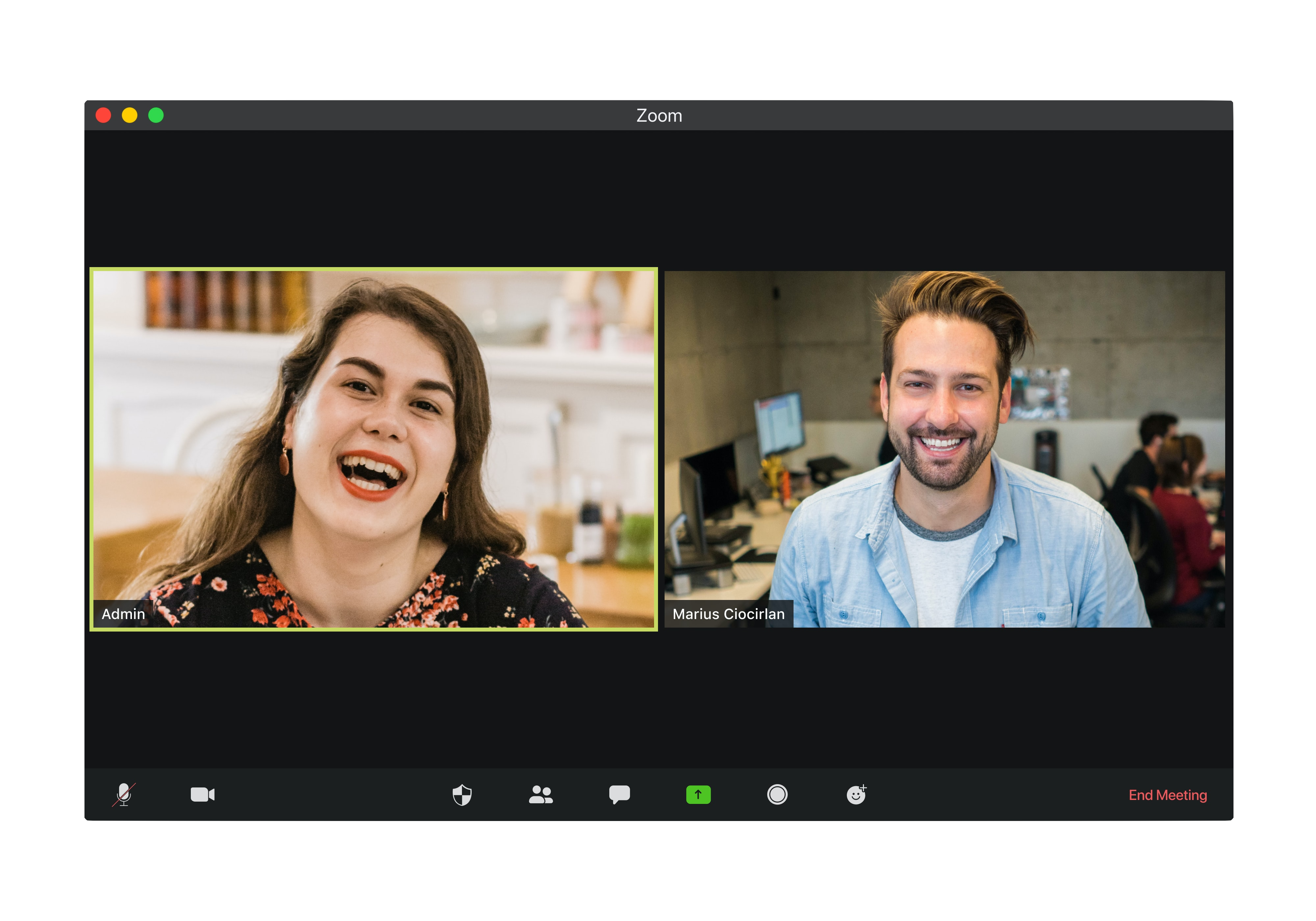 On top of this, Zoom also has a sizable product team in China and is subsequently known by word of mouth as a China-friendly option for cross-border conferencing or live-streaming. However, this isn't quite the case.

Yes, let's get this straight: Zoom does not work off-the-shelf in China.
Using Zoom in China
Data & Privacy: As of 2021, Zoom requires compulsory login in China with the corresponding user data stored in its onshore data centers.

Partners-only model: If you're still around, here's another piece of news for you: To use Zoom in China, you'd need to subscribe to its professional enterprise account from Zoom-authorised partners to host users from within the border.
Unfortunately, there support process is in Chinese and you'd need to have an in-China contact person to be able to move forward with the local Zoom partners smoothly.
If you're interested, feel free to check out a complete list of Zoom-authorised partners in China.
Tencent Cloud Cloud Streaming Service
Now to another popular option (albeit one that involves a bit more time and work): Tencent Cloud offers a live streaming service called Cloud Streaming Service (CSS) that is natively built for a China-based audience.

Just like how you'd use Facebook, YouTube, and Vimeo for the rest of the world, you'd have total backend control over your stream within the CSS Dashboard. Developed as a professional live streaming portal, it is great news to some that Tencent CSS supports many advanced features including text overlay, color-tuning, and adding watermarks.

In short, you may think of it as the China equivalent of Vimeo, but with a catch.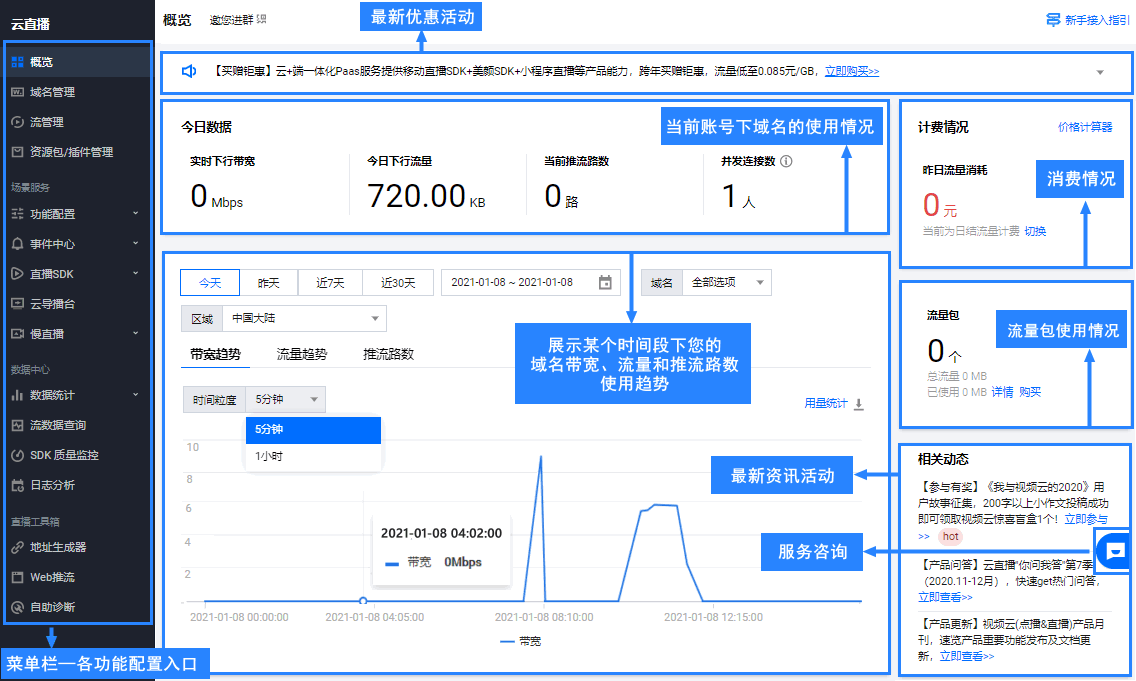 Built natively for China, the entire interface is in simplified Chinese. What also adds to the cultural barriers is that you'd need to apply for several legal documents in China, including an ICP, to be able to use Tencent Cloud CSS.

If you don't already know how complicated it is to get an ICP, here's a detailed look through 'What is an ICP? How to Get an ICP in China?'.
Chinafy Vimeo Add-on
Do you use Vimeo? Here's some great news. Chinafy offers an add-on that conveniently converts Vimeo live-stream into its China-friendly version.
How do you use Chinafy to optimize Vimeo stream?
The process is quite straightforward. Once subscribed, we create a China-friendly version of your site (including your Vimeo component) that is accessed by all China-based visitors. Your event page will still look the same to all your visitors except it's faster and more optimised in China, after Chinafy.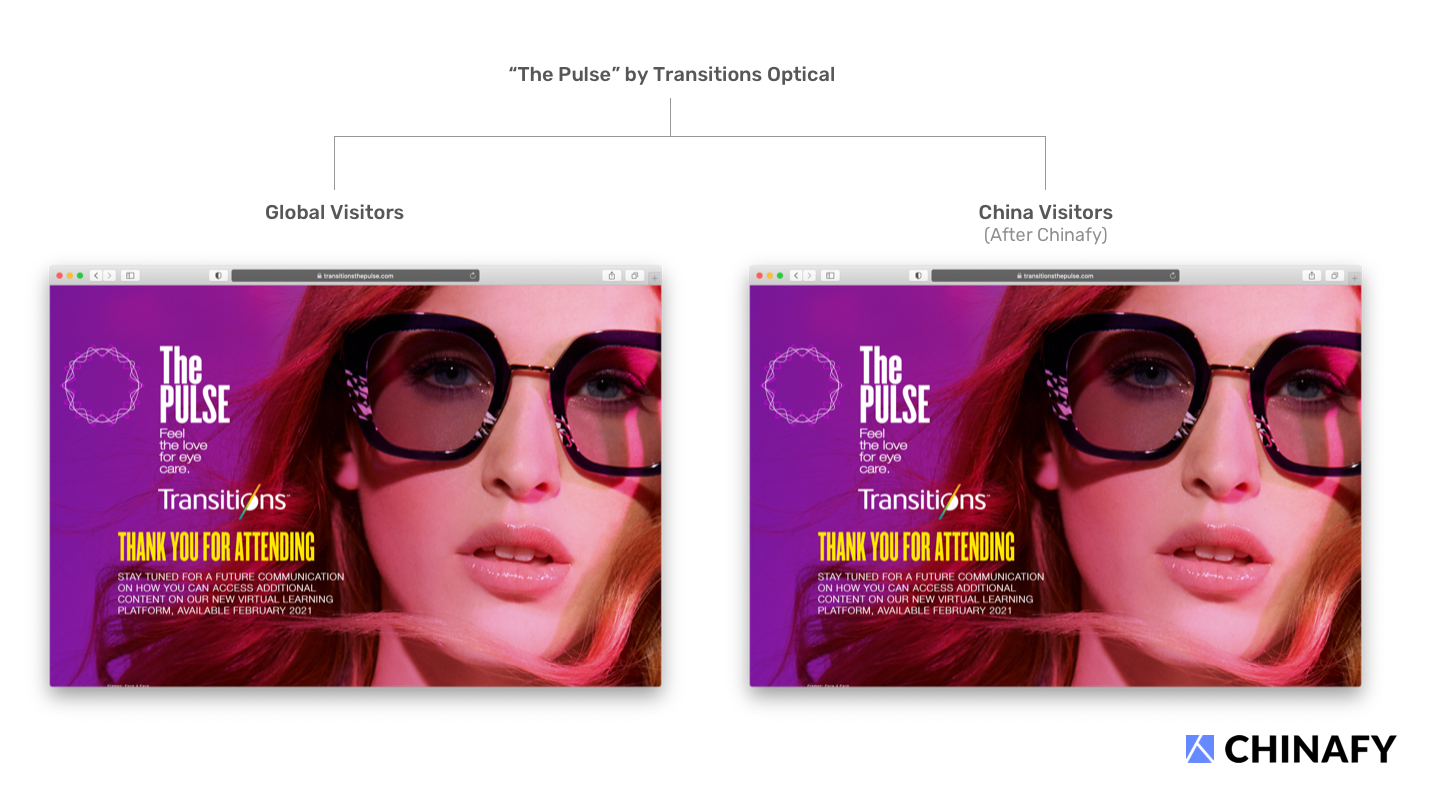 Read more about the full process of how Transitions Optical uses Chinafy to live-stream into China.
Why our clients use Chinafy:

Our add-on easily bolts onto your site without any engineering effort from you
Our User Dashboard is fully navigable in English
Our livestreaming usage is on a pay-as-you-go (PAYG) model (meaning you pay only for what you use)
We also apply site-wide optimisations so that your overall site experience is sufficiently optimised for China-based users
We've partnered up with one of China's biggest Cloud Providers - including Baishan Cloud - to ensure your stream is not only fed into China with full functionality, high resolution – and most importantly, minimal latency.
What is needed from you?
Well, just the URL to your site and for you to fill out the Chinafy Get Started Form :)