Introduction
Expanding into the Chinese market is a complex undertaking that requires enterprises to overcome a number of technical barriers.

To address these challenges, companies can turn to website optimization platforms or content delivery network (CDN) providers that specialize in China. In this article, we will compare two such providers - Chinafy and Akamai China CDN - to help businesses make an informed choice.
What is Chinafy?
Chinafy: Specialized solution for China Website Optimization
Chinafy is a website optimization platform that provides businesses with a comprehensive solution for optimizing their websites for China. The platform addresses not only technical challenges like slow load times and downtime but also cultural barriers like the technical localization of content.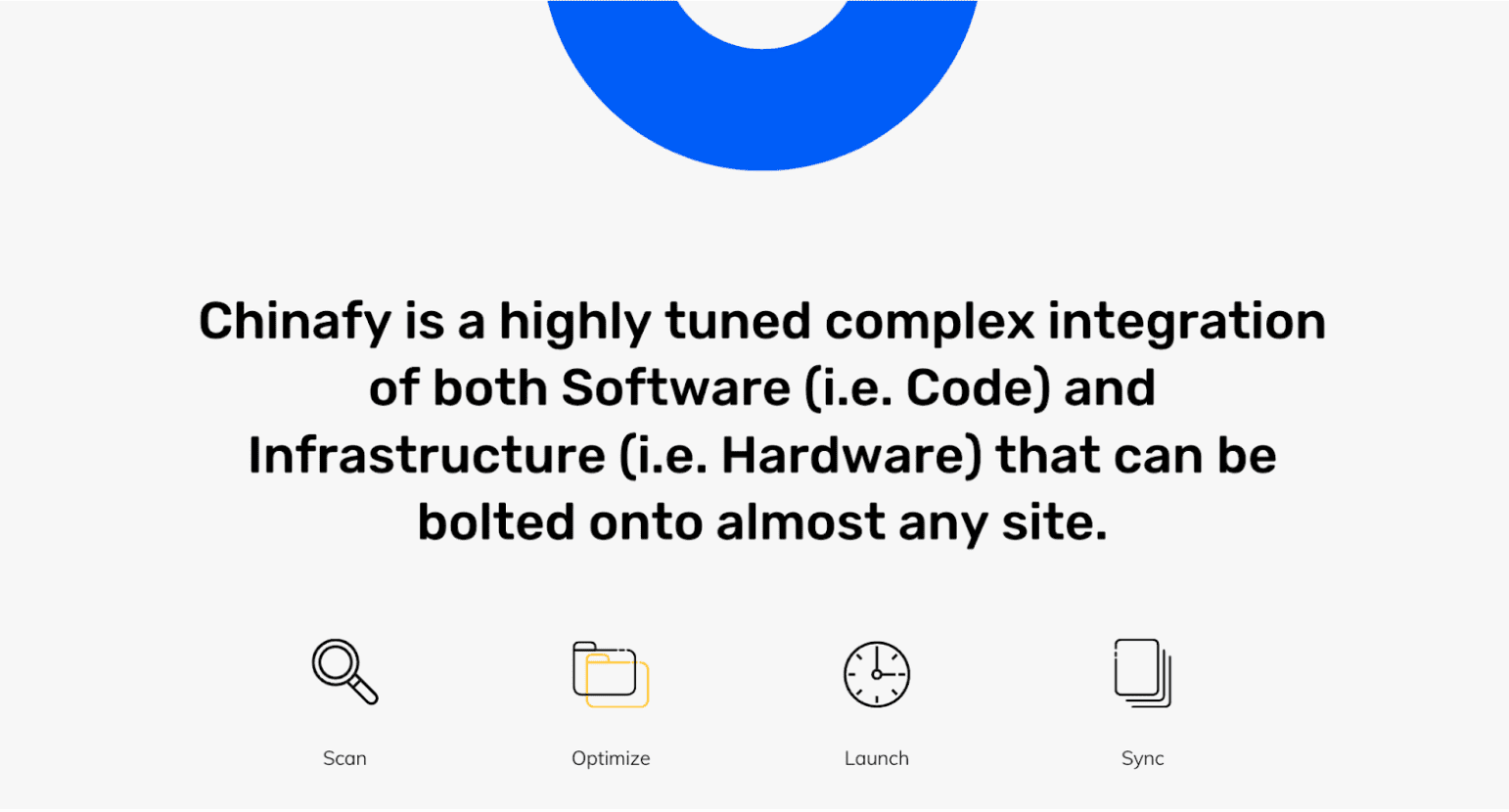 What is technical localization?
Localization traditionally refers to the process of adapting a product or service to meet the language, cultural, and legal requirements of a specific country or region.

Technical localization refers to the localization of technical components of your page for use by the end user, specifically, in this case for China.
For example, platforms such as YouTube and Vimeo do not work in China.
More often than not, this is not because of the contents but because of the platform that is being used. Localizing that technology for an equivalent for the local market is an example of technical localization. Note that expert technical localization takes into account cultural and compliant practices. Chinafy does not work with companies that are blocked by, have the intention of, or knowingly directly challenge the rules and regulations of Chinese Ministry of Information Security. Any company that violates these terms of use will be given notice and removed promptly if not remediated.
Chinafy's proprietary optimization technology enables faster load times and more consistent web performance - including functionality and web resource deliverability - in China's unique network environment.
The platform specializes in optimizing third-party resources on a website. These resources are the ones that CDNs and hosting providers don't touch, but often impact how a site functions in China. For example, fonts, videos, forms, API calls and more that appear to be part of the website but are not hosted or managed on the primary domain (www.website.com)
Learn more about how Chinafy differs from Content Delivery Networks (CDNs)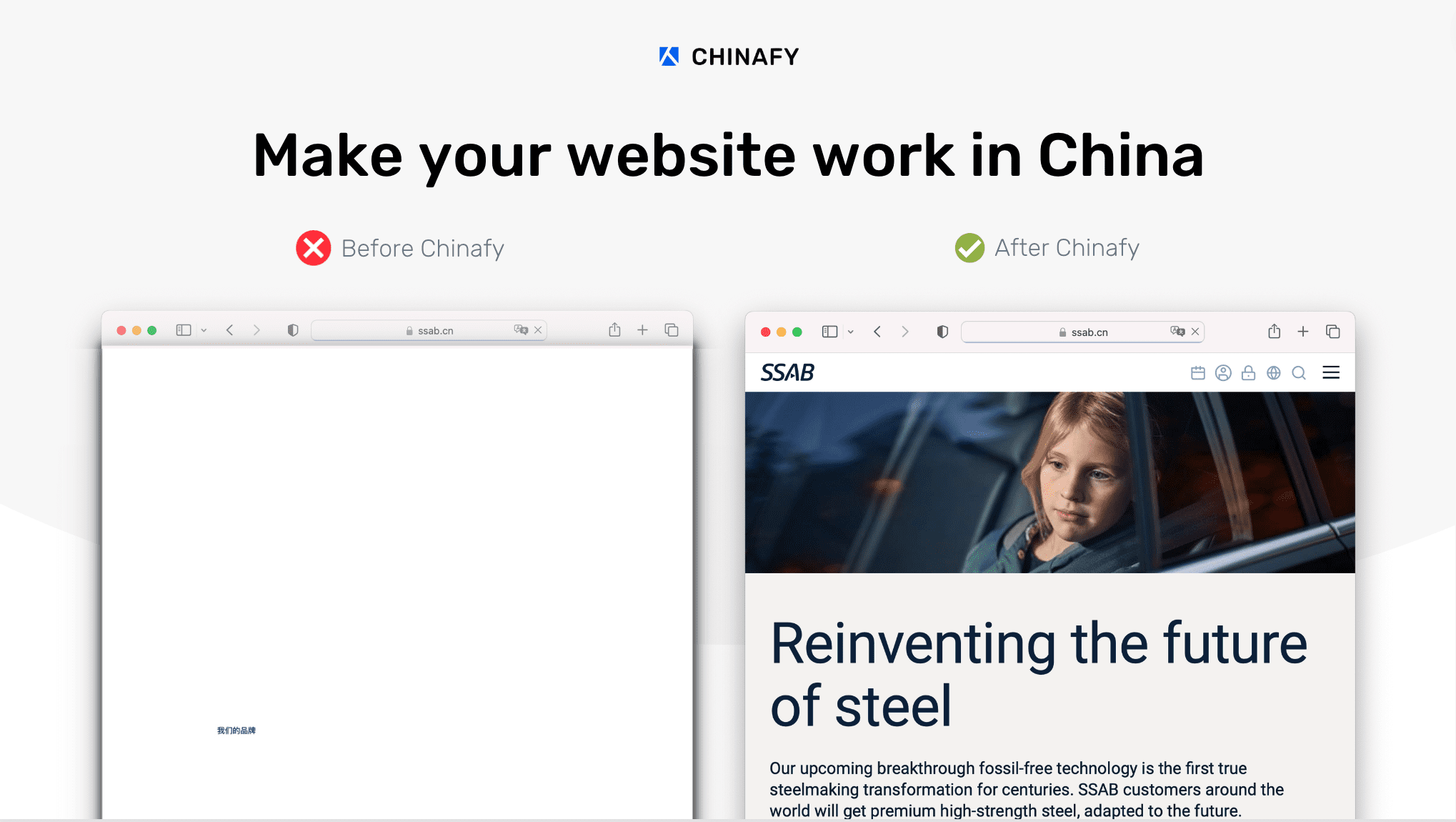 By optimizing these resources in addition to a fully-managed CDN solution (which can include Akamai, more on that below), Chinafy is able to improve the overall website experience across images, fonts, videos, and other content for delivery in China, reducing latency and improving user experience. Additionally, Chinafy's advanced security features protect businesses from cyber attacks, ensuring that their website remains accessible to Chinese consumers.
Chinafy's support team are absolute customer success warriors and loved by our users. With a deep understanding of the country's unique technical landscape, the Chinafy team and its network of partners provide businesses with timely and effective support.
What is Akamai?
Akamai CDN
Akamai is an Enterprise content delivery network (CDN) and cloud service provider that offers businesses a range of solutions for delivering and securing digital experiences. The company's global network of servers helps businesses to optimize website performance, increase security, and deliver content to users around the world with low latency and high reliability. Akamai serves a variety of industries, including e-commerce, media and entertainment, financial services, and healthcare.
It is important to note though that Akamai and Akamai China CDN products differ in operation, location, and requirements.
Akamai CDN Global vs Akamai China via ChinaNetCenter
Akamai does not have its own CDN or PoPs in China; instead, it collaborates with ChinaNetCenter, also known as Wangsu Technology Company Limited, a third-party service that has over 500 PoPs in China. This arrangement is similar to Cloudflare's China CDN, which partners with Baidu. Akamai China CDN is an add-on module to Akamai's base-delivery products like Ion. ChinaNetCenter offers typical CDN services that a content delivery network would provide; however, some of Akamai's global CDN features like image optimization and DNS are not accessible for Akamai China.
Wangsu Technology Company Limited is functionally separated from Akamai's global operations for several reasons.
To use Akamai China CDN, businesses must comply with certain prerequisites such as having an ICP filing or license, a local hosting agreement with a Chinese-based hosting provider, a PSB Bei An, a legal entity in China or a China-based representation office. Companies retain the exclusive ownership of customer data, but data must be stored within China's borders.
Choosing the right solution
Use Case for Chinafy & Akamai CDN
While Chinafy and Akamai CDN are both related to serving content for China visitors, enterprises use them together to achieve even better results.
By leveraging the strengths of each solution, businesses can optimize their websites for China and ensure a seamless user experience for Chinese consumers.
Are you unsure whether Chinafy is the right solution for your Akamai web properties? Take this quick quiz to find out.
3 Examples of companies that might consider the Chinafy and Akamai joint solution includes -
Enterprises already using Akamai's global CDN services who want their web properties to perform better inside and outside of China without setting up a new instance inside China or building a new version of their website(s)
Enterprises who want to leverage Akamai's other features
Enterprises who want to use Chinafy but wish to "go-live" with their own CDN. More on that below.
How to add Chinafy to your Akamai stack
Enterprises using Chinafy can elect to "bring-your-own-CDN'', which can include continued use of Akamai.
This ensures that third-party resources and functionality can be addressed with Chinafy, while primary resources can continue to leverage Akamai CDN - be that global or onshore in China, depending on the business status of the company on hand. The performance difference is marginal between the offshore vs onshore set-up, so the approach will depend on a company's preference.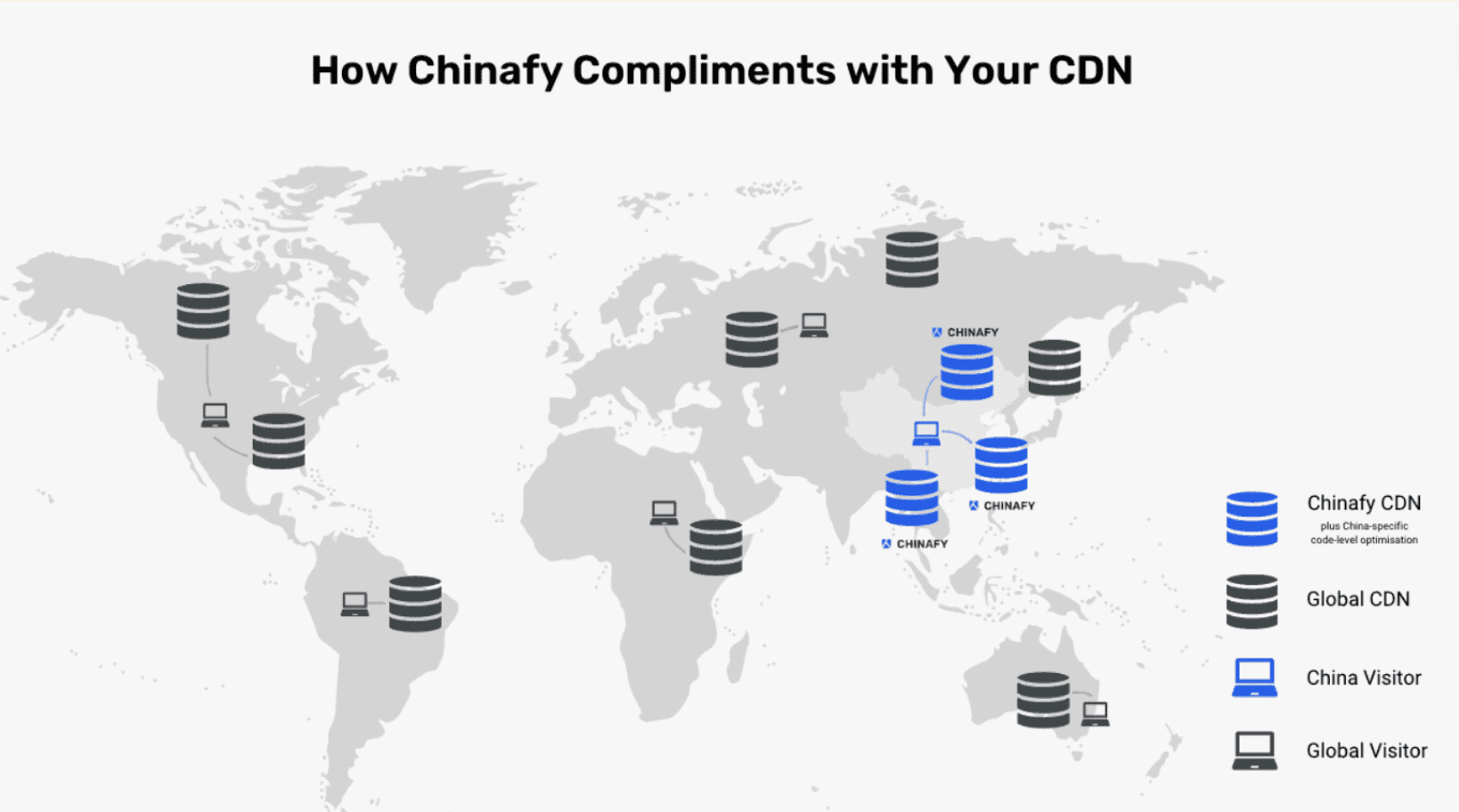 In order to "go live" with Chinafy, Chinafy requires enabling geo-ip-based routing on the DNS or CDN level. This is so that visitors coming from China can access the Chinafy-optimized version of the site, while non-China visitors bypass that experience entirely. In most cases, setting this up takes no more than 15 minutes.
Akamai has the required geo-ip-based routing and regional caching feature required (see more below). Cloudflare also fulfills this requirement, with a default worker script set-up frequently used by Chinafy.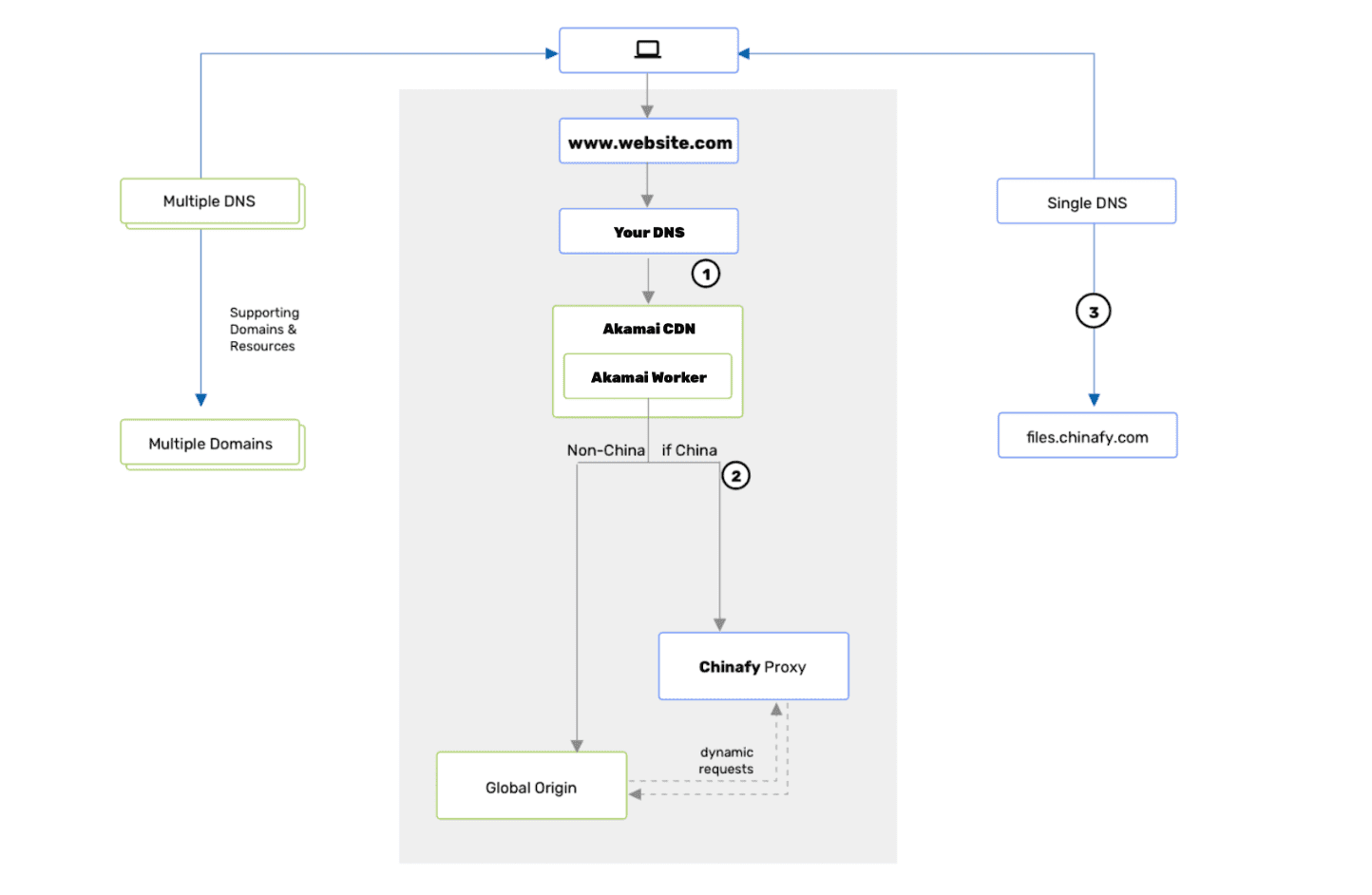 In conclusion, serving content in China is a complex undertaking that requires businesses to navigate technical, regulatory, and cultural challenges. By using Chinafy and Akamai China CDN together, businesses can optimize their websites for China and deliver content to users around the world with low latency and high reliability, without compromising on high performance, security, or control over their technical stack.
Get a feature-by-feature comparison of Chinafy vs. CDN solutions to understand how they are used together.