The demand for supplying safe drugs and medical devices internationally has reached a new historic high since the start of the global pandemic.
In particular, the world has become heavily dependent on medical equipment across PPEs, masks, and ventilators, among others from China. According to China's General Administration of Customs,
In most of 2020, factories in China made 40 masks for every person in the world outside of China" — this totals 224 billion units of masks.
For these manufacturers, working in accordance with American FDA regulations is crucial to bringing products to the international market.
About Registrar Corp
Registrar Corp is an American consulting firm that assists global organisations in the food, beverage, and medical drugs/equipment sectors to obtain and maintain their U.S. FDA compliance.
From consulting across the registration and labeling processes, sharing webinars and online classes, and providing mock inspections, Registrar Corp helps companies bring safe products into the United States and other countries around the world.
The Website
Headquarters: United States
Industry: Healthcare
Website CMS: WordPress
Hosting Provider: WP Engine
Considering that the majority of medical equipment in the world is imported from China, extending their consulting services and resources to Chinese companies was essential.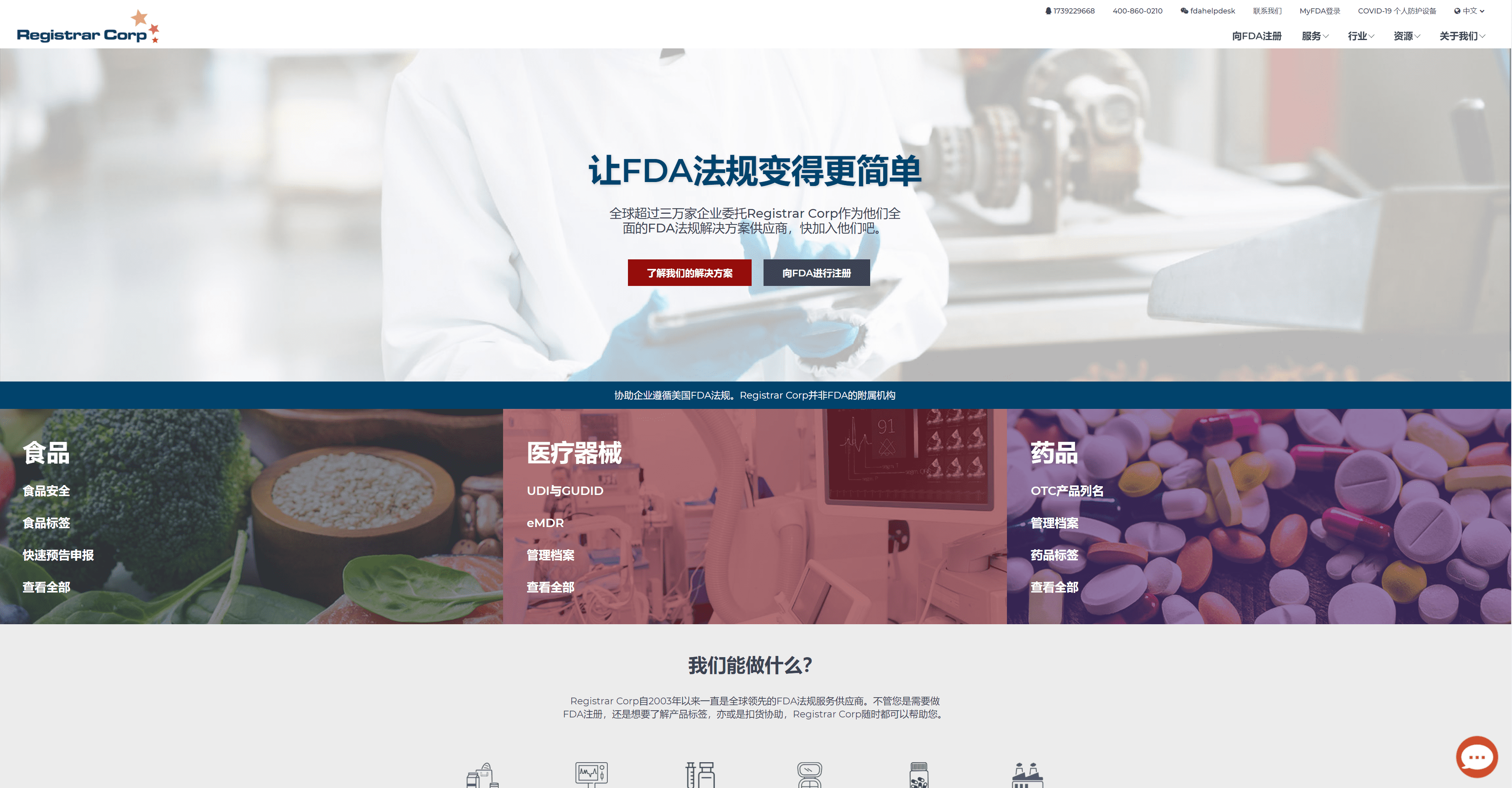 In response to this, Registrar Corp first localized its website to include simplified Chinese, with links to its various Chinese social media pages, like Weibo.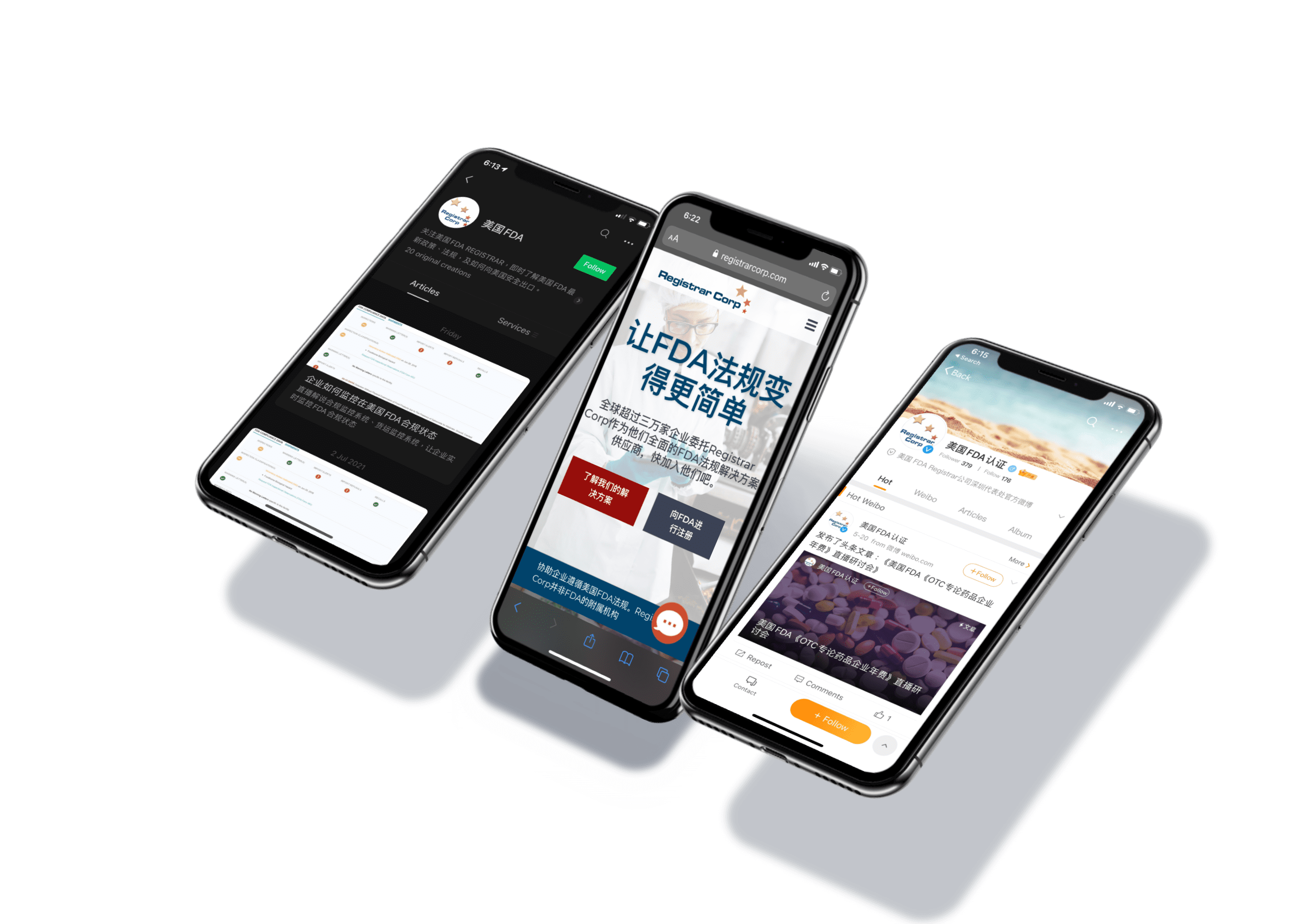 However, like all foreign websites in China, the Registrar Corp website still had its challenges reaching potential Chinese clients.
The Challenges
i) Speed: Slow in China
As with most WordPress and WP Engine websites "off-the-shelf", the Registrar Corp website was significantly slower in China than elsewhere with a loading time ranging from 16s to 35s.
Speed issues were only further aggravated by compatibility issues brought on by commonly blocked and or slow components (more below).
ii) Incompatibility: Blocked videos, broken pages, and more...
On the websites, visitors are able to access resources through videos, interact with a chat plugin, and sample the free tools available.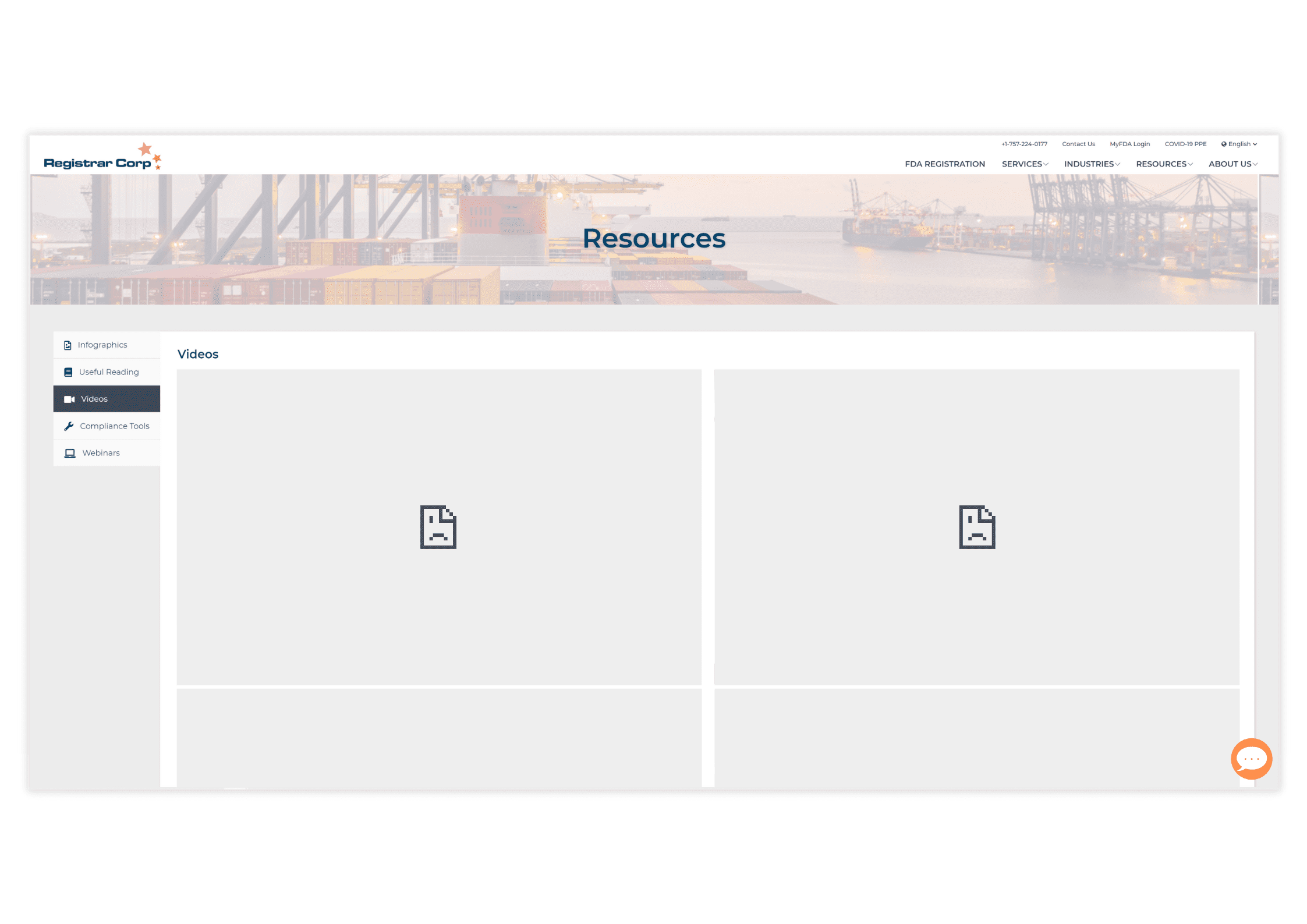 Unfortunately, because YouTube and Vimeo don't work in China, many of their video resources were inaccessible from China.
Likewise, Registrar Corp's chat plugin was not optimized for China, making it difficult for their China visitors to make inquiries and connect directly with the Registrar Corp team.
For similar reasons, Chinese clients wouldn't have access to the webinars that help educate them in bringing safe products into the American and international markets.
The Objectives
A website that works as it should for visitors outside of China across media files, chat functionality, and more.
A website that efficiently highlights the Registrar Corp's various services to potential clients in China
A fully functional education portal with professional webinars accessible in China
The Results
Before Chinafy: Visually loading on average in 8.3 seconds
After Chinafy: Visually loading in 2.1 seconds — nearly 4x faster!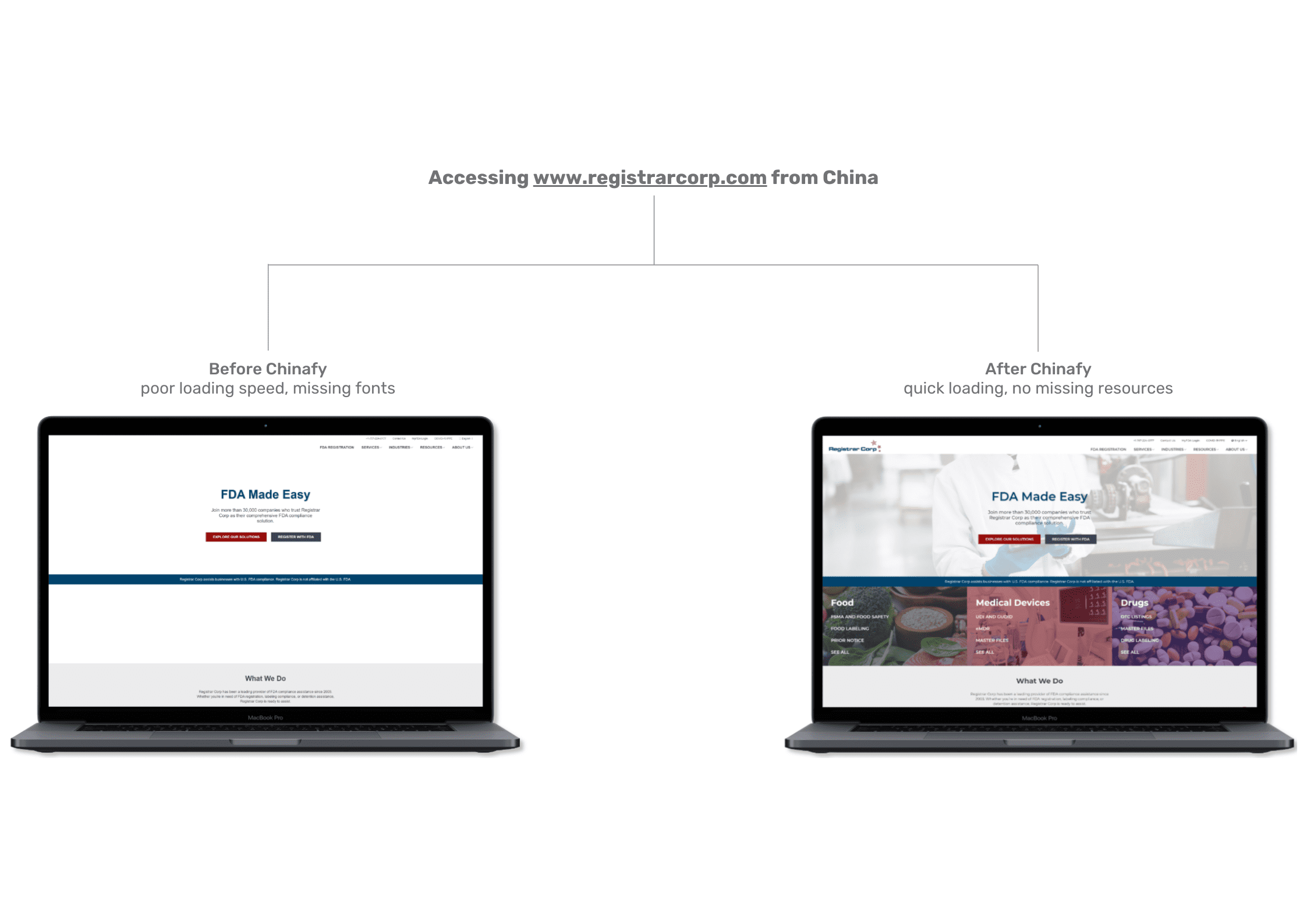 After the Chinafy optimization process, the Registrar Corp team was also able to:
Have a consistently smooth website experience, with fast loading media assets and plugins
Use China-friendly video players to share webinars and video resources
Ensure that key resources that traditionally load near the end of the loading experience like Google Analytics function as they should
Continue updating their site from the U.S. with ongoing optimisation powered by Chinafy
Don't just take our word for it, listen to what Registrar Corp has to say 😄
Consistency is crucial for us.
Chinafy fits the bill of what we were looking for.
– Jonathan Rhodes, Marketing Technology Manager at Registrar Corp
Why Chinafy?
We create a lot of content in a lot of different languages, so we have put a significant amount of work into making our site as maintenance-friendly as possible. Consistency is crucial for us, so we needed a solution that could help us continue to build out pages and posts without needing to maintain a separate site strictly for China.
How did you come across Chinafy?
I was really trying to optimize our site in China without creating a duplicate version. I came across Chinafy's Visual Speed Test tools which led me to research more about the solution and discover it was what we were looking for.
What challenges did you face initially with the site in China?
Our representatives in China had reported that they felt the speed of our website could be improved from their own interactions and after receiving feedback from local users. They felt optimizing our site in China would improve our growth in the region.
Anything else?
Chinafy is definitely a unique solution that creatively solves an interesting problem.