The Project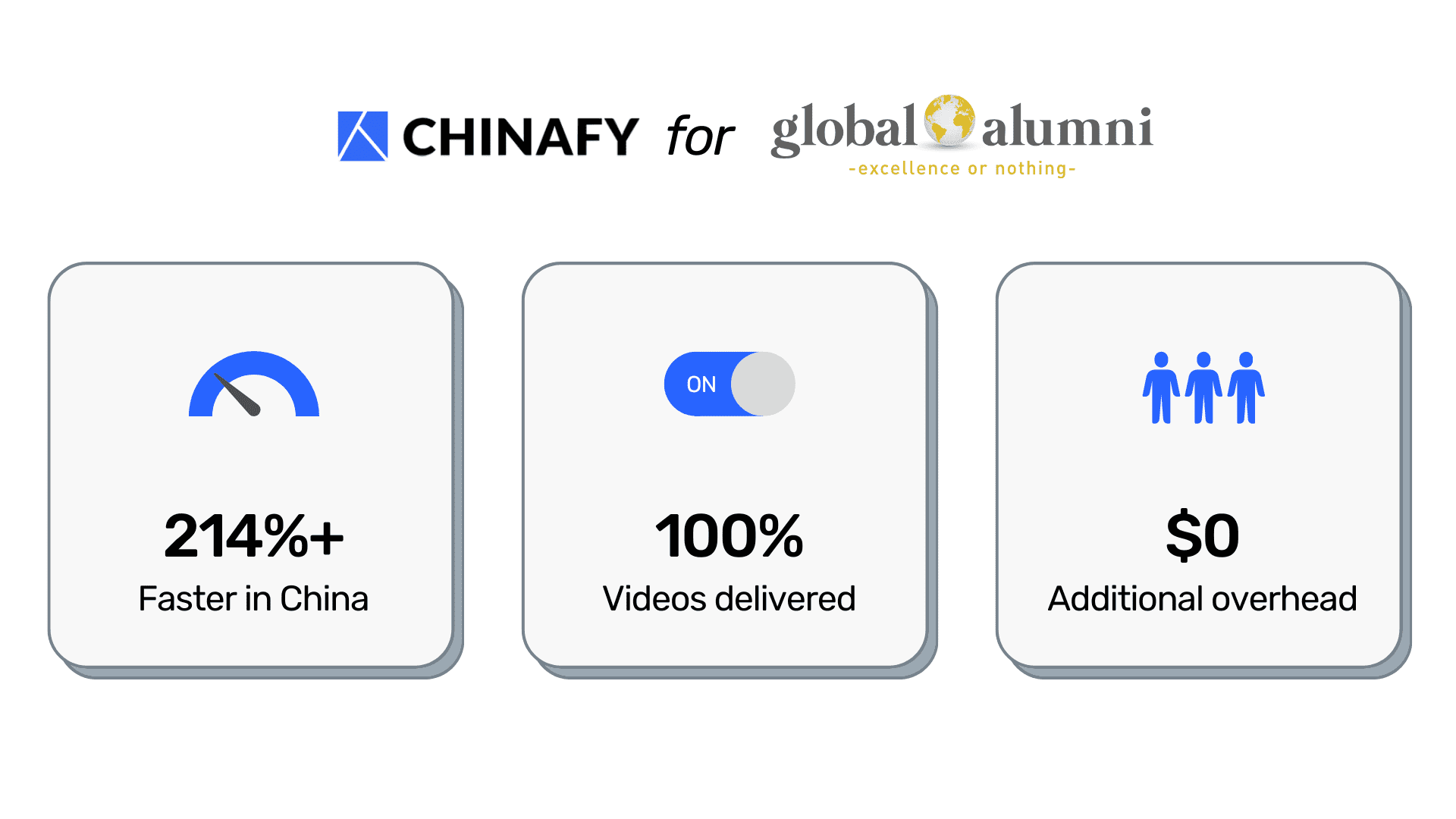 Global Alumni works for MIT Professional Education to launch a cutting-edge initiative that blends world-class educational content with the best of online technology and instructional design to achieve better learning outcomes.

Unlike the traditional classroom experience, online learning demands a slightly different approach to classroom engagement and collaboration.
MIT Professional Education's EdTech collaborator, Global Alumni, understood that precise assignment.
About Global Alumni: Global Alumni is an ed-tech company that collaborates with academic institutions to deliver a rich portfolio of professional courses worldwide.
The Challenges
MIT Professional Education uses Canvas as its Learning Management System (LMS) to deliver high-impact programs about innovation leadership and cloud technologies with the next level of excellence.
In any other country, achieving this would be straightforward enough.
That is, except for China, where the MIT Professional Education learning portal …
Took over 19.37 seconds to load on average
Failed to display hundreds of educational videos using its primary video player Vimeo
Failed to load over 48% files on key program pages and lesson modules
Do LMS platforms like Canvas and Moodle work in China?
The Solution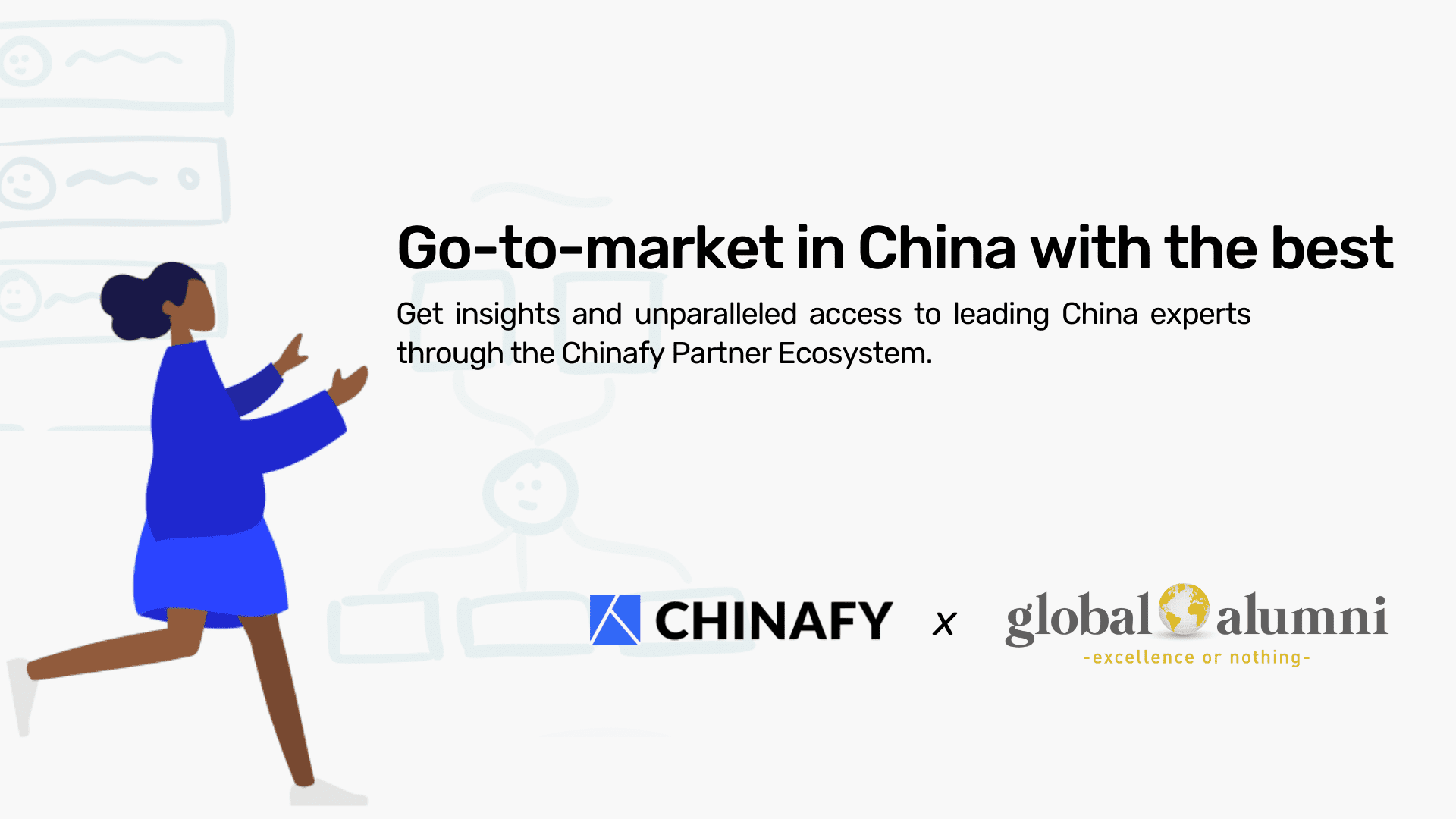 Guided by its vision to deliver quality education world-wide, Global Alumni worked with Chinafy to optimize the MIT Professional Education Canvas LMS for China.
And in just two weeks…
Chinafy Results
Chinafy optimized the MIT Professional Education website to…
Load 214% faster in China
Display 100% of video content that was otherwise inaccessible via Vimeo
Deliver 52% more files for a more consistent, responsive, and effective learning environment
1. A much faster website
The MIT Professional Education website was on average 2x faster after Chinafy. Comparing the original website against a Chinafy version of the site in Beijing, the average Page Complete times are respectively -
Before Chinafy: 19.37 seconds
After Chinafy: 9.05 seconds, with 52% more files successfully loading in China

Results are generated by comparing the Canvas site and its Chinafy preview in the same testing environment in China.
2. Fully display video content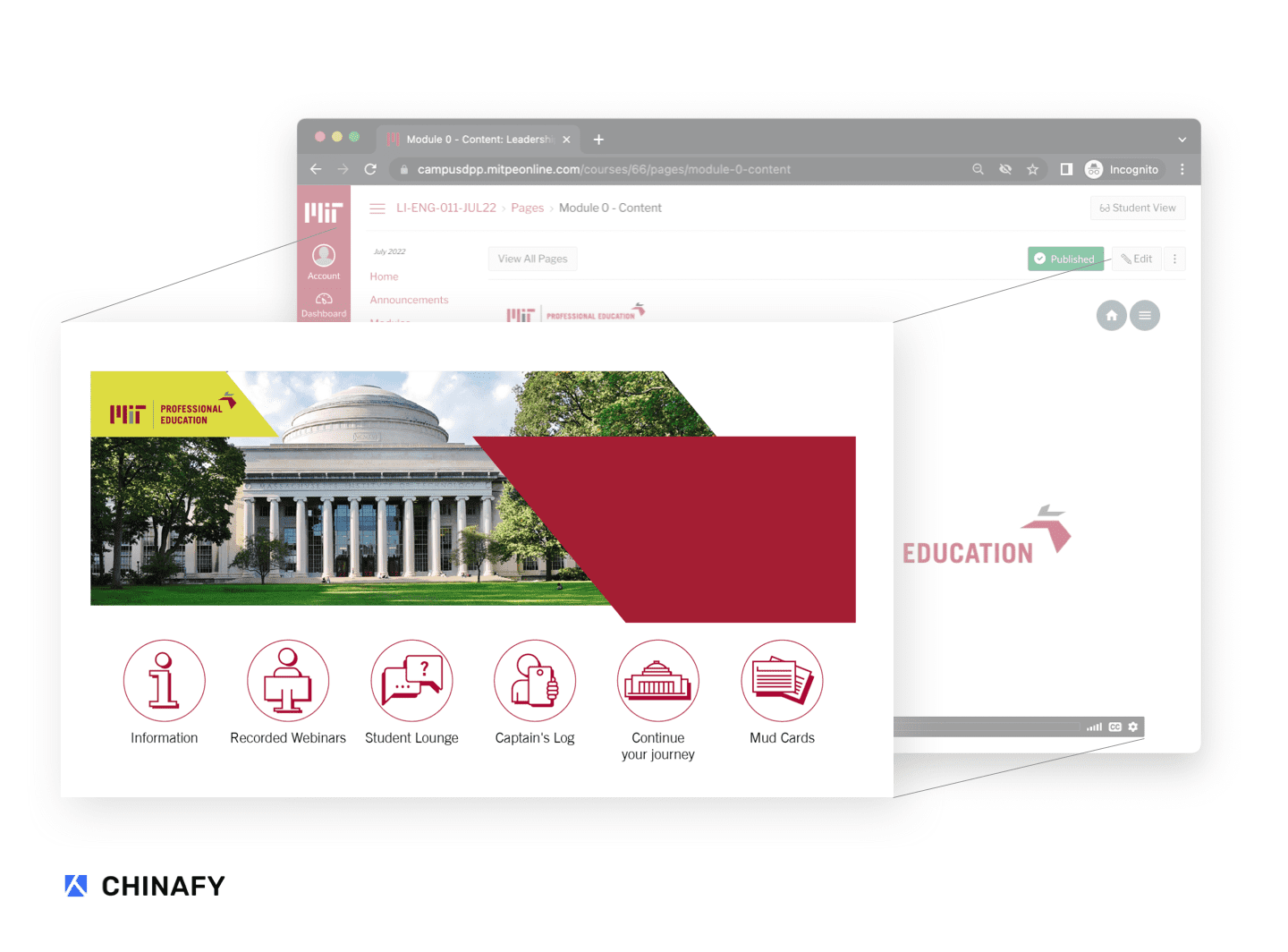 The MIT Professional Education Canvas portal is heavily reliant on the video platform, Vimeo, which is inaccessible in China. Because the platform is inaccessible, this means any video content embedded via the platform won't display at all.
With Chinafy, the MIT Professional Education team was able to reprocess and optimize their videos to deliver all hundreds of videos to their China visitors, from a singular Canvas build. Not to mention, without a single additional line of code.
3. A more responsive website overall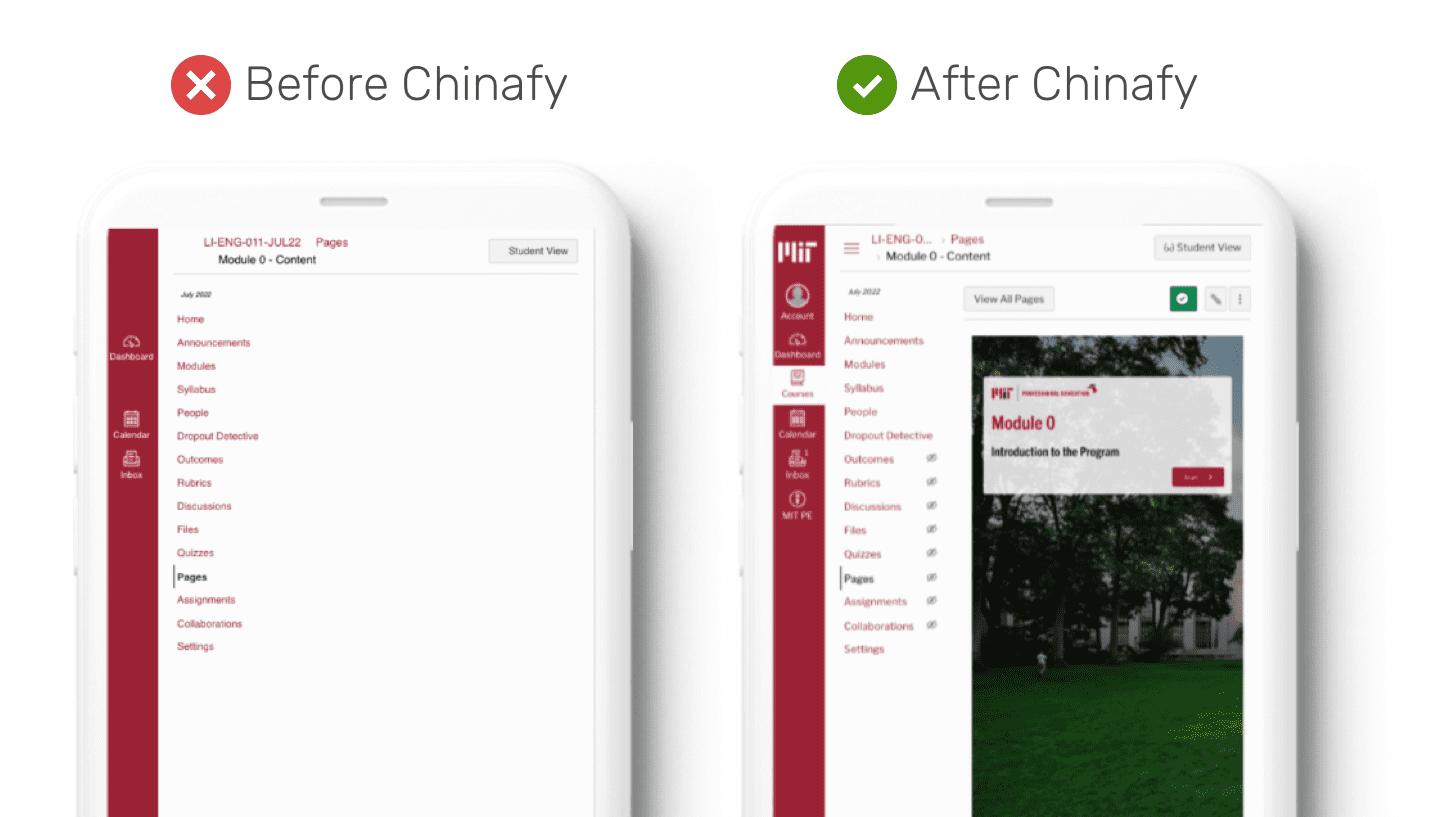 The MIT Professional Education portal was missing 52% resources before Chinafy due to infrastructural and code-based incompatibility issues in China.
After Chinafy, the MIT Professional Education website is now able to load ~99% of their intended files. This in turn means a better experience for all their learners - no matter where the source is.
Measuring Chinafy Deliverables
Chinafy's results are measured and verified at multiple stages and with multiple sources. These include in-China user acceptance testing (UAT), third-party website monitoring tools such as Webpagetest and BrowserStack, as well as Chinafy's internal tools which compare the original non-Chinafy website with the post-Chinafy staging and production environments.
There are of course variables outside of the platform's control, such as network issues, user errors and the maximum performance of the original site.
Don't just take our words... Take theirs!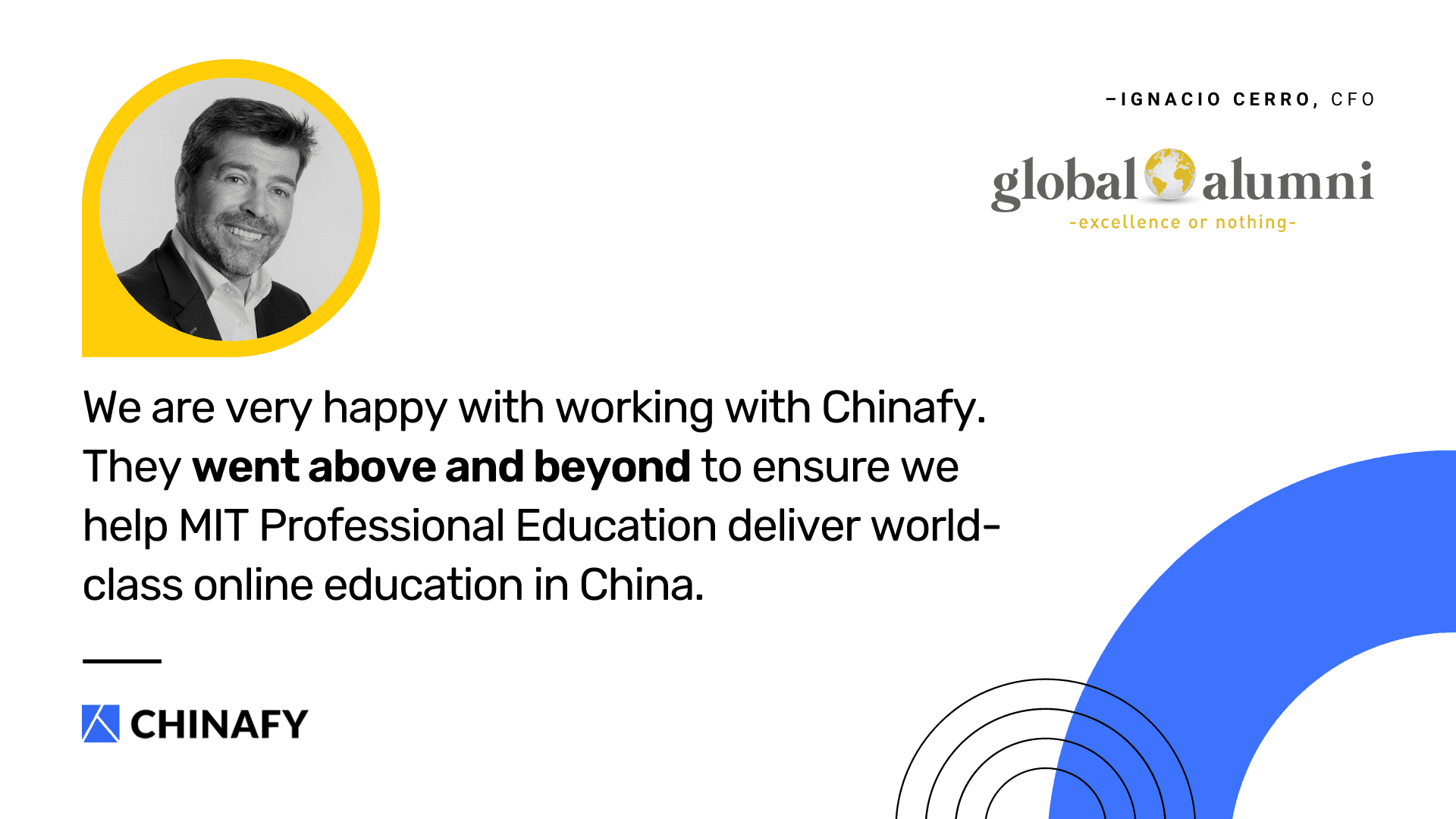 Do you use Canvas?
Contact Chinafy to learn more about how we can help you.