In this study, we look at The Walt Disney Company powered by Wordpress. The beauty of Wordpress is its broad, and deep set of both developers, and plugins. With any open-source initiative, the scale of development, and the set of features grow quickly - perhaps too quickly, in that there is no (or little) standardisation or quality assurance.
Wordpress
Optimal China web performance depends not just on the Content Management System (CMS) used, it depends on how that CMS was integrated with its hosting architecture, and how every single resource is tuned specifically for a China environment. Think of Chinafy as a plugin for the combined CMS + Architecture.
The results that follow are somewhat typical, albeit, slightly positive or faster in China. Most sites aren't as fast (or rather, are much slower) as The Walt Disney Company's.
Just because it's what's done, doesn't mean it's what should be done
-- Cinderella
Disney
Disney, was founded in 1923 by brothers Walt and Roy Disney. While Disney has many digital properties, we're looking at their corporate site, the one that communicates investor information in respect of their listing on the entity on NYSE.
A quick note on transparency:

Chinafy does not currently work with The Walt Disney Company ("Disney"). We have taken their landing page, applied one pass of our compatibility intelligence, and subsequently performed a series of performance upgrades. This case study is not necessarily endorsed by Disney.
With that out of the way, let's get down to business
Breaking It Down
Disney's one of those brands that everyone grew up with, except those that grew up in China. This is changing quickly however as Disney diversifies their IP across a broad spectrum of demographics, and ages.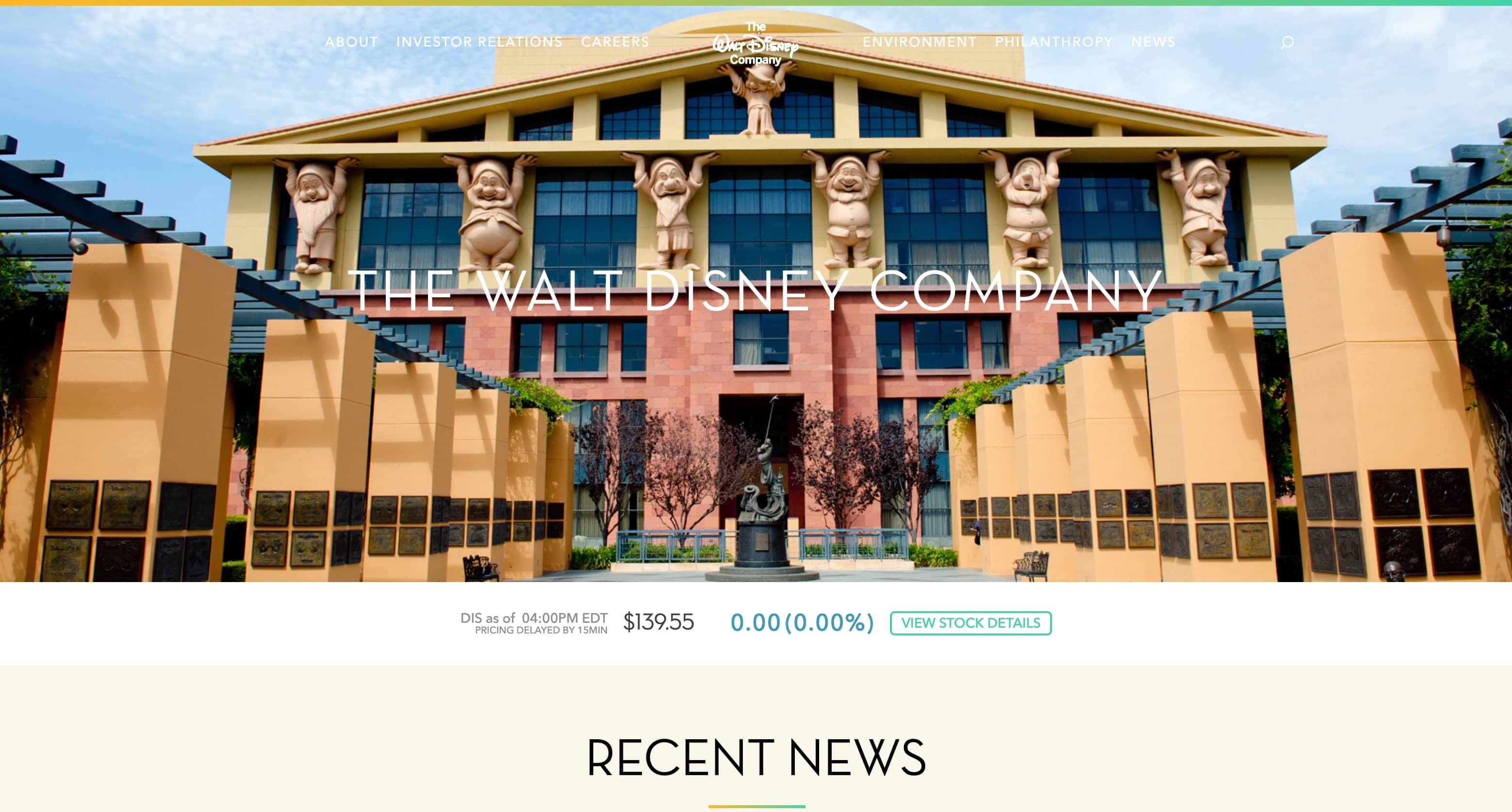 For this case study, we take their main landing page: www.thewaltdisneycompany.com and Chinafy it. We scan the page, evaluating each component, the method of coding, as well as the infrastructure. After reviewing our findings we take a series of steps that optimise the site across all facets of performance.
Below, we compare the visual performance of the Original site vs the Chinafied site. After 5-6 seconds the site has been fully loaded on the Chinafy side, with it taking 20... 30..40 seconds for the Original site to display. Even at that mark, photos are missing, and the page is disfigured as the Javascript hasn't fully loaded.
To get a better idea how the site loads, we run a time-series analysis loading the site 120 times over a 6-hour time period. The page comprises of about 42 resources (before any user activity). In China however, between 24-30 resources loaded on average. Just as the feature photo didn't appear in the video above, many other components failed to load. We find the Chinafied site consistently delivered ~25% more resources than the Original site. This may include visual elements like images, or behind-the-scenes components like analytics, or advertising plugins.
In our tests, we find that Average Time to Load All Resources is a good metric. What this means is that if some resources load in 2 seconds, and others load in 12 seconds, then you're looking at 6 seconds on average.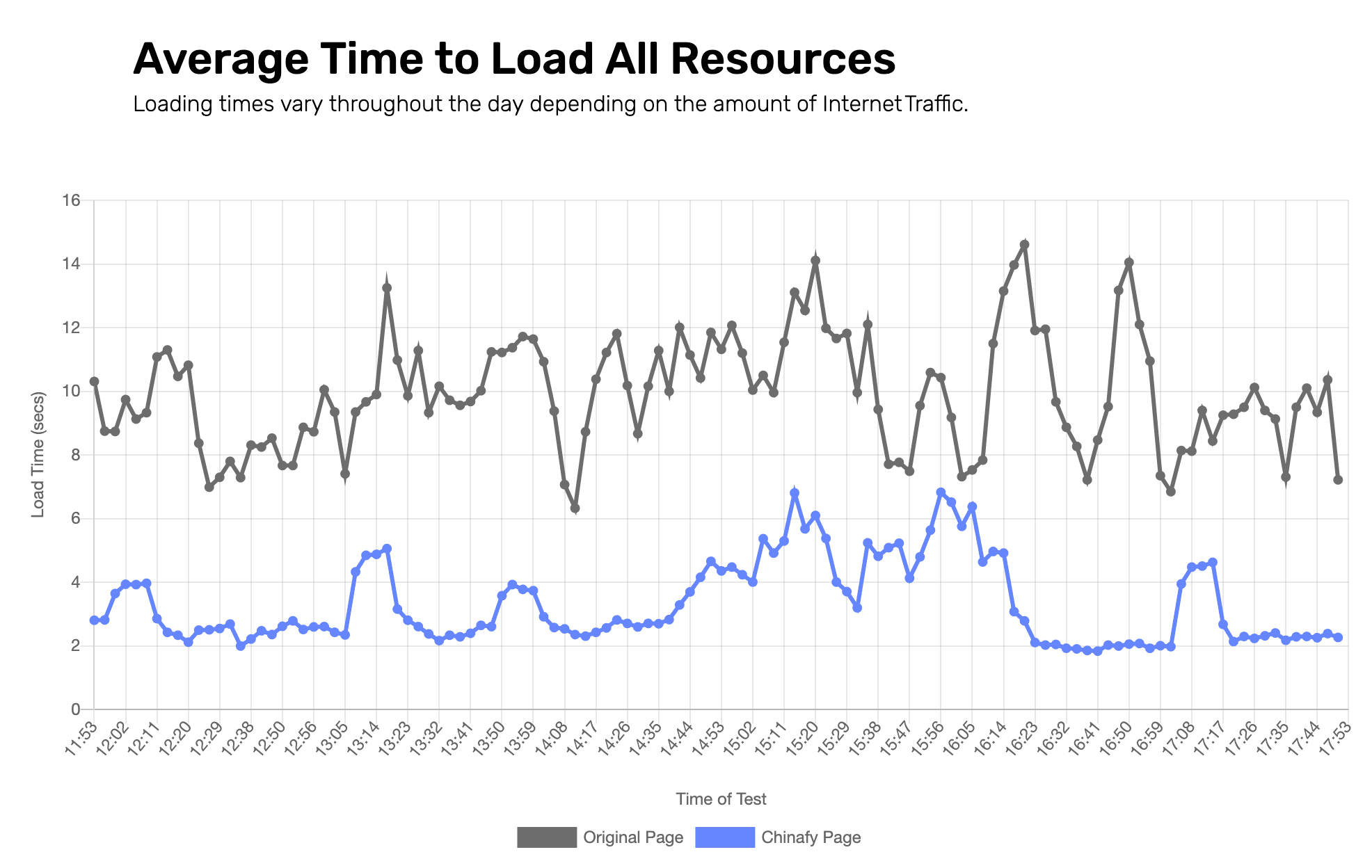 When we compare the two sites, we find that Chinafy is consistently about 3x faster, taking what's currently a largely unusable site, to a fully functional site, instantly.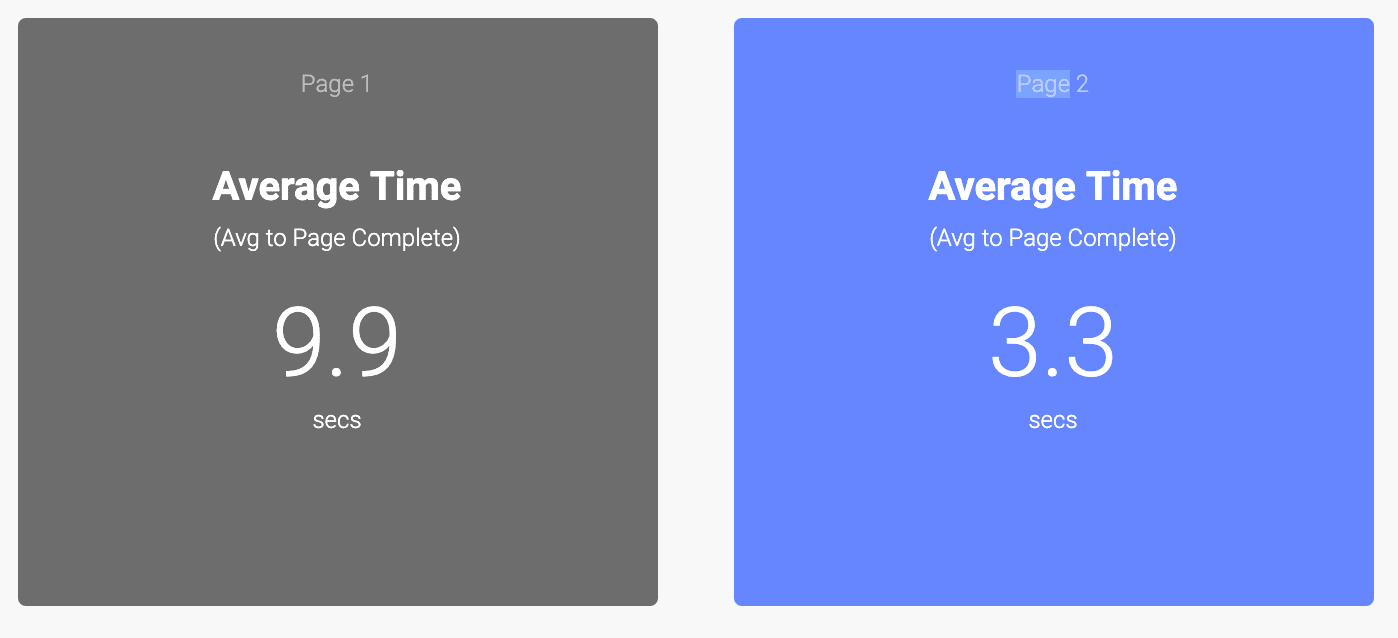 To understand this graph better, we plot the respective loading times on a Histogram. This then shows us the relative frequency of performance.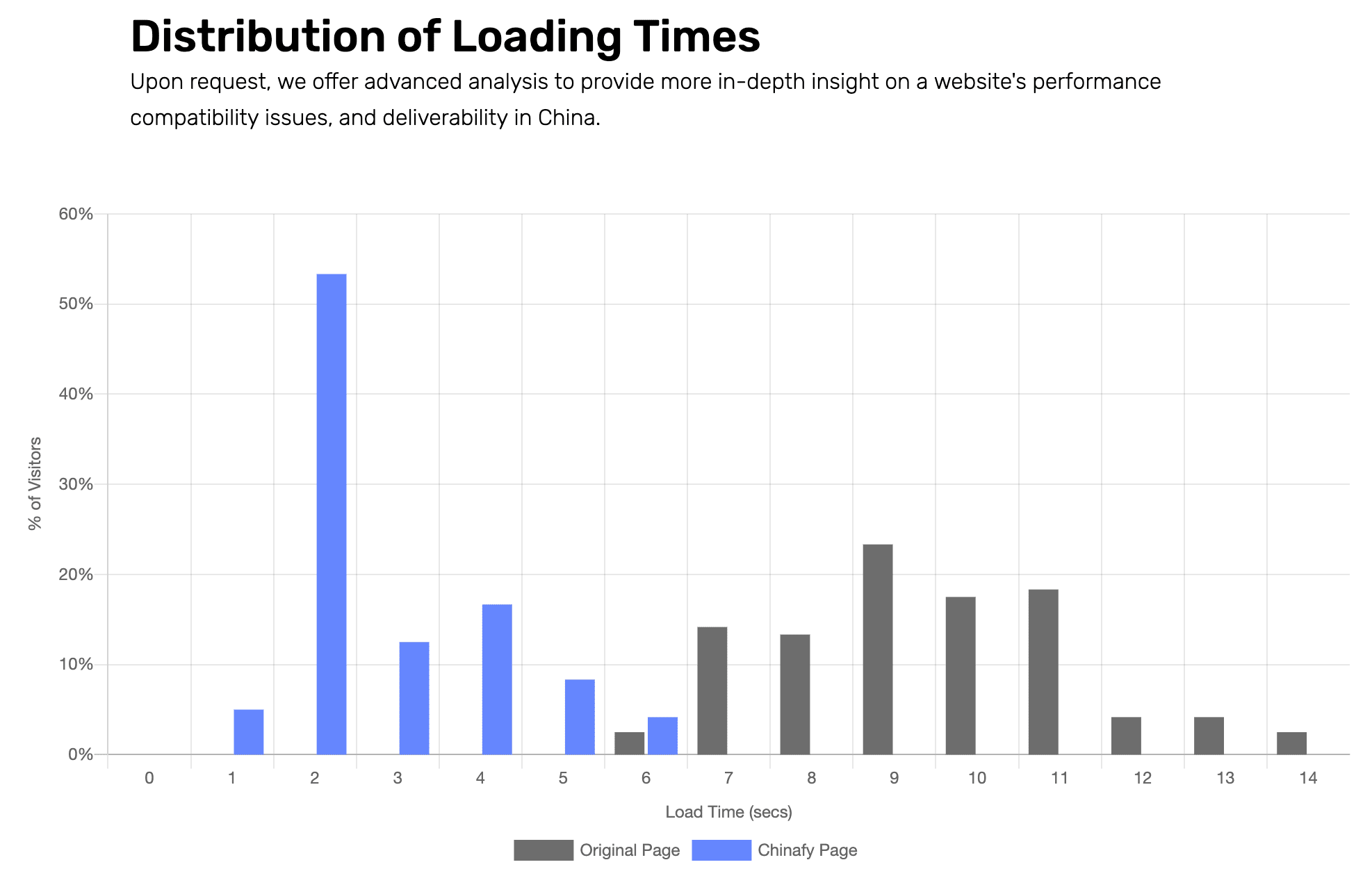 Different sites have different purposes, or calls-to-action. For an E-Commerce company, the goal is to transact with the end customer. For media, it may be to build affinity, and retention through an email subscription form. For corporate sites, it's typically to ensure that information is shared openly. We conclude here that information intended to be shared is unintentionally not being shared due to technical deficiencies or inadequacies. We couldn't see any normal person waiting 20-30+ seconds for the page to load, let alone click on another page. That's way too frustrating.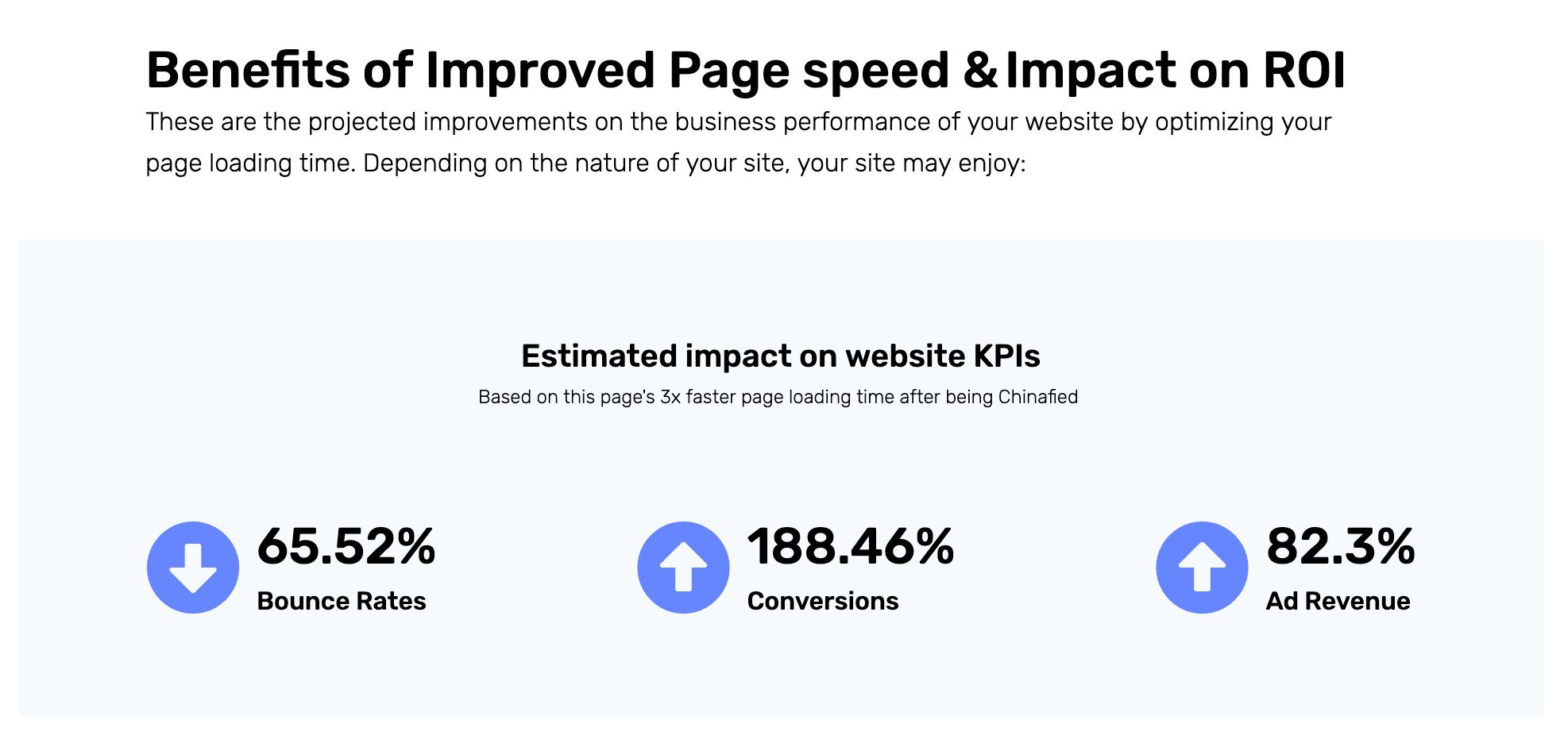 Chinafy works with all Content Management Systems, not just Wordpress. The results seen above are somewhat typical although as we mentioned, Disney actually performs better than most in China.
Chinafy is incredibly fast at scanning, and optimising sites. If you're looking to increase revenue, improve both predictability and reliability, reach out to us. While our technology is largely automated, we do like to see if there are any additional manual optimisations that may be appropriate. We typically can have you up and running within a day.

Change is good.
-- Rafiki (The Lion King)