In this article, we will explore Sogou search engine and some background on Sogou, its user base, how to advertise with Sogou, and the hows and whys to optimise your website for Sogou search.
Sogou is China's second most used search engine with a market share of 18.4% as reported by Statista in 2020. Initially developed in 2004 by Sohu.com (Nasdaq-listed "SOHU"), Sogou grew in scale to join Tencent in a merger in 2013, eventually listing on the NYSE in 2017 under the ticker "SOGO". In July 2020, Tencent made a bid to buy out Sogou entirely and the merger was completed in 2021.

Sogou is also behind one of the most used Chinese typing inputs, Sogou Pinyin. The software grew to become the dominant input software in China which had an 83.6% penetration rate with more than 300 million users by July 2011.
Sogou is a valuable platform for websites both inside and outside of China. Learn more about the value of sites indexed and advertising on Sogou and how to utilise the powerful platform below.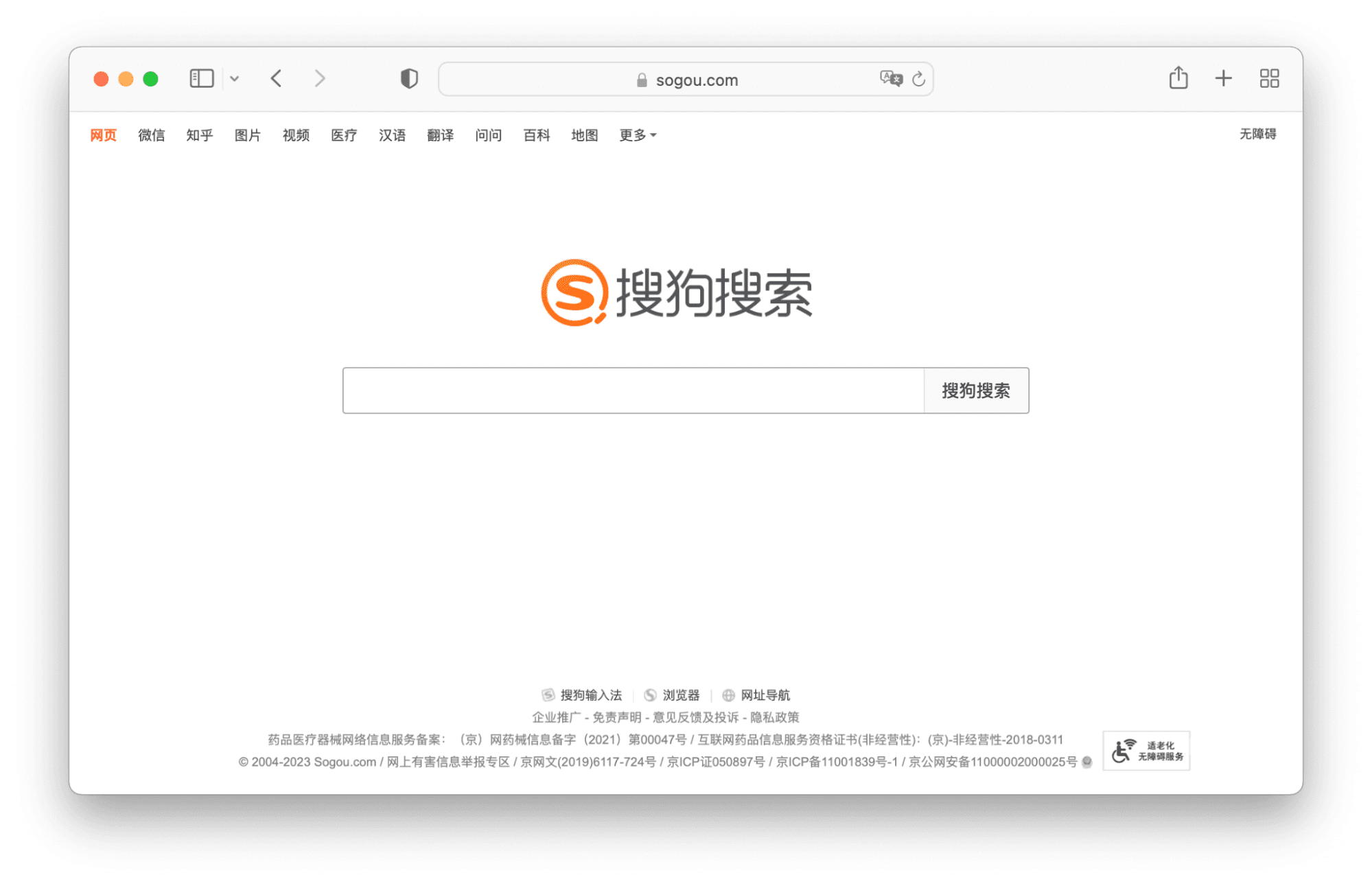 Who uses Sogou and why should you optimize your website for it?
Some 500 million monthly active users use Sogou, with user journeys with the platform often starting via the Sogou keyboard app, Sogou Input.
WeChat and QQ platforms also use Sogou as the default search engine after integration for search through WeChat messages. This integration makes Sogou an invaluable resource in indexing and searching public information on WeChat, one of the most used "Super-Apps" spanning messaging, payments, social media, and more.
As China's second most used search engine after Baidu, the ability to be indexed for search on Sogou remains crucial. With high usage across popular platforms like WeChat and QQ as well as a high daily usage time for users, Sogou is a valuable resource for those looking to increase their China footprint.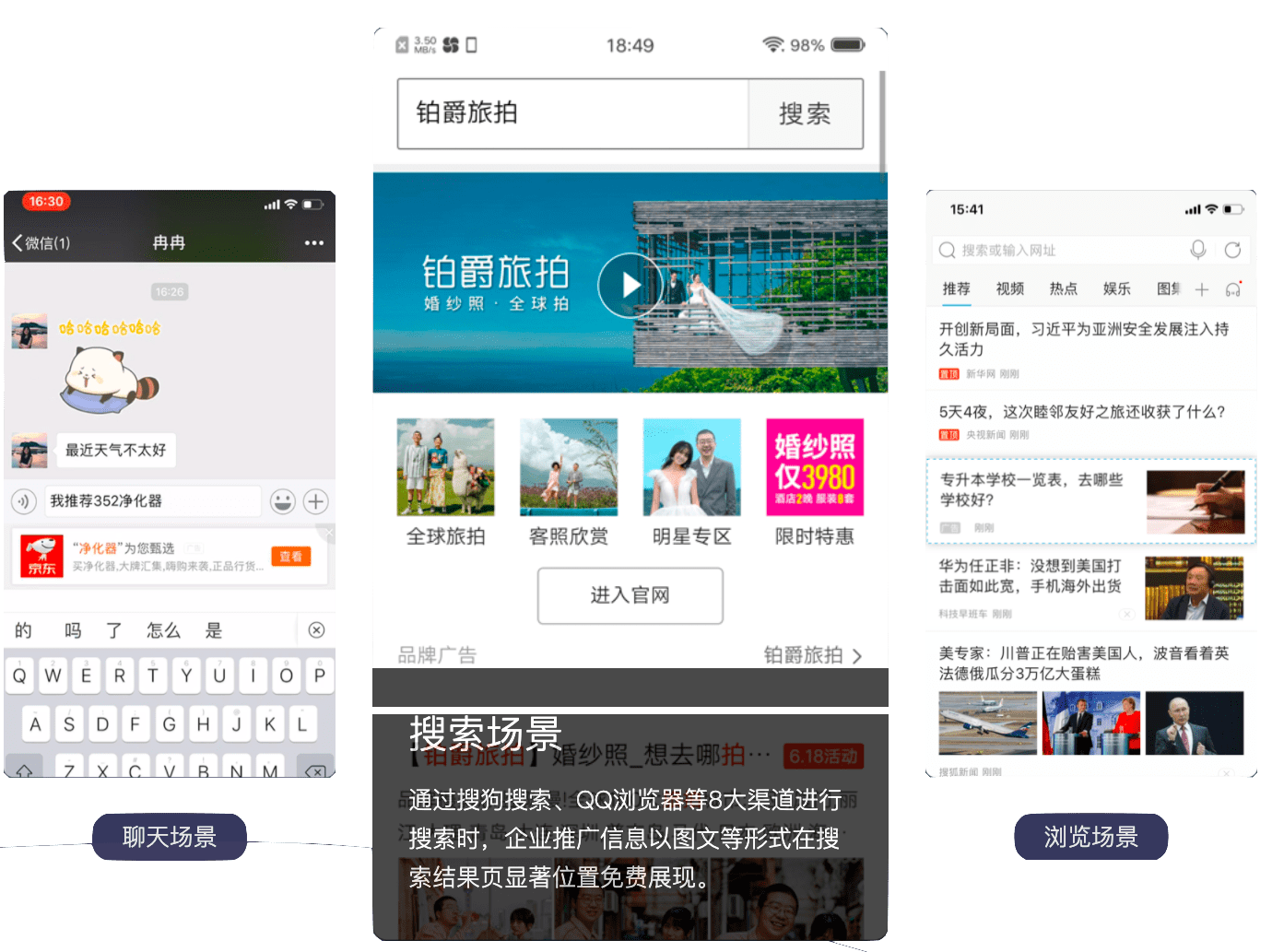 Advertising with Sogou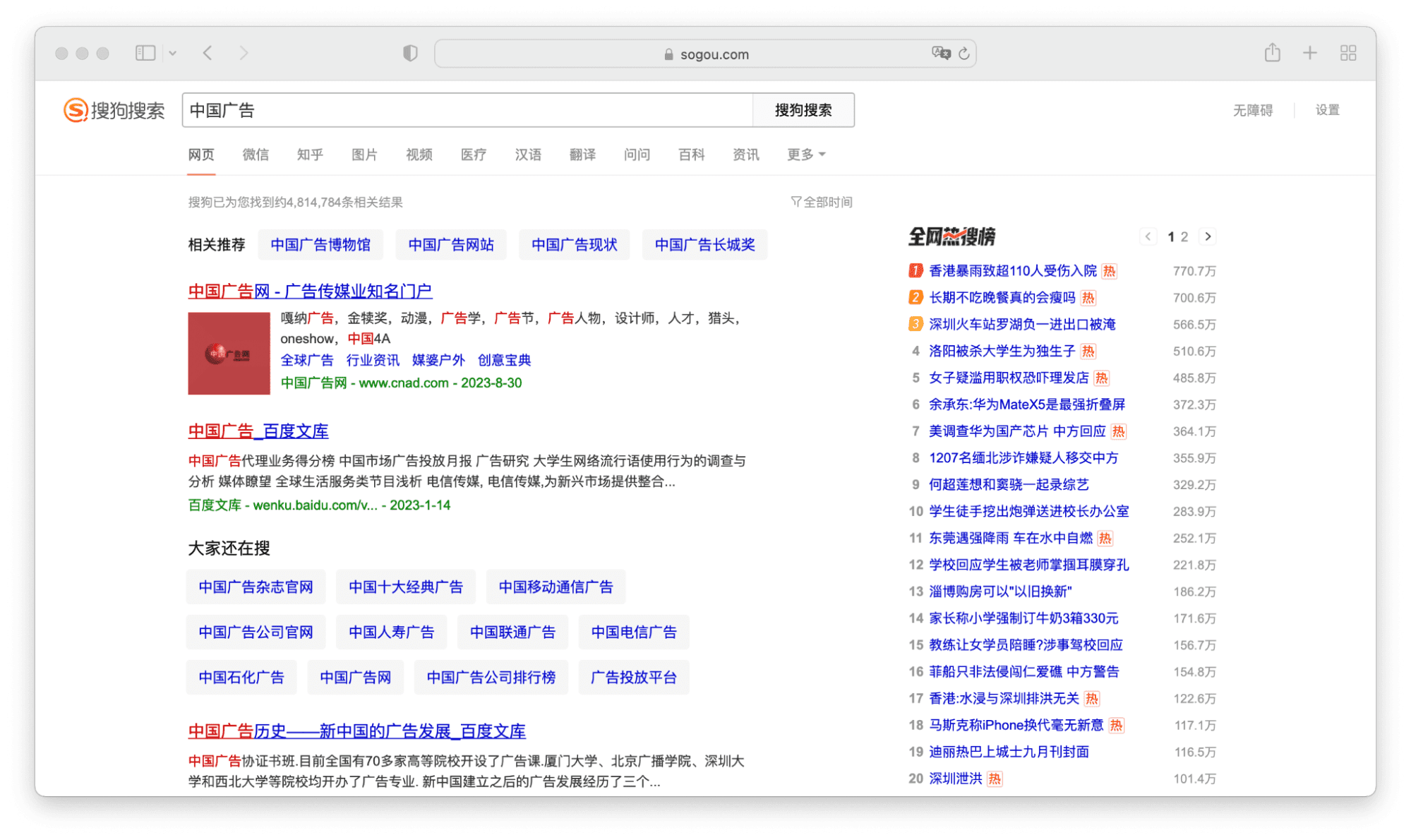 Additionally, advertisers and companies looking to expand their China footprint may want to capitalise on advertising with Sogou. Similar to Baidu, Sogou offers several advertising formats including
Text Ads
This is the most common ad format on Sogou. Usually linked to keyword bidding, these ads appear at the top or bottom of the search results page, making them highly visible to users actively searching for products or services.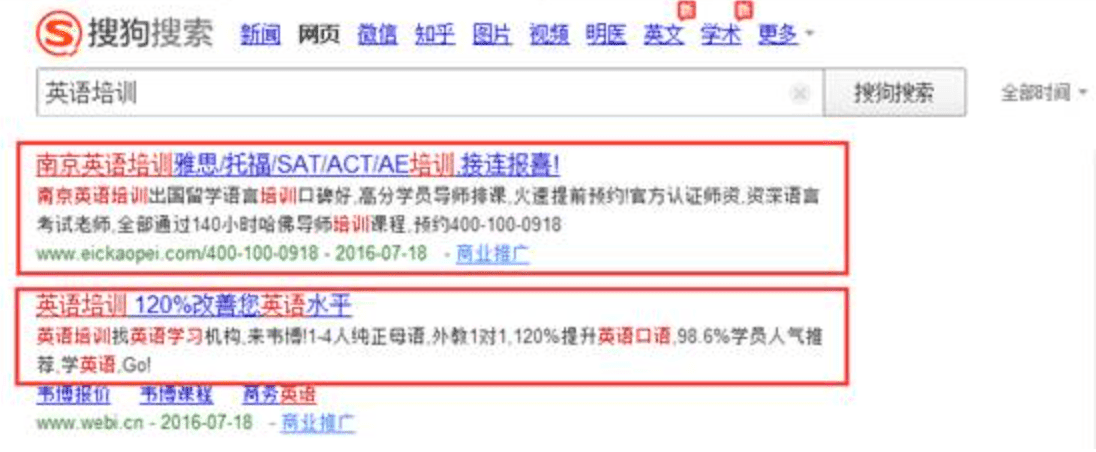 Image Ads
Sogou's visually appealing ads include images and text. Also tied to keyword bidding, they can appear within search results or on other Sogou network websites, offering a more engaging format.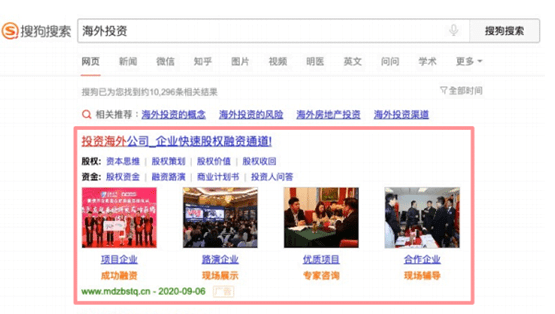 Display Ads
Sogou Display ads are graphical banners that can be placed on Sogou's content network. They enhance brand visibility and reach users as they browse various websites. These include advertising on the Sogou Pinyin Keyboard with brand banners displaying as users input keywords related to the brand.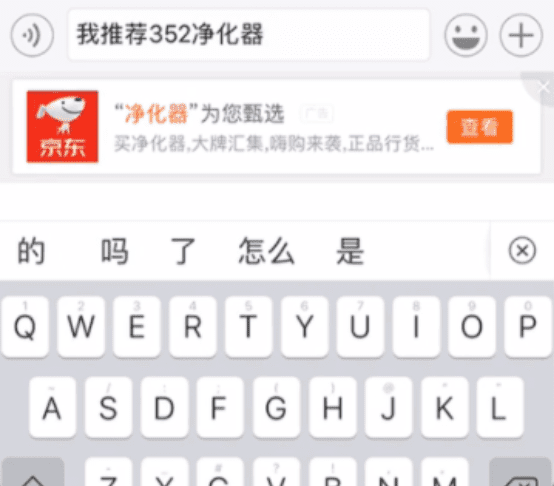 E-commerce Ads
Tailored for e-commerce businesses, these ads promote products directly within search results, enticing users to make purchases. This often takes the form of a "Brand Zone", a dedicated portion at the top of a search results page displaying a brand.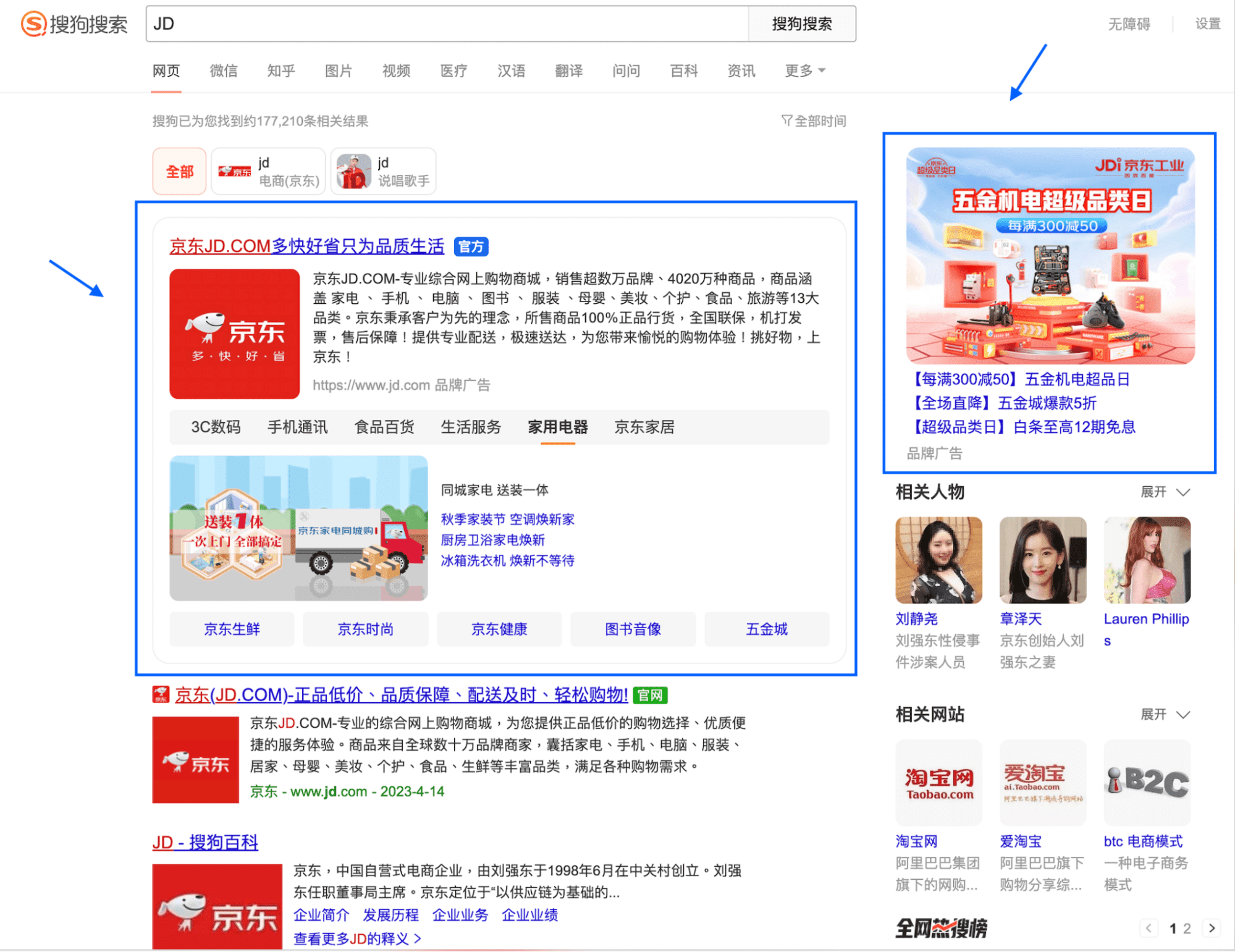 How to optimise your website for Sogou Search Engine
1. Create quality content
Original content is key, with an emphasis on user-focused articles. Sogou, like most major search engines, favours content that adds value to the reader. Sogou's algorithm is based on its "SogouRank" index, which places emphasis on this original content and authority.
Maintaining search strategies in terms of search intent that works well for Baidu also translates to performance on Sogou.
For example, a company that may be looking to capture Chinese audiences for travel to Italy should not just stuff relevant keywords such as "Italy", "travel", and "shopping" into its articles and web pages. Utilise SEO best practices by creating content that adds value to the reader while tackling authoritative writing on each subject. An article that caters to Chinese interests and uniquely presents travel itineraries and guides to Chinese readers will go a lot farther than a generic listicle.
2. Localise your website
Sogou's web crawlers will prioritise content that is catered toward its users, and areas like content in simplified Chinese go a long way as it is the preferred language of their China visitors. This is especially useful as localised content in simplified Chinese will help you rank on both Sogou and Baidu.
3. Utilise backlinks on your website
There is an opportunity to utilise backlinks to drive indexability as Sogou weights the quantity of backlinks slightly higher relative to its main competitor in China, Baidu and its own SEO algorithm.
While this is not an opportunity to do "backlink stuffing"(the practice of overloading a webpage with as many backlinks as possible), it is worthwhile to utilise a good quantity of quality backlinks that still target more search intent rather than just meeting keywords.
4. Make the most of Sogou's built-in Webmaster Tools:
Similar to Baidu, Sogou also has free Webmaster Tools available to help you check how well your website indexes on its search engine. Access to these tools is automatic when you sign up for a Sogou account. Tracking of page performance and related keyword searches helps paint a better picture of search trends and how to cater towards them.
5. Register for a Sogou Account
Registering for a Sogou Account is the first step to indexing your website on Sogou and the gateway to utilise its paid advertising and webmaster tools.
How to register for a Sogou account:
i) Create an ad account on Sogou. Information needed will include your name, phone number, company name, and company address (China-only)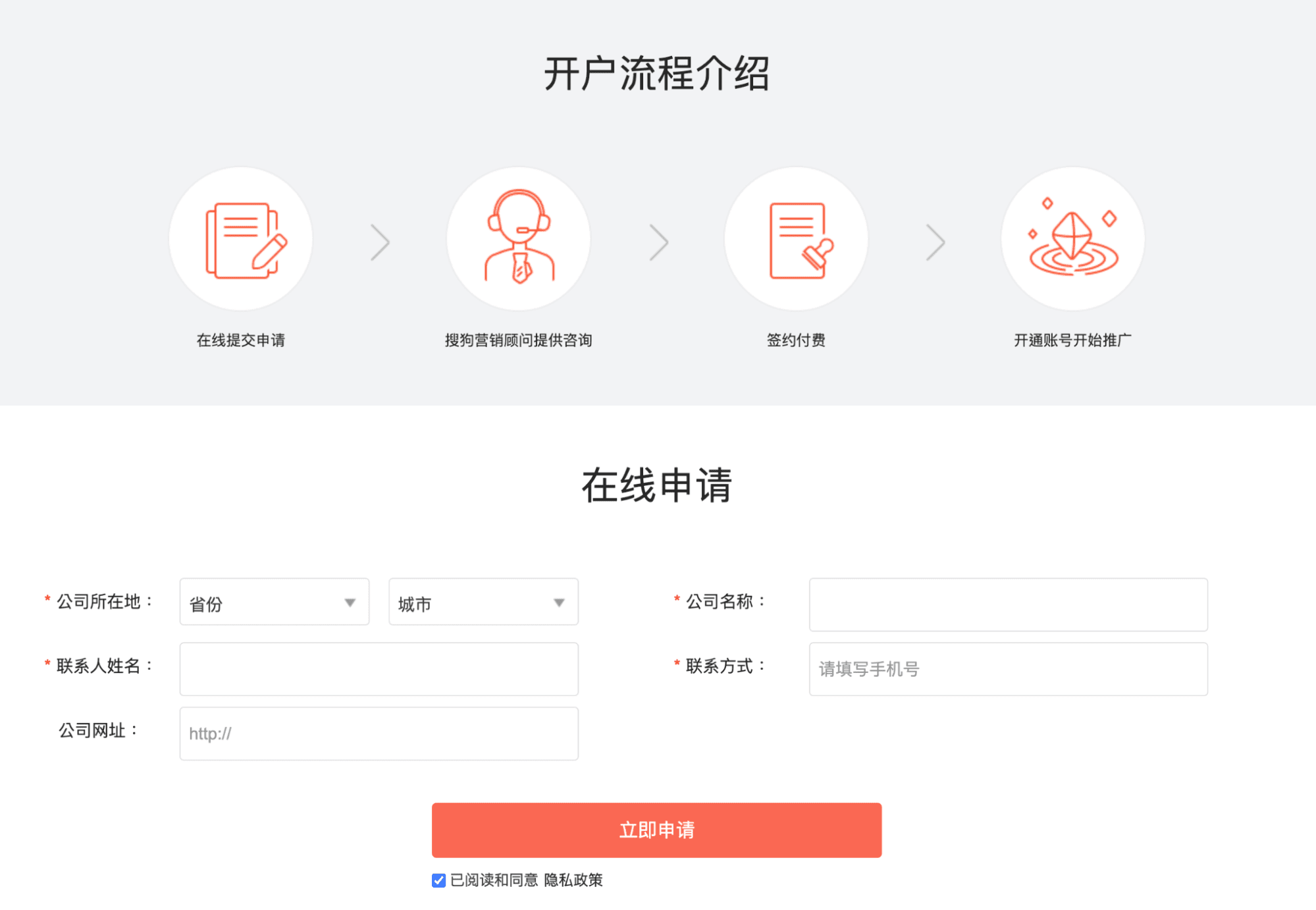 ii. Verify over a phone call from Sogou's advertising team (you may need a China phone number for the callback)
iii) Sign a service agreement
iv) Activate your ad account
You can also utilise Sogou's hotline for advertising inquiries: +86 010 5689 8080.
6. Optimise your website for performance in China
Make sure that your website is optimised for China, as website performance is a variable for rankings on Sogou and every other search engine.
Most people who have attempted to load websites in China will have experienced how most websites built for global audiences do not perform in China as they would elsewhere.
Slow load times or incomplete page loads negatively affect your rankings on Sogou.
Websites can still appear broken even if they aren't officially blocked or inaccessible simply because -
i) They take much longer to load in China than when they load elsewhere (i.e. 30 seconds+)
ii) Critical assets (e.g. images, and videos) fail to load
The most common cause of these issues is building these websites with code, plugins and third-party resources that are not compatible with the internet in China and an infrastructural set-up that does not perform well in China. Poor performance on Sogou stems from poor performance in China.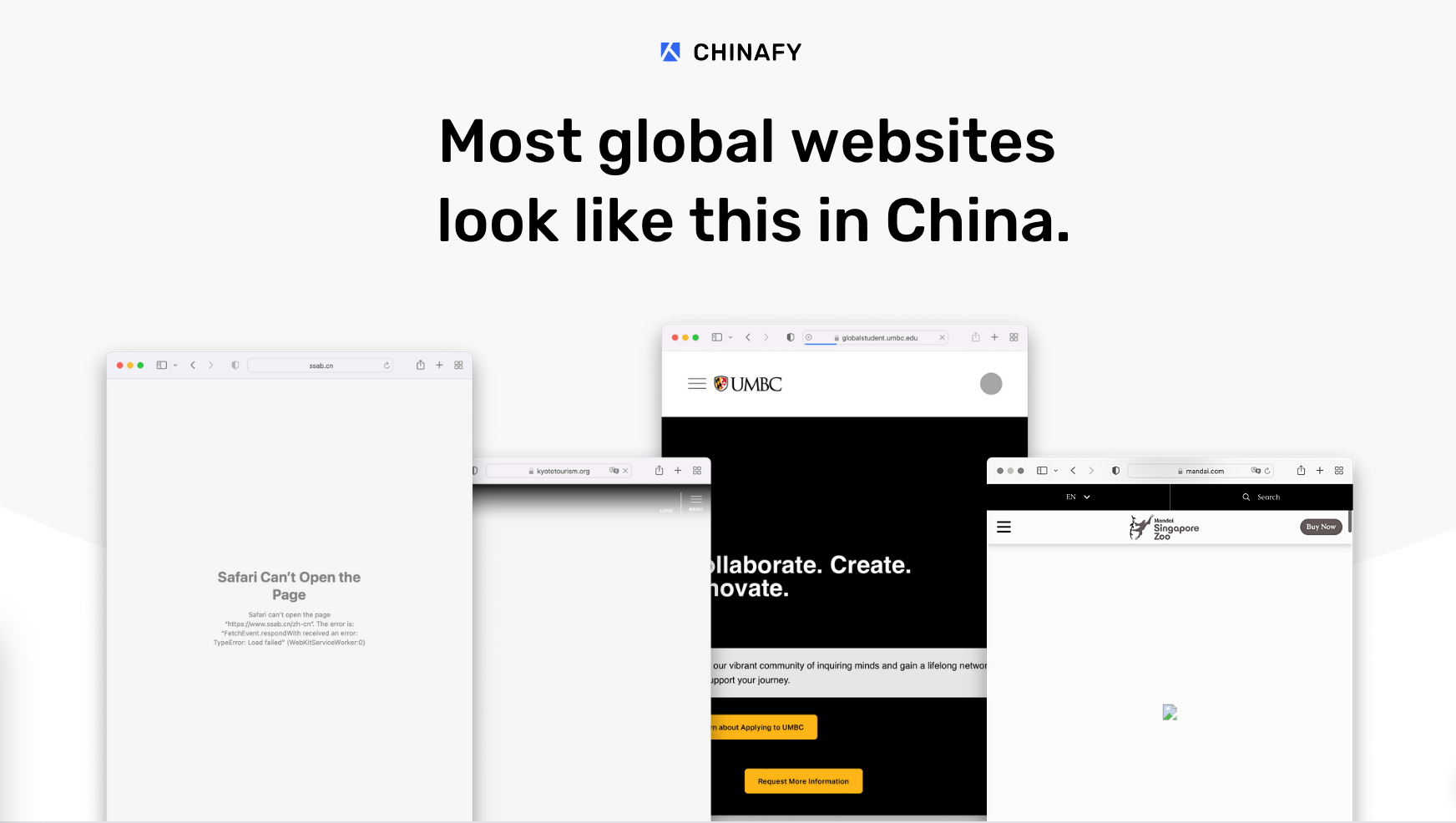 Chinafy comes in to address this with front-end optimisations that can be utilised today. Chinafy then achieves near-native performance through website optimisation with an offshore set-up.
Using a highly tuned complex integration of both Software (i.e. Code) and Infrastructure (i.e. Hardware) Chinafy can be bolted onto almost any site.
Combining a multi-load-balanced infrastructure with intelligent China-specific resource optimisations, significant improvements on websites can be achieved across the board.
Learn more about Chinafy and how to optimise your site for China today