Adobe Experience Manager (AEM) is one of the leading Digital Experience Platforms (DXP) globally, and is used by a growing number of enterprises to comprehensively manage their digital strategy across websites, mobile apps, and more.

Naturally, as part of its offering for multichannel, contextualised experiences for global companies - AEM offers an in-built content delivery network (CDN) solution to accelerate the content that its platform, delivers.
This article shares a bit more about the in-built CDN solution for AEM and various considerations your company should keep in mind for China.
In this article, we'll elaborate on -
How does the AEM-managed CDN perform globally vs. in China?
How does it compare with other CDNs in China?
Best practices to optimize your AEM set-up for better performance globally, including China.
A quick recap on CDNs in China

1. What is a content delivery network (CDN)?
CDNs are a scalable, high-capacity, and geographically distributed system of servers - referred to as points of presence (PoPs) - that deliver content on behalf of their customers.
CDNs also offer technologies related to content delivery, such as security products like DDoS and WAF.
This article is part of a series on CDN performance in China.
For more context, please read the introductory article on CDNs in China, how not all of them perform the same, and why.
2. Understanding CDNs in the context of China
One critical aspect to note when discussing CDNs in the context of China, is to first understand the root of performance issues in the region.
Unlike most of the global internet, China has a unique set of legislative actions and technologies that regulate the internet. These actions include making certain platforms, libraries, or tools exceptionally slow, if not altogether, inaccessible from China.
Many technologies are third-party resources, meaning that they do not sit inherently on the primary domain.
For example, Google APIs that are used on a website, are in fact hosted and managed by Google, and not the website management system itself (i.e. AEM).
Content Delivery Networks (CDNs) focus on the infrastructure supporting a particular website.
This infrastructure acceleration is limited to the primary domain (i.e. www.website.com). This means that third-party resources that are slow or inaccessible (i.e fonts.googleapis.com), will remain so.
Primary files like HTML may be faster if they are on the primary domain (www.website.com), but others assets including Adobe-stored assets, exist on a 3rd party domain that then leverages whichever CDN the provider is using. In this case, Akamai's global, non-China CDN.
Adobe Experience Manager (AEM) & CDNs
Does AEM include a CDN?
Yes. Websites built with Adobe Experience Manager by default include a built-in content delivery network (CDN).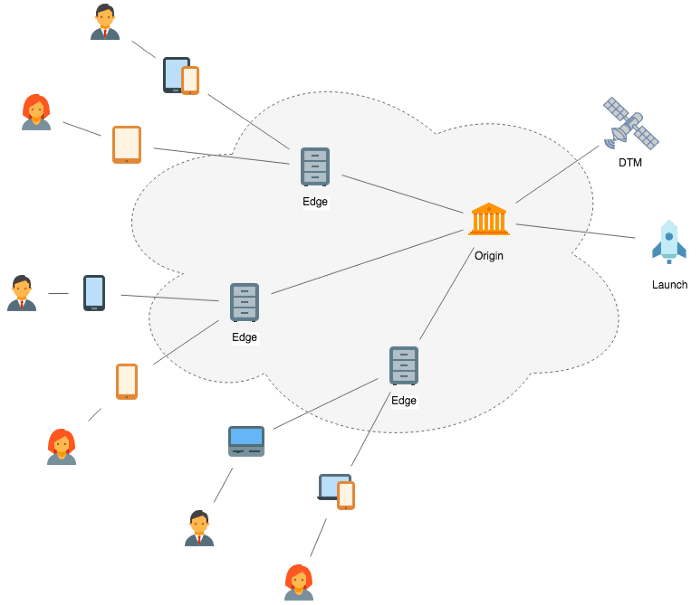 Adobe Experience Manager (AEM) and Akamai CDN

Adobe Experience Manager's CDN is powered by Akamai.1
Akamai currently operates 137,000 servers in 87 countries, with a server count distributed throughout more than 1,150 networks. Its product is used by large-scale entities - including the City of Los Angeles - with an emphasis on their security, reliability, and their "unique edge distribution approach driven by the adoption of new network routing technology."
Can you use Adobe Experience Manager (AEM) with your own CDN?

Yes. AEM is also compatible with the top CDNs on the market, such as Cloudflare and Amazon CloudFront.
According to Adobe, AEM users may elect to use a different CDN, provided their choice of CDN is -
Onerous to replace
Self-managed
Configured to work with AEM
Able to successfully pass a load test before going to production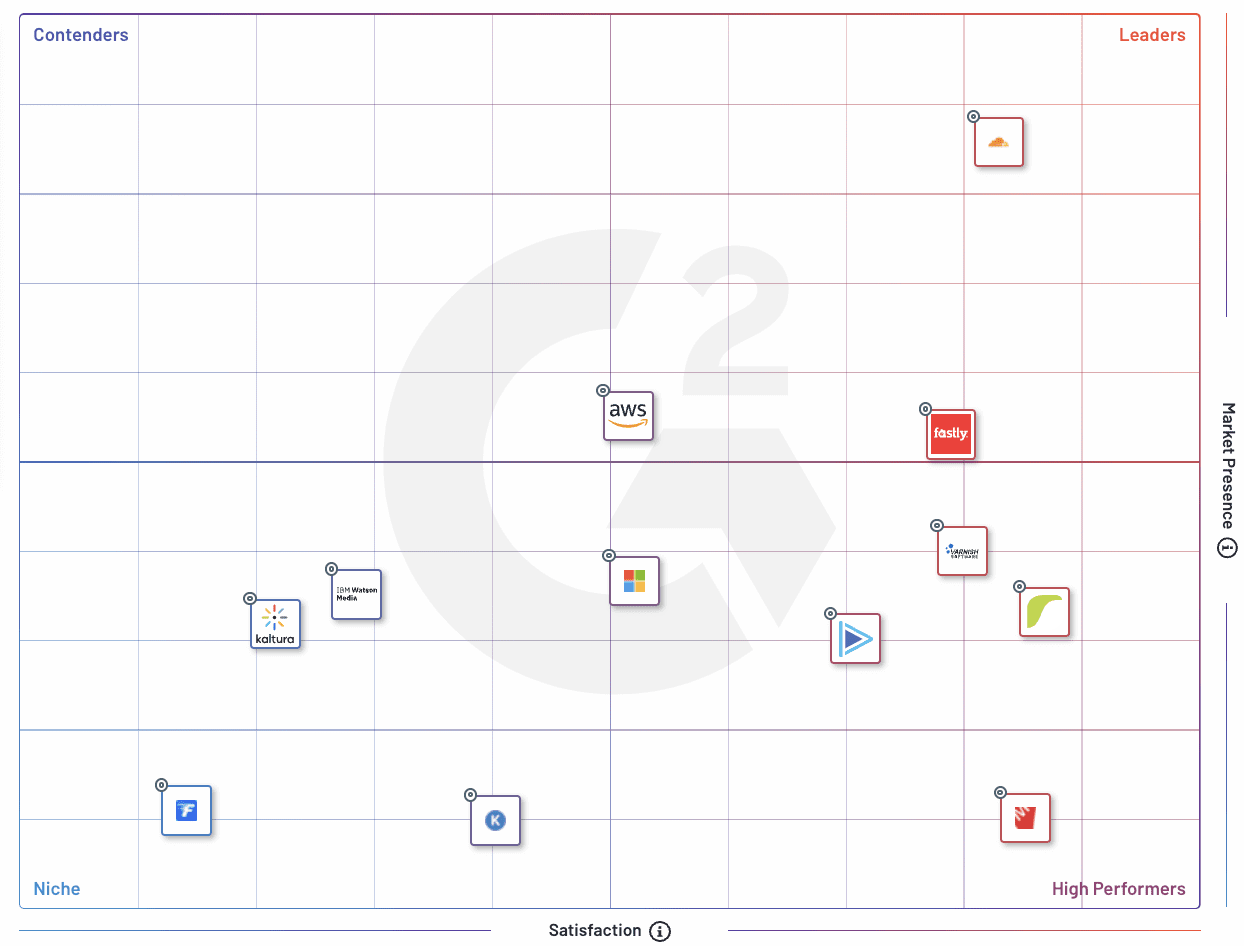 Which CDN is the best for Adobe Experience Manager in China?

Let's look at how global CDNs performed in China over the past 30 days (as of 10 Nov 2022):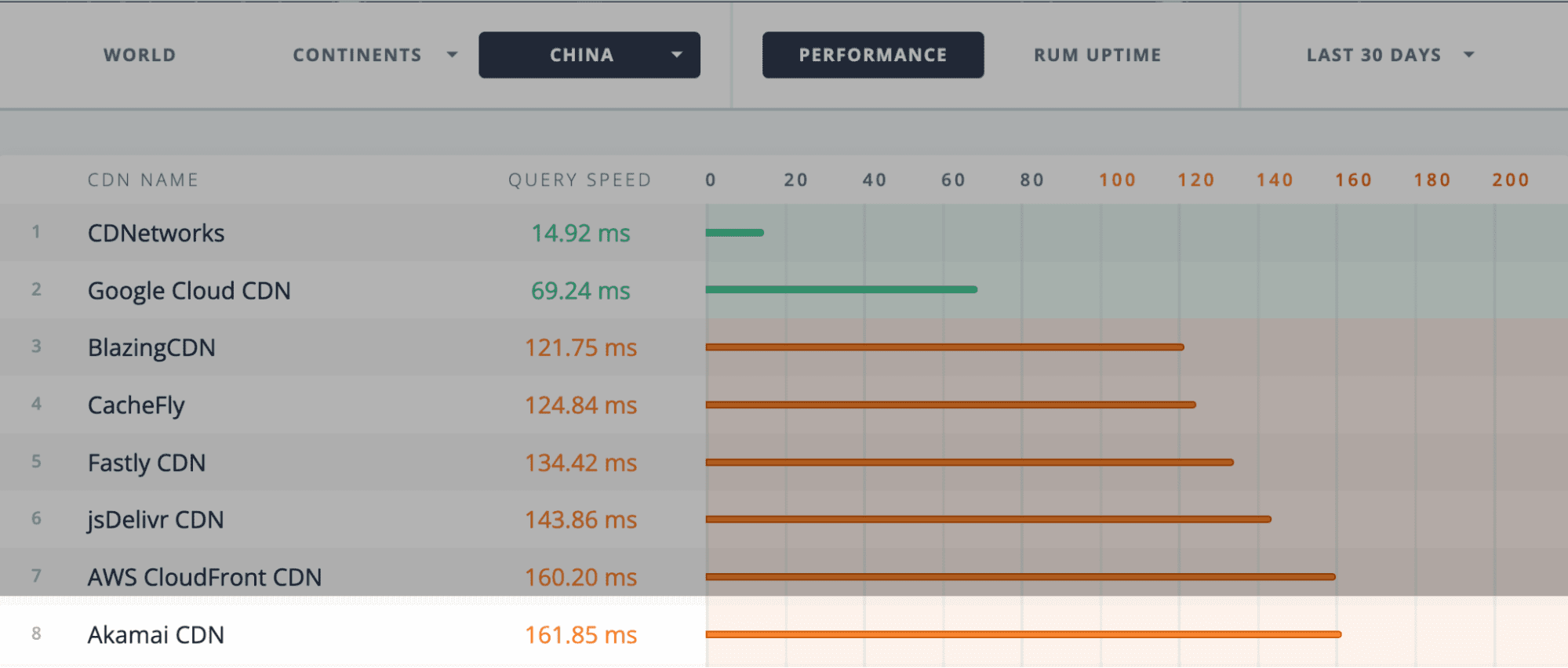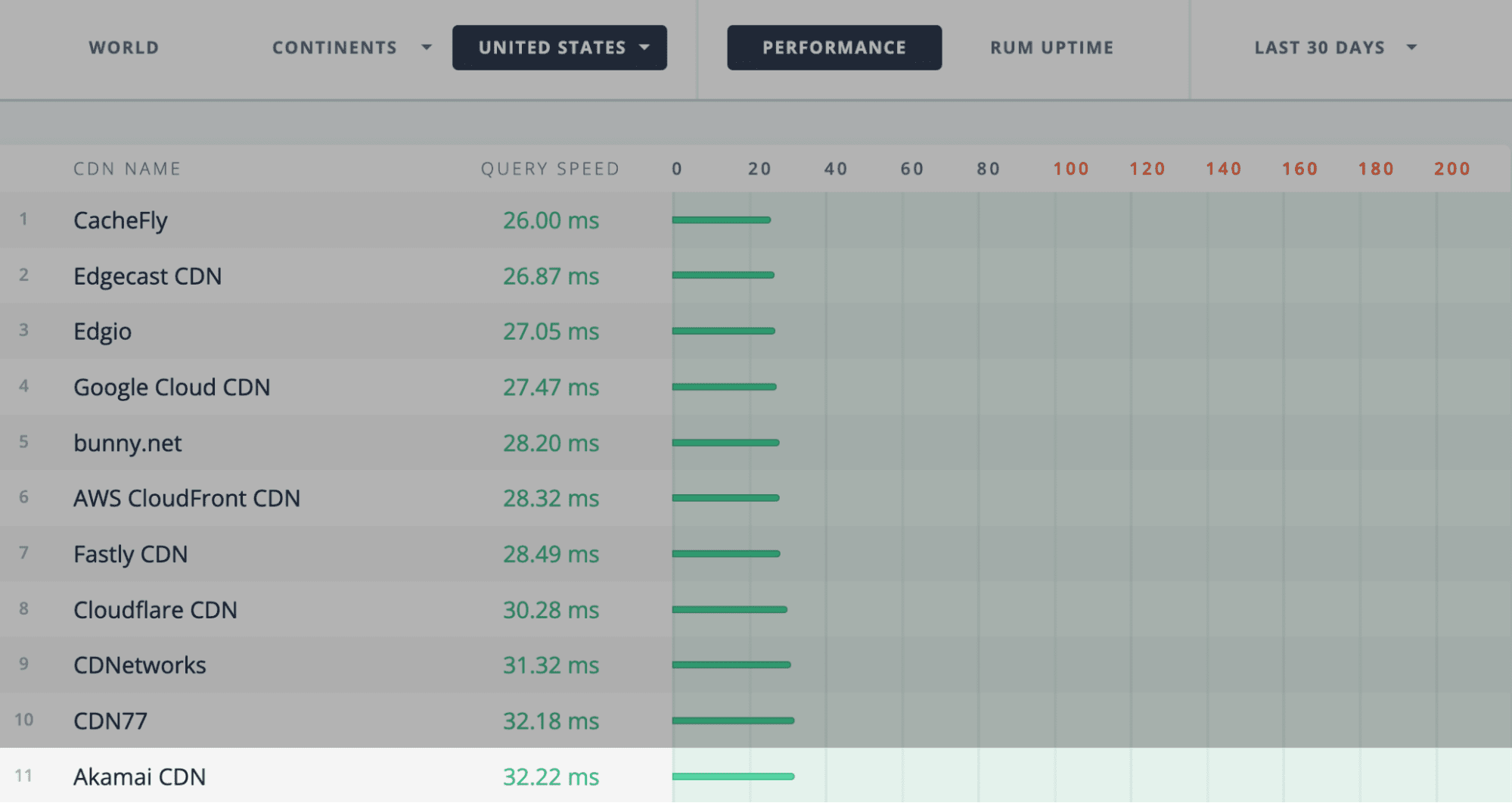 Note that Akamai's global CDN is up to 5x slower in China, than in the U.S.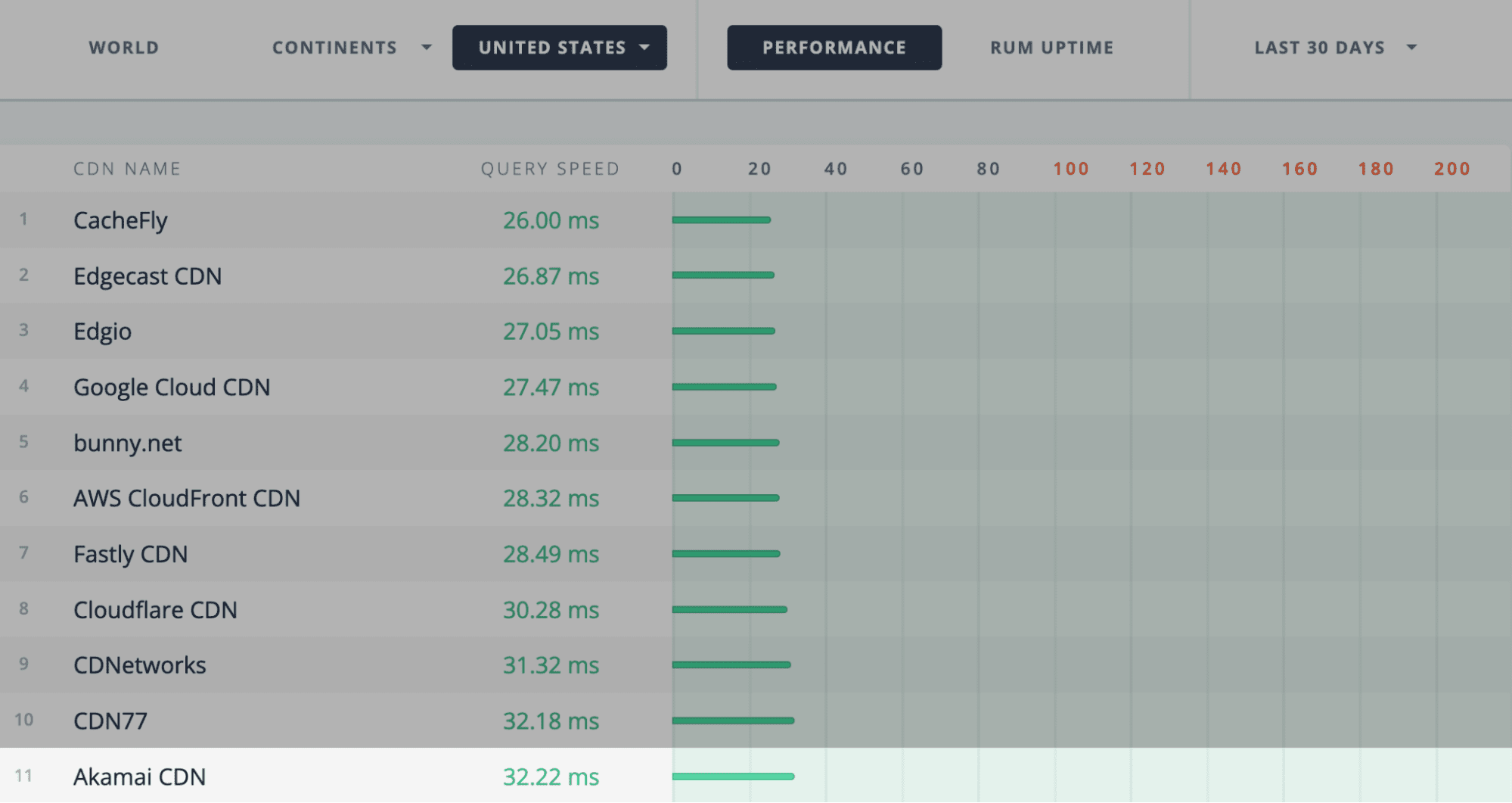 What does Adobe Experience Manager CDN not do?

As shared above, just like all CDNs - Akamai CDN - is able to provide infrastructure-level acceleration on the primary website and Adobe resources, but unable to resolve all the aspects needed for a performative website in China.
AEM Managed CDN does not resolve code-based compatibility.
So, if your website includes resources that are incompatible with the China environment, they will still be inaccessible or slow for visitors in China.
Since the limitation applies to all CDNs, a performative website in China is no longer a question of "which CDN is better than the other" - but rather, "how can you set-up your AEM and technical stack to address this gap for web visitors in China?"
Using Chinafy with Adobe Experience Manager in China

The answer to that would be Chinafy.
Chinafy is a China Web Compatibility Solution that is bolted-on AEM websites to generate a secondary, complimentary version of the website purely for visitors in China.
The solution particularly addresses the third-party issues that impact both usability of a site in China and speed by removing, replacing, and optimizing what CDNs don't - with little to no technical set-up needed by the end user.
Chinafy also includes a fully-managed near-China CDN, selected based on how it performs particularly across various China regions. Users can similarly elect to use their own CDN if they have a preference, seeing as core of the work and impact comes from Chinafy's web compatibility or leverage onshore CDN options if they have the requisite licenses.
The result, a solution that allows companies to use their choice of DXPs and CDNs without compromising how it performs for visitors in China.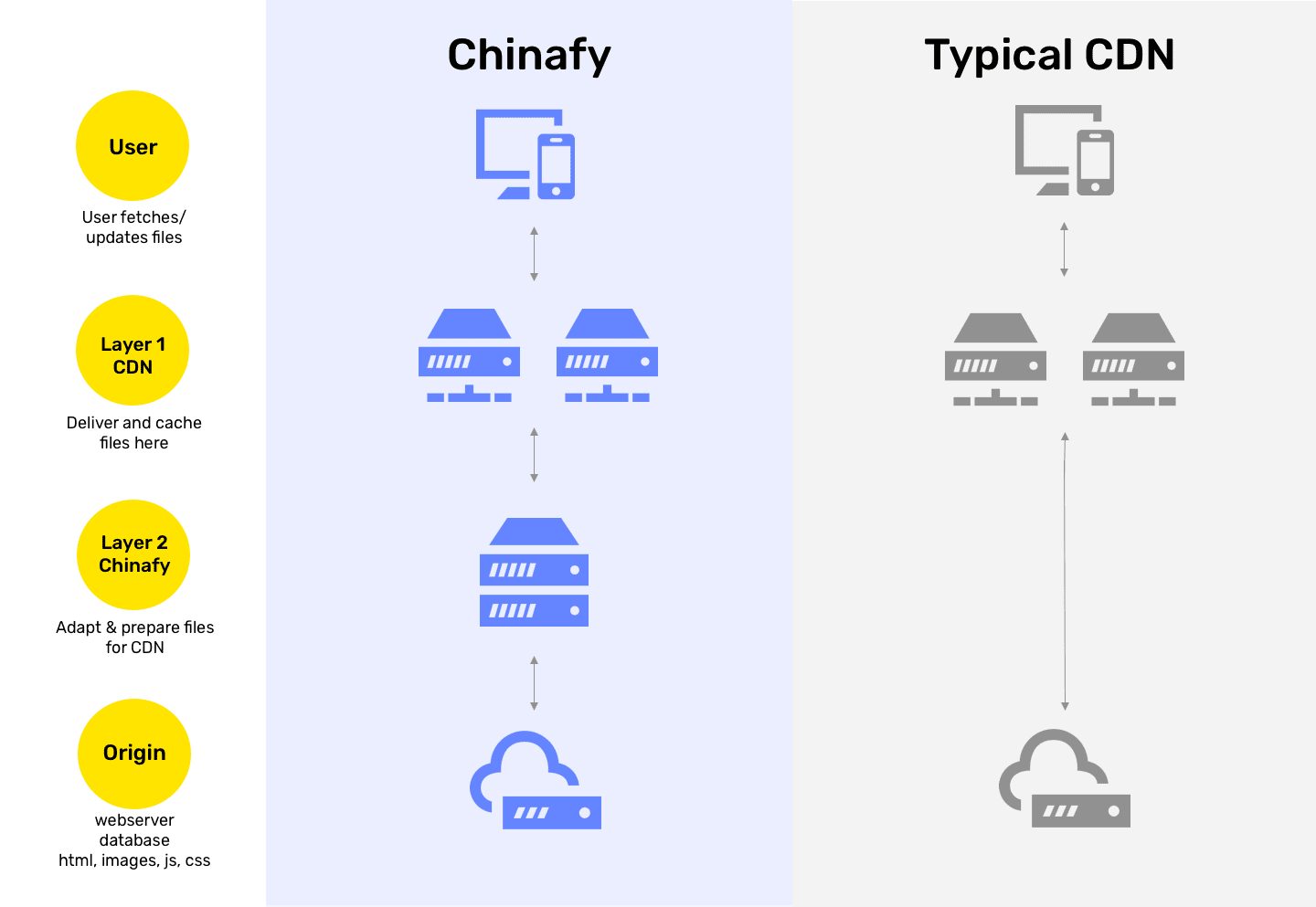 What does Chinafy do?
Rule-based Smart Actions: Chinafy resolves thousands of code-based incompatibilities (e.g., Google APIs, YouTube, and more) to generate their China-friendly version in China.
Fully-managed CDN: Chinafy bolts onto AEM websites to speed them up even further in China. Chinafy works with tier-one cloud providers, including Alibaba Cloud, Azure, and more, to provide built-in CDN service. AEM users would not need to manage a CDN for China delivery separately.
In-house development: Virtually zero. The Chinafy site is fully-managed, which means the Chinafy team does most of the heavy lifting. All we need is a quick DNS or CDN update.
Content synchronization: The Chinafy version of the AEM site automatically stays in sync with the AEM-managed version.
IP-Based Geo redirection: Chinafy enables IP-based geolocation to route visitors in China to the Chinafy site; elsewhere to AEM and remain unaffected.
Better yet? Chinafy launches with AEM sites in 1.5-2 weeks.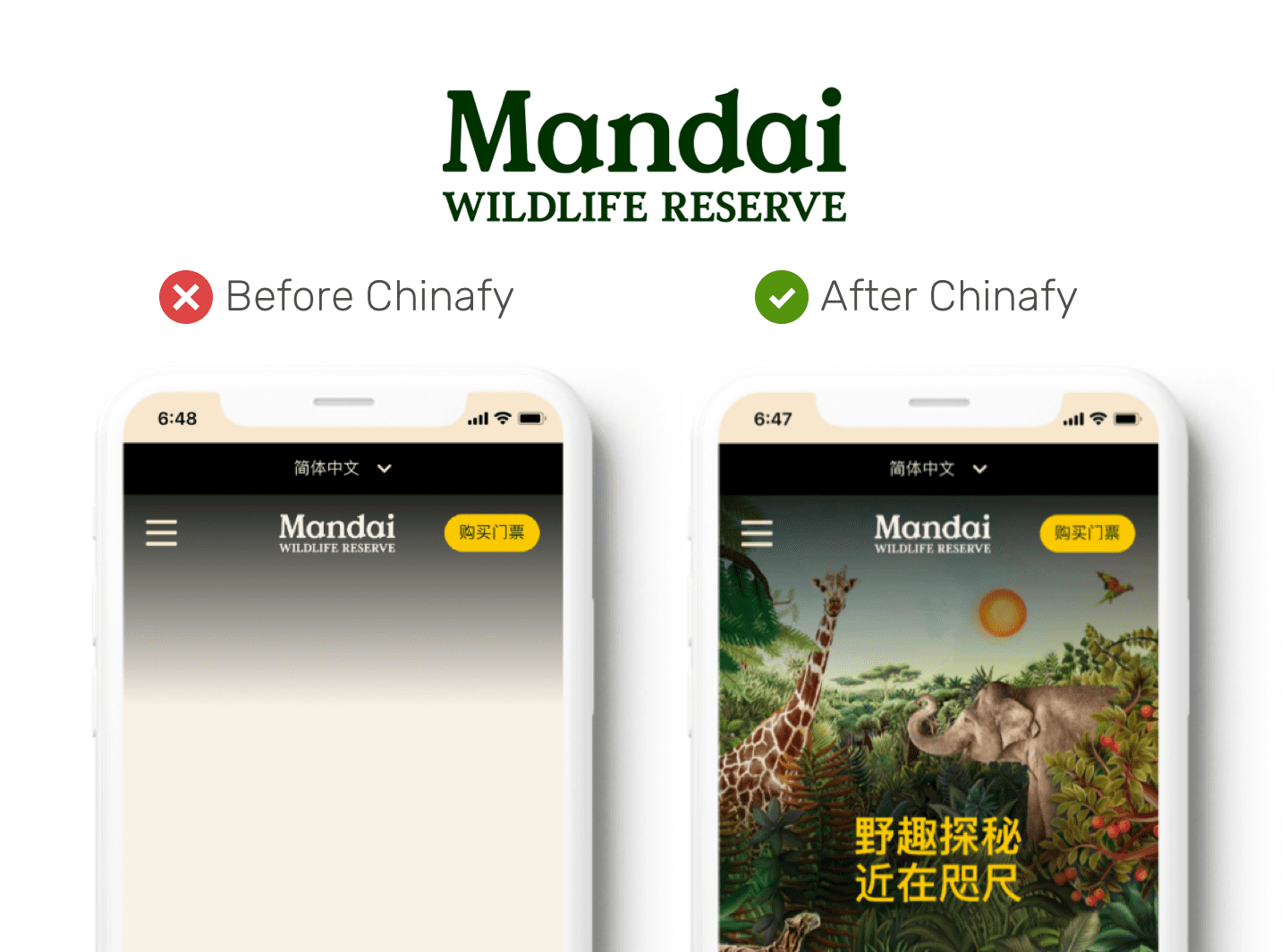 Get Started on Chinafy

Send us your website via our Get Started Form or enterprise@chinafy.com! Our team will come back with some next steps and initial thoughts on your site, complimentary on us.
1 Source: Adobe-managed hosts overview