Many of our users are Hotels, Airlines, from the Travel domain, and time-and-time again, we're asked two types of questions:
i) How fast (or slow) is my site? (and how much faster can you make it!), and
ii) What's the ROI - or how much more revenue will this drive?
While the first question is quickly answered as "We can bring it down to 3-4 secs", the second questions requires a deeper analysis.
Book Direct!
Having customers 'Book Direct' is of critical importance in the Travel industry. While Online Travel Agencies (OTAs) like Booking.com, Tripadvisor.com, and Trip.com, provide flexibility, depth, and breadth of choice, it's costly to the Hotel, which pays up to 15% for each referral.
The network effects of the meta-search (i.e. OTA technology) are strong - as more hotels are listed on the platform, more consumers use it, and vice versa.
This, however, commoditizes 'hotel stays' and makes it difficult for hotels to differentiate themselves based on their brand - or other features that may not be easily communicated via customer reviews.
Hotels with significant direct bookings can not only eliminate referral fees, but it also allows them to build a direct relationship with the end-buyer, enabling them to perhaps prepare the room with custom amenities prior to arrival, offer suggestions on a range of local experiences, or more.
The China Traveller
China has been the top spender in International Tourism since 2012, with 21% of global tourism receipts as of 2017 with the top destinations being: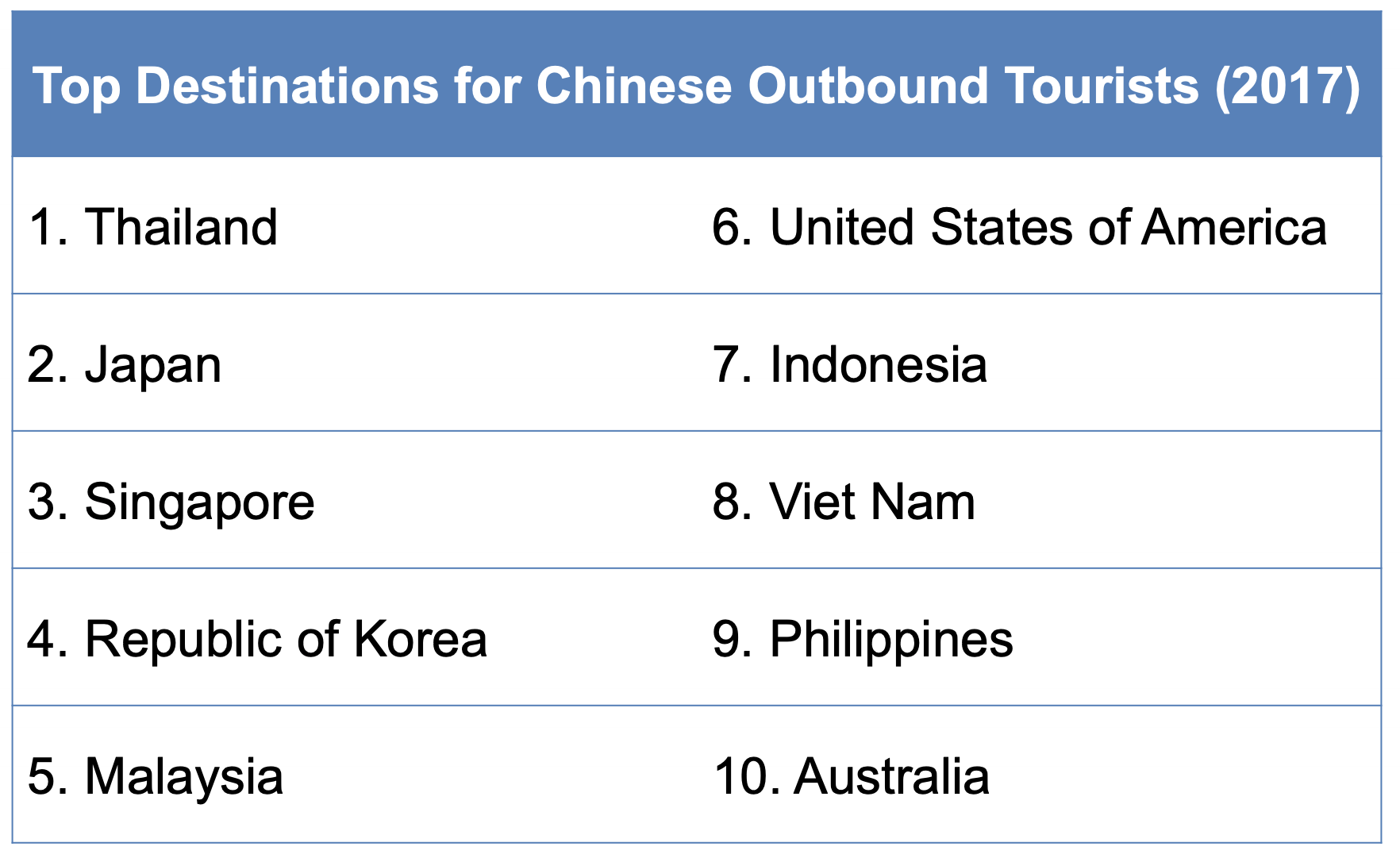 Spending last week in Singapore, I had the privilege of speaking first-hand with a number of GMs and Digital marketing managers for Hotel chains.
This week, I met with a handful in Tokyo and in both markets, they're at a loss on how to target, and build direct relationships with Chinese travellers.
Omni-Channel Marketing & Inability to Run Campaigns
In an ideal world, Hotel chains that operate within an offshore model (i.e. no Chinese booking entity, ICP Licence, or partnerships) and those with few resources, are limited in what they can do onshore.
In an ideal world, companies would have a healthy marketing mix, splitting their efforts across multiple channels, nurturing prospective customers at different parts of the Marketing and Sales funnel.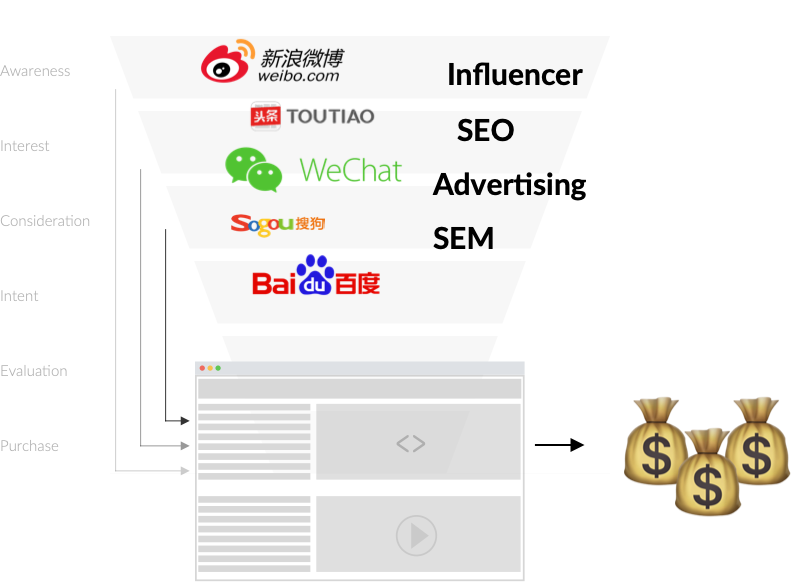 For offshore companies, and those in Travel specifically, the call-to-action is to ultimately book a room directly on their website. Given the limited profit margins, if the targeted client books on the OTA site the ROI is still positive, albeit only marginally.
The problem is that the most important part of the funnel - the point of conversion: the website, just doesn't work in China.
Sites are just so incredibly slow that any marketing efforts result in the customer booking via the OTAs, and in many cases, considering an alternative brand.

For this reason, foreign brands don't engage in much onshore marketing, as the possibility of booking directly just doesn't exist.
What is the Cost of a Slow Website?
To calculate this, we'll be looking at the % of travellers coming from China, multiplying this by gross revenue, and again by the OTA referral fees.
What % of Travellers are from China?
In Singapore, where the question first came up of "How much top-line revenue is paid to OTAs?", a whopping 20% of travellers are from China, representing the single-largest geographic segment. In Japan, where this conversation continued, it's almost 27%, with South Korea taking the top spot at 31.2%. If we take these % China Traffic and multiply it by the 15% commission, we end up with the % of Total Revenue paid to Chinese OTAs below.
Across Asia, the average hotel is paying between 3-4% of top-line Revenue to Chinese OTAs.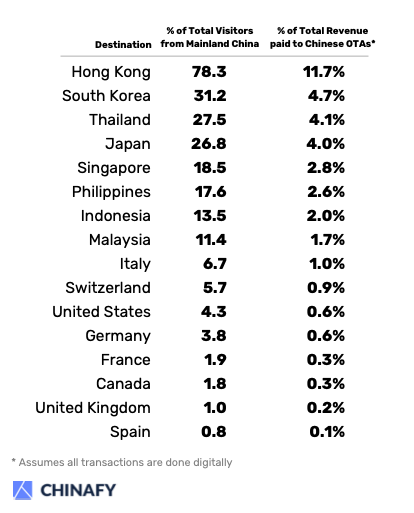 What is this in Dollar Terms?
To convert this to dollar terms, we need to factor in the total revenue for a given hotel taking into account the # of Rooms, the Average Room Rate, and the Occupancy. Let's assume we have a 200 room hotel charging $200 per night, with 20% of their visitors from China (and hence 20% x 15% = 3% Fees paid to OTAs).
That's sadly over US$350k per year lost: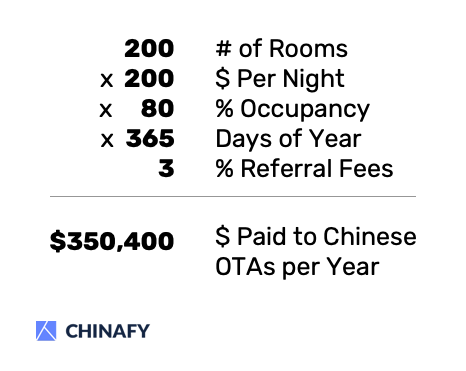 For convenience, we created the table below which allows hotels of any size, in any location calculate their dollar opportunity cost.
The table assumes an 80% Occupancy, $200 per night, and 15% fee to the OTAs. Simply look up the # of Rooms, and the % of visitors from China to calculate the rough annual cost. If your average stay is $100 per night, simply divide the numbers below by 2.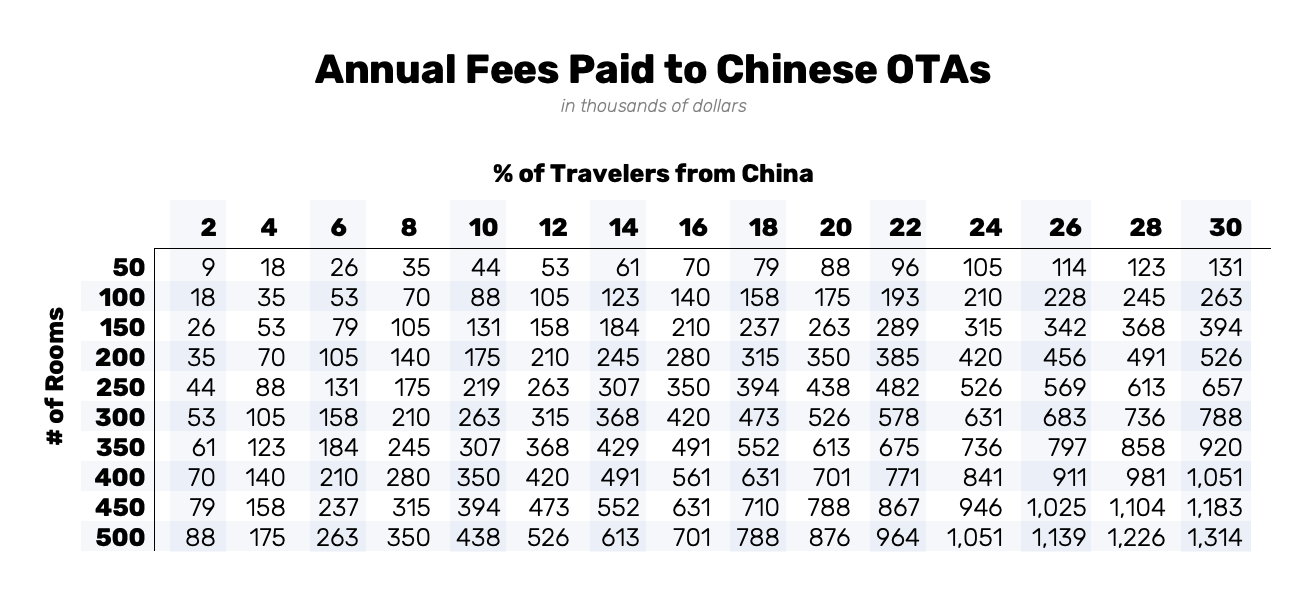 It's important to take back into account the key assumptions above which are that i) Chinese travellers cannot book directly on your website, and ii) they therefore book entirely with Chinese OTAs. There are indeed alternative ways to booking hotels (i.e. one could simply call a hotel - on the phone, and book a room although rare nowadays).
Does Everyone book via OTAs?
In the West, about 49% of bookings are direct with 51% going via OTAs according to Phocuswright data. More importantly, 52% of those who browse on OTA sites end up actually visiting the Hotel website, meaning Hotels at least have the opportunity to recoup about half of those fees above. In China, the possibility to book direct has never really existed, and we'll be gathering more data as we open up this new revenue channel to more hotels each day.
What's Next?
Chinafy can accelerate, almost instantly, your Hotel website from "Incredibly Slow" (or broken) to "Pretty Fast" bringing it down to more normal 3-5 seconds. If you're not getting direct bookings from China, you're not alone. Virtually every foreign hotel's site is super slow in China - but this is changing.
With Chinafy in place, and your site now fast, this opens up the broader spectrum of SEO, SEM, Social, and Influencer marketing for you to facilitate direct bookings, improve brand affinity, and build direct relationships with your guests.

Some next steps:
Step 1: How slow is your site in China? See our Speed Test
Step 2: How does it Index on SEO? See our China SEO Basic Test
Step 3: Reach out, and let's start getting your visitors to book direct
Got questions? Click here to get in touch with Chinafy.