In the world of Chinese messaging apps, QQ and WeChat emerge as two colossal titans, each boasting a massive user base and distinct features. This comprehensive article aims to compare QQ and WeChat, exploring their historical evolution, features, and profound impact on the landscape of Chinese communication.

Understanding QQ and WeChat
QQ: Pioneering the Chinese Messaging Frontier
Launch Year: 1999
Developer: Tencent
QQ, the brainchild of Tencent, made its debut in 1999 as an instant messaging platform tailored for PCs. Transforming over the years, QQ evolved into a multifaceted social platform encompassing gaming, microblogging, and e-commerce. Initially designed for desktop usage, QQ adeptly transitioned into the mobile era, maintaining a substantial user base, particularly among the older demographic.
WeChat: The All-encompassing Super App
Launch Year: 2011
Developer: Tencent
In 2011, WeChat entered the stage, revolutionizing the messaging landscape. Positioned as an all-encompassing super app, WeChat seamlessly integrates messaging, social media, payments, and more within a singular platform. Swiftly becoming an integral part of daily life in China, WeChat fundamentally transformed how people communicate and conduct transactions.
Comparing Features: QQ vs. WeChat
We'll compare the features, ecommerce potentials and the user demographic of QQ and WeChat below.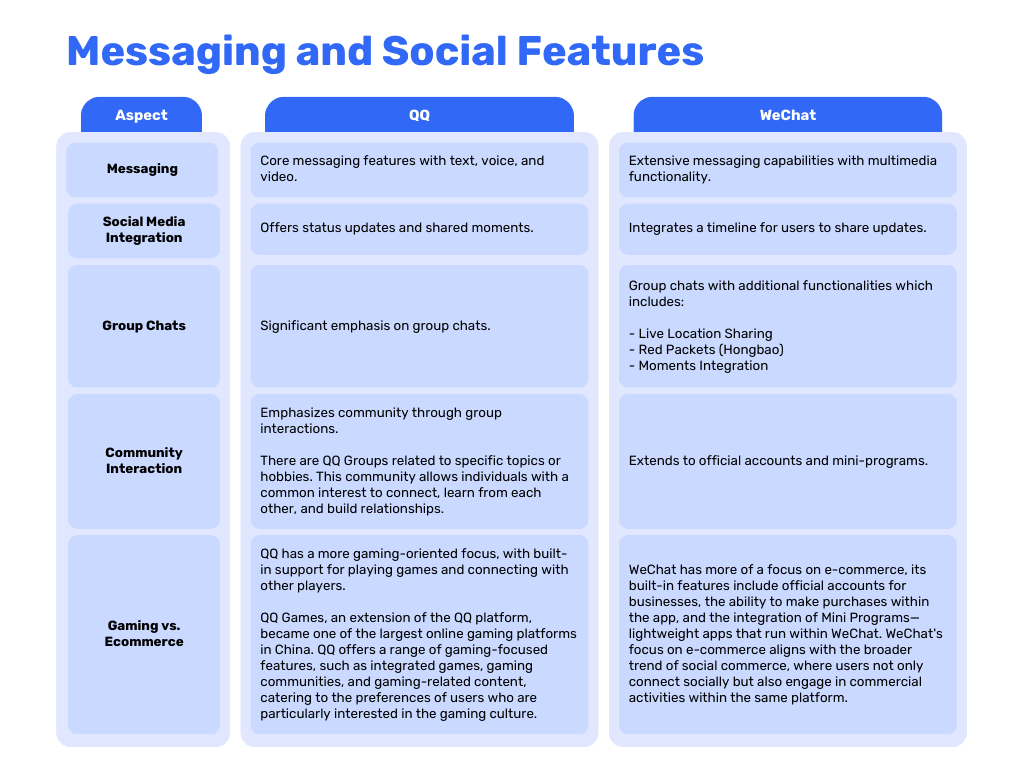 QQ Official Account and WeChat Official Account: Which one do you need?
Ideally, all! Though, having an optimized website would be a great starting point.
Akin to how websites are used for conversion on social media, websites are similarly crucial on messaging apps or Super Apps such as WeChat.
Here's how website optimization factors into the equation:
1. Wechat or QQ users share external links for browsing in-app. Learn more about what having an H5-compatible website means.
2. Websites can be used as conversion on WeChat Official Accounts.
Importantly, digital marketers who leverage WeChat or QQ in-app browsers for their point of conversion will need to know that not all websites work in China.
How Chinafy Can Help Optimize Websites for WeChat and QQ browsers
Ready to optimize your website for QQ and Wechat? Chinafy is a first-of-its-kind solution that creates a China-friendly version of websites by applying a number of steps outlined below.
Chinafy initiates a scan of your website, detecting resources that may be blocked or sluggish across your site. This forms the foundation for creating a Chinafy-managed version of your website.
1. Chinafy applies an optimization process on the dedicated Chinafy version. Optimization spans across infrastructure, resources, and security, aligning with industry best practices to enhance the website's performance specifically for Chinese users.
2. Upon activation of the Chinafy site, a redirection mechanism is put in place. Chinese visitors are intuitively directed to the 'Chinafy-version' of the website, while all other users access the original version. This strategic routing ensures that visitors experience a tailored and optimized version based on their geographical location.
3. Chinafy doesn't stop there; its automation rules synchronize the two versions of your website. This ensures that as your website evolves, both global and China-centric versions remain finely tuned and optimized.
Read more about How Chinafy works.
Using QQ and Wechat for Marketing
Both QQ and WeChat have played transformative roles in shaping how people connect, communicate, and conduct transactions. Given their deep market penetration, optimizing websites for in-app sharing is critical for digital marketers to ensure a smooth marketing funnel.
Ready to optimize your website for China? Click Get Started to evaluate your website with Chinafy