In this guide, we will walk through the internet landscape in China, and

Differentiate an ICP licence and related requirements from web performance in China
Detail the difference between hosting in China (onshore) and hosting outside of China (offshore)
What is an ICP licence?
When is an ICP licence required?
How do the above impact your website?
1. What is access to the internet like in China?
a. China internet landscape
China is set up in a unique manner that means that typical global best practices for websites often do not achieve the same end results in China.
Typically, websites that load perfectly around can appear broken or even in some cases unable to load in China. That is because:
i) common libraries, plugins, resources and files may be entirely inaccessible (i.e. Google APIs) or simply, load excessively slowly from China
ii) High latency and packet loss when accessing a website from China
When a foreign website does load, it can easily take upwards of 30 seconds. See samples from our data below.

b. What is offshore vs onshore hosting?
For example, let's assume your website's media assets are hosted in the US and delivered within North American using Cloudflare's Global CDN. This is what we would consider offshore hosting as both the website's server and content delivery networks are geographically located outside of China.
The combination of a US server with North America CDNs would generally be great for performance. That is, for visitors outside of China.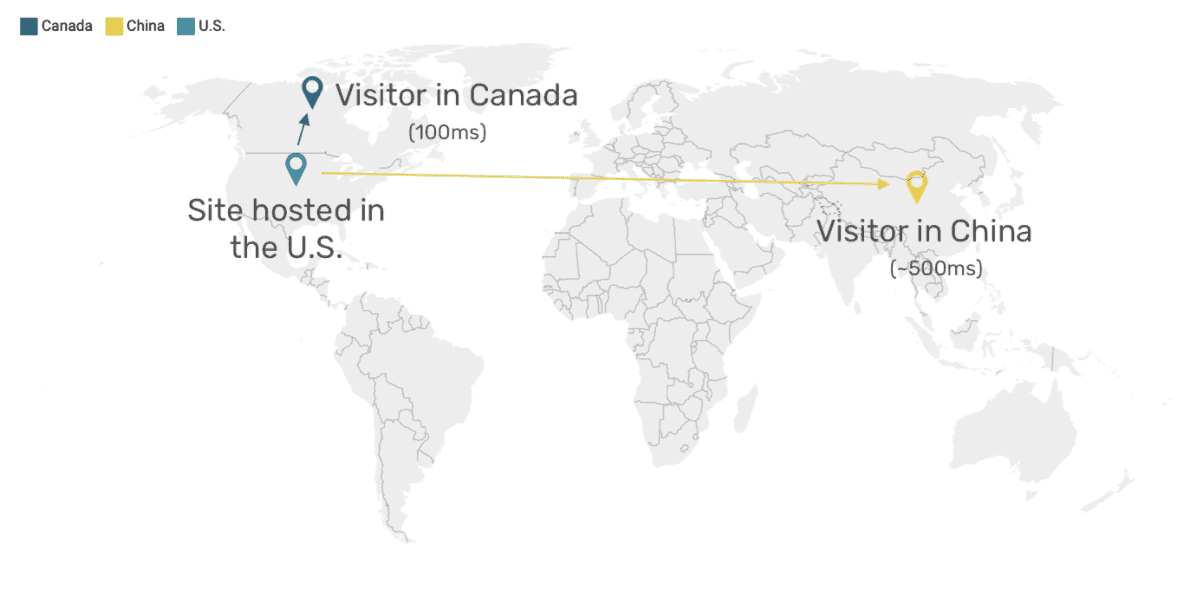 Hosting your website in China onshore is one of the ways to partially improve how your site loads for visitors in China. However, it does not address all the issues your website might face.
Not to mention, hosting in China is also a uniquely resource-intensive process, with wait times for the various approvals needed averaging around 2-3 months, the prerequisite of a China business entity, an ICP License/Permit and more.
2. What is an ICP License and do I need one?
As we will detail in the below section, the decision behind obtaining an ICP licence or not is a business decision rather than a performance-driven one. This is primarily because
the licence itself does not address speed issues
even using the licence to use an onshore hosting server, does not fully address performance issues your website might face.
TLDR: An ICP License is a permit that allows you to host your websites on a server in Mainland China. Necessity for use is enforced by service providers and is often a long process,
While acquiring a licence to host your website on-shore may help solve part of your website's performance issues in China, hosting in China is not always necessary if your end goal is purely speed and loading performance.
a. What is an ICP License?
The ICP (Internet Content Provider) certification is a permit issued at the province-level by the Chinese Ministry of Industry and Information Technology (MIIT).
The ICP permit allows you to host your website on a mainland Chinese server. All sites who wish to be hosted onshore are required to apply for and receive one before going live - a rule enforced by whoever hosts your domain name (e.g. your Service Provider or Content Delivery Network (CDN)).
ICP License numbers are typically displayed in small print on website footers with a single character to represent the Chinese province the licence was issued in, then the letters "ICP" followed by the actual ICP number itself. The number can be displayed anywhere, technically, so long as it is clear and visible.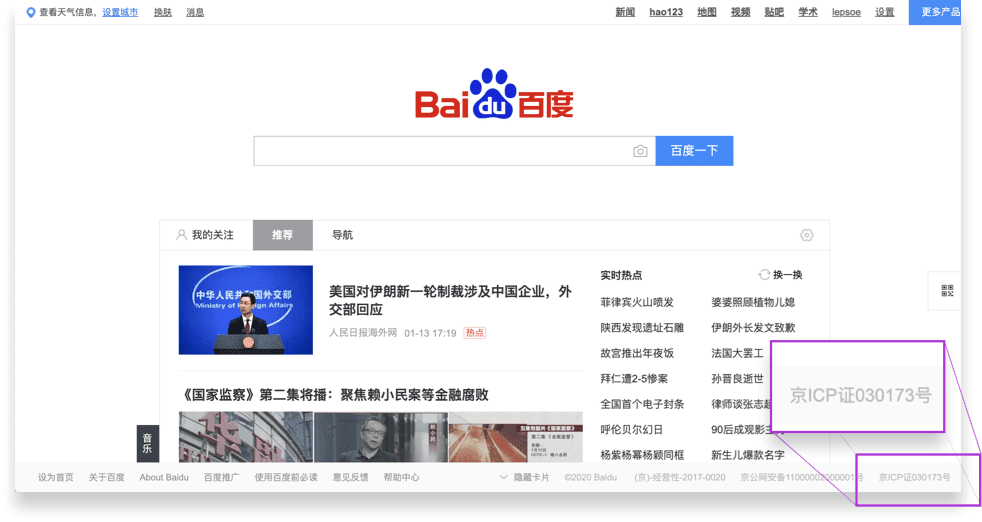 b. What are the different types of ICP Licences and who can apply for them?
There are generally two types of ICP Licences:
ICP Filing (ICP Bei An, 非经营性ICP/ICP备案)
Considered the 'basic', or first-step, of the two - the ICP Filing is for informational websites with no intention of sales.
ICP Commercial License (经营性ICP)
For more complex sites that require e-commerce functionality and online payment integration, you'll need to first acquire i) Your ICP Filing, followed by ii) Your Commercial ICP License.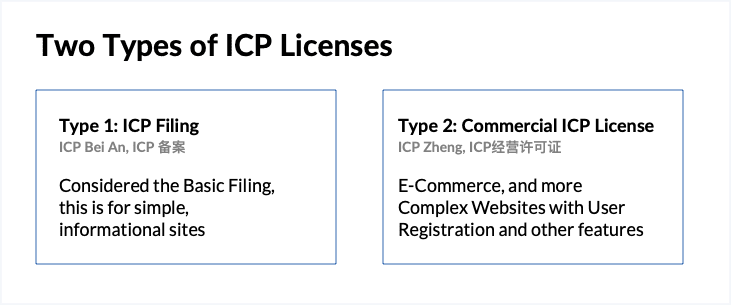 c. Why do people get ICP Licences?
An ICP License is one of those items that many people talk about, but might not be appropriate for every company. Typically, people get ICP licences in order to host their website in China for the speed and performance gains of hosting locally, Other reasons may include running a business in China. Law in China requires that the ICP commercial licence is needed for onshore websites of the following nature:
Advertising (网上广告)
Web building (代制作网页)
Ecommerce (电子商务)
China Server rentals (出租服务器内存空间)
Hosting (主机托管)
Web application (其它网上应用服务)
Providing information for a fee (有偿提供特定信息内容)
Read our summary of the most common requirements for an ICP here
d. Do I need to get an ICP License in order for my website to work for China visitors?
This question should really be asking "do I need to host onshore in China?"
At the end of the day, the decision behind whether to obtain an ICP licence or not is more of a business decision than a performance-driven one. This is primarily because
the licence itself does not address speed issues
even using the licence to use an onshore hosting server, does not fully address performance issues your website might face.
In fact, many websites are able to achieve virtually near-native website performance in China without hosting onshore (see case studies). Onshore websites meanwhile, similarly benefit from Chinafy's resource optimisation suite.
So, it is important to separate the objectives behind getting an ICP licence.
3. How Chinafy improves website speed in China without onshore hosting or ICPs.
Chinafy achieves virtually onshore performance by utilising a highly tuned complex integration of both Software (i.e. Code) and infrastructure (i.e. Hardware) that can be bolted onto almost any site.
Combining intelligent website optimisations and smart hosting solutions, Chinafy can work off-shore and provide the optimised, China version of your site in 2 weeks or less.
Learn more about how Chinafy works here