About KPM Analytics

KPM Analytics is a global leader in scientific instrumentation. Their products help companies measure product quality and brand value across the food, agricultural, industrial, environmental, and clinical industries.
Their global presence is notable. To date, KPM has seven brands under their broader company, 14 service offices worldwide, over 50 patents granted or pending, customers across 100+ countries, and more.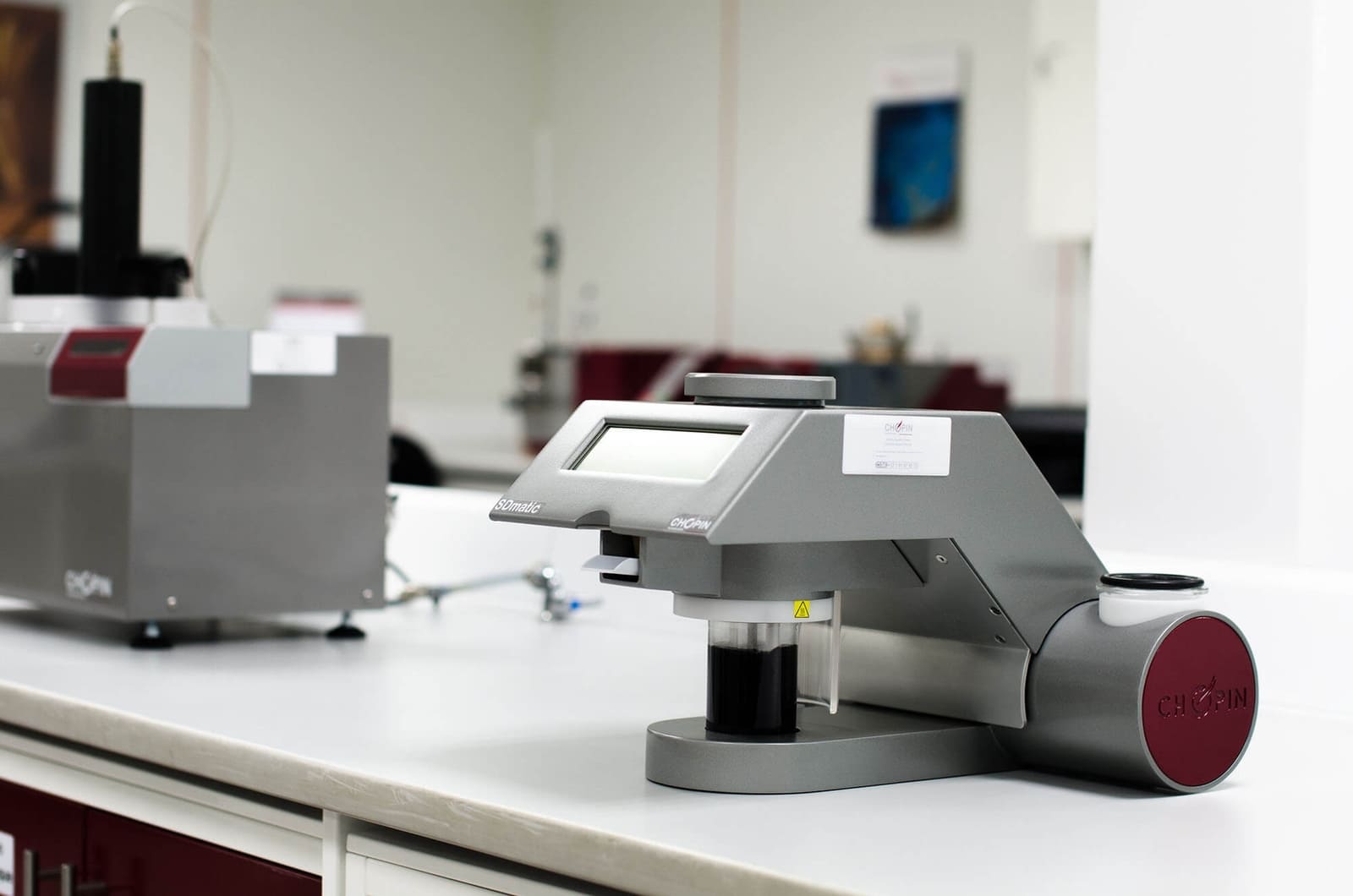 As a leading player across manufacturing, food production, and medical technology, China is naturally an important market for KPM.

China especially has become a hub for all these industries within the last two decades, and the world has continued to rely on the country through COVID-19. A report by the World Bank estimated the value of China's manufacturing sector alone at nearly US$3.85 trillion in 2020.
As a global manufacturing solutions provider, KPM Analytics wanted to reach the Chinese market more effectively.
The Website
Headquarters: the United States
Industry: Manufacturing
Website CMS: Webflow
Using Webflow as its CMS, KPM Analytics previews its wide array of manufacturing products across different categories. These are made easy to access with a dedicated search plugin.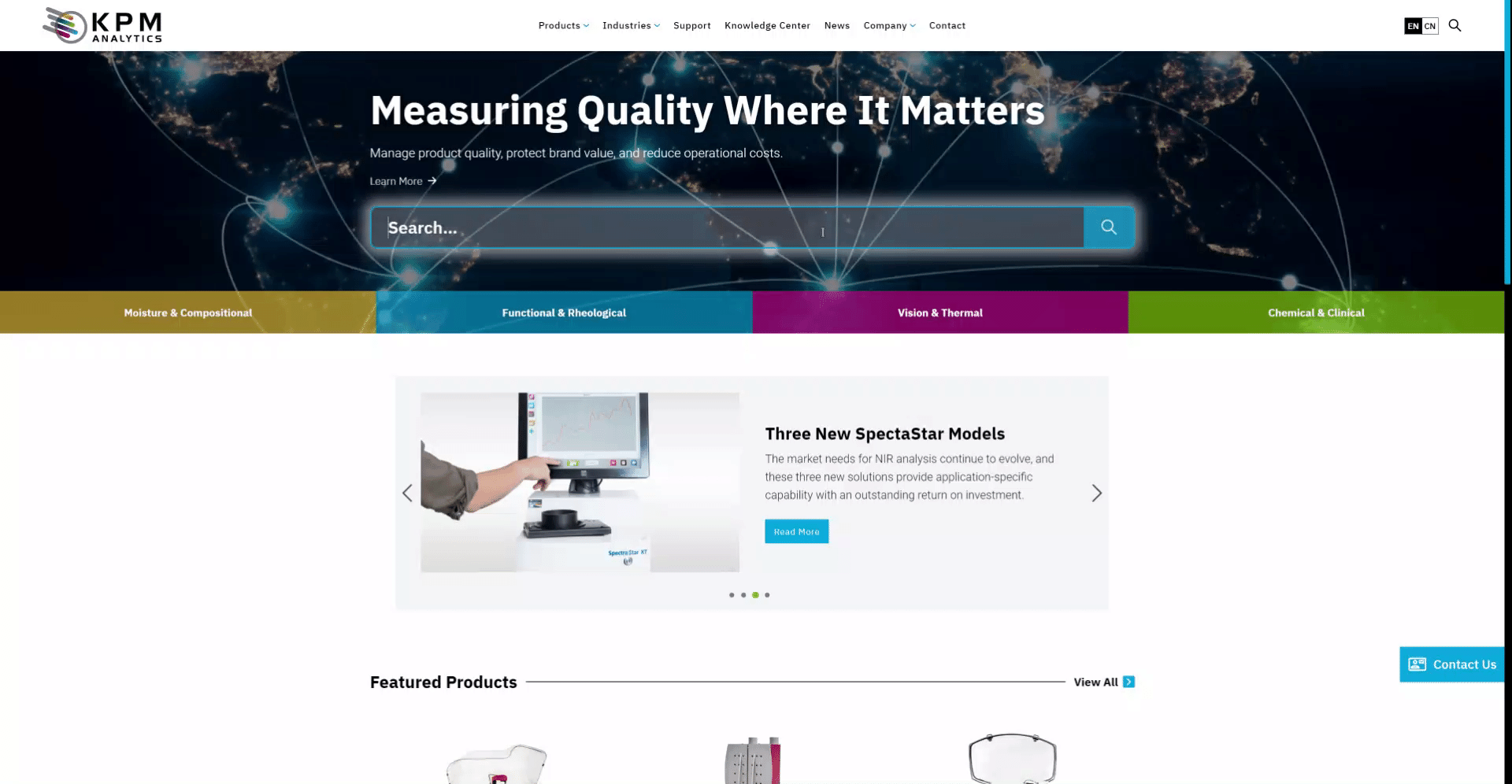 The website is also rich in resources which span from blog articles, case studies, and material safety data sheets.
Visitors can also watch embedded YouTube videos on the homepage that give a quick introduction into their core products.
In terms of front-end localization, KPM Analytics has done a great job making its website more accessible to users in China with language options allowing visitors to select between English and Simplified Chinese.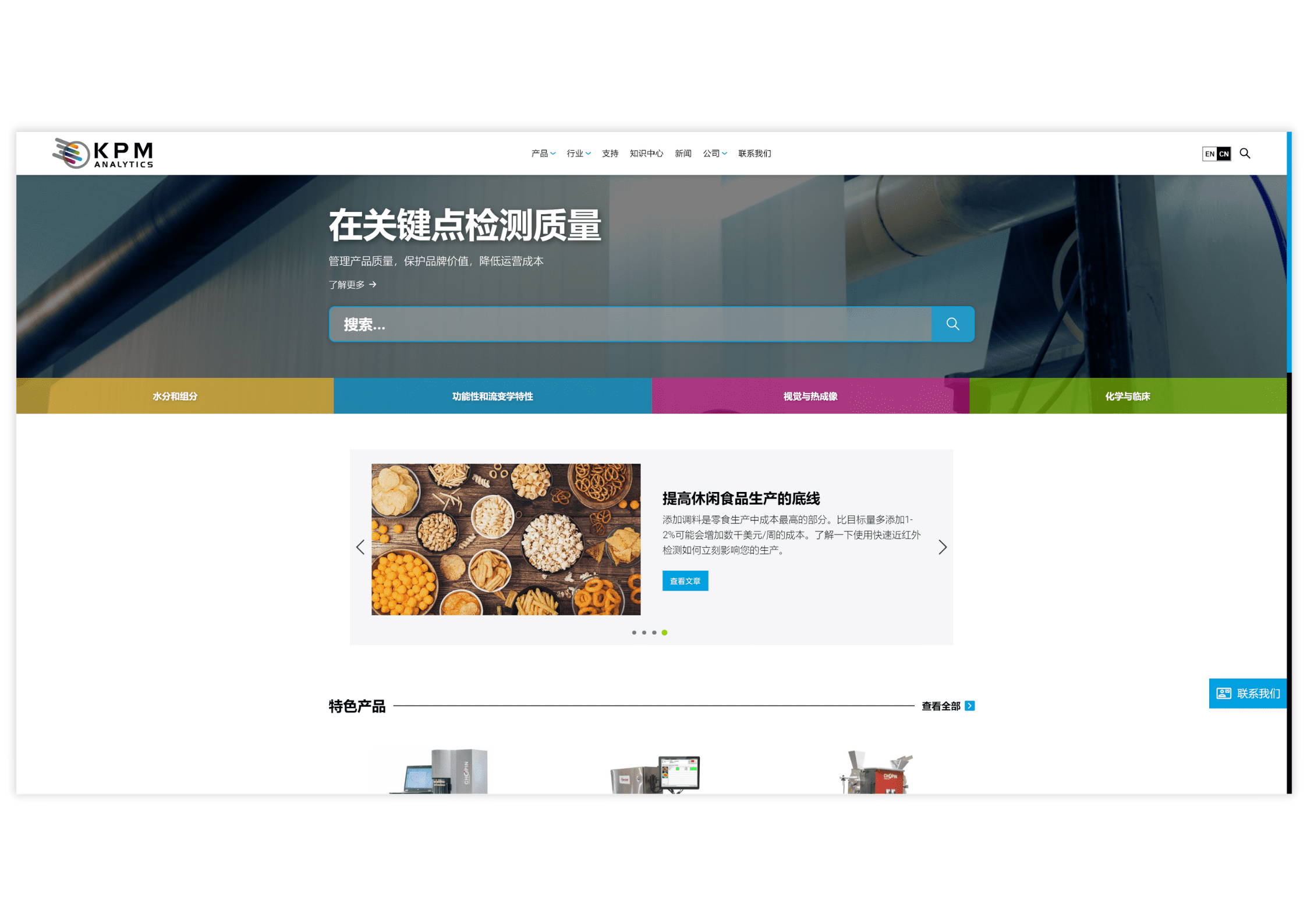 However, as with (almost) all sites - these localization efforts still required performance enhancements to address the technical issues that websites face in China.
The Challenges
1. Incompatible resources
As with most sites, the technologies used on the KPM Analytics website worked perfectly for non-China audience, but nonetheless encountered challenges delivering in China. Across the website some resources that were -

i) blocked in China, such as YouTube. These blocked resources prevented China visitors from being able to view that content and interfered with the loading process of other resources
ii) not blocked but slow to load from China, such as media assets hosted via Webflow and its respective CDN networks - which work fast outside of China, but are often slow to deliver to visitors onshore.
Read more about how certain CDNs perform inside vs. outside of China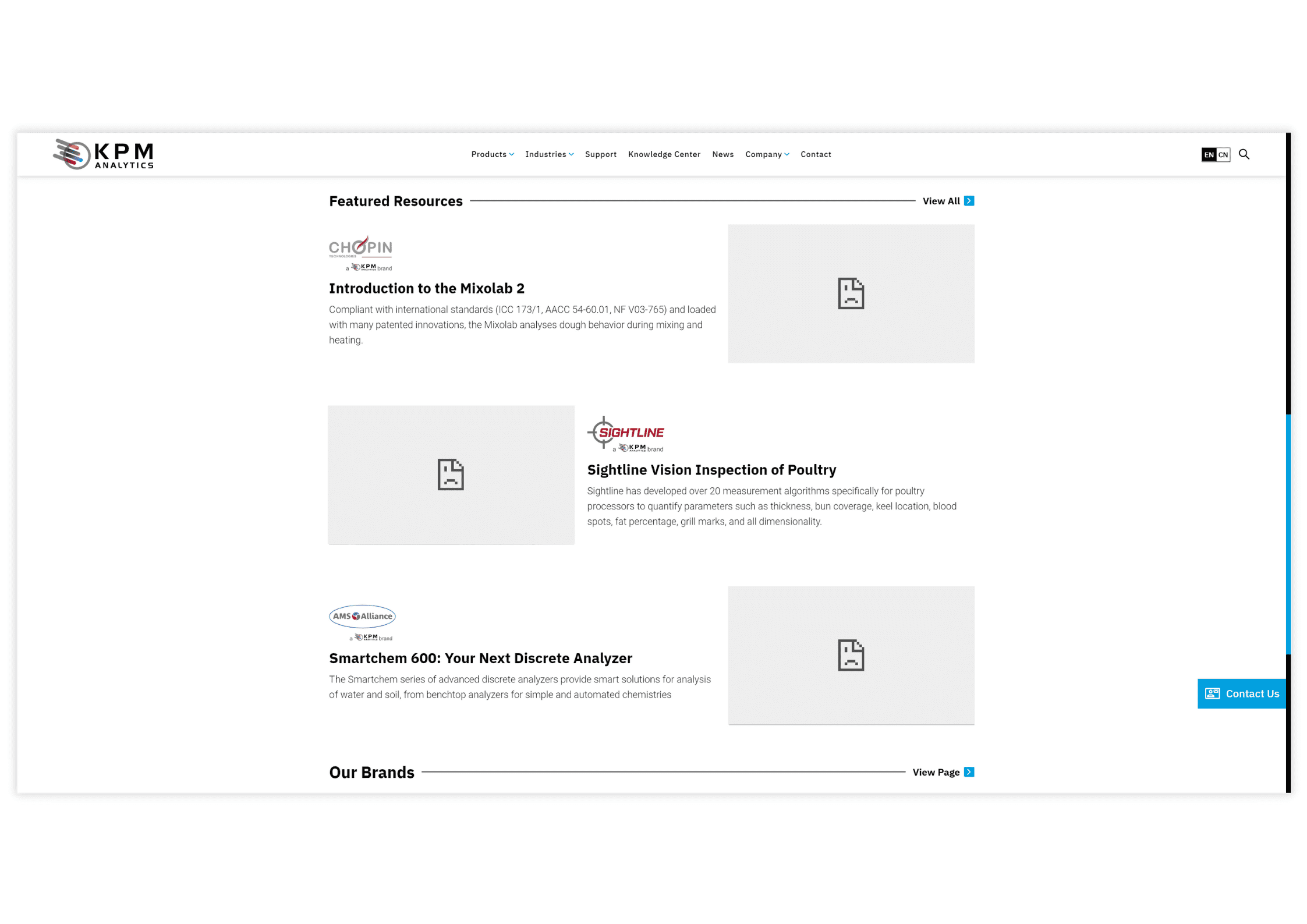 2. Speed & Infrastructure

However, KPM Analytics' biggest issues came with speed. Namely, the slow and inconsistent loading experience it would deliver to users. Loading times ranged as widely from 2.2s to 10.6s.
Moreover, websites in China on average experience a slower load time in China than they would elsewhere. The reason for this is a combination of factors including compatibility as well as the specific infrastructural differences needed for performance in China.
80% of speed issues are normally a result of the compatibility issues that a site faces, as shared above. The remaining 20% tends to be resulting from the infrastructure of a site - which includes where files are hosted, where third-party resources are hosted and served from respectively, and what CDNs are being used.
Besides a slow-loading website based on how long it took for the site to load visually, and load completely (see below), key features were poorly performing including the search plugin.
Learn more about website performance issues in China here
The Objectives
A user-friendly product catalogue that efficiently highlights manufacturing products available, with the option to switch language preferences easily in China
An optimized and fast loading website that allows visitors in China to access KPM Analytics' rich array of educational resources and company news
A fully accessible website with blocked resources such as YouTube video content made viewable without setting up a separate video hosting platform
The Results
Before Chinafy: Frequent timeout errors with unstable performance in China
After Chinafy: Consistently loading from China within 7s in China!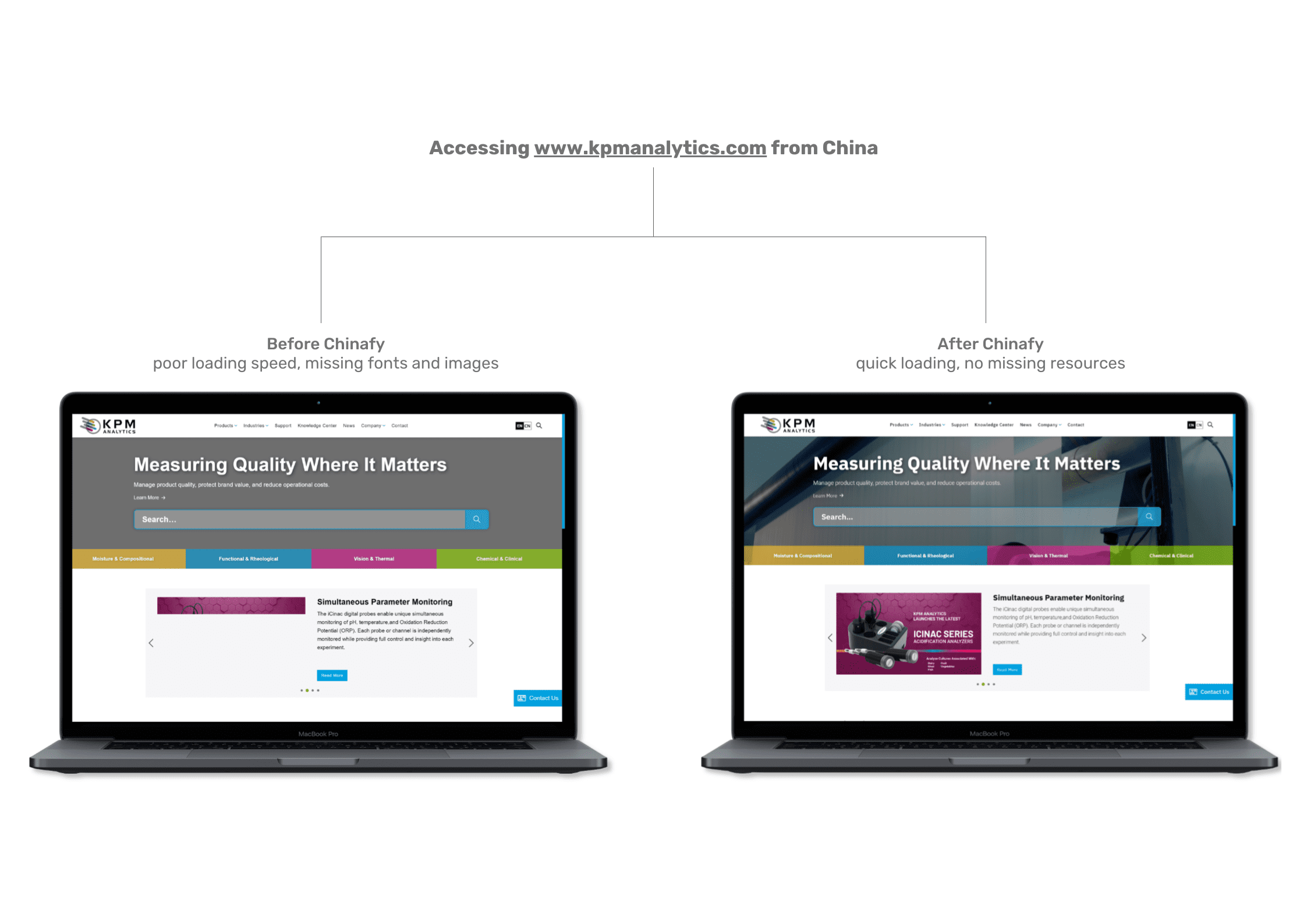 After the Chinafy optimization process, the KPM Analytics team was also able to:
Accelerate the delivery of its Webflow website
Improve functionality, including accessibility to their knowledge centre resources, video content, and media files that users use to preview KPM's manufacturing products
Ensure key third-party resources, from the search plugin to such as Google Analytics function as they should
Index properly on Baidu with improved indicators for performance
Continue to manage their existing website from the U.K with automated ongoing optimization for the China version of their site, powered by Chinafy
Does your website work in China? Test your website with Chinafy's Visual Speed Test.