TL;DR: Hosting in China and using a fast CDN does not always guarantee that you'll automatically have a high-performance website in China. What most people don't know and find difficult to address are the incompatible development practices that directly impact visitors in China, outside of onshore hosting.

Learn how Banyan Tree used Chinafy to optimise their China-localised, China-hosted website to be 10x Faster and more importantly, fully functional with Chinafy.

The Project

Banyan Tree is a hotel chain that offers sanctuary-like experiences among world's most beautiful cityscapes, forests and the coast. Banyan Tree is most famously known for its high-end hotel branches in Thailand, Malaysia and more recently in China.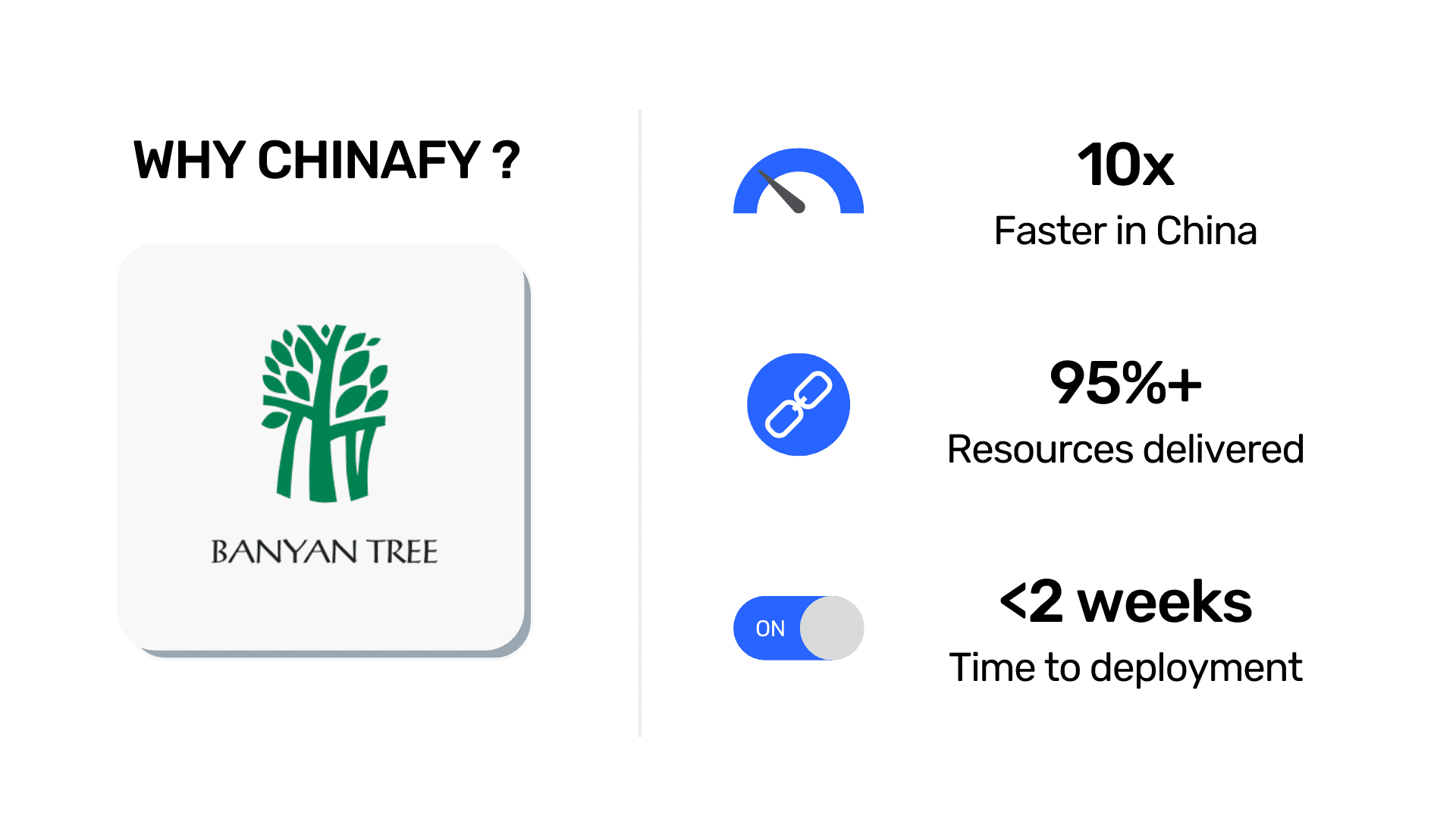 About Banyan Tree: Banyan Tree is a Singapore-listed hospitality brand that manages and develops resorts, hotels and spas in Asia, America, Africa and the Middle East. As of 2022, Banyan Tree operates 55 resorts and hotels.

The websites: www.banyantree.com & www.angsana.com
When domestic tourism in China saw meteoric growth in 2021, Banyan Tree saw an opportunity to take its visitor experience to the next level.

That included levelling-up their websites for visitors globally, including China.
The Challenges

The Banyan Tree websites are all hosted onshore and are ICP-licensed, which means that they have gone through the registration process with the The Ministry of Industry and Information Technology of the Chinese government. The website also leverages Akamai CDN.
That said, as the ICP license is a certification and not directly related to a website's performance in China, it was critical to also resolve any code-based incompatibilities common to most websites that were contributing to the website's 40+ second loading time from China.
Like most global websites, the Banyan Tree team also used YouTube as its primary video player. While Youtube functions wonderfully globally, the player and embedded videos are inaccessible in China. As a result,Banyan Tree had limited visual components available in China.
What is an ICP and do you need one?

The Chinafy Results

With Chinafy, Banyan Tree achieved a 4.5x acceleration in website loading time.
Comparing the original website against a Chinafy version of the site in Shanghai, the average Page Complete times respectively are -
Before Chinafy: 39.7 seconds

After Chinafy: 8.7 seconds
See raw data below: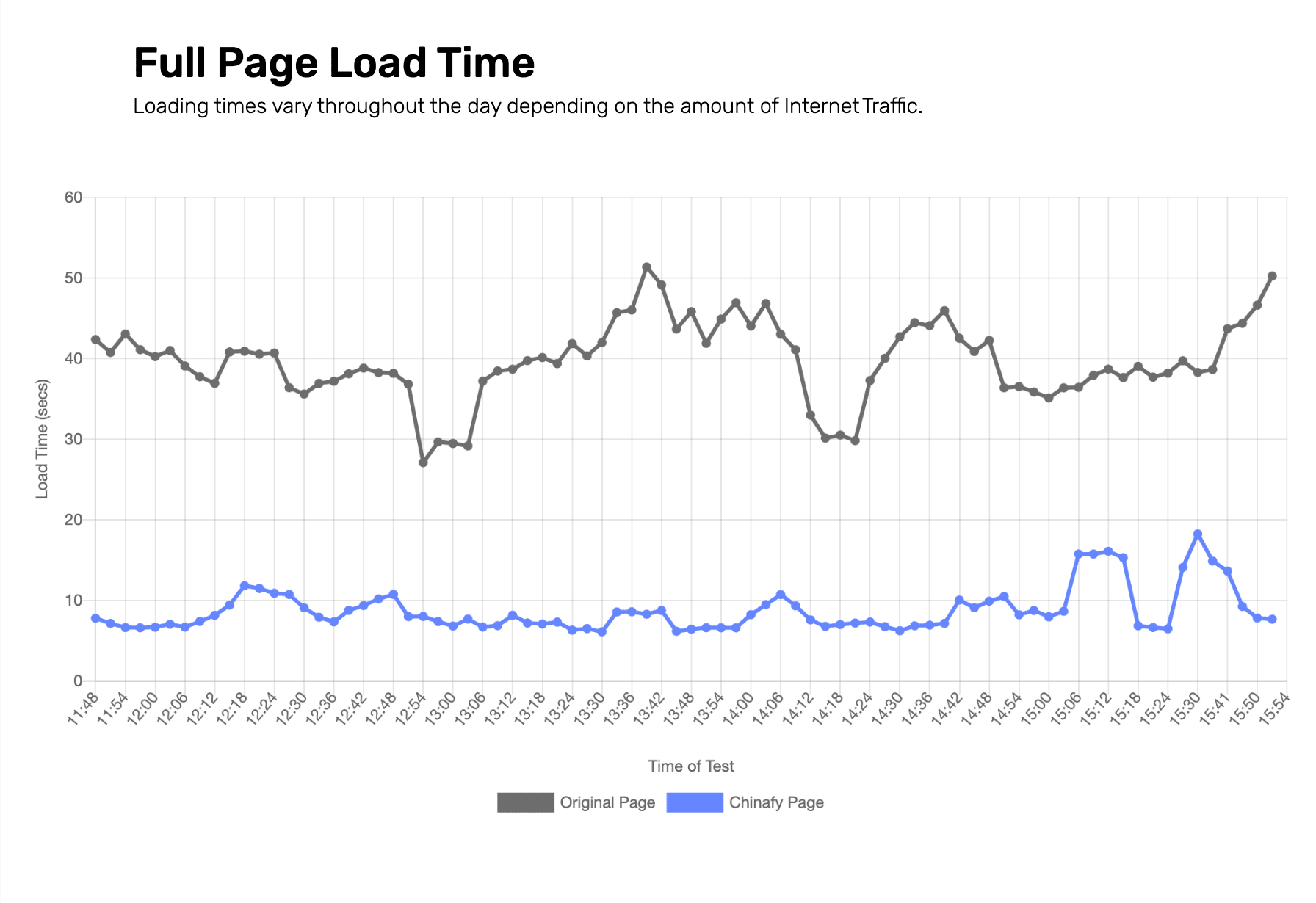 Additionally, Chinafy ensured that previously unavailable video content* was processed according to best practices, and converted into versions that can display fully in China. Meanwhile, web administrators and non-China visitors can continue to leverage the YouTube equivalent for global delivery, completely unaffected.

And perhaps the best part about the Chinafy process? Video is auto-processed, optimised, then delivered on an ongoing basis.
*Note that Chinafy does not make the Youtube Player available in China nor process videos made inaccessible for content-based reasons.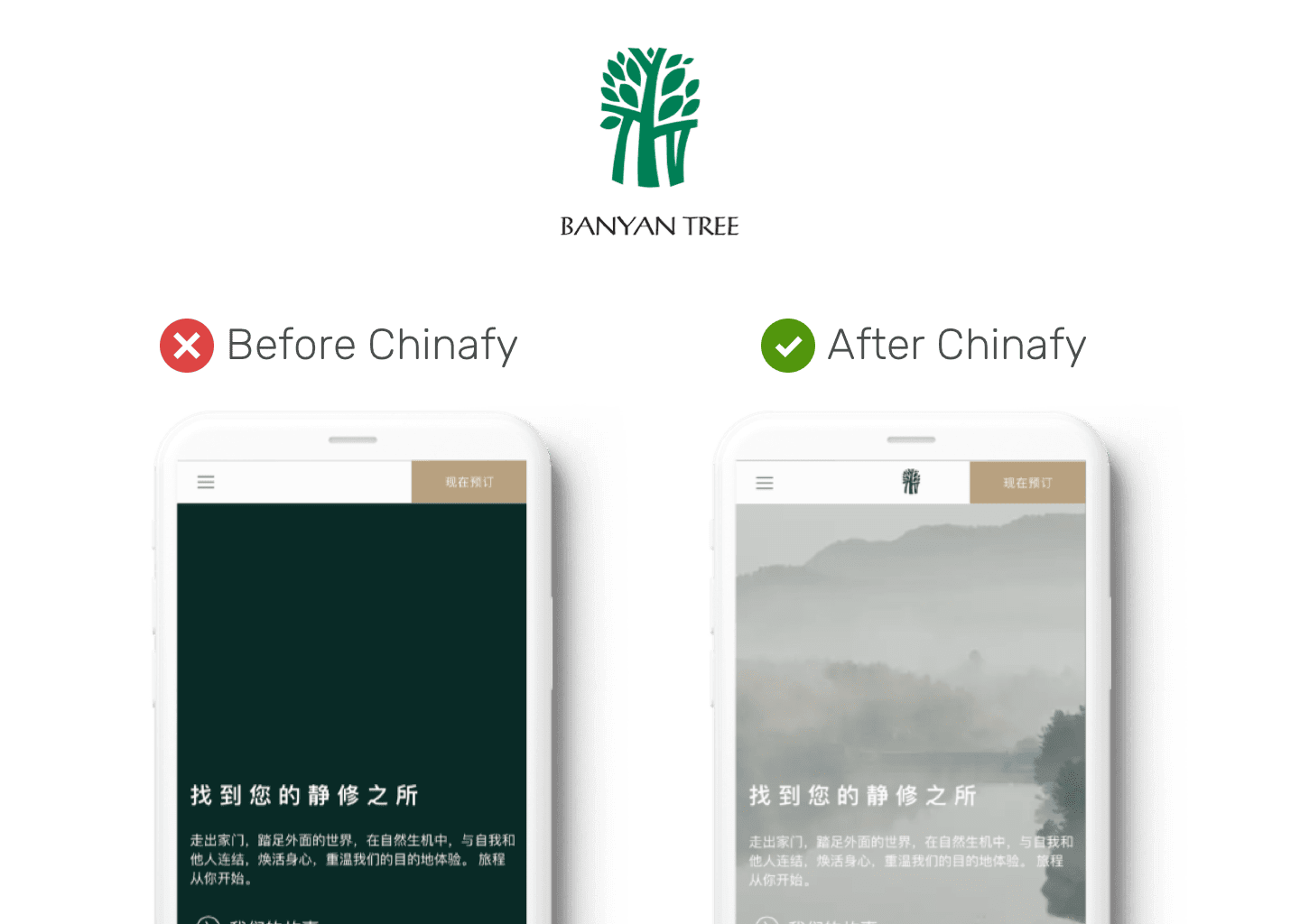 Why Chinafy (even if you have an ICP or China-hosted website)?

As mentioned, the ICP licence is a certification and does not directly impact web performance in China.
That's also where Chinafy comes in.
We optimise web performance for China delivery by
Complimenting any existing tech stack. This includes adding value to top tier CDNs & hosting providers by optimising areas that they don't. More on Chinafy vs. CDN here.

Do so in a way that requires a much shorter time to deployment (TTD) and minimal overhead costs compared to other commonly used approaches.
Uniquely optimising a website's China presence without impacting the original website and with the same URL. More on How Chinafy Works.


Need more Go-to-Market Services?

We've got it with an ecosystem of verified providers. The Chinafy Partner Network also provides one-stop service experience to streamline a businesses' go-to-market journey across touch points such as -
ICP Consulting
Hosting in China
Baidu SEO and SEM
WeChat Marketing
Find out more about Chinafy Go-to-Market Services.

*Note: Chinafy also provides onshore CDN options via our industry-leading partners for companies who fulfil onshore hosting requirements. Company requirements may differ among industries and at a company's internal discretion.

Want to localise your website for China? Click "Get Started" to learn what we can do for you.