In this article, we go into GoDaddy's role as a major provider of several web services. We also address the challenges GoDaddy websites face in China, focusing on speed and compatibility issues, and provide insights into optimizing your GoDaddy website with Chinafy for a website that loads fast and fully.
What is GoDaddy?

GoDaddy, established in 1997, is a global frontrunner in web hosting and domain registration.
Boasting over 20 million clients and managing 82 million domain names, it has been a significant player in making the Internet accessible to all. GoDaddy extends a broad spectrum of services, from website creation and e-commerce solutions to professional email and digital marketing tools.
GoDaddy's strength also lies in its ability to cater to both beginners and seasoned users alike. In this overview, we will delve into the key services provided by GoDaddy and examine its reach into China, a crucial market.
GoDaddy's services include
Domain Registration
Hosting
e-commerce solutions
SSL certificates
Professional business emails
Website builders
What is GoDaddy DNS?
GoDaddy DNS is the DNS registrar service provided as part of GoDaddy's suite of services. GoDaddy offers both its free Standard DNS service as well as premium managed DNS services.
Advanced features in GoDaddy premium include DNS Zone file backup with a secondary nameserver, a higher number of custom DNS records, and more.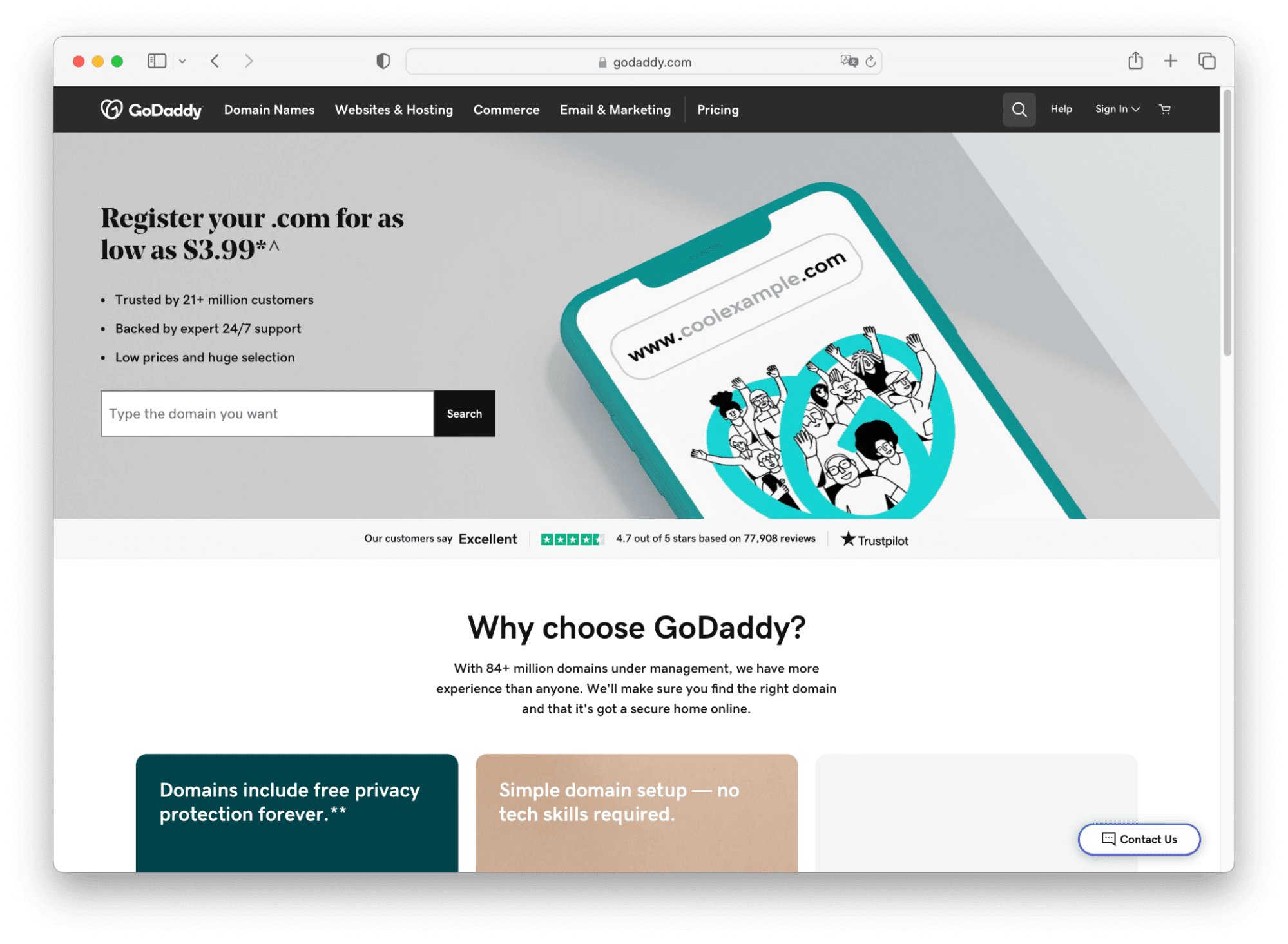 Benefits of GoDaddy DNS
GoDaddy's Paid DNS services have benefits including offering advanced features for managing DNS, ensuring faster loading times and reliable IP address resolution. Their streamlined and user-friendly interface makes it easy to find, purchase and set up your DNS. With excellent customer support, GoDaddy is highly recommended for all your DNS needs.
The premium DNS server significantly improves website speed and provides reliable name server services and excellent security features as well as protecting against DDOS attacks. Additionally, GoDaddy allows easy transfer of nameservers to different DNS providers when purchasing a domain from them.
What is GoDaddy hosting?
GoDaddy hosting encompasses a range of web hosting services designed for diverse users, from individuals to large enterprises. GoDaddy's hosting options cover various requirements, with
Shared Hosting
GoDaddy's shared hosting option offers a more offering cost-effective choice for beginners, where multiple websites share server resources.
VPS Hosting / Dedicated Server Hosting
With VPS Hosting, GoDaddy provides more control and resources, while dedicated server hosting ensures exclusive resources for enhanced performance and security.
Additionally, GoDaddy offers specialized hosting optimized for WordPress, prioritizing speed and security and support for WooCommerce extensions.
Do GoDaddy websites work in China?
In this article, we define GoDaddy Websites as websites hosted by GoDaddy, and/or websites whose DNS is purchased from GoDaddy, and/or a website built using GoDaddy's website builder.
With that in mind, GoDaddy websites in China do not quite "work" in China as we expect them to.
While they aren't officially blocked or unusable in China, we should further explore what it means for a website to "work" in China.
Let's start by diving deeper into two main paint points, namely speed and compatibility.
Due to the unique nature of the internet in China, most websites built for global audiences often load 5-8 times slower in China than elsewhere around the world. This issue of speed is often due to the difficulties GoDaddy websites face when attempting to load blocked or unoptimised resources as well as the limitations of this infrastructure of delivering these resources at a reasonable speed to users in China.
Even when a GoDaddy website isn't officially blocked or inaccessible, it may still appear broken because it-
i) Takes much longer to load in China (i.e. 30+ seconds) causing a site to appear blocked
ii) Cannot load crucial resources and assets, leading to an incomplete website (e.g. images and videos)
The Benefits and Limitations of a CDN
This problem of slow loading speeds can be partially addressed by storing resources of your website closer to the end user, often by using a Content Delivery Network (CDN).
However, due to the requirement to host your site and content within China, Chinese users often end up retrieving files from CDN nodes located outside the country, and sometimes these nodes are outside of the optimal range for delivery.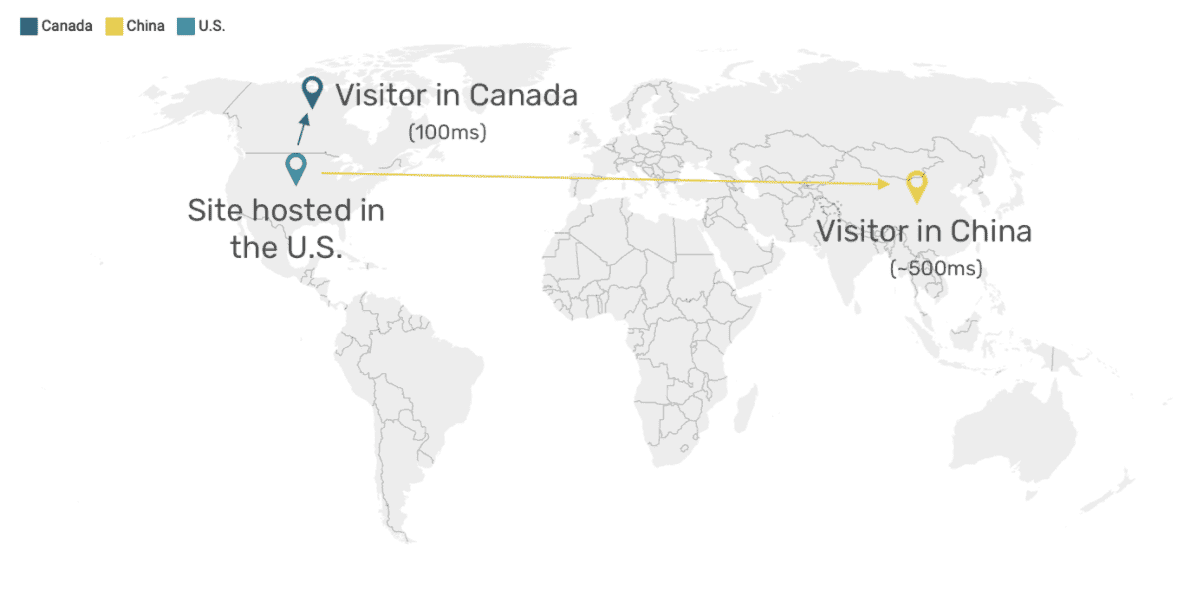 While CDNs with Points-of-Presence (POPs) near or in China can help to some extent, they also have their limitations. While CDNs can speed up the delivery of primary resources and static files that can be cached, certain website elements and third-party resources that CDNs and hosting providers can't handle might still cause issues with your website's performance in China.
Additional requirements such as acquiring an ICP license to host your website in China as well as finding a CDN provider optimised for China delivery are points to consider.
Code-based incompatibilities in China
The second issue affecting GoDaddy websites in China stems from code-based incompatibilities.
In China, these incompatibilities stem from the wide array of technologies that either get blocked or load slowly.
These resources consist of widely-used essential libraries, popular plugins, and default components that are part and parcel of website-building platforms and the typical modern website relies on numerous such resources.
Commonly blocked third-party resources include Google APIs, Vimeo, YouTube, Facebook, and more. Additionally, some primary and third-party resources, although not blocked in China, might suffer from slow performance due to being delivered from networks not optimised for delivery into China.
The end result is a broken site due to missing key assets and resources.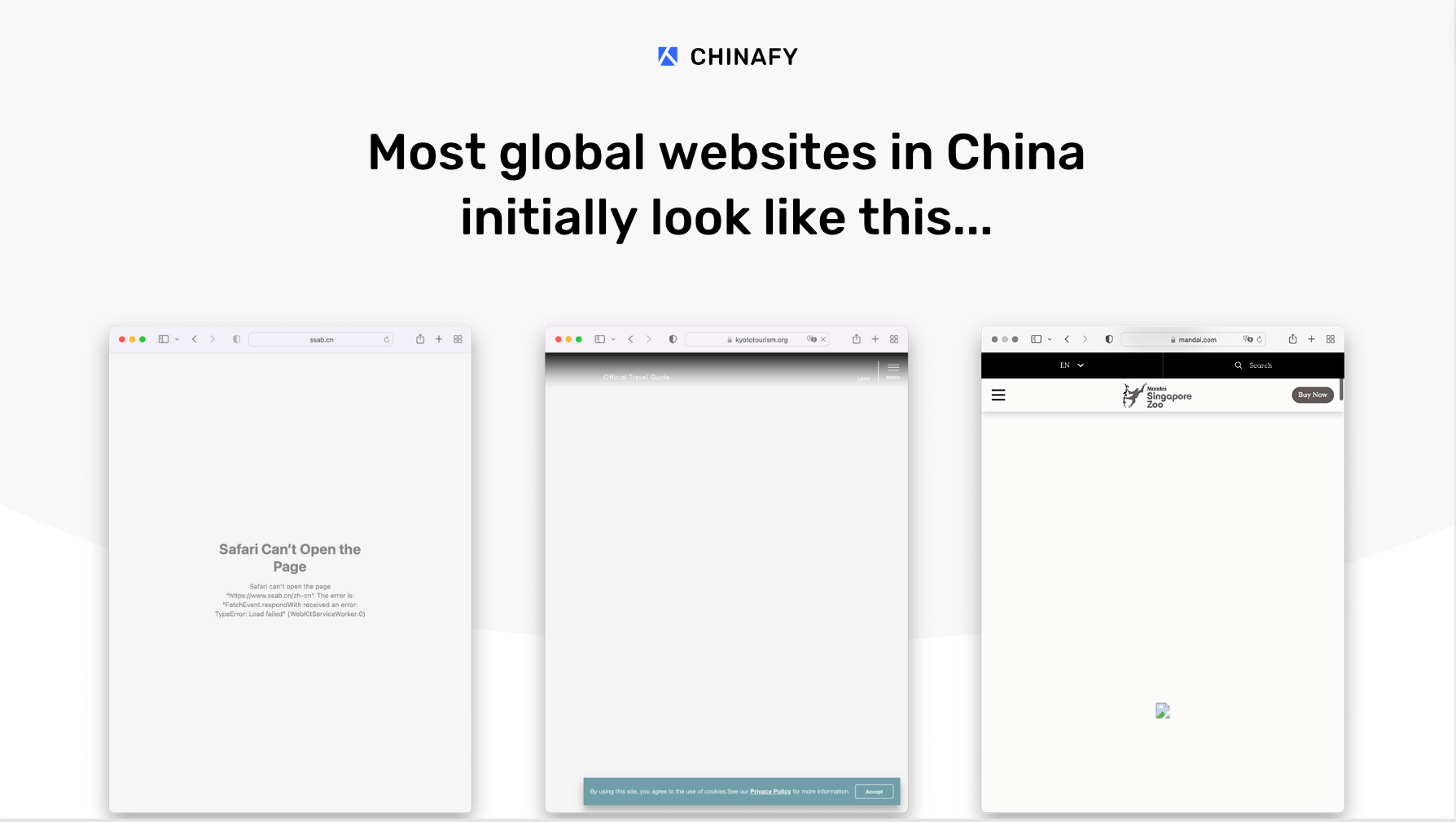 Does GoDaddy have any China presence?
It depends on how you define China's presence. In terms of -
Domain Registration: GoDaddy.com registers .cn domains amongst others through the China Internet Network Information Center (CNNIC). The CNNIC operates and administers country code top-level domains of ".CN" and the Chinese Domain Name System (DNS)
Points of Presence/CDNs: GoDaddy's hosting services have a default CDN, done through Cloudflare's CDN infrastructure. Cloudflare CDNs in use are by default points of presence located outside of China. Cloudflare China CDN is only available for Cloudflare Enterprise users, and also require that the company fulfil some requirements needed for any use of servers in China (i.e. ICP license).
How to make your GoDaddy websites work in China?
Hosting or creating a website with GoDaddy does not have to equate to an inaccessible website in China.
The following steps can be taken to improve your website in China while incorporating Chinafy into your website…in less than 2 weeks.
Chinafy achieves significant performance enhancements across the board for websites by leveraging a combination of intelligent China-specific resource optimizations and a multi-load-balanced infrastructure.
Scanning your website: Chinafy initiates the process by conducting a comprehensive scan of your website, resulting in the creation of a Chinafy-managed version. During this phase, it identifies and addresses any resources that may be blocked or experiencing slow loading times across your site.
Optimizing your website: Following the scan, Chinafy proceeds to optimize your site into a Chinafy version across various aspects, including infrastructure, resources, and security, adhering to industry best practices. This leverages Chinafy's proprietary technology uniquely able to first identify and scan the resources on your website, before modifying them based on best practices specific to China - be that replacing, removing, or more.
User Acceptance Testing: Chinafy then provides a preview link so that you know exactly how the Chinafy-version of your website looks and feels. In most cases, most users can't visibly tell the difference.
Turning Chinafy on Live: Once the Chinafy site is activated, visitors from China are seamlessly directed to the 'Chinafy-version' of your website, while all other visitors continue to access the original version.
Keeping your websites in sync: Chinafy's automated rules play a crucial role in maintaining synchronization between the two versions of your site, ensuring ongoing optimization as your website evolves.
The result is an optimized, fully managed version of your GoDaddy website.
On average, websites with Chinafy are 6-8x faster in China with the added bonus of your "Chinafied '' website hitting the ground running in only ~1.5 to 2 weeks.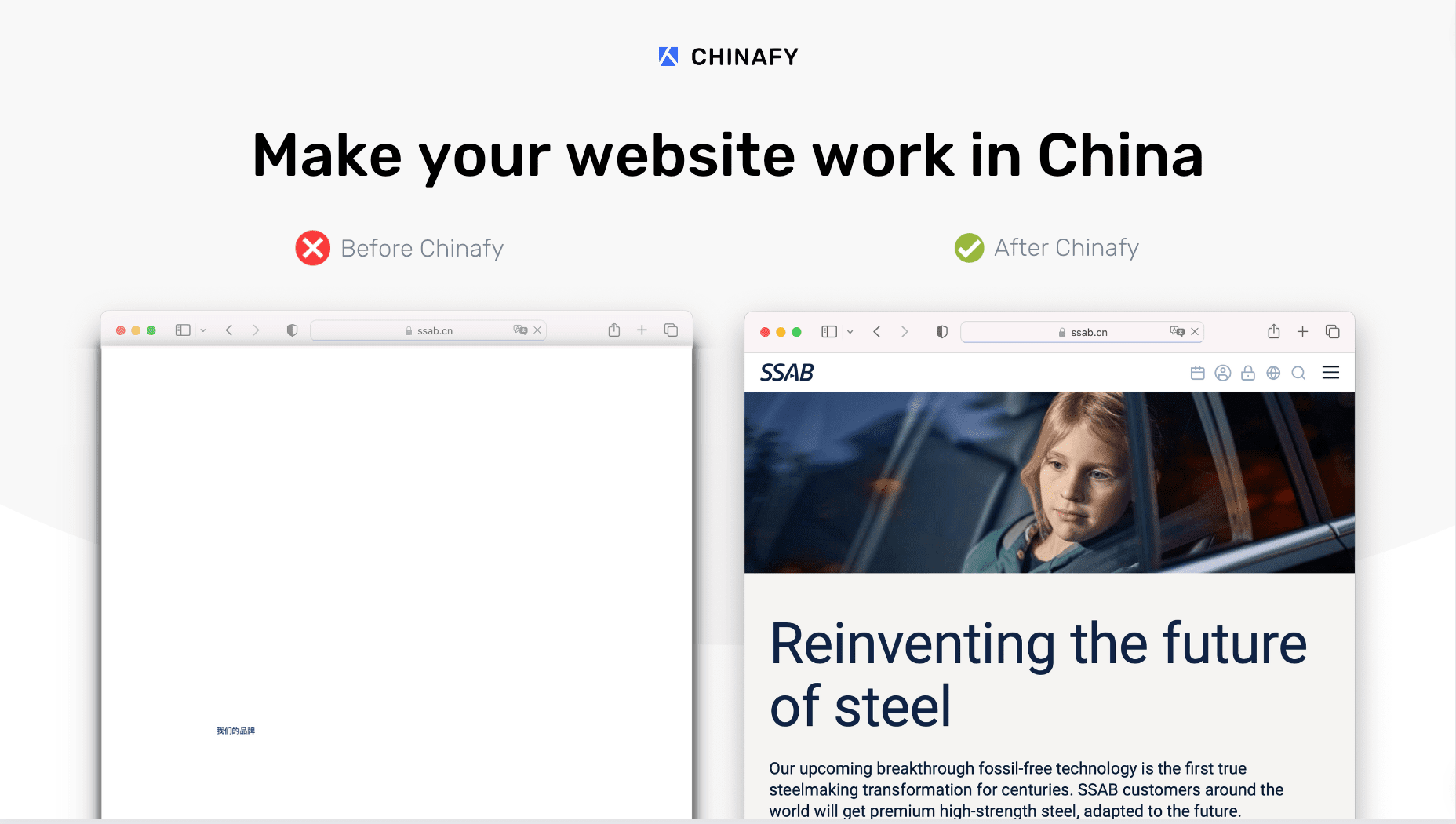 Get in touch with Chinafy to optimize your GoDaddy website in China