Want to learn more about Baishan Cloud and how to use it? In this article, we will go through some higher-level frequently asked questions about Baishan Cloud. For more in-depth answers or questions on how Baishan Cloud users use Chinafy and vice versa, please get in touch with enterprise@chinafy.com
What is Baishan Cloud?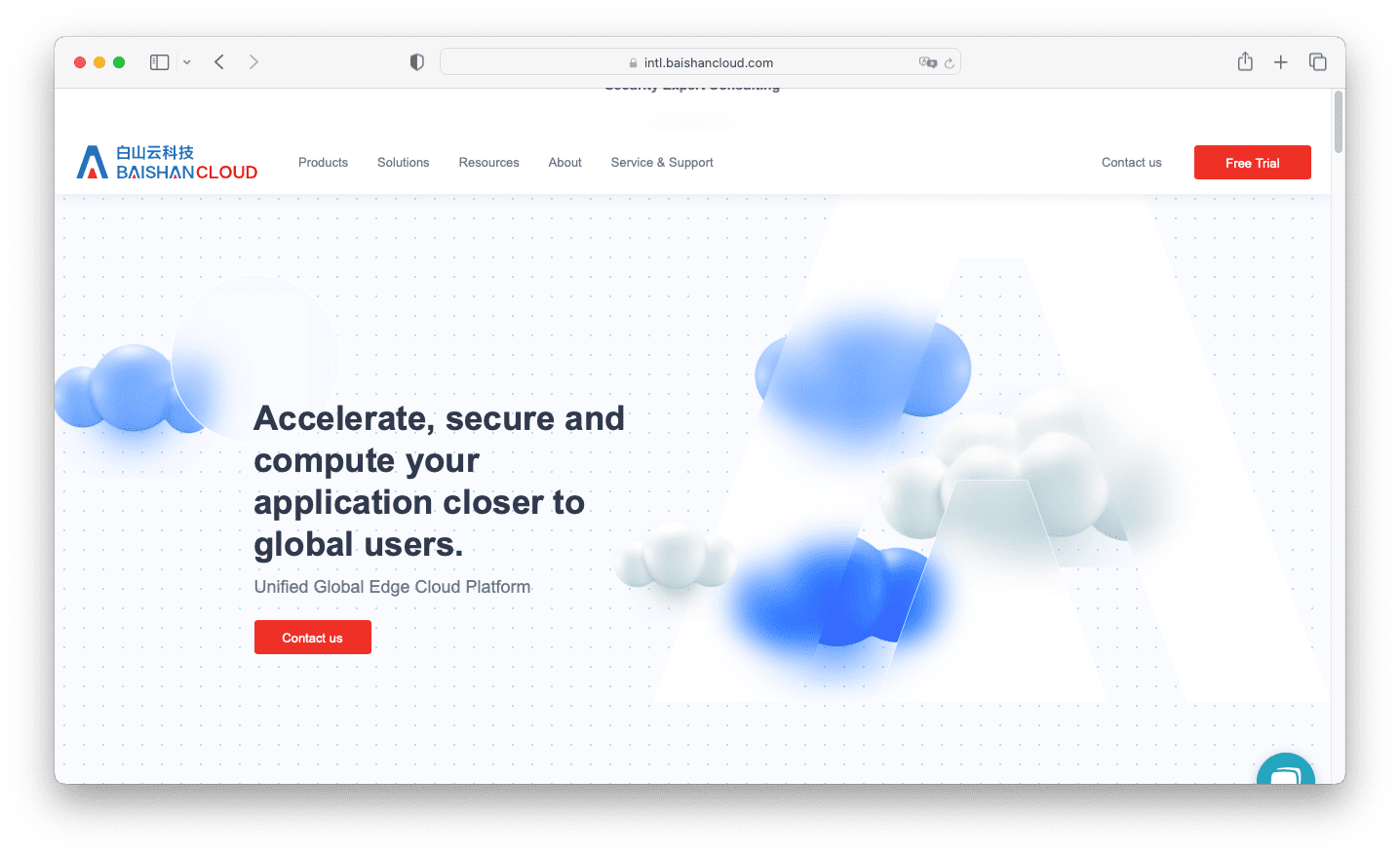 Baishan Cloud (Baishan) is a leading global cloud data service provider specializing in data life cycle management. Baishan's cloud product suite consists of cloud delivery, cloud edge security, and cloud API management.

Why use Baishan cloud?
Baishan Cloud is one of the leading content delivery networks (CDN) and cloud security services providers in the China/Asia Region.
What services does Baishan Cloud offer?
Its services aim to address the gap where companies often lack the resources and expertise needed in China and Asia to navigate the network, regulatory, and security challenges.
Some of these services include -:
Edge Cloud Infrastructure Services, including CDN services
Security Access Services
Developer Services
Web Page Acceleration:
Can be implemented on e-commerce sites, web portals, and more.

Download acceleration:
Improve download speed and stability
Media Acceleration:
Commonly used in audio and video services, including video services, educational services, live-streaming, and more.
Security Products:
DDoS Protection, Integrated cybersecurity, and bot management.
For the context of this article, we will focus on the elements of Baishan Cloud that are related to website performance enhancements.
What is a content delivery network (CDN)?
Content Delivery Networks (CDNs) are the most traditional ways to facilitate the acceleration of the "delivery of static content". When you load a webpage, or watch a video, that file is first stored by the CDN, then distributed to a number of various servers in various locations. It then serves that file from a server closest to the end user, to reduce the time it takes to deliver that content.
These are typically used as one of the ways loading speed is improved for users in China by geographically caching content closer to the end users.
Can you use Baishan Cloud and Chinafy together?
Yes! Baishan users get to utilize Baishan Cloud and Chinafy simultaneously, as they address different parts of the website optimization experience. Most users that leverage both services would use a combination of Chinafy plus Baishan Cloud's CDN, and their security products.
Learn more about Chinafy vs. CDNs here
Why use Chinafy with Baishan Cloud?
Baishan users benefit from using Chinafy because Chinafy addresses code-based incompatibilities that CDNs and other cloud providers inherently do not touch. More on this below!
(i) Make your websites work in China
While a CDN might improve loading speed for static primary resources, it cannot address the code-based incompatibilities on your site.
Hundreds of resources are uniquely blocked or slow in China. As a result, if your site:
has Youtube or Vimeo videos,
Uses Google APIs
Uses certain plugins
Draws from certain resource libraries
& many more…
…those parts of your page still won't work.
Chinafy is the only China web compatibility solution able to intelligently identify, replace or remove those blocked resources for your visitors in China on an ongoing basis so that your site loads fast, and fully.
(ii) Achieve a much faster website than using just CDN alone…
By tackling resource compatibility issues that interfere with how a site loads, Chinafy sites are 30%-40% faster than sites with near-China CDNs alone.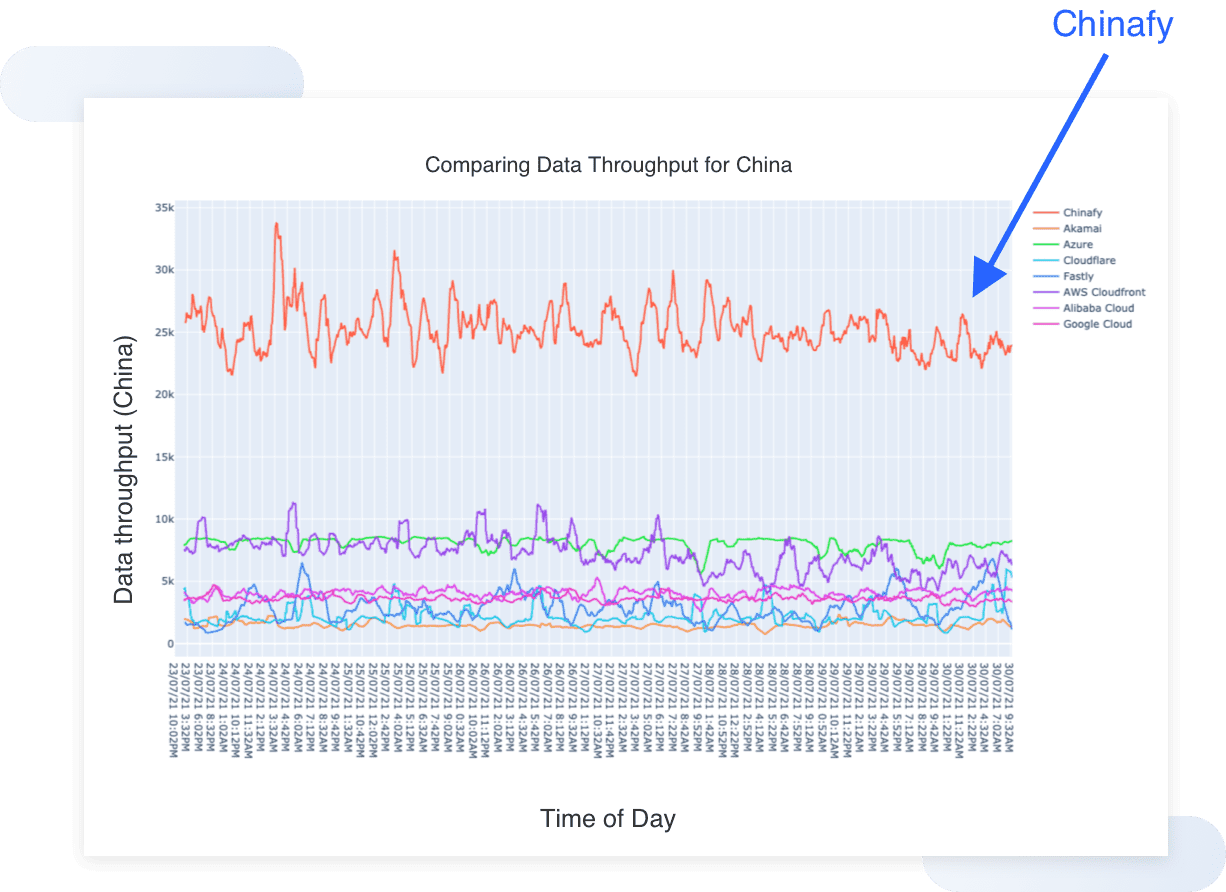 Want to leverage Chinafy with your Baishan Cloud setup? It's simple.
Enterprises using Chinafy can elect to "bring-your-own-CDN'', which can include use of Baishan Cloud's CDN in addition to their broad range of services.
By leveraging the strengths of each solution, businesses can optimize their websites for China and ensure a seamless user experience for Chinese consumers.
This ensures that third-party resources and functionality can be addressed with Chinafy, while primary resources can continue to leverage the Baishan Cloud network - be that global or onshore in China, depending on the business status of the company on hand. The performance difference is marginal between the offshore vs onshore set-up, so the approach will depend on a company's preference.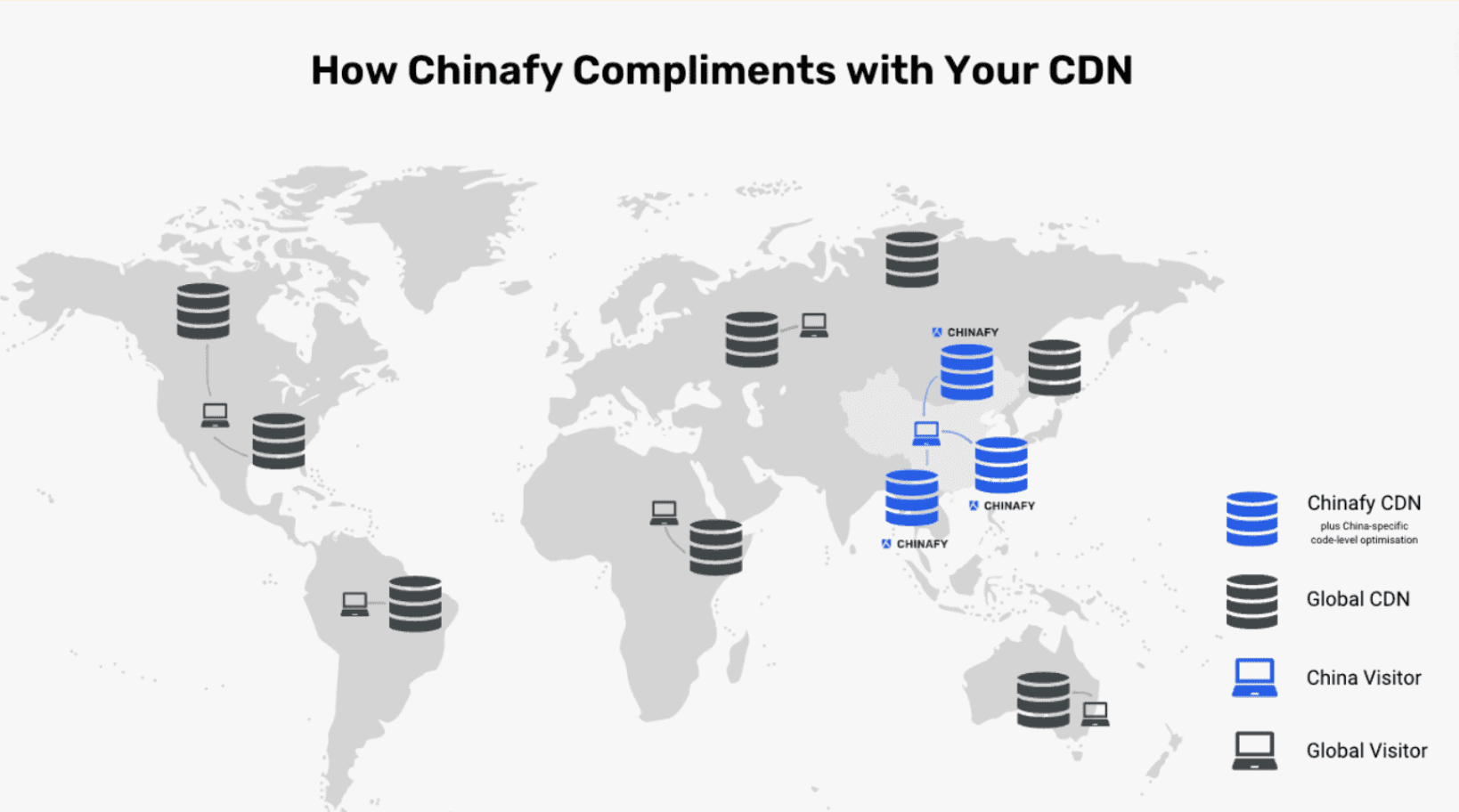 While Chinafy and Baishan Cloud are both related to serving content for China visitors, enterprises use them together to achieve even better results.
Not sure whether Chinafy is the right solution to use with Baishan Cloud?
Get in touch with us about optimizing your China performance with Chinafy and Baishan Cloud.