As the novel coronavirus, or Covid-19, percolates around the world, a number of universities have started shifting in-class lectures for online seminars.
While on the one hand, you could simply use Google Hangouts, on the other hand, many universities have a number of their international students stuck in China (they went back for Chinese New Year) where Google Hangouts doesn't work. Unable to return, we've had a number of Universities reaching out scrambling, looking at their various options for education continuity.
In this article, we'll look at how well university websites actually load in China and may touch on maybe a few of the video conferencing technologies available.
Overseas Students Intake
While international students can come from literally any country, the largest numbers as of 2019 hail from China (~450,000 students), and India (280,000), with the more popular destinations being:
- United States: ~1,100,000
- Australia: 700,000
- Canada: 570,000
- United Kingdom: 520,000

Source: Wikipedia, various
In places like China, there are indeed over 500,000 international students coming, not largely places like the US, but from neighbouring countries like South Korea, Thailand, and Pakistan. For the purpose of this article, we'll be looking at countries where education is delivered in English and the predominant method of outreach is via websites. As such, we'll be diving into a bit of detail on the US, Australia, Canada and the UK.
Government Websites
The first stop is to look at the state of government "Come study in [ Our Country ]" websites - the portals dedicated at the the national level to attract students from abroad. The purpose of these websites may vary slightly but we're assuming the intention is broadly to attract the top talent from overseas. If they're not able to reach out to China - that's an issue, and it means these websites haven't served their purpose as well as they could. Let's now, go look at a few:
United States
The official site: educationusa.state.gov, doesn't actually load in China - it's not blocked but based on our China Speed Test reports, it takes 40+ seconds to load, and as the core files didn't/couldn't load, the site doesn't actually display. The site itself is not blocked, it's that it hasn't been tuned for the Chinese users.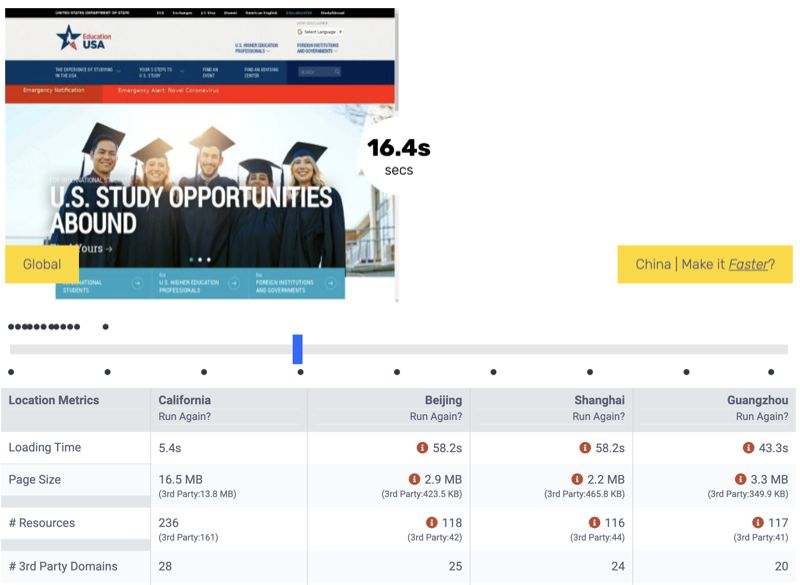 Australia
Moving down under, we check out: studyinaustralia.gov.au, which similarly has the same issues that the US site does. In this case, there are 62 resources, or components on the page, that are (mostly) required for the page to work, and only about 10 actually load in China. Whether you wait 30-40 seconds or not, the page still won't load properly. While we're not evaluating every page on the site (just the home page) this is perhaps the worst performing of the four.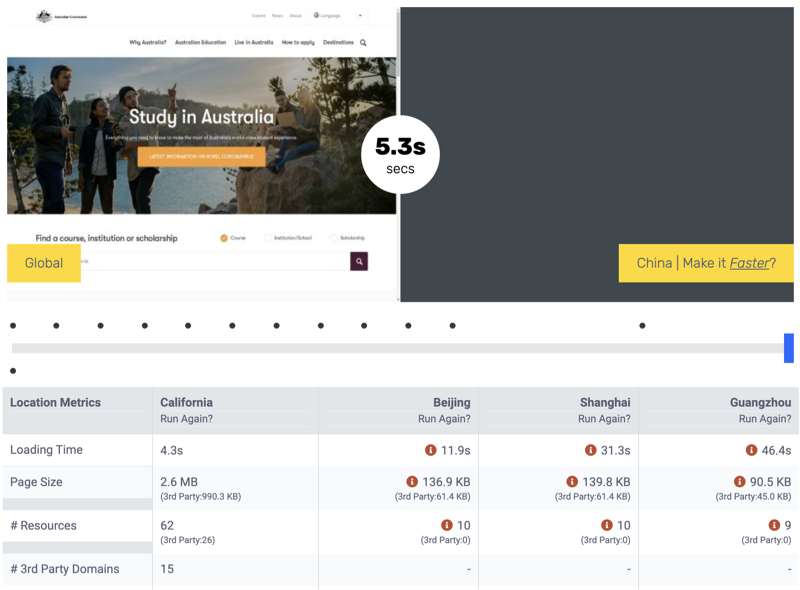 Canada
My native land, the Canadian site: educanada.ca, displays the most content whilst still largely underperforming. Looking at the analysis below, we can see that in Beijing only 8 of 68 components loaded, and in Shanghai (which is the where the screenshot image on the right comes from) 29 of those 68 components loaded - enough to actually display content. I'm biased and will give Canada the win relative to the three other sites, but still won't give it a passing grade (sorry! <- in typical Canadian fashion).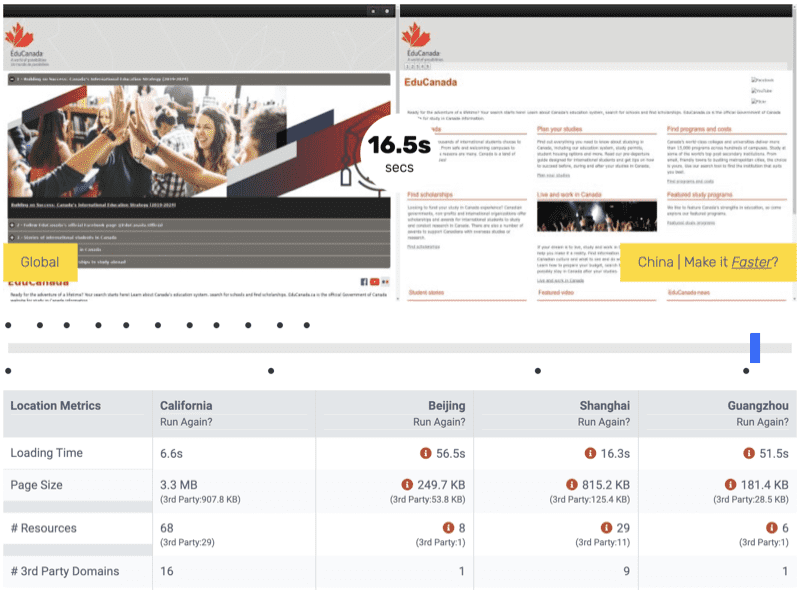 United Kingdom
The UK's site: ukcisa.org.uk, technically loads the furthest, but doesn't get far enough to display anything in either of Beijing, Shanghai, or Guangzhou. It appears that a critical component is failing to load which restricts the viewer from seeing anything.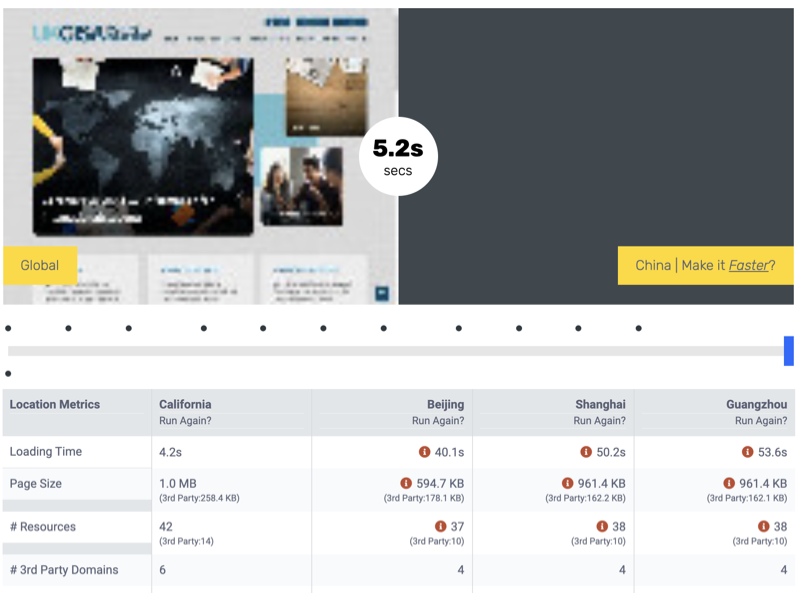 Four big, wealthy countries, none of which have had the resources, know-how (or perhaps inclination?) to make their sites work in China. I wanted to highlight the government websites first as one may typically think these types of sites are blocked in China, but they're not! Their engineers have simply chosen a method of programming that is tailored to the West (i.e. a Google environment), which doesn't work in China.
Next, we'll look at a basket of Universities in the US, without going into the same level of detail.
University Websites
We looked at the top 10 ranked Universities in the US, as ranked by US News, and wanted to evaluate how they performed in China. While we don't typically expect government websites to be highly optimized (the Singapore Ministry of Education probably would get the best rating - but still not a pass), how do Universities perform?
Answer: None are blocked, but they all fail to load in China.

From the charge above, we can conclude that US University websites:
- Load in 2.64 secs in the US vs 38 secs in China
- Deliver about 40% of the total file size successfully (1.95 / 4.70)
- Deliver About 60% of the total # of files successfully (38.9 / 64.7 )
- Have 3-4 supporting domains that are not working (7.7 - 4.3)
How Prepared are Universities for Overseas Chinese Students?
- Can a prospective student in China visit these websites, and browse them? No.
- Can an academic in China, read research published on the US university sites? No.
- Are these websites blocked by the Great Firewall? No, not anytime recently as far as we can tell.
The issues above are 'normal' in the context of how websites are typically built around the world (excluding China). While non-technical folks would understand that a Youtube video embedded on a page obviously wouldn't work in China, there are a whole host of technical reasons why foreign sites are slow in China. Yes - they stem from some supporting features being on blocked domains (i.e. Google, Youtube, Facebook, etc..) but in most cases, it's the page construction methodology itself and a reliance on networks that are extremely slow in China.
You may be thinking "Can I host part of my site closer to China?" That doesn't solve the issues (trust us, we've tested thousands of sites) - the site needs to be completely re-engineered, and re-architected for China. This is typically a huge undertaking which takes years to execute internally - it's also something we can help you enabling your site to work properly within a day or two, depending on complexity.
If this is something you'd like to learn more about, reach out as our technology can largely automate this solution for you - otherwise we'll start getting into slightly more technical detail.

---
Appendix: Typical Problems with Sites
Resource Breakdown - Content Type
We look back at the educationusa.state.gov site in more detail. With 236 resources, of which 161 (that's 68%) are on 3rd party domains - the first thing we find is that 68% of the files are delivered by sites other than this website - these resources and networks completely out of their control.
We look now to the speed test results (run your own results here with our China Website Speed Test), and in particular the breakdown by Content Type section:

Requests
Here we see that 143 images may load 'globally' (the 'INT' columns), but only 40 of those were successful in Beijing. Similarly, we'd expect 47 Javascript files globally, but only 36 in Beijing.
Bytes
Further to the right we see that 2.0MB were retrieved in Beijing vs the 15.4MB we'd normally expect. Going down into the 'Fonts' section, we see that indeed all the fonts (93.9KB) loaded properly.
Load Time
Furthest right, we see that while images may take 7.0 seconds to load (in aggregate, that is, ignoring concurrency) these images take almost 4 minutes to load in China. While those fonts we mentioned earlier were successfully loaded, note that they took 25.4 seconds to do so! You can toggle this Load Time to view time allocated to the DNS, SSL, CDN Latency and Download time.
Resource Breakdown - By Domain
When we view resources by domain, we can see which domains in particular are explicitly blocked (or incredibly slow): e.g. ajax.googleapis.com, translate.google.com, etc...
When it comes to video conferencing software, Google Hangouts loads from meet.google.com which is blocked, and two-way/interactive video is indeed a complex for any company. If it's one-way video delivery, the resolution is somewhat more straight-forward. The easiest way to check is to run one of these tests checking to see if the domain is blocked - and if you're uncertain, give us a shout.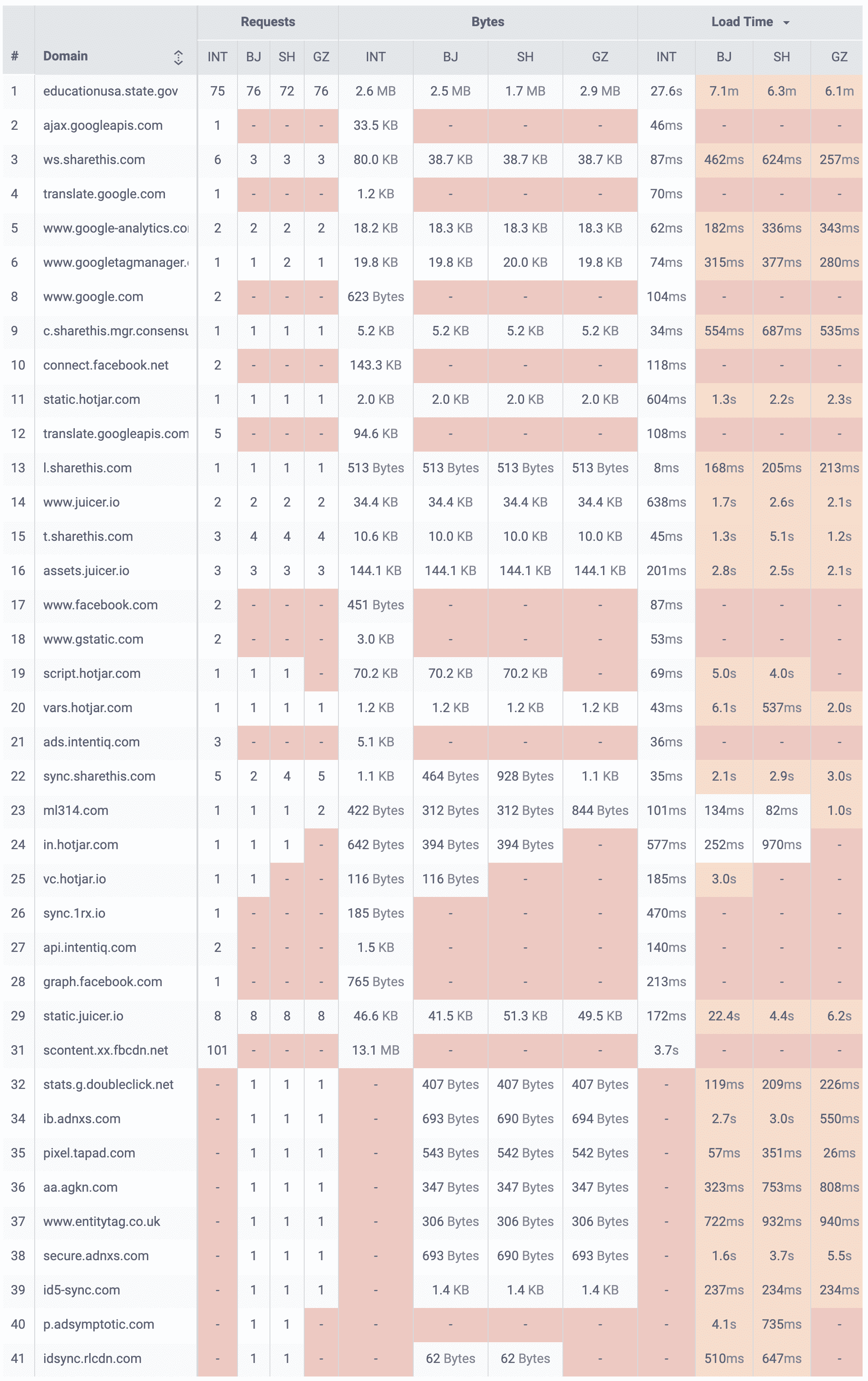 We built our speed and code tests largely for ourselves, to help evaluate how components load - and to the technical folks, we hope you find these useful.
We've found that in practice, it's one thing to know the problem, but something else to fix it. When you're overhauling large sites for optimal performance, it's a nightmare to identify each specific component, each embed, and each iframe to figure out fixes. We've come across thousands of issues across just as many sites - it's what we do every day here, and we'd love to help you automate this as a solution on your end whether it's taking advantage of our optimal off-the-shelf subscription product, or tweaking it to suit your needs more specifically be them security, regulatory, or nuanced in other ways.
Reach out to Chinafy and we can set you up with some preliminary performance data, as well as Chinafied testing links to evaluate.