We're asked regularly "Why Chinafy over a CDN?", and in response, we wrote a number of articles, including appropriately titled "CDN or Chinafy? Which One Do You Need?", but to satisfy those who, irrespective of looking at on-page resources, still want to know how fast our content delivery is, we also ran a series of formulated tests. These tests involved storing images on various content delivery networks (CDNs) between 70-80KB in size and loaded them repeatedly over a period of time. Our analysis showed Chinafy's increased throughput over other CDNs such as AWS, Akamai, and more etc.

However, much time has passed since then. We recently ran the same tests from Beijing, Shanghai, Guangzhou, Hohhot, and Chengdu - basically, a mix of China's largest cities. Every 10 minutes for a week, we measured the loading time of these images using various other CDNs and, of course, Chinafy.
In the following article, we will answer the question "How fast is Chinafy, really?"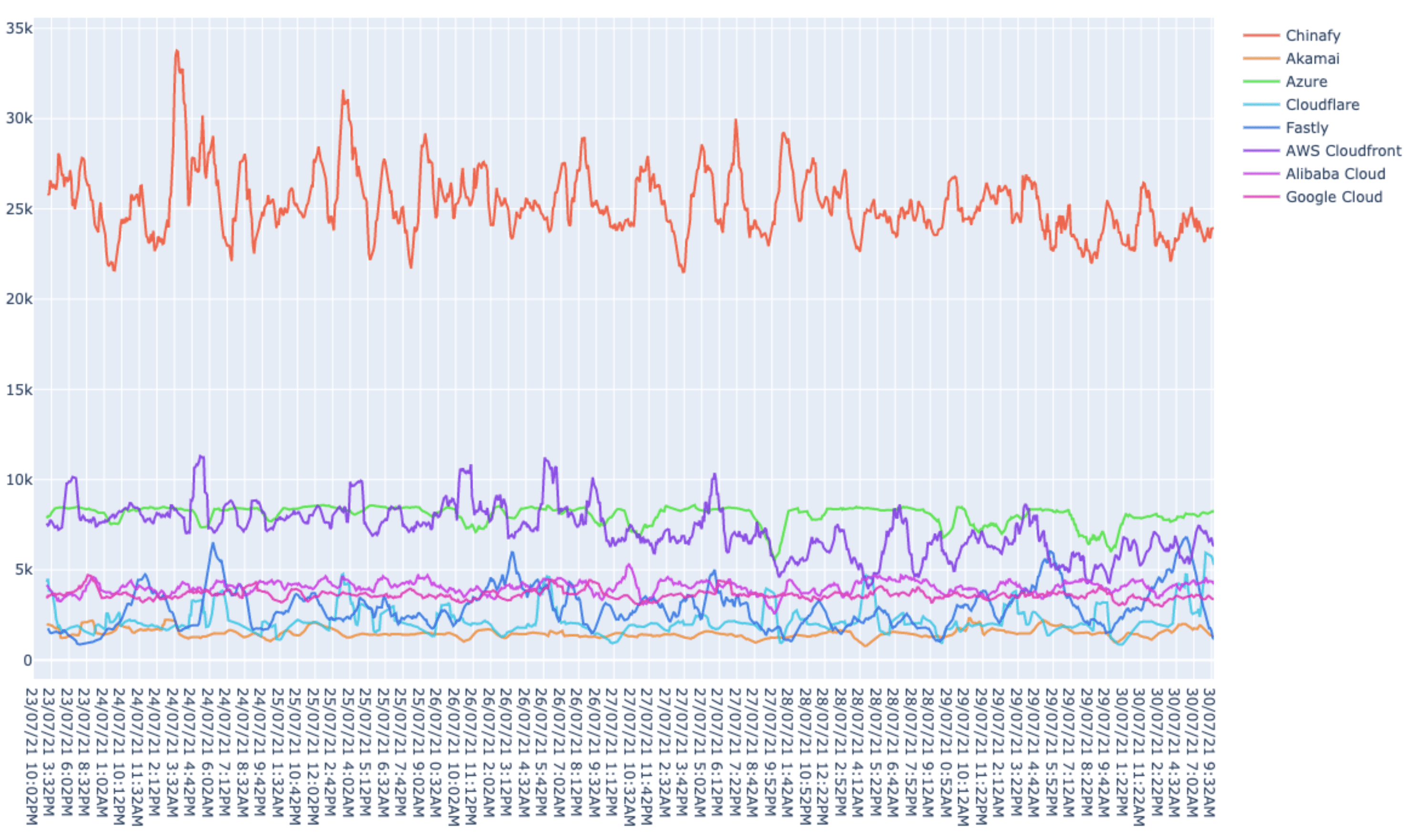 We begin with displaying 20 point moving averages to smooth out the data. Right off the bat, we can see that the red line representing Chinafy is substantially higher than the other CDNs - at times with speeds of up to 30 times faster. Chinafy is head and shoulders above the rest, and in the next bracket, we see AWS Cloudfront and Azure, both with roughly similar values. The next tier is Alibaba Cloud and Google Cloud, with Akamai at the lowest level. Both Cloudflare and Fastly fluctuate between the lowest levels.
Chinafy remains relatively consistent around the [ 24,900 ] Mbps (bits, not bytes). Though throughput does fall for short periods, the maximum and minimum speeds achieved remain somewhat consistent within a mid-size range.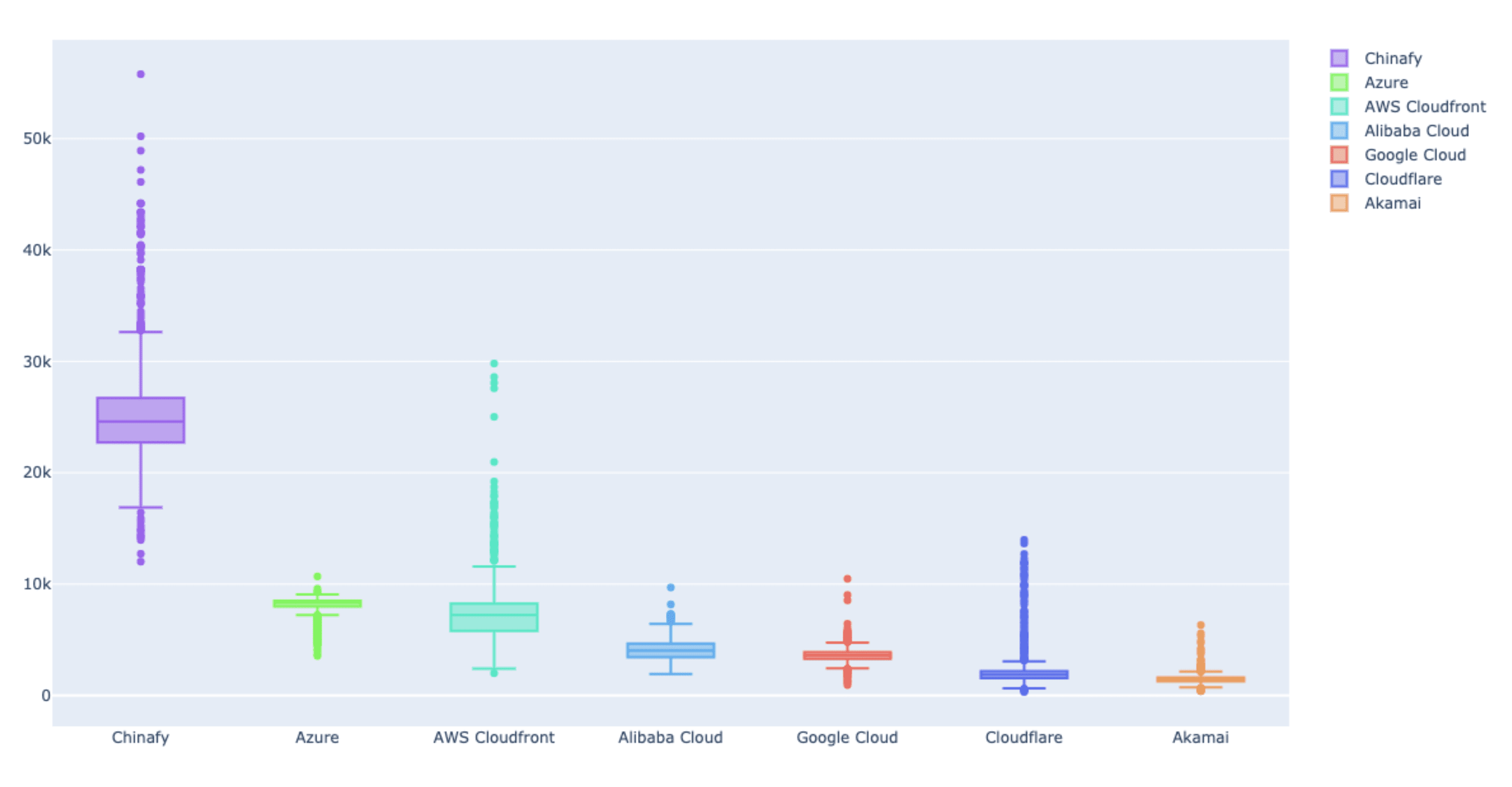 Looking at the data from another perspective, we can see the distribution, and hence, consistency of performance. Again, it remains clear that Chinafy's speed towers over the rest. Unsurprisingly, Chinafy's lower limit is above other CDNs' upper limit.

Let's look at some specific cities...

Diving deeper into the overall data, we now look at two major cities in China, Shanghai and Beijing.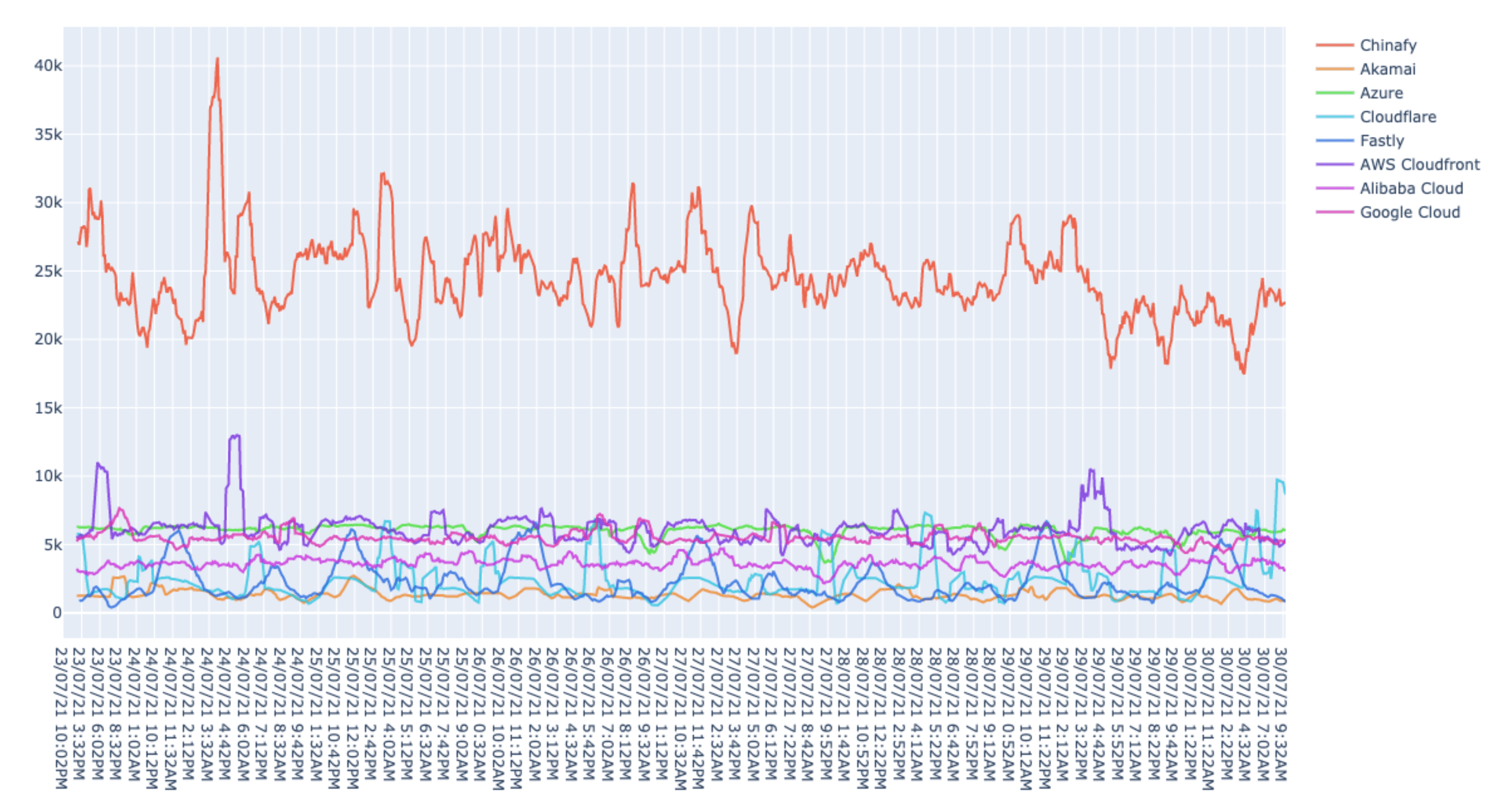 Chinafy's Beijing median performance is the highest at 25,300 Mbps, almost 20 times higher than Akamai, the lowest value of just 1,300 Mbps. Here, we can also see that Chinafy stayed above 2,000 Mbps 100% of the time, unlike all other tested CDNs.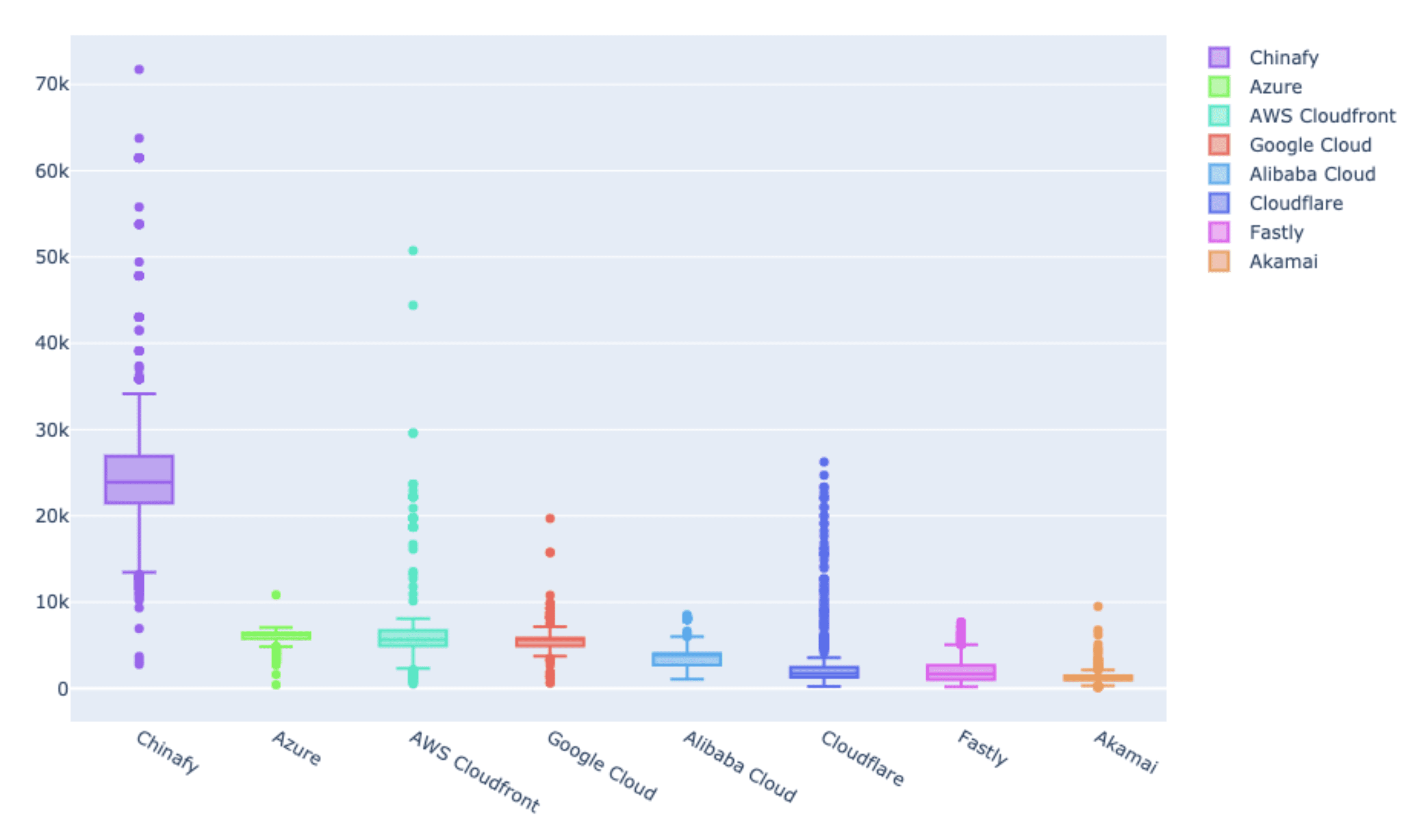 In Beijing, Chinafy's median is the highest at 25,300 Mbps, with Google Cloud at the lowest value of 1600 Mbps.

In comparison to Beijing, the data throughput in Shanghai is less stable. Most other CDNs have significant oscillations absent from Beijing's data. The loading speed pattern is also visible in Shanghai's data. Chinafy's speed also has similar fluctuation ranges as in Beijing. The interquartile range is close to the AWS Cloudfront and Fastly range, albeit being much more accelerated.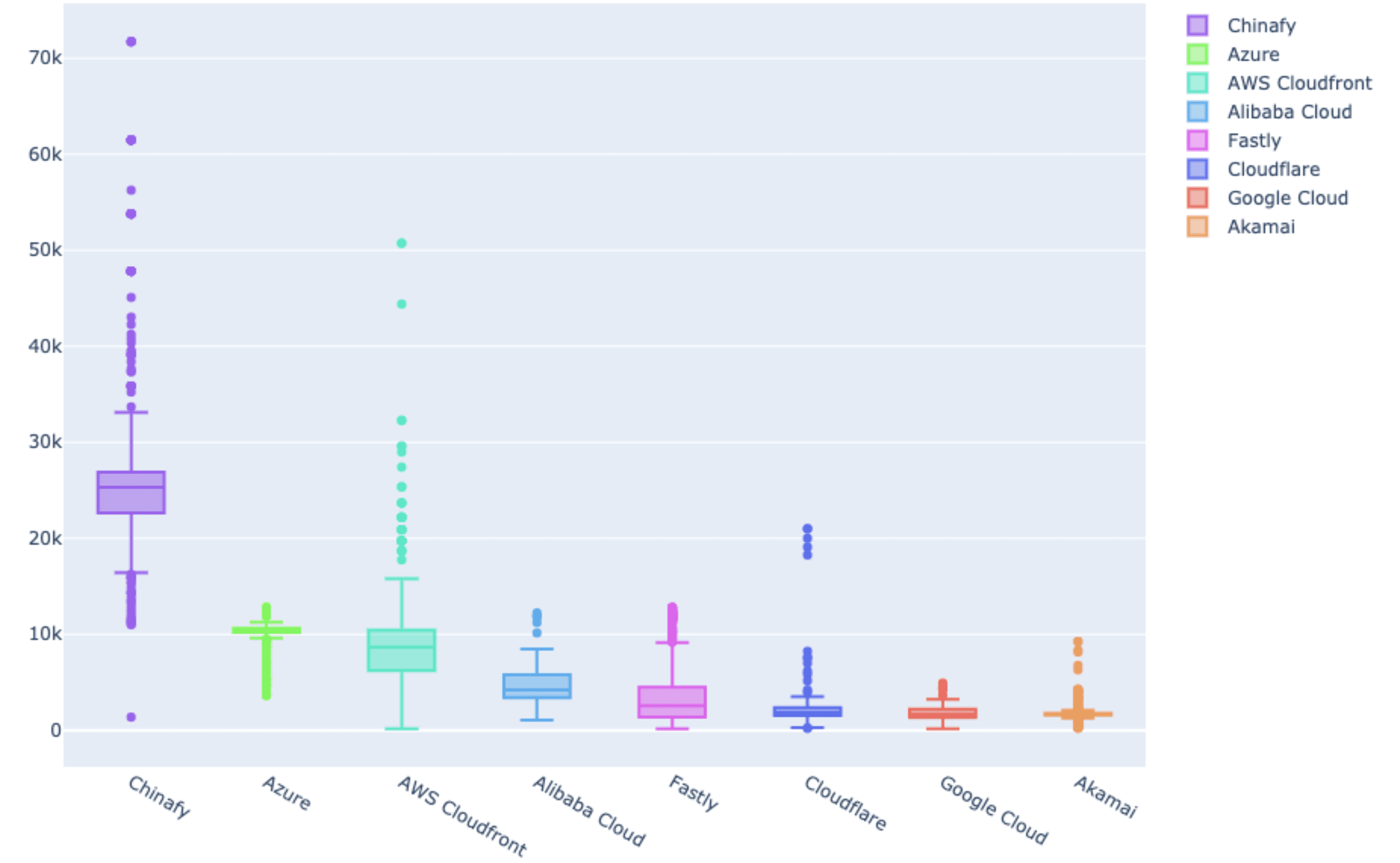 We now show the same data in a box plot using unaltered data. Chinafy's upper and lower quartiles are similar to AWS Cloudfront, with the median speed miles ahead of the second-best, not to mention Akamai, with a median of only 1,353 Mbps vs Chinafy's 23,900 Mbps.

Now to answer the initial question, "How Fast is Chinafy, Really?" The data speaks for itself.
Got questions? Get in touch with Chinafy