We find ourselves among the early chapters of one of the greatest stories of our generation. Cracking the China market might be like striking a pot of gold, though, most foreign entrants find it far easier said than done. Foreign companies have seen their fair share of glory and gory. From the trailblazing success of luxury conglomerates such as LVMH to the quiet exit of tech giants like Uber, it's clear that no firm - large or small - is immune to the challenges posed by the Chinese market.

Despite headlines of the trade war or soundbites of China's slowdown, there still remain more reasons to believe in China's future than not.
Here are five quick facts to put that into perspective:
Fact 1: 1 in 2 Chinese urban households will be considered upper-middle-class by 2022.

The explosive growth story of China's middle class continues to this date. With a staggering 550 million citizens predicted to be part of the middle class by 2022, many will only continue to graduate to higher income brackets. An estimated 54% of China's total urban households will be considered upper-middle-class by 2022.
Fact 2: China's total consumption will be bigger than Europe and the US combined by 2030.

Think of every luxury brand you can think of: that company's most lucrative market is in China. Nearly half of all luxury goods bought last year was in China. Wealthy Chinese buyers are impulsive and heavy spenders: 38% of respondents to a Mckinsey survey said they spent more than RMB 100,000 (USD14,200) annually on luxury goods while 30% claimed they bought luxury goods based on word of mouth.
Fact 3: By the end of 2019, China will account for over half of all global e-commerce sales.
There are over 800 million Chinese citizens online, buying everything from groceries, cars, to real estate. Leading digital marketing research firm, eMarketer, expects China's total online sales to reach 55.8% of global sales by the end of 2019.
Even in times of turbulence, such as the market downturn in 2017, e-commerce spending still increased by 27%.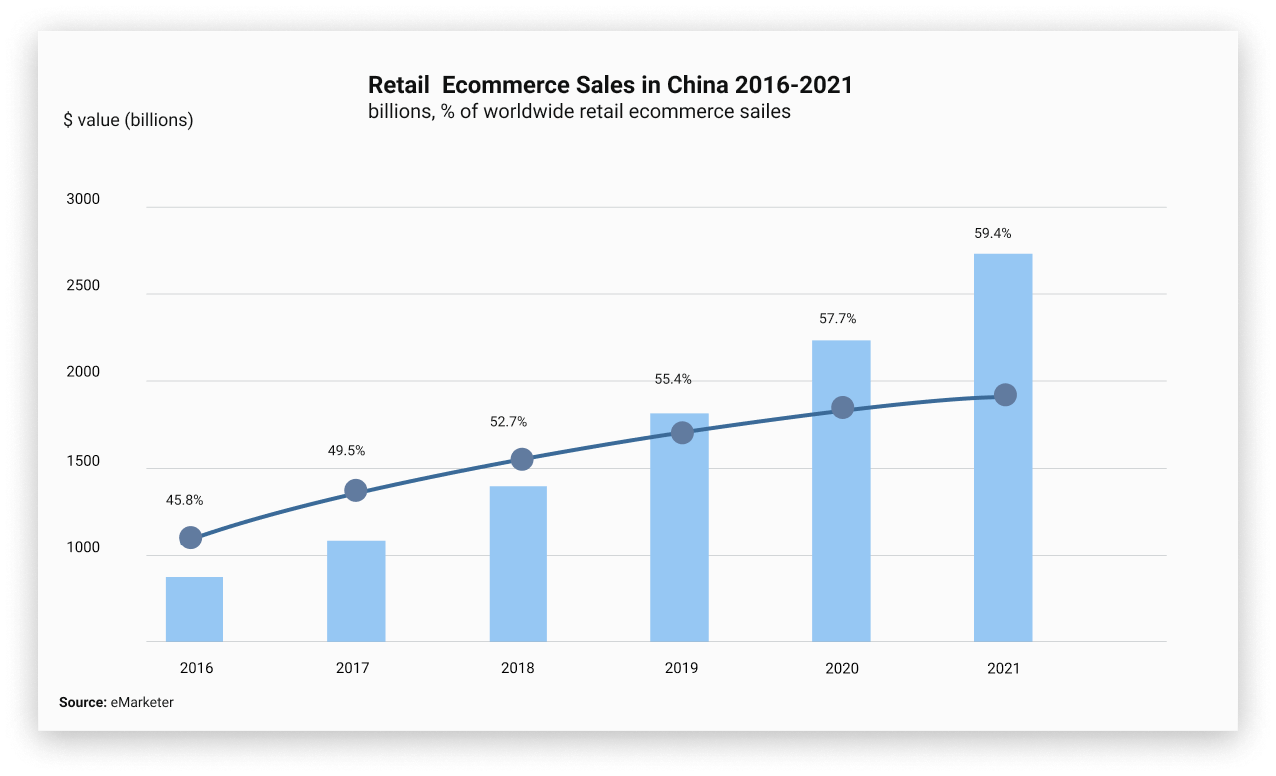 Fact 4: 98% of China's 800 million users are mobile users, and use 4G too!

Losing your mobile phone might just render you dysfunctional in China. With one-touch payments via WeChat and lightning turnaround times on both Meituan and Didi, mobile usage has become an essential utility of the 800 million mobile users in China. Even as Apple slowed down sales of the iPhone in China, Chinese users still accounted for half of all app downloads last year as well as 40% of all in-app spending.

Fact 5: Deep tech: 60% of all investments in AI occurred in China from 2013-2018 & China set to become the largest robotics market by 2022.

As China attempts to claim itself as a global superpower, it understands that such a title is only afforded to countries who dominate the frontiers of advanced technology. To cement this, China's ambitions for Artificial Intelligence (AI) dominance is being driven through its '2030 plan' which aims to build a domestic AI industry worth RMB 1 Trillion. Furthermore, China's robotics industry is expected to reach a market value of $80.52 BN by 2022, a 38% global market share, the largest in the world.

China's important, we get it, now what?

It should be clear by now that China's ascension to become the world's largest and most important market for many businesses across a variety of industries is imminent. Bearing this in mind, you might ask yourself: Is your business prepared for all this? Is China part of your global growth strategy?

To be prepared for China isn't just about fine-tuning your products to match Chinese consumer's tastes and preferences but rather, to understand its unique digital environment.
Actionably, this means making sure that both your content and platforms are China-compatible.
In order to assist you through this process, we built a proprietary web management platform that automates some of the most difficult processes in creating a China-compatible site, allowing you to instantly launch a fast, secure and reliable website, built specifically for a Chinese audience.
To better understand how Chinafy is able to accelerate your web performance and effectively boost your entry strategy into China, sign up for a free trial with our full suite of products or contact us to learn more about how Chinafy can help jumpstart your digital presence in China.
References:
1. https://www.mckinsey.com/industries/retail/our-insights/mapping-chinas-middle-class
2. https://www.weforum.org/agenda/2019/07/the-dawn-of-the-asian-century/
3. https://www.voguebusiness.com/consumers/chinese-consumers-luxury-purchases-growth-bain
4. https://www.mckinsey.com/business-functions/marketing-and-sales/our-insights/chinese-luxury-consumers-more-global-more-demanding-still-spending
5. https://www.emarketer.com/newsroom/index.php/2019-china-to-surpass-us-in-total-retail-sales/
6. https://www.forbes.com/sites/niallmccarthy/2018/08/23/china-now-boasts-more-than-800-million-internet-users-and-98-of-them-are-mobile-infographic/
7. https://venturebeat.com/2019/01/16/app-annie-china-drove-40-of-mobile-app-spending-and-nearly-half-of-all-downloads-in-2018/
8. https://www.scmp.com/tech/china-tech/article/2155600/chinas-ai-industry-gets-most-funding-lags-us-key-talent-says
9. https://www.volanews.com/portal/article/index/id/704.html







Don't get left behind.
Optimize your website for the world's fastest-growing consumer market. Start today, cancel anytime.