Do you know how fast your website loads in China? Chinafy's new Visual Speed Test can give you the answer, and you might be surprised.

When you input your website's address into the tool, it will load the site on servers in the United States, Beijing, Shanghai, and Guangzhou.
You can watch the site load on the different servers and see how your website performs in China compared to the United States.

As an example, here's the tool for Harvard.edu (rerun and see it in real-time here):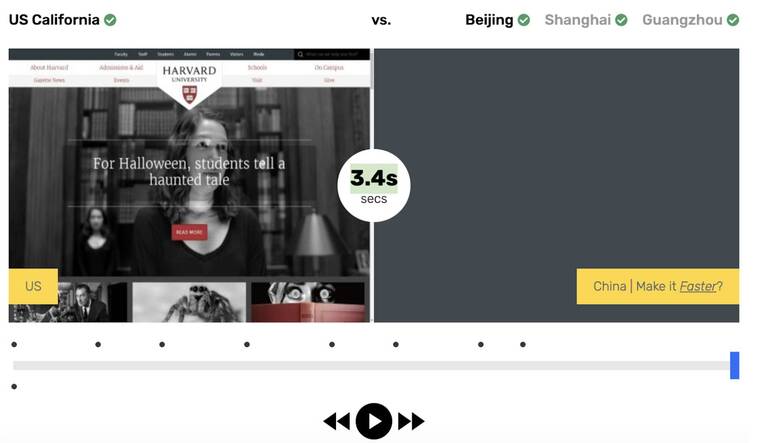 At 3.4 seconds, the US page is completely loaded, while the Beijing page hasn't loaded at all.

The tool also gives a table with the loading time in each location:

In this test, Harvard.edu loads about 20 times slower in Beijing than in California. But even when the page did load in China, it only displayed 15 of the 75 resources on the page. So even if a user in China waited 47 seconds for the page to load, they would only see a fraction of the page's content.
Why is Harvard.edu so much slower in China?
The infrastructure Western organizations use to build and manage websites is incompatible with the Chinese internet.
Resources such as Google Maps and Vimeo are blocked. Near-China CDN Service providers such as AWS and Microsoft Azure, and CDNs such as Cloudflare are slow in China.
Hosting in China is a consideration for regulatory purposes but not a technical fix, as it doesn't fully solve challenges on the code-levels.
That leaves global brands with websites that won't load in China.

But although the Chinese and Western internets operate in silos, only a small number of Western sites are completely blocked in China.
China incompatibility is a preventable issue for most sites.
While slow and incompatible sites aren't inevitable, this performance gap is preventing brands from building direct relationships with clients in China. The current version of the two internets forces consumers in China to use brokers and middlemen for purchases abroad.
Website incompatibility limits cross-cultural exchange across international travel, trade, and content. Chinafy's solution disrupts the status quo and re-establishes that opportunity between the two global internets. Chinafy returns the internet to its original promise of direct connection.
Chinafy optimizes websites for speed and compatibility in China in a fraction of the time and at a fraction of the cost of existing solutions.
It is the best tool for organizations that want to engage with clients in China, but don't have the infrastructure experience and massive web team budgets to overcome the technical challenges.
Our website optimization solutions provide a "Chinafied" version of your website within weeks instead of months, using image optimization, resource scanning, keyword monitoring, file compression, and more. Chinafy accelerates website loading speeds by 5x-10x, leading to increased revenue and traffic.
If you're wondering how your website performs in China, plug it into the Visual Speed Test or read more about how Chinafy could help optimize your website, today.
Got questions? Get in touch with Chinafy

Don't get left behind.
Optimize your website for the world's fastest-growing consumer market. Start today, cancel anytime.