While WeChat is most often referred to as a messaging app, its billion plus monthly users know that it is that and much more.

Imagine a singular app where you do everything from chatting with friends, access multiple brand-managed apps, book flights and hotels, make payments, split bills and live an entirely cashless life. Well, the reason you don't have to just imagine this is because it exists in the "super app", WeChat.
In this article, we'll highlight specific WeChat marketing features and select real-world case studies supported by our award-winning agency partner, Metric Design Studio.
What is WeChat Marketing?
WeChat is a super app in China with over 1.2 billion active monthly users. Notable features include chat messaging, social media posts and interactions, payments, and advertising. It is a given that almost all marketers targeting a China-based audience will use WeChat to some degree as a core digital touchpoint.
First, do you need WeChat Marketing?
Well, that depends. The similar analogy or question you might ask is whether your business needs Instagram or Facebook. In many cases, the answer might be yes.
The second question is whether or not your business is well positioned to properly use the WeChat marketing channel or not. That could mean the requisite local support to manage enquiries that come through, to regularly update the channel, or whether your other fundamental touch points are prepared to accept and convert traffic from WeChat.

For example, a fast, usable website in China. Many companies don't off the shelf, which means that even if they were to launch a WeChat account or mini-program, their end to end user experience still requires fundamental work.
WeChat Marketing: Key Features

WeChat offers a few in-app features that are game changers for marketers in China.
WeChat Official Account: Having a WeChat Official Account or a WeChat Business Account means businesses can set up an in-app company profile, with some even going as far as to set up chatbots and offering a full-fledged ecommerce experience to their users.
WeChat Mini Programs: WeChat Mini Programs are essentially apps within the broader WeChat app. Brands are able to create more interactive experiences including play-to-earn games, live-streaming, and specific product offerings like booking a taxi..
WeChat Groups: WeChat Groups are group chats set up by businesses (or individuals) to communicate with friends, customers. Popular content shared include event invitations, promotions, or company news.
WeChat Pay: WeChat Pay is China's second-largest digital wallet and mobile payments platform. As of 2020, 64 countries or regions are supported globally with features including native in-app payments, payment via QR code, bill payments and more.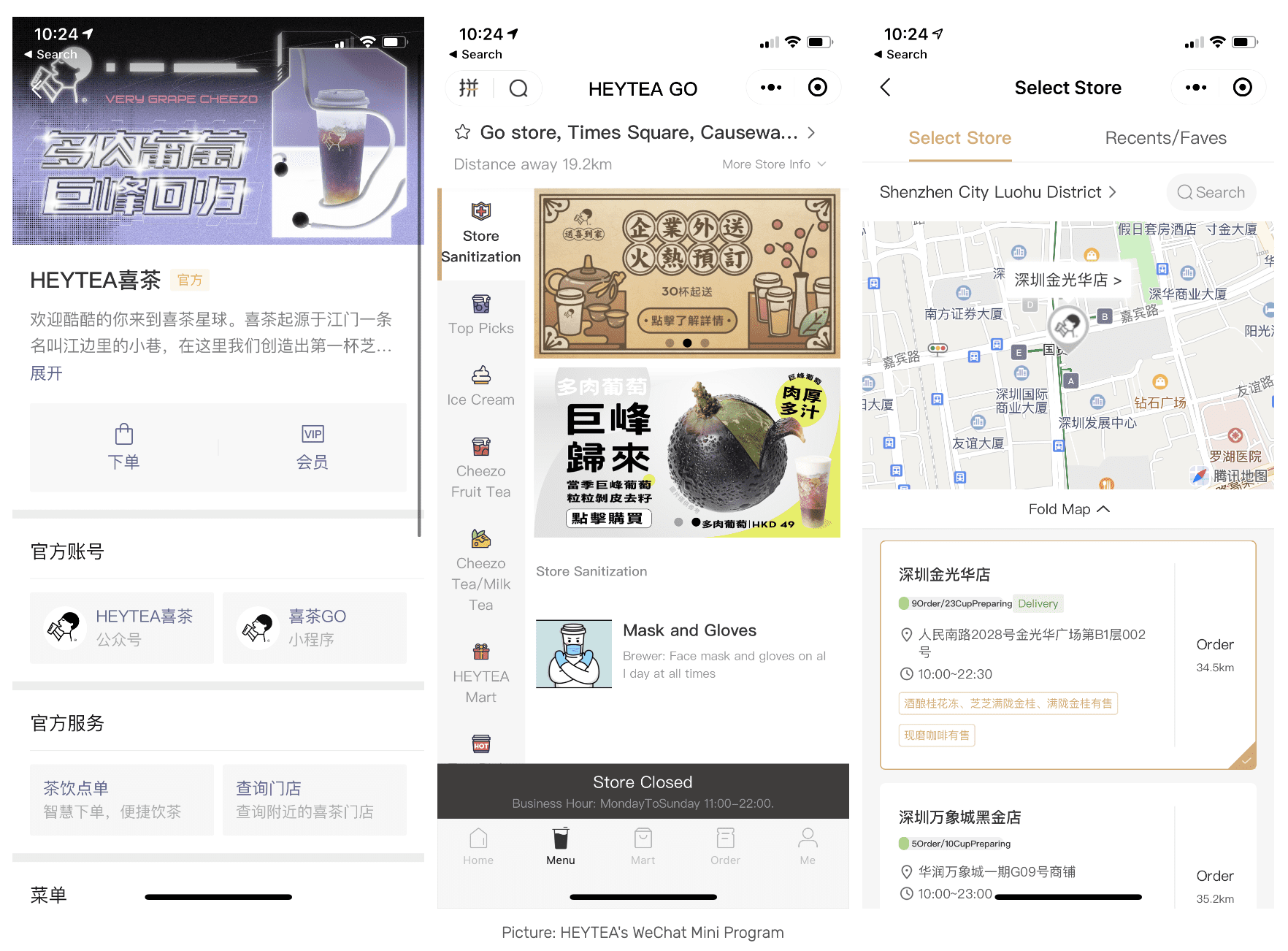 Learn more about how you can create a WeChat business account.
How do marketers use WeChat?
Like any social platform, WeChat doesn't just reach communities fast, but also build ones that are more engaged than ever.
A case in point is tech and sports media company, zujuGP.
zujuGP is an international, AI-driven football fan platform. With China being one of the largest football fans, zujuGP worked with their agency Metric Design Studio to launch on WeChat in an effort to further localise its marketing materials.
WeChat Official Account for Omni-Channel Marketing
One good thing about WeChat Official Account is that users are able to i) access related websites and social channels in-app and ii) then easily return to the native platform.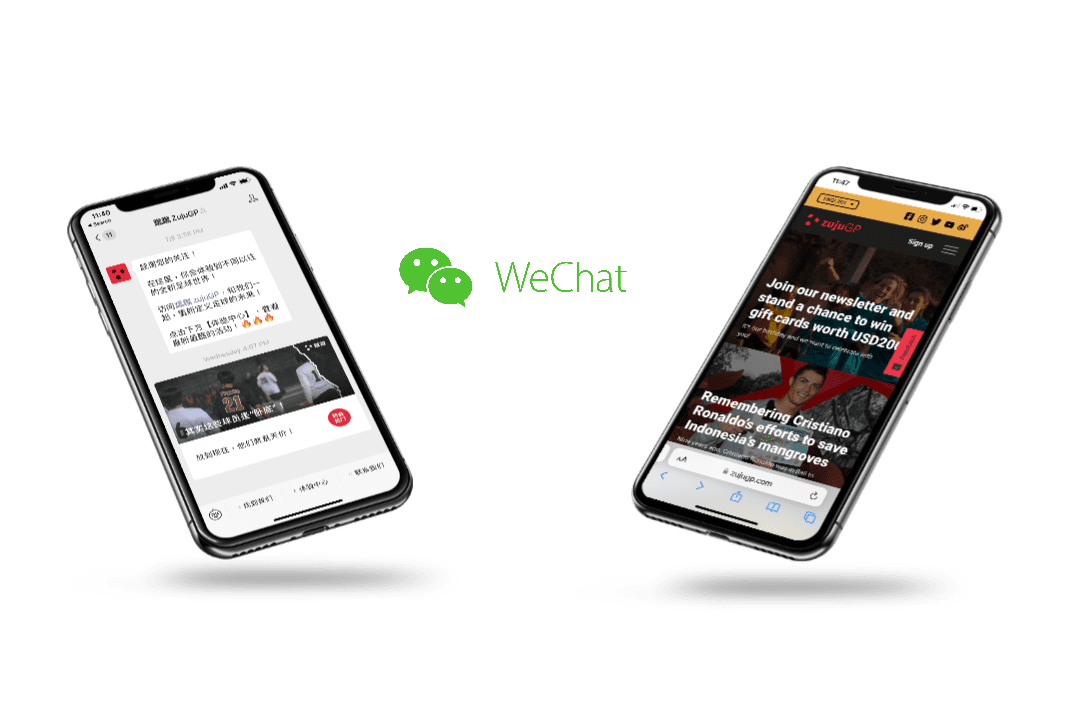 zujuGP uses WeChat to drive traffic to different conversion points including Weibo, Douyin, Bilibili and more importantly, the core touchpoint for sign-ups & merch sales, their official website.
By using WeChat, zujuGP is able to drive traffic across multiple channels throughout their user journey, from one place..


Learn how Chinafy optimised zujuGP's website to load 5-6x faster in China
WeChat Mini Program for Content Marketing
zujuGP's WeChat Agency - Metric Design Studio, specifically uses WeChat Mini Programs to enhance zujuGP's digital presence.
zujuGP gathered 23,000 views with articles published on WeChat in 2022
Interactive content is regularly added to the zujuGP miniprogram, such as exclusive video interviews with Cristiano Ronaldo.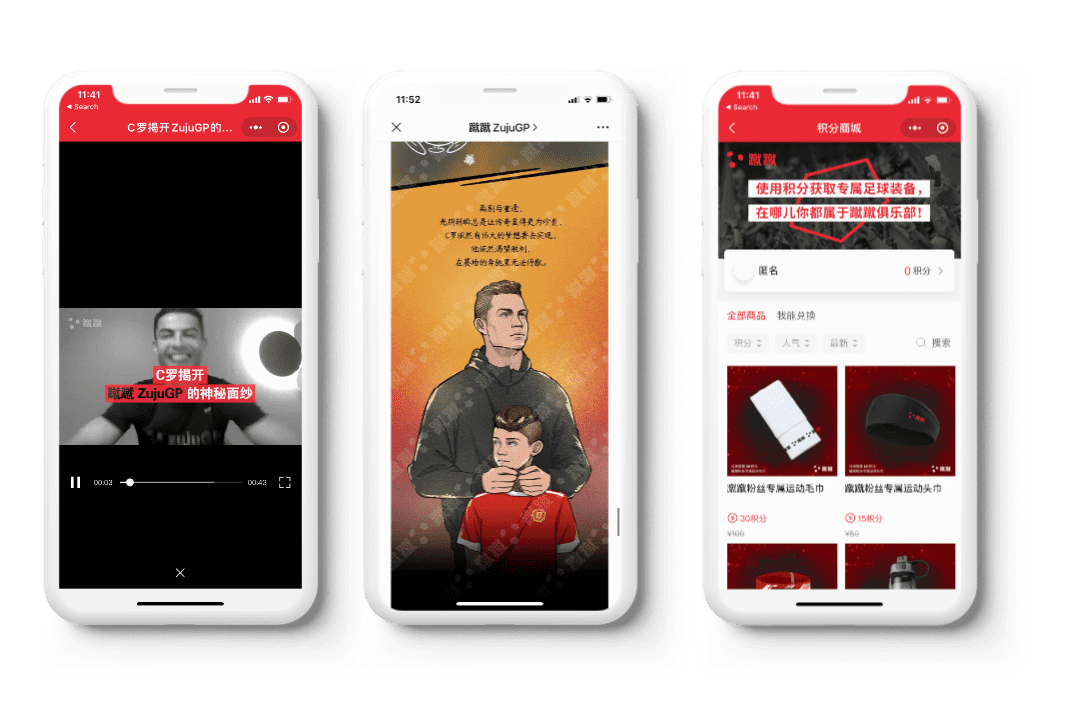 WeChat Groups for VIP Marketing
zujuGP uses WeChat Groups to build VIP group chats that organically grow and engage their community.
zujuGP understands the importance of early adopters and has intentionally made their team more accessible to these early adopters through these exclusive, VIP chats. Unsurprisingly, this has helped to build a measurable increase in brand engagement, and loyalty.
That said, WeChat is not quite enough on its own.
If your website isn't searchable on Chinese Search Engines like Baidu, you will likely lose traffic to your competitors
If your website is slow (and by slow, we might incredibly slow as is default with a number of non-optimised sites in China), you'll similarly have low conversion rates
Advertising efforts and resources will similarly be and thus relate to ineffective advertising.
If your website is broken, your marketing funnel "leaks" because the visitor traffic you so effectively drive to the website, soon bounces when visitors get frustrated by a slow and dysfunctional experience.
And that all applies to even brands with the best WeChat strategy…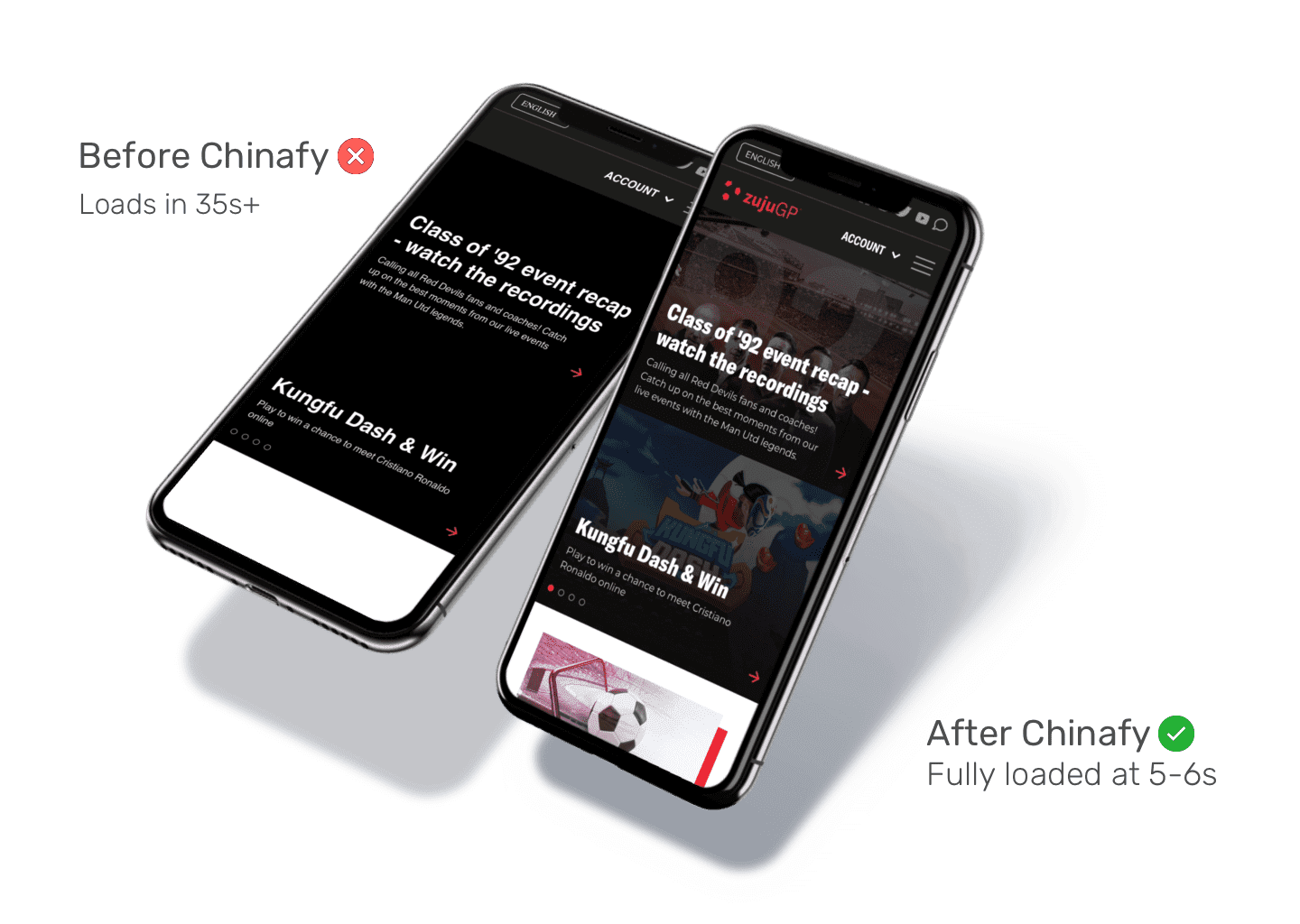 As you probably know by now, China is not just "another foreign market". When it comes to localisation, what sets great marketers apart from others is whether they are able to respond to unique market demands across the board.
If you're serious about growing in China, the first step is to optimise your website, index your site, then invest in marketing channels like WeChat. This way, you can efficiently amplify referral traffic from say WeChat, Weibo, Douyin and other social platforms.
Want to step up your China marketing strategy?
Contact Chinafy for more information