Adobe Experience Manager (AEM) is the gold standard for an agile, high-performing enterprise content management and digital experience platform.

That said, like most digital experience platforms (DXPs) and content management systems (CMS) platforms - AEM websites perform a little differently from China, than elsewhere.
The average Adobe Experience Manager site in 2022 takes an average of 19.75 seconds to load from China.
AEM websites also fail to deliver an average of 36.1% of web resources to visitors in China versus to their visitors who access their website from elsewhere, like the U.S.
In this article we will break down the following topics -
How do AEM websites work in China?
Should you build a new AEM site for China? How does that work?
What best practices can you implement to use AEM effectively for your global audience, including China.

Does Adobe Experience Manager work well in China?

Websites built with Adobe Experience Manager by default,
i) Have a number of third party resources that are not optimized for China delivery, and
ii) The majority of AEM, and thus products made with AEM, use an infrastructure that is not designed for China's unique internet environment
Adobe Experience Manager is the preferred solution for many marketers precisely because of their "one-stop shop" nature. These integrated suite of tools include Adobe Analytics, Adobe Commerce, Adobe Advertising Cloud.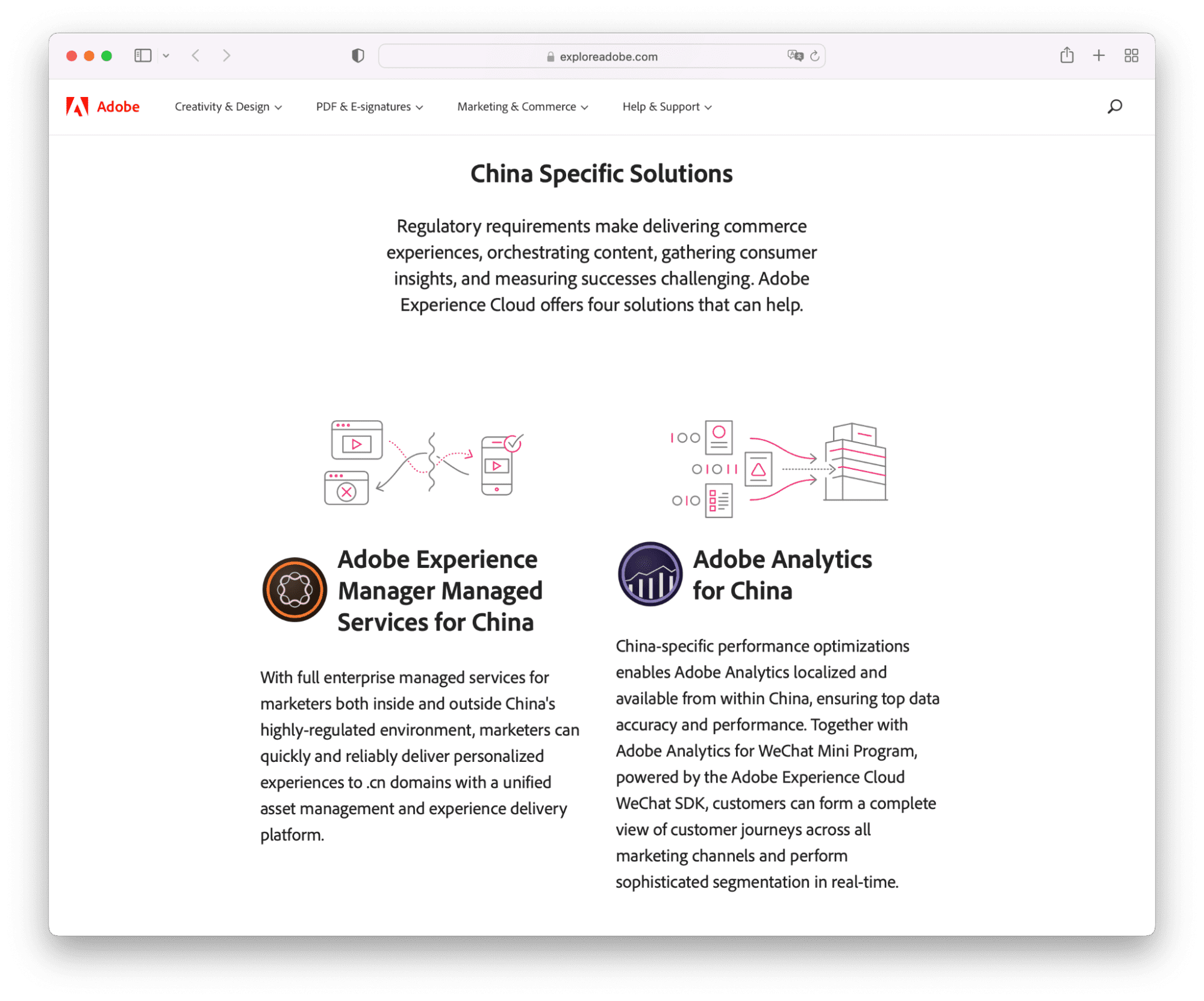 So, how can you make Adobe Experience Manager work in China?

Below we explore all possible solutions and outline how you might implement them.
i. Using Adobe Experience Cloud for China
Adobe has launched a China-facing arm called Adobe Experience Cloud for China - a fully onshore alternative for companies to localise their site in China.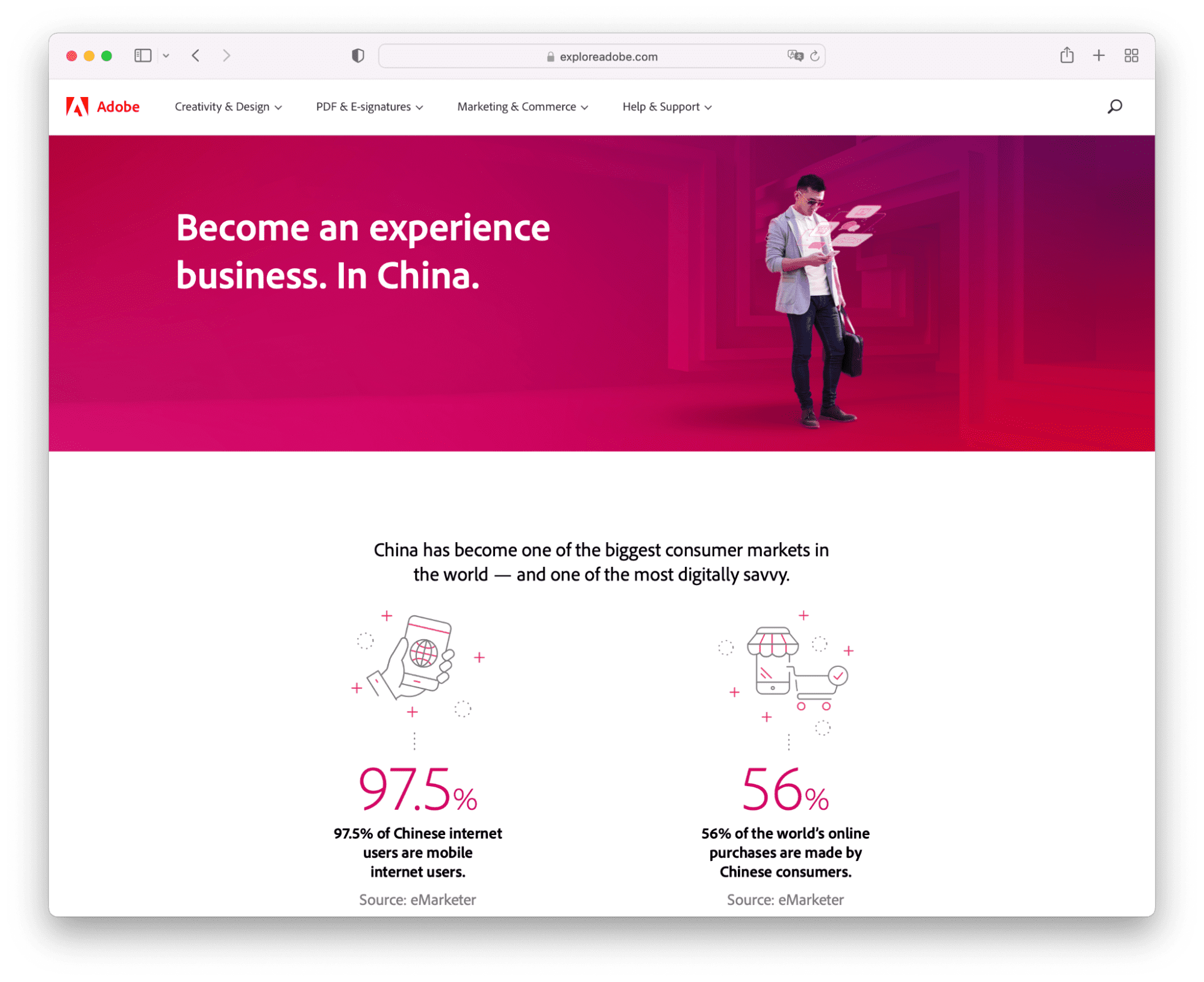 This sounds straightforward enough, that is, if you can afford the following requirements.

Time: The fully onshore route takes an average of 3 to 4 months of website development and another 6 to 8 months more to apply to become a licensed web content provider. Getting that ICP license is a prerequisite to hosting or using any physical server in China.

Expertise: Website platforms and related resources, such as YouTube, Facebook trackers, and Google APIs are commonly known to be inaccessible in China. Millions of other resources similarly face slow data transmission, high latency, and low throughput. Manually evaluating these files, add-ons, and integrations for China delivery requires experienced, dedicated experts, to exclude or replace them for China.
Costs: A fully onshore website can cost between $42K and $100K to start, and ongoing maintenance with agency or additional headcount, so your company would also need to budget for this.
The top 3 myths about hosting onshore and ICP in China, debunked

ii. Adding or changing your content delivery network (CDN)

Near-China CDNs are a great option for speeding up delivery at the network level, outside of China. However, that's not quite enough when it comes to China.
The average Adobe Experience Manager site fails to deliver around 36.1% of its resources in China. These resources can include anything from your hero image, chatbot, cookie banner, and analytics trackers depending on your solution provider.
In short, what doesn't work by default in China, still won't work after adding a CDN.
Adding on an onshore China CDN might take network speeds a little further, but similarly, its effect stops at the network layer. Not to mention, onshore CDNs - similar to managed servers in China - require an ICP license and a registered China business entity.

Do you use a CDN for AEM? Find out how AEM works with CDNs in China

These challenges then bring us back to option (i), unless you…

(iii) Bolt Chinafy onto your website

Chinafy is a web compatibility platform solution used by global enterprises to generates a China-friendly version of their current site, without modifying a single line of code.

Chinafy optimises Adobe Experience Manager websites to achieve virtually onshore performance. As of today, Chinafy has resolved over thousands of code-based incompatibilities, and provides a fully-managed CDN on top of the website to help accelerate the sites even further.
The end result? A fully-optimised, complete version of the global site that's ready to go live in under 2 weeks.
How to Use Chinafy

Submit your website URL to Chinafy, and we'll -

Test your AEM site from China, complimentary
Generate your Chinafy subscription
Configure your site to launch in 2 weeks!
Want to chat further? Contact us at enterprise@chinafy.com.
]