Article Summary: China is moving towards sending tourists overseas in the near future, but not all hotels are prepared for this recovery. In this article, we will

Give you a framework to analyze hotel website performance
Walk you through some examples of how we would assess a hotel site so that you can do it yourself
Share some resources across positive potential outcomes post-Chinafy, like Swire Hotels' "The House Collective"
Teach you to calculate the cost to revenue for a website that is not optimized for China. You can jump to the full-length article on "Cost of Incompatibility and not booking direct" here.
Key figures: Tourism in China
COVID-19 impacted the tourism and hospitality industry overnight, arguably more so than many other sectors.
With every country varying in its openness towards welcoming visitors from abroad - professionals in this industry are faced with the continued challenge to quickly adapt to changing circumstances.
One of these biggest developments is how fast China has been recovering, and how likely China - as one of the biggest exports of tourists - will be one of the first countries to send tourists your way.
Early 2021
According to China's Ministry of Culture and Tourism, China's National Day and Mid-Autumn Festival recorded 637 million domestic travelers in 2020.
After 2021
China Outbound Tourism Research Institute also estimates the number of border crossings from Mainland China will reach 180 million in 2022, exceeding its 2019 record.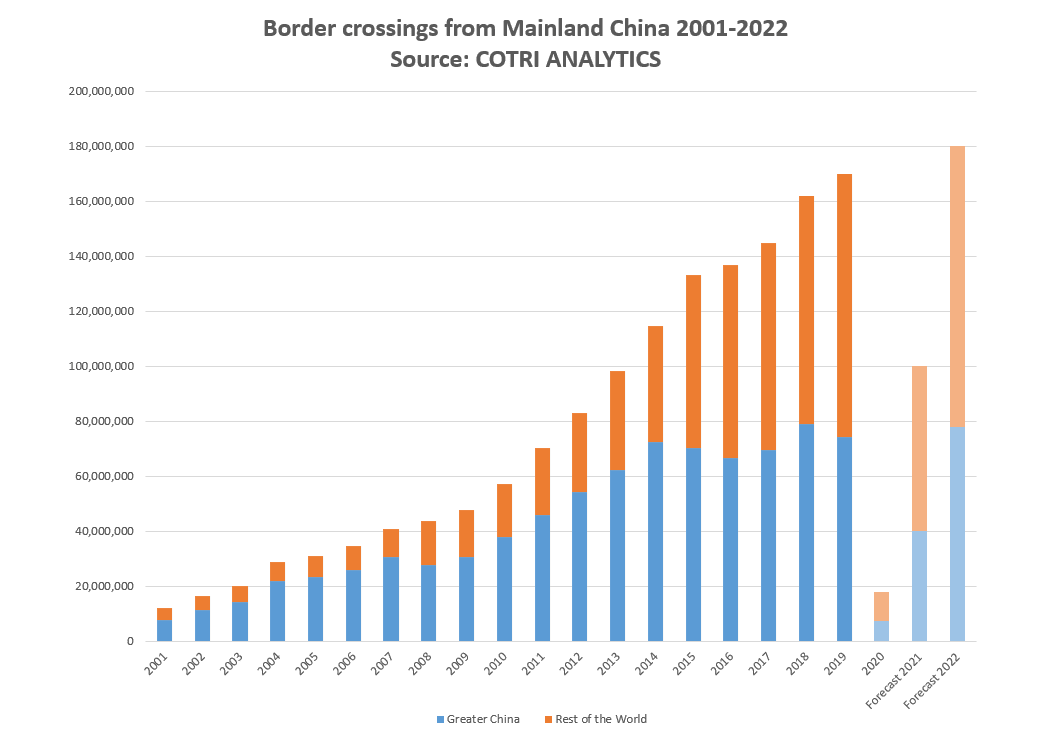 It's hard to predict how soon air travel will be "back to normal", but the good news is that travel bubbles are underway.
With this in mind...
How (digitally) prepared are hotels for Chinese tourists?
There are three key variables that you can use to quickly assess a hotel website for web performance and user experience. We'll use these variables to determine a site's "preparedness" and walk you through some examples below.
Speed: defined by metrics like i) time to load the full page and ii) visually complete.
Check-out Experience: How smooth is the check-out or booking process?
Media: How accessible are key media sections across videos and photos?
Email us at info@chinafy.com for a free initial assessment of your hotel site


How fast (or slow) is the "average" hotel website in China?
In a sample of 68 hotels, it takes 26.75 secs for average hotel websites to load in China versus an average of 5.03 seconds from the US.
This means that on average:
Hotel websites load 5.4x slower in China, than it does when loaded from the U.S. Worse yet, only 65% of their website resources are delivered into China which visitors only see if they stay on the same page 25 secs into loading.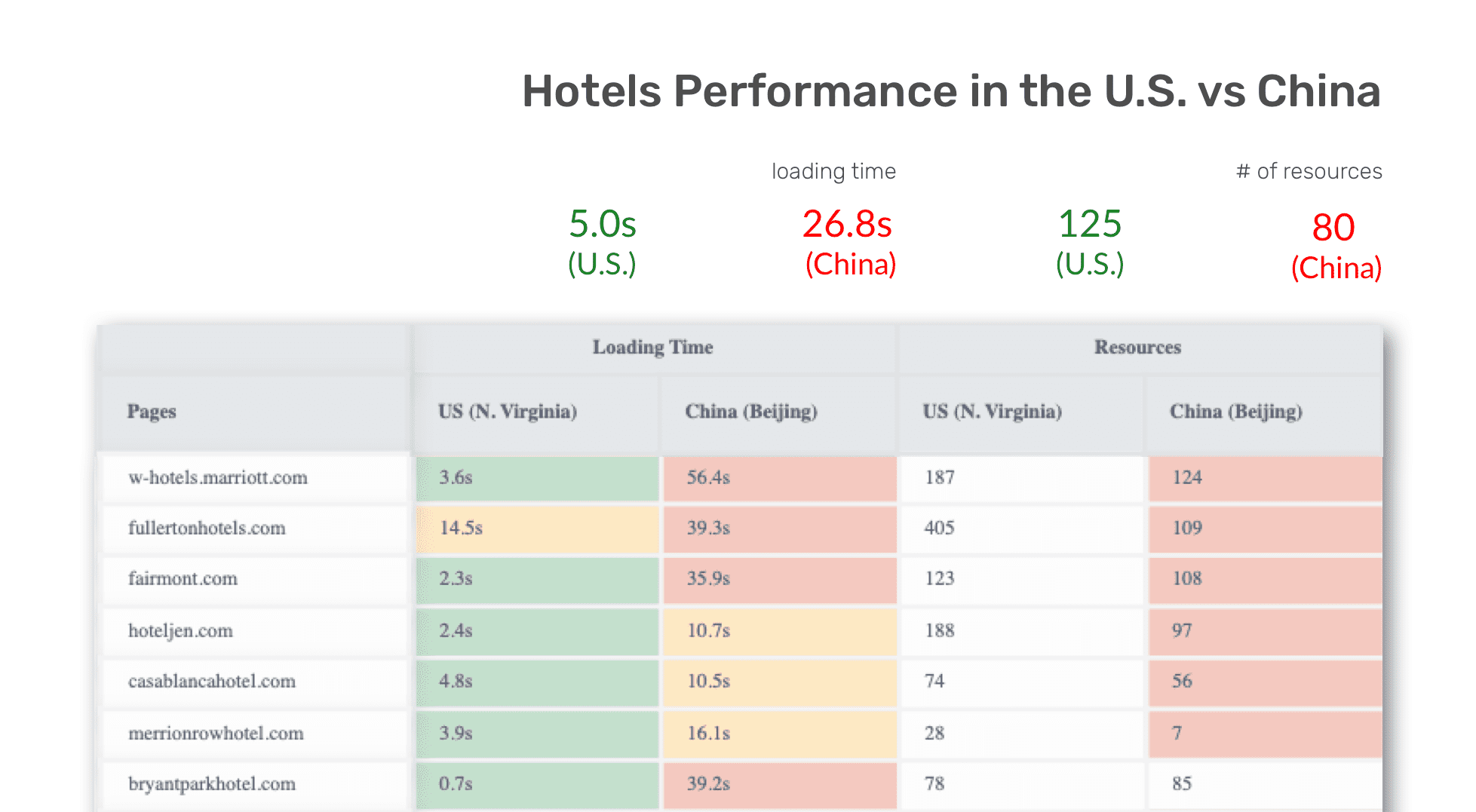 In contrast, optimized hotel websites like Swire Hotels in China take ~3 secs to be reliably loaded in China.
So, what's the difference between an unoptimized website and an optimized hotel website in China? Close to 10x.
Reach out to info@chinafy.com to compare your hotel website or add it to our China Website Performance List.
While larger brands may be assumed to have more resources, strong website performance is brand agnostic.
To see how you might analyze a site in practice, let's walk through how one would assess Disneyland Hotels in Hong Kong and Peninsula Hotels for example.
Disneyland Hotels: 105.53 secs to fully load in China
Marking the early start of Disney's legacy in China, Hong Kong Disneyland is the oldest Disneyland park in China with its fair share of Mainland visitors. Some of them choose to stay at its on-site hotels for the full magical experience.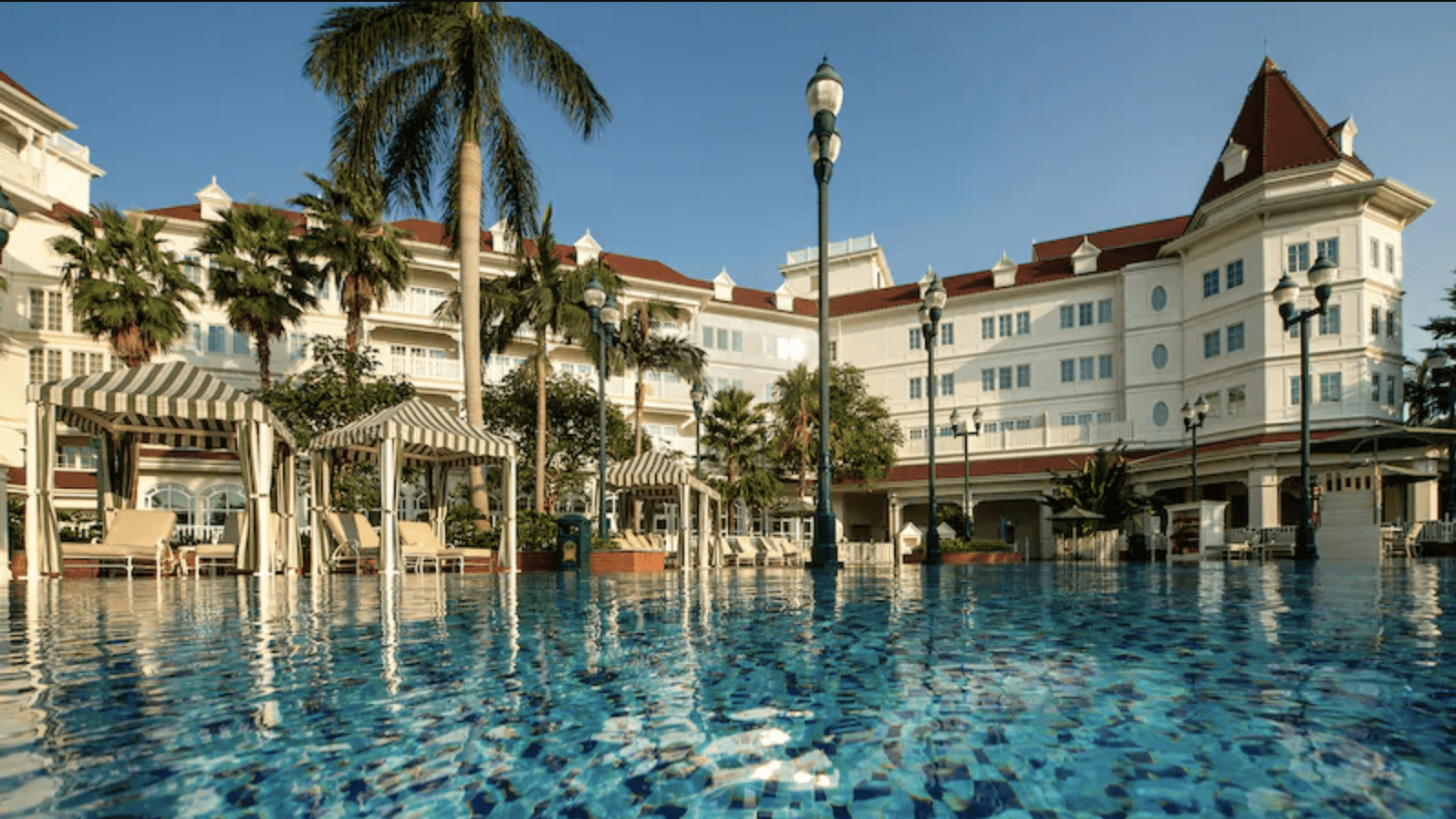 Unfortunately, the hotel booking site takes up to 105s to load in parts of China, sending Chinese tourists off to a not-so-smooth start.
How does 105s compare with the rest of the world? Take a look at the below global speed test:

In relative terms, its performance in China is 8x slower than the rest of the APAC region.

Not only is the website slow in China, but it's also missing resources in China.
As seen below, the Disneyland homepage itself is missing 18% of its visual assets in China.

What does "missing resources" entail? Well, this is how the website appears to Mainland visitors: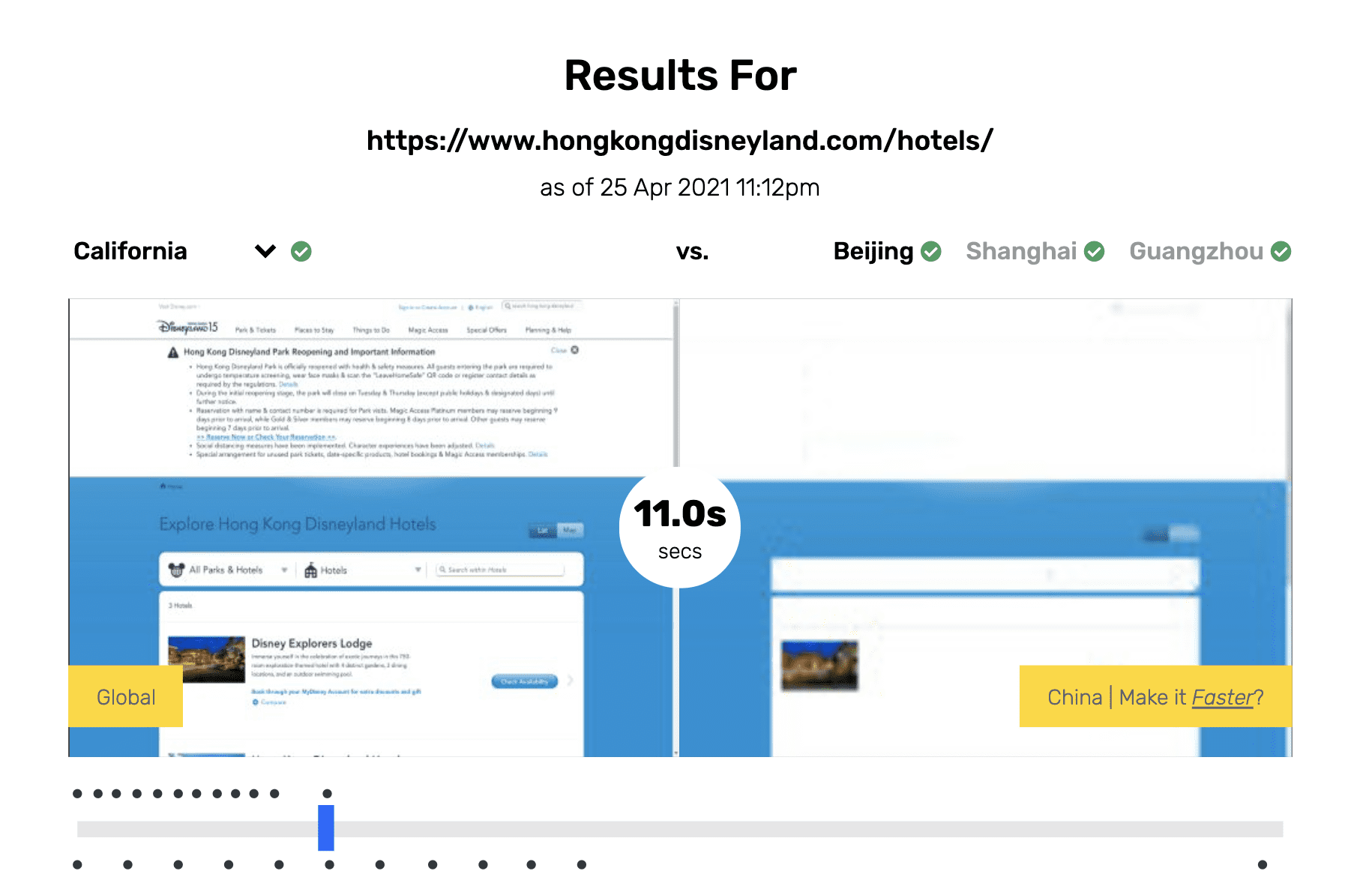 Looks broken to you? Same here…
Peninsula Hotels: loading in 96.95s, if not 'timing out' in parts of China
On the other end of the luxury spectrum are the Peninsula Hotels - a leading luxury five-star hotel brand attracting visitors globally with its legacy, classic luxuries, and top-notch service.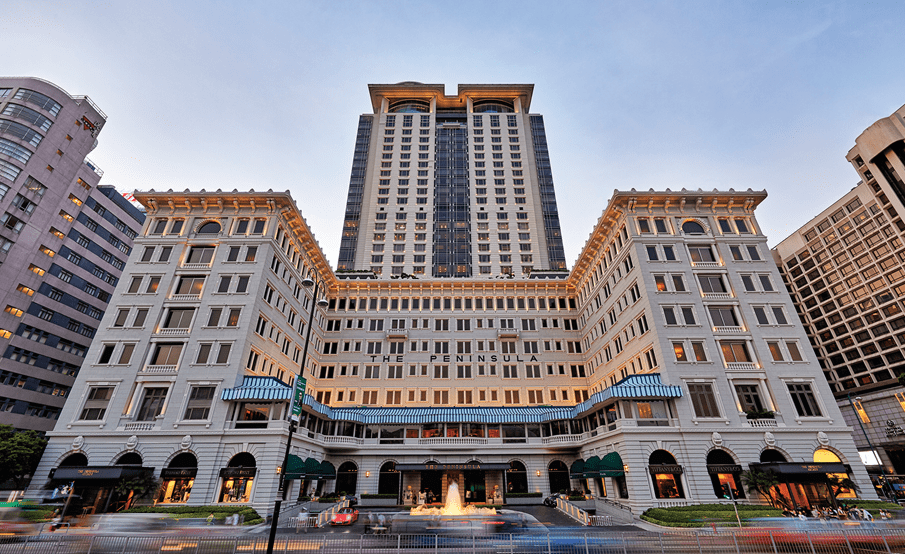 Unfortunately, the Peninsula Hotels website takes close to 100s to load in China if not 'timing out' in parts of China as illustrated below.
The beautiful booking website is also 9x slower in China than the rest of the APAC region.

Interestingly, the Peninsula Hotels website is ICP-registered as are other onshore-hosted websites*. In spite of that, the website still faces code-based incompatibility issues that are unable to be resolved as the Peninsula team tried to meet the internet regulations in China.
*ICP refers to the Internet Content Provider certification, which is a permit that allows you to host your website on a mainland Chinese server.
Can ICP fix slow websites in China?
Read our full guide on ICP and website compatibility in China.
Visually, this is how the Peninsula Hotels website looks in China: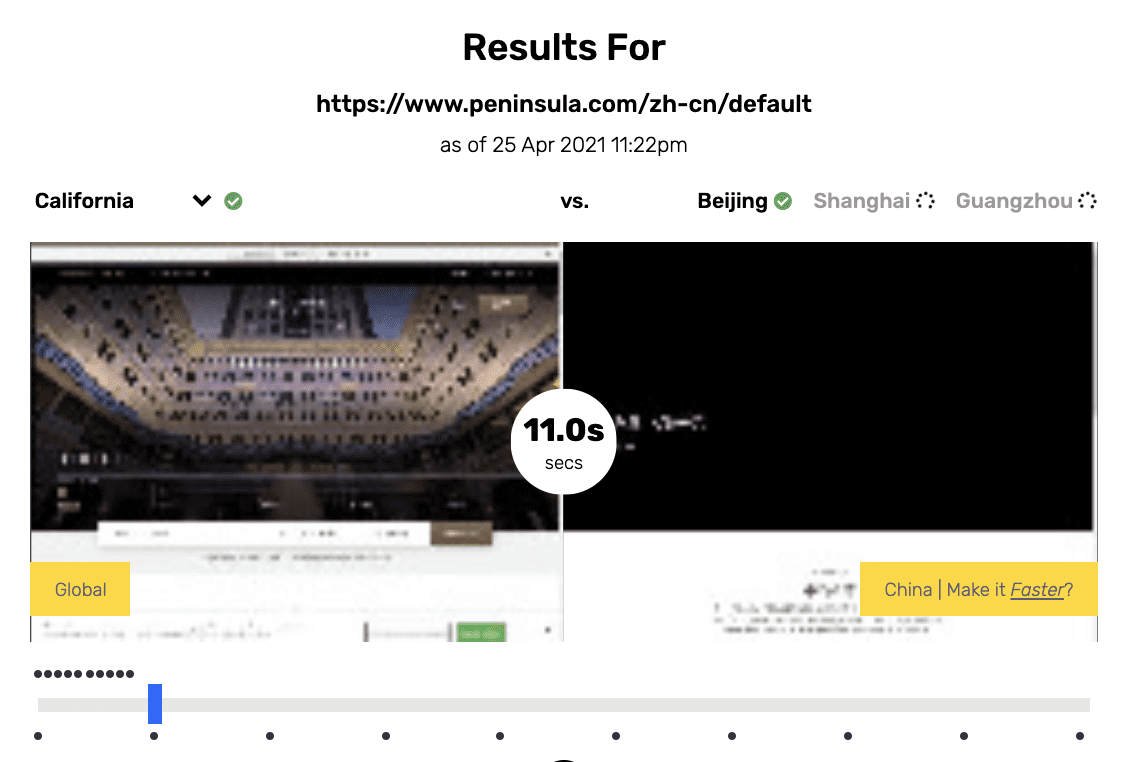 Check-out Experience
In addition to speed and related deliverability issues, Peninsula Hotels also face friction in its check-out experience.
The two most used digital wallets in China are WeChat Pay and Alipay with an active userbase of 800 million and 1.3 billion, respectively.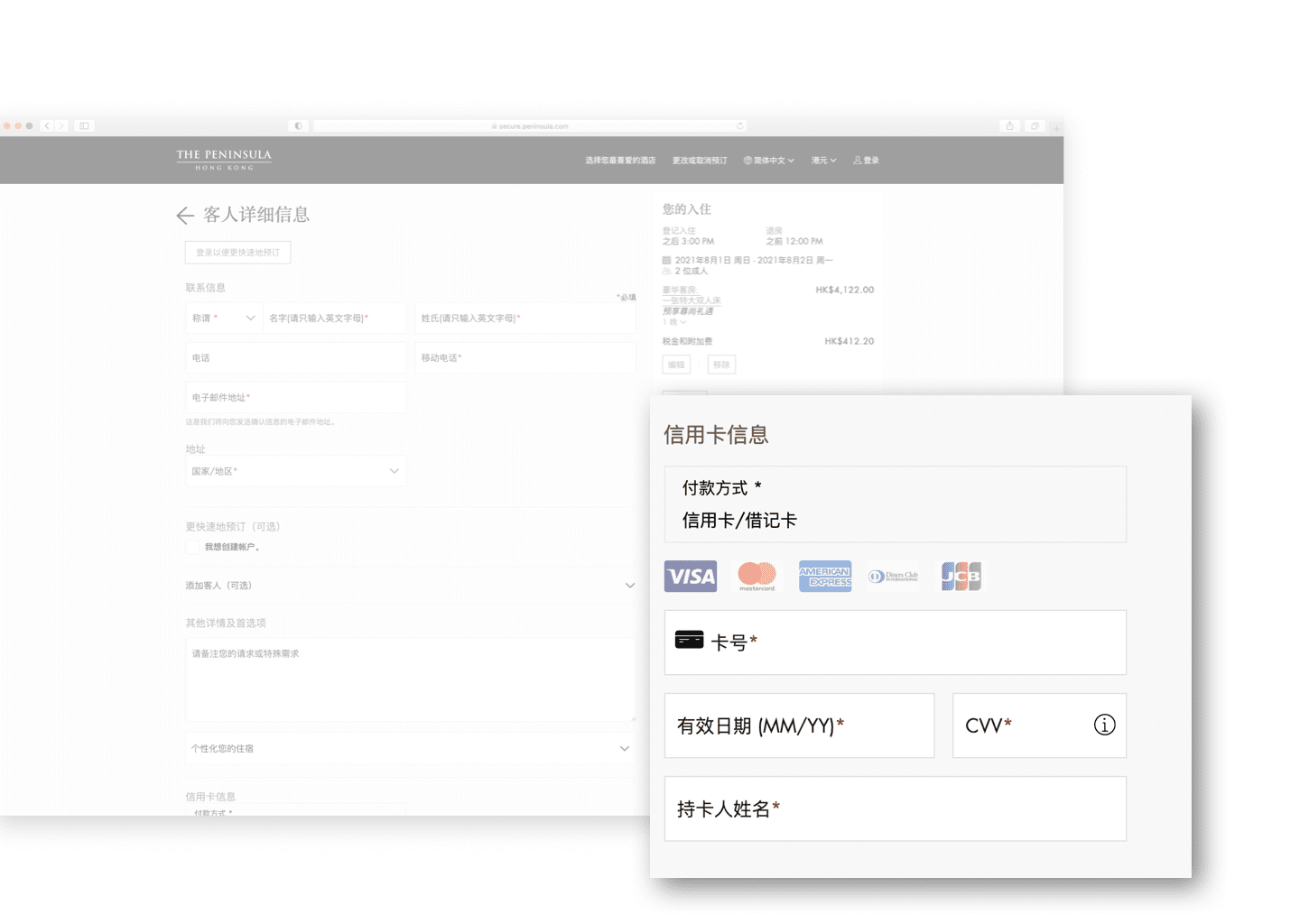 Unfortunately, the checkout page on Peninsula Hotels doesn't support WeChat Pay and Alipay as of the penning date of this article.
This when coupled with speed-related issues, is a friction point potentially sending visitors away to third-party booking platforms that do.
Now, here comes the next question...
How much does a slow website cost a business?
Short answer: A noteworthy amount.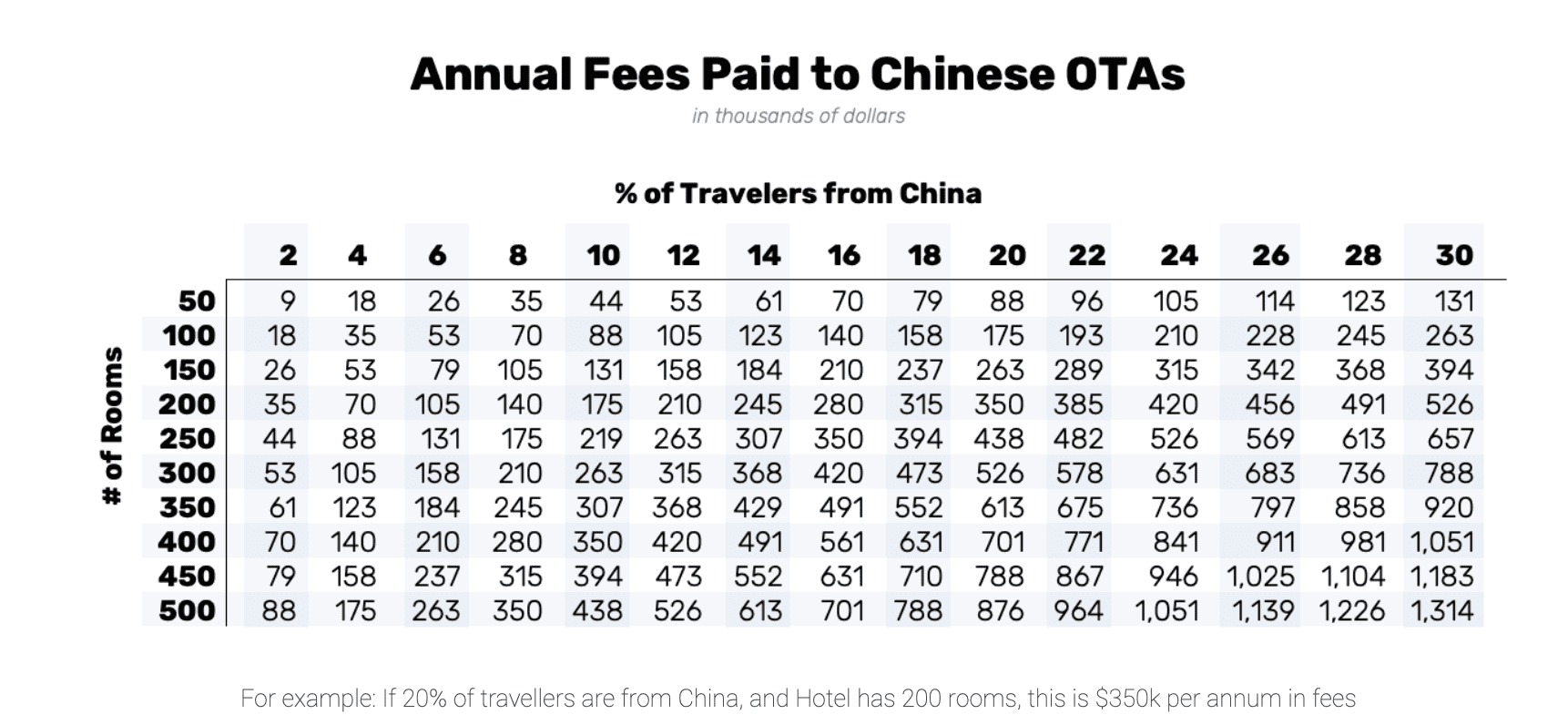 There are indeed alternative ways to booking hotels (i.e. one could simply call a hotel - on the phone, and book a room although rare nowadays) but it's important to take into account the key assumptions above which are that many Chinese travelers who cannot book directly on your website, they, therefore, book entirely with Chinese OTAs like Ctrip and Fliggy.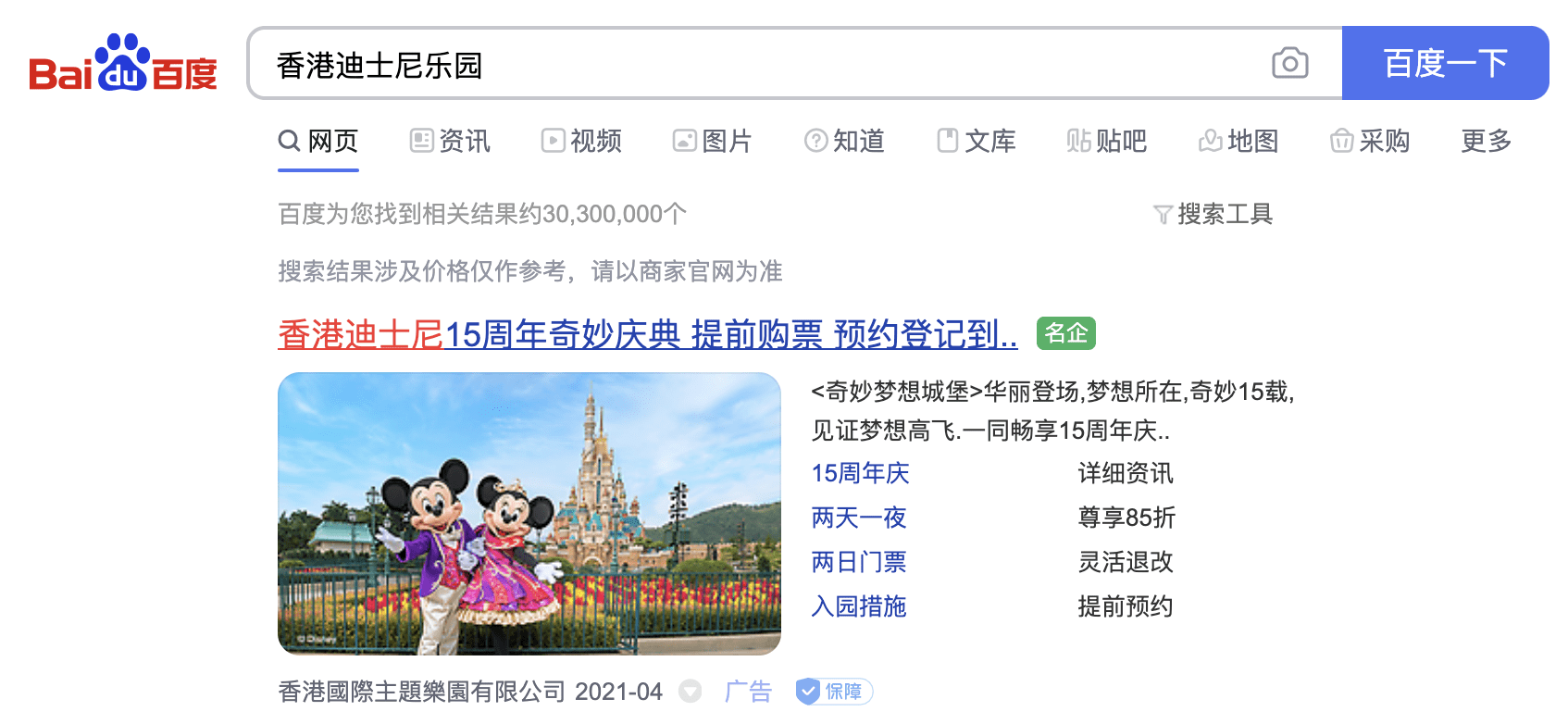 More on this in: "What's the Cost of Incompatibility and Not Booking Direct?"
Make websites work in China, fast.
Now, before you get your developers to "fix your site", know that there are also various ways to make a website load fast and fully in China:
In-house: hire a team and multiple headcounts to build, host, and localize your website in China (requires onshore operations and specific China-expertise with months of development time) OR
Chinafy: simply use Chinafy to achieve virtually onshore performance on an ongoing basis - takes only ~2 weeks for implementation
Chinafy works by re-engineering a China-friendly version of your website, combining its proprietary intelligent resource technology and best-in-class near China CDNs..
To date, it is the only platform able to achieve virtually onshore performance, offshore.
Want to see the Chinafy process in action?
Read more in this case study where you'll see how The House Collective by Swire Hotels is now 2.2x faster in China than outside of China, after Chinafy.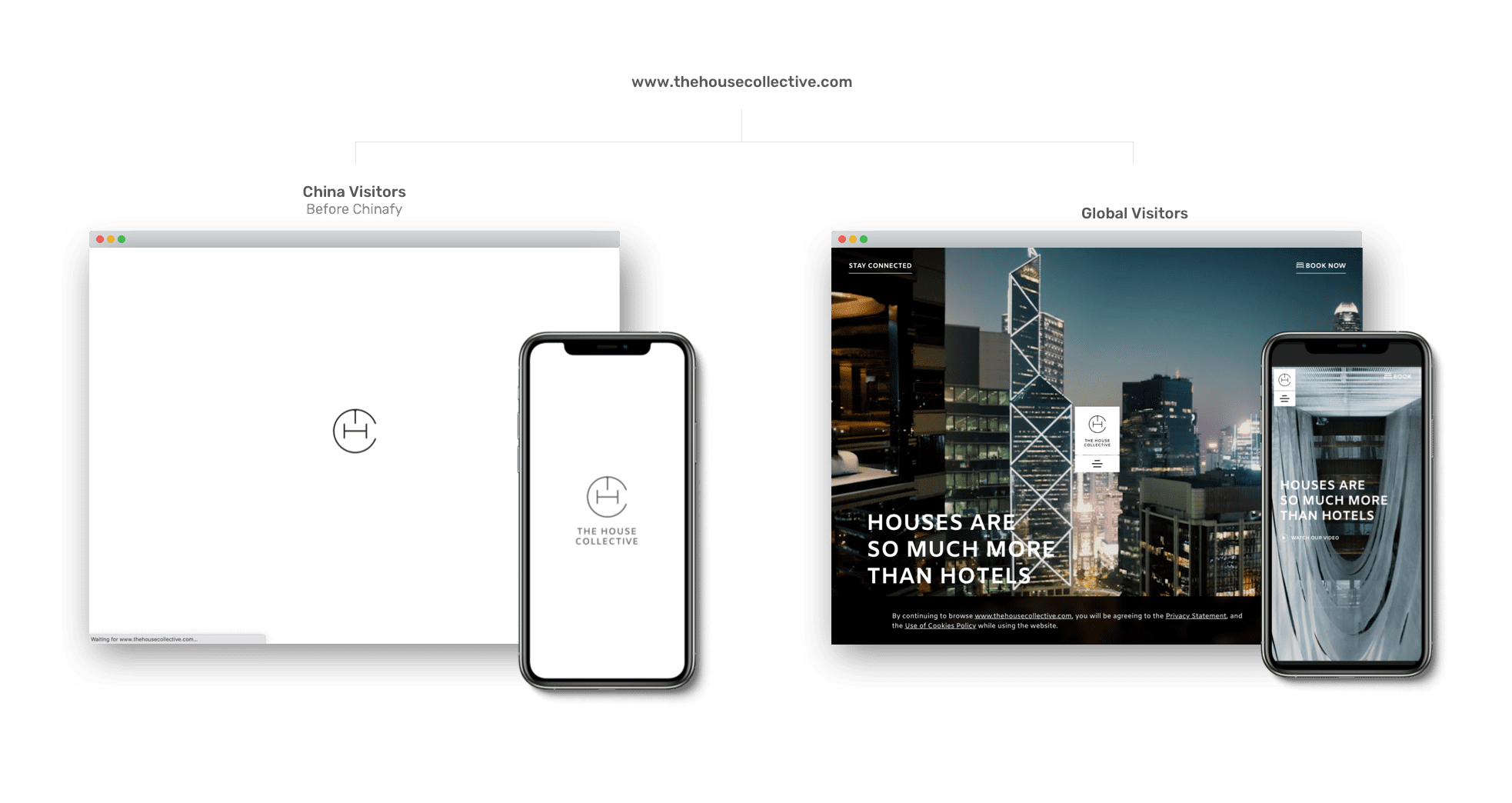 Some final thoughts...
Hotels both inside and outside of China are realizing the importance of strong website performance in China - if they haven't already - with expected recovery just around the corner. Does this apply to your website?
Reach out to us to receive a free website performance assessment of your site in China. All you have to do is to click Get Started to get in touch.