So, you're part of a global hotel group that's been expecting more Chinese tourists in 2023 – but your online bookings haven't been picking up the way you expected and you wonder if your website works in China at all.

Well, here's some news for you...
Most hotel websites do 'work' in China, with an average loading time in upwards of 25s, and worse yet, 35% of components missing in China.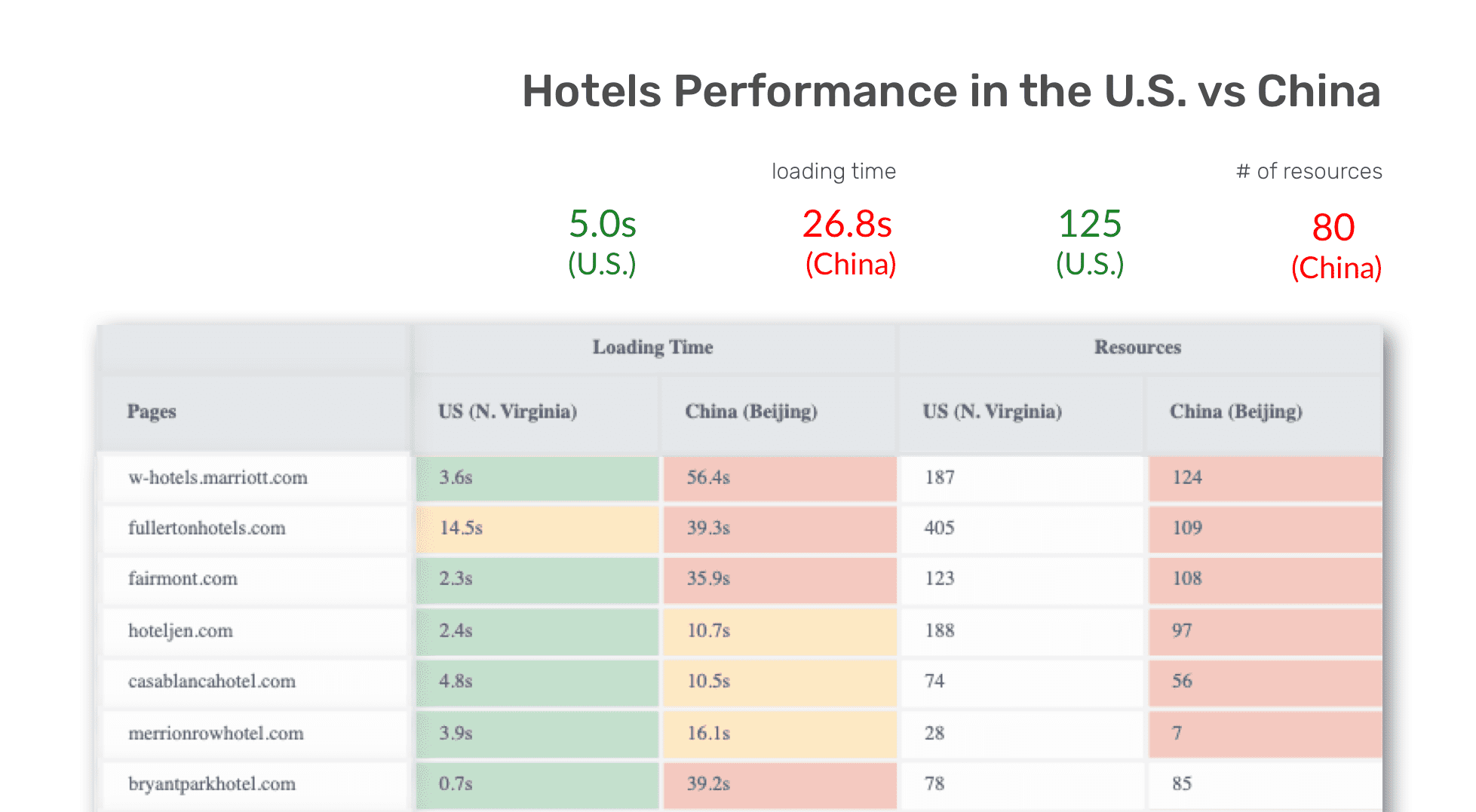 Want to find out if this is you? Instead of asking your colleagues in China to check in the next working day, you can also test it right away. And we've got just the tools.

Speed
1. Global Speed Test Tool

Global Speed Test is a tool that tests your website across 18 servers around the world including Beijing, Shanghai, and Guangzhou.
After entering your website into the tool, you'll be able to see how your website performs in China vs other locations across different metrics such as:
Loading Time: Time to load all resources on the page
TTFB: Time to first byte
First Paint: Time to load the first content-rich element
Interactive: Time elapses before your user can click around
Page Size
# Resources
Take W Hotels as an example.

Loading time: The loading time to fully load the W Hotels website is, unfortunately, 100s+ in China, if not timing out in Beijing. Whereas, in the U.S. the same page is consistently loaded under 16s.
Interactive: Users can only start clicking around at 34.5s in China which is 4x slower than its U.S. equivalent at <8s.
# of Resources: It's 128 in China vs 207 in the U.S. which indicates that the site likely appears broken in China.
If you happen to work with the W Hotels on the site, we'd love to hear from you and change this assessment!
What is the impact on direct booking revenue with a slow hotel site?
We've run the math here for you in 'What's the Cost of Incompatibility and Not Booking Direct?'
Now just how broken is the W Hotels website? That brings us to the next tool...
Visual Performance
2. Visual Speed Test

Visual Speed Test allows you to load your page in China against 15 locations outside of China with a side-by-side visual comparison.
More on W Hotels, here's how it looks visually in the U.S. vs China: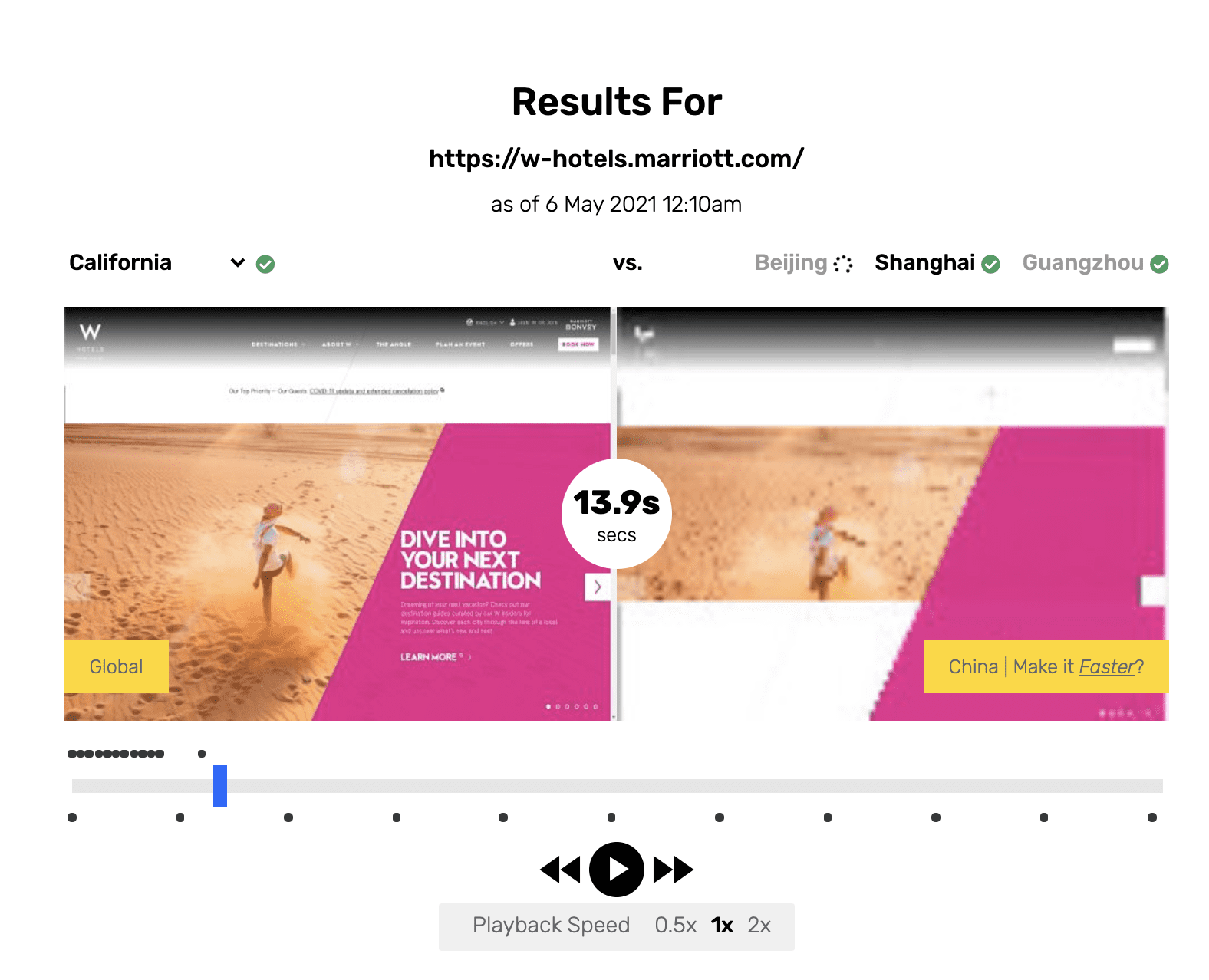 As you can see, the website is missing key visuals and texts 14s into loading in China.
Below the visual comparison, Visual Speed Test also gives you a high-level view of how your site loads across metrics such as loading time, page size, and # of resources.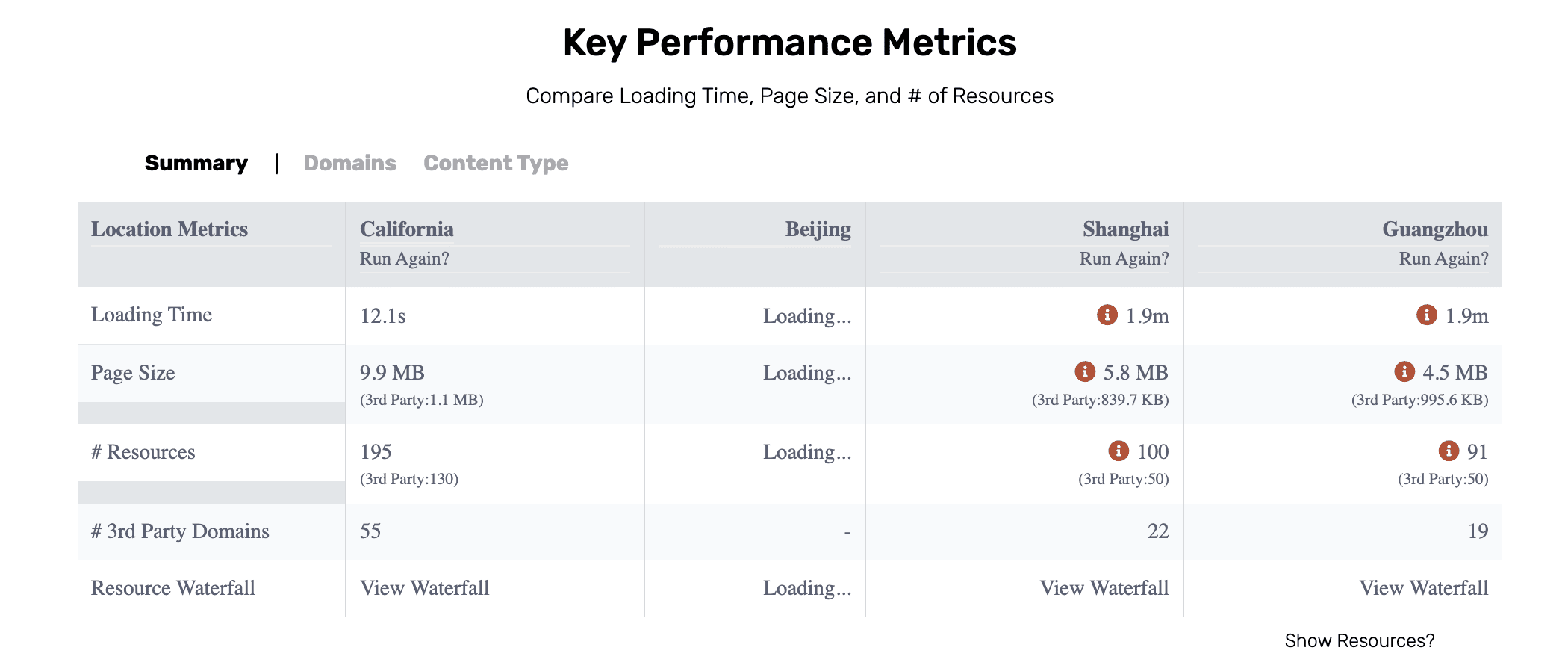 Bonus: Are you a developer? If you click 'View Waterfall' under Key Performance Metrics, you can view the specific resource breakdown/waterfall like the one below.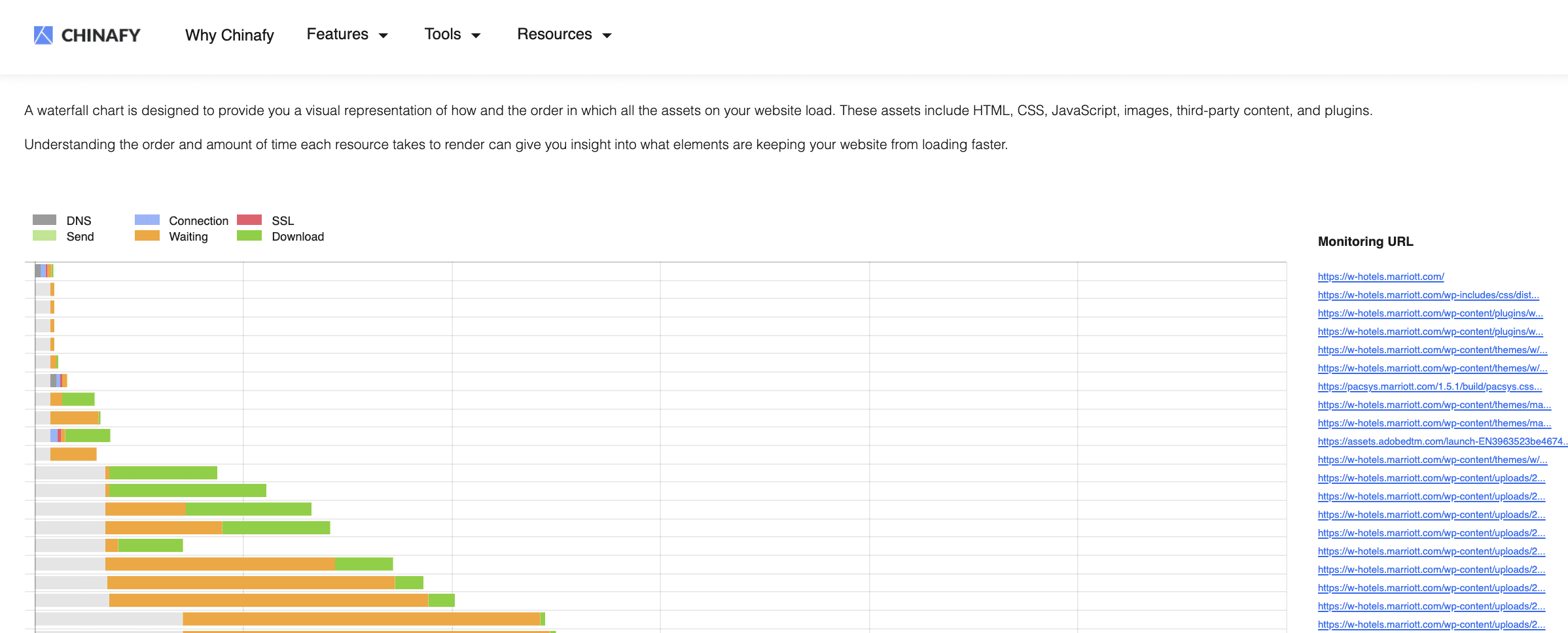 Want to see how more hotel websites load in China? Check out Peninsula Hotels and Disneyland Hotels under 'How should hotels prepare for travel bubbles in 2021?'
3. Webpage Test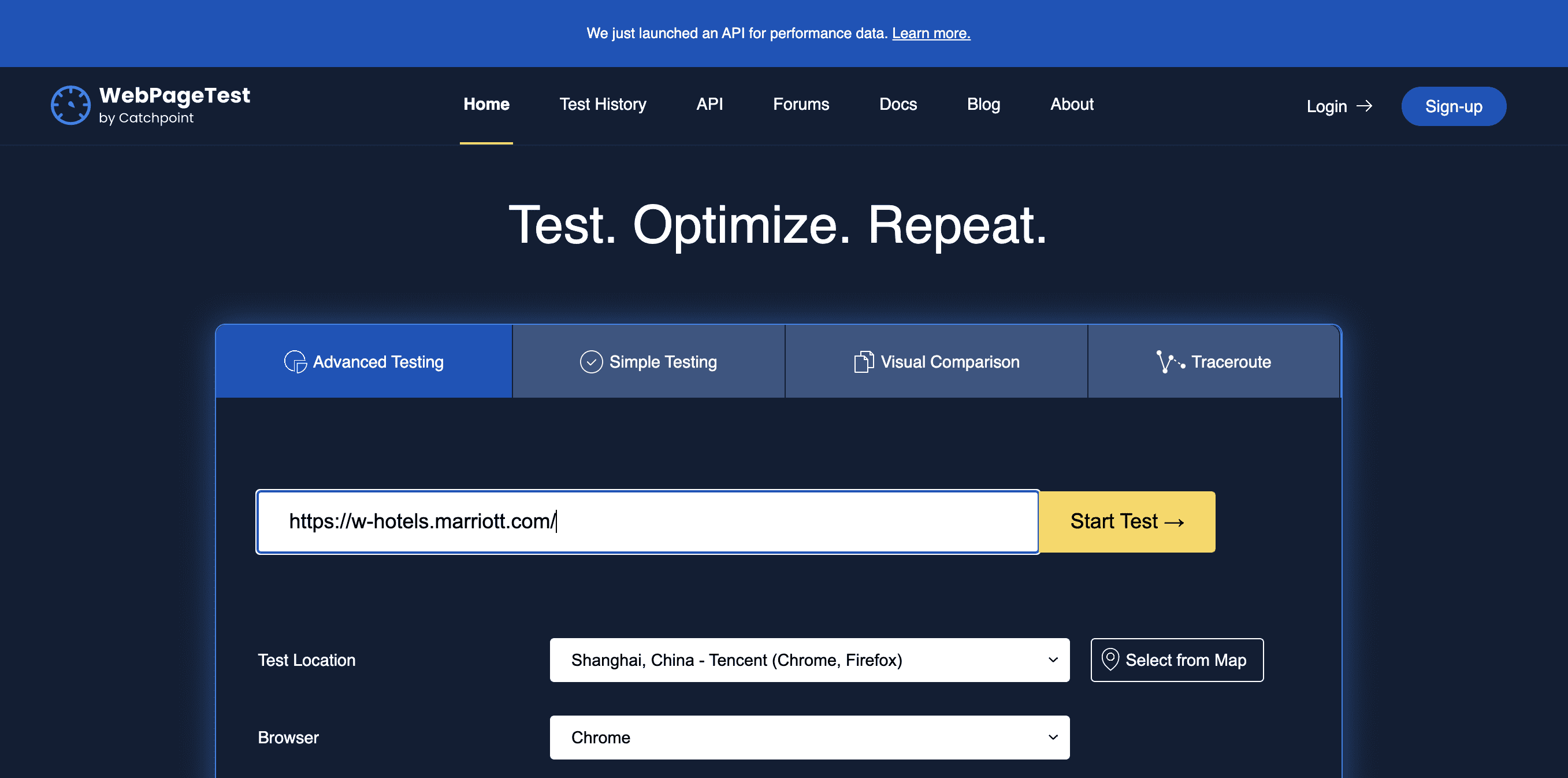 If you'd like to delve into the resource specifics, we also recommend the recently rebranded Webpage Test which gives you some alternative technical controls over the desired testing environment in Beijing and Shanghai.
However, they seem to allow one test at a time so during peak hours your request may be put into the queue (sometimes up to 100+ tests before you!).
Final thoughts...
And just like that, you've added 3 free tools into your toolbox to test your site from China easily.
Now tell us: Are you happy with your hotel site in China? If yes, let us know why! If no, let's see how we can change that.
Feel free to check out How Chinafy Works to help accelerate hotel websites like Swire Hotels and AYANA Hotels for China.
Ready to use Chinafy? Click Get Started to get in touch.